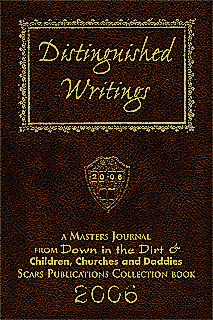 The Scars Publications 2006 collection book Distinguished Writings contains a wider selection of materials from both cc&d magazine and Down in the Dirt magazine than the 2006 collection book Writings to Honour & Cherish (it's 344 pages!). It also contains past editorials, selections of writings from "the Chosen Few," highlights from performance art shows, an essay from the "Philosophy Monthly" section of cc&d magazines, and supplements to cc&d magazine.
This "Masters Journal" truly showcases 2006 writing — in both a full-color, full-bleed paperback volume, as well as a hard-bound volume.
---
paperback book for sale: $17.75

hardcover book for sale: $32.95
---
So although some writers from the collection book Writings To Honour & Cherish are also here, this collection book shows a wider range of authors and styles, to better show the variety in cc&d magazine and Down in the Dirt magazine.
The book is 6"x 9" in page size, and it's 344 pages long. both paperback and hard cover books will have 60# cream interior paper, black and white interior ink, and a full-color cover.
---
Look below to see a list of the contributors to this collection book (see if you or someone you know is in this volume!). If you are in this volume and want to know what pieces are in the book by you (without paying for it, but to know for your reccords), email us, and we can let you know the titles of your work in the book.
---