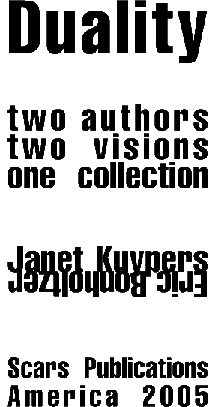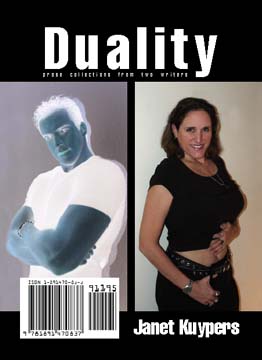 ---
you can also click here for more poetry-to-prose writings, in the chapbook Dual.
---

About the Author

Janet Kuypers has a Communications degree in News/Editorial Journalism (starting in computer science engineering studies) from the UIUC. She had the equivalent of a minor in photography and specialized in creative writing.


A portrait photographer for years in the early 1990s, she was also an acquaintance rape workshop facilitator, and an editor of two literary magazines. Later she was an art director, webmaster and photographer for a few magazines for a publishing company in Chicago.


She sang with acoustic bands Mom's Favorite Vase, Weeds and Flowers and the Second Axing, and does music sampling. Kuypers is published in books, magazines and on the internet around 9,300 times for writing, and almost 17,500 times for art work in her professional career, and has been profiled in such magazines as Nation and Discover U. She has also been highlighted on radio stations, including WEFT (90.1FM), WZRD (88.3FM), WLS (890AM), the internet radio stations ArtistFirst.com, chicagopoetry.com's Poetry World Radio and Scars Internet Radio (SIR), and was even shortly on Q101 FM radio. She has also appeared on television for poetry in Nashville and Chicago, and was interviewed on her art work on Urbana's WCIA channel 3 10 o'clock news.


She turned her writing into performance art on her own and with musical groups like Pointless Orchestra, 5D/5D and Order From Chaos, and starting in 2005 Kuypers ran a monthly iPodCast of her work. She has performed spoken word and music across the country - in the spring of 1998 she embarked on her first national poetry tour, with featured performances, among other venues, at the Albuquerque Spoken Word Festival during the National Poetry Slam; her bands have had concerts in Chicago and in Alaska; in 2003 she hosted and performed at a weekly poetry and music open mic (called Sing Your Life), and starting in 2002 was a featured performance artist, doing quarterly performance art shows with readings, music and images.


In addition to being published with Bernadette Miller in the short story collection book Domestic Blisters, Kuypers has had sixteen books of her own published: Hope Chest in the Attic, The Window, Close Cover Before Striking, (woman.), Autumn Reason, the Average Guy's Guide (to Feminism), Contents Under Pressure, etc., and eventually The Key To Believing, Changing Gears, The Other Side, The Boss Lady's Editorials, and The Boss Lady's Editorials (2005 Expanded Edition). Three collection books were also published of her work in 2004, Oeuvre (poetry), Exaro Versus (prose) and L'arte (art).





---

The New Orleans Four One One

New Orleans was always a magical place for me, a place where there was a party any day of the week, a place that time forgot, when everyone is used to the workday grind wearing them down.


Only a twelve hour drive away from Chicago, we'd take the bridge to New Orleans — The Lake Pontchartrain Causeway, the longest bridge in the world, highlighting only marshes, sparse decaying trees and desolation. Occasionally you'd see a house there, with wood peeling away and a crumbling foundation. Along that bridge, you could imagine the crocodiles and snakes, witness the bugs along the water, or the occasional vulture perched along the treetops. The water would ripple as you drive by, and you'd realize that you're witnessing a different kind of decay before you entered the French Quarter.


I had been to New Orleans countless times before, usually renting an apartment on Dumaine, right in the middle of the French Quarter, meeting other friends. I'd photograph the St. Louis Cathedral in Jackson Square (the oldest active cathedral in the U.S.), giggle at the sex shops along Bourbon Street, get trinkets from Marie Laveau's House of VooDoo, or photograph her upright tomb, marked with crosses in brick chalk from past rituals. New Orleans is the only city where I'd get a Cafe Du Monde beignet; it's the only place I'd get Abita beer, and I was always particular about getting my hurricanes from the Court of Two Sisters street annex on Bourbon Street (they tasted the best there, and the plastic cups came with a handle so you wouldn't get your hands cold). And yeah, it sucked becoming a vegetarian and visiting New Orleans, since most every creole and cajun dish contains any fish or meat product from andouille or the multi-meat muffuletta sandwich or roast beef or shrimp po-boy sandwich, to crawfish in ever seafood dish. But I guess I have to deal with being a vegetarian in this culture, just as I've had to deal with the homeless in the streets asking for hand outs.


Speaking of asking for money versus earning money reminds me of one visit to New orleans, when we were eating and drinking on a balcony on a weekend night. Beggars would know to ask drunk people for money, hoping their drunken inhibitions would make them easy targets for free money, but I never gave money to people just because they asked for something I earned. But this one night when we were at an intersection corner balcony seat, a man was in the street singing, and would ask for requests for songs. I turned to my friend and said I wondered if he'd know a song I'd love to hear, so I shouted out "Working My Way Back to You/Forgive Me Girl," and he immediately broke into soulful song. I was so thrilled, and knew that he earned his money, as I threw change to him from my Bourbon Street balcony seat.


I even bought a Blue Dog lithograph there, about a half hour after Harry Connick Jr. bought two paintings from the artist George Rodrigue. The lithograph I purchased is called "The Blues Can Hide a Bad Apple," which seems a perfect way to think about New Orleans — you go there for the escapism, the drinking and the parting, like a Las Vegas without the gambling, and you can gloss over the imperfections of this neighborhood. This degenerated place has become like a shrine.


In the mid 90s, I was at Mardi Gras, going with friends to visit a friend who had an apartment there, going to Tulane University. I got a bunch of beads from the Krewe of Tucks parade during the day (no, I didn't lift my shirt for them). Then I remembered that I had been to New Orleans a number of time through my work, designing trade show food magazines. The company ran trade shows, and I was the trade show photographer, meeting the likes of Emeril Lagasse (ate at his restaurant Nola's, named for his wife) and Charlie Trotter (who also was an avid Ayn Rand reader), and chef Mike Parr (who lived in the New Orleans area, and even had a balcony apartment on Bourbon Street to party at, stocked with Mardi Gras plastic cups from past parades). It took us an hour and a half to get through the crowds in the French Quarter to Bourbon Street for the Mardi Gras weekend, because this town of only half a million people suddenly had around ten million people there, all congregated in the French Quarter. But since Mike Parr had a balcony on Bourbon Street, and it was Mardi Gras and I was in town, we saw him there and got on the balcony on the Friday night before Fat Tuesday.


From the balcony, you could see that the swarms of people stretched for over a mile. It was a mob, no one could walk and the crowd just kind of carried them along. And all the men expected women to get naked for them in public for beads, especially if the women were on a balcony. And from my balcony I would see every few minutes a series of flash pops from instamatic cameras, coupled with a roar from the crowd, and I knew a woman lifted her shirt for the screaming masses. I refused, however, to strip for drunken strangers, when I knew they all expected me to, being on a balcony and all. Besides, I had my own beads, I didn't need to degrade myself for what they were offering.


So men would look up at me and stretch out their arms, looking up inquisitively, as if to ask either for me to give them my own beads or for me to strip. And since I wasn't stripping and had plenty of my own beads, I decided to turn the tables and see if men would accept the same conditions they asked of these women.


When they looked up at me for something, I would yell down at them, "Drop your pants." That's when the men would look up at me, confused, because the women are the ones that are supposed to be doing the stripping, but in general I got two responses from the men: either they would look at me like I was crazy and walk away, or they would shrug, as if to say, "okay," and then they would start unzipping their pants. Then they would make a gesture to turn around, as if to ask, "do you want to see my butt?" and that's when i'd yell, "the front," and then they'd turn back around, with their pants and their underwear at their knees, and start moving their hips (which I never asked for, by the way).


Over the course of the evening I managed to get at least twenty men to strip like this for me, and I was amazed that there was this society, this microcosm of society, that allowed this kind of debauchery in the streets, a sort of prostitution-for-plastic-beads form of capitalism.


I was reveling in this bizarre annual ritual when this man, average to everyone else, wearing grey and minding his own business, decided to look up at me. So I asked him to drop his pants, and instead of disgustedly leaving or willingly obliging, he crossed both hands on his chest and looked up at me, as if to ask, "you want to me do what? You naughty, naughty girl." And then he smiled and looked up at me, and it occurred to me that I finally found someone in this massive crowd that thinks they way I do.


Now, as I said before, New Orleans has a population, from what I hear, of less than one million people, but during Mardi Gras there are about nine or ten million people there, and all I could think was that of all these people here, I finally found someone who wouldn't blindly do what I asked, but at the same time wouldn't think I was crazy for asking. Of course as I looked at him I also happened to think that he was stunning, by far the best-looking man I had seen that entire night, he looked like he had style, like he was self-confident, but then again, I'm near-sighted and was on a balcony drunk at Mardi Gras.


We hit an impasse when he wouldn't strip and neither would I, so his attention was eventually diverted to other balconies and camera flashes. But I noticed for that next half-hour that he never left from under my balcony (while everyone else moved), and every once in a while he would still turn around and look up at me. Oh, boy, I was thinking the entire time, I know this is no way to start a relationship, Hell, I'm sure this guy lives nowhere near me, and I haven't even had a real conversation with him, but I had deduced by then that was was damn near perfect. And all that time, while we were screaming and partying at Mardi Gras, he would still occasionally turn around and make sure I was still there.


And finally he looked at me, signaling that he had to move on with his friends, and I held up my index finger to make him wait and then I threw a bunch of beads at him. Part of me threw them because he was a good sport, putting up with my taunting and still not giving in, but a part of me threw them because I saw in him the strong values and the sense of self-worth, the sheer love of life, the desire to be alive, that I possessed all along, and have always longed for in someone else.


•••

We discussed going to New Orleans this fall, in October or November, because New Orleans is always a great retreat and escape, and always a great reminder to enjoy life. But then hurricane Katrina came along, after hitting Florida and then ducking back out into the water to gain more power before coming in for an attack again. Everyone in New Orleans was told to prep for a category 3 hurricane, so they figured that this would be like most other hurricanes and they could live through it with no problem.


They didn't know hurricane Katrina would be a category 5 hurricane.


But still, although it was touch, people still in New Orleans weathered the storm and started to go back into their homes.


That's when the levy broke.


And that's when most of New Orleans flooded, about the same time that hurricane Katrina started to move north and weak havoc on Mississippi and Alabama before being downgraded to a tropical storm in Tennessee.


I won't point the finger at the Federal government, or the state government, or the people of New Orleans for staying at their homes until they were trapped there, because everyone is probably in part to blame for the severity of the injuries and the lack of immediate aid to those in need. All I know is that I want to photograph the remains of New Orleans, a town primarily under sea level, in the perfect location for disaster.


The journalist in me wanted to be able to photograph New Orleans, to document the discordancy. But then my thoughts went to the condition of the French Quarter, as well as the Garden District and the St. Louis Cemetery, since those were the places I had frequented in New Orleans (I mean hey, if I always went to the French Quarter as a haven, even spending Mardi Gras there once, I'd want to know that the French Quarter wasn't destroyed form the hurricane). It was a great relief to know that the French Quarter happened to be one of the only parts of New Orleans that rested above sea level, and was least damaged through the storms and flood.


I suppose that explains why there's so much history that has survived in the French Quarter — that older buildings have survived, that St. Louis Cathedral in Jackson Square is the oldest active U.S. cathedral. It's near water and has become a magnet for musicians, Cajun food fanatics and the spiritual.


That, and I want to know a part of my life history isn't gone forever. I still want to be able to purchase a hurricane in the street from Court of Two Sisters.


I don't want to lose all of my youth...





---

Long After 9/11

After seeing compassion and empathy after natural disasters like the tsunami in Asia in 2004 and the damage after hurricane Katrina in 2005, it reminds me of the compassion and empathy we all felt after 9/11 for all of those who were put in harm's way only because they went to work in new York. I remember actually watching the planes crash because my husband was watching the news before he left for work that morning, and for days I tried to get a hold of my friends and family. My friend with the Aid Force was scheduled to have a meeting at the Pentagon that day, but they opted to reschedule their meeting for a week. My brother-in-law was supposed to be meeting at the World Trade Center that day, but he decided not to go there that day. And all I keep thinking about is that news reports were stating after 9/11 that if flight 93 that crashed in Shanksville Pennsylvania landed less than 30 seconds later, my nephew would have been killed while in school from that crash. Flight 93 crashed very close to my sister-in-law's house, and after 9/11, my nephew couldn't sleep for days. My friend who lived in DC wasn't near the Pentagon but dealt with the tight security and the constant roads being closed. He talked about how different streets would be closed on different days and that there were so many military guard there you felt like you were in a war zone, which in a way, you were.


I'm sure we all have stories of losing, or almost losing, someone close to us from 9/11. And these terrorists were stopped on 9/11 from being on different additional flights, and I believe it was in their plan that one of them was slated, I think, to sun into the Sears Tower. I know that for months afterward whenever we were driving toward the loop, taking the Kennedy expressway where you could see the Chicago skyline get closer and closer, I know that every time we drove by, I would be sitting in the passenger seat and I would imaging seeing a plane fly right into the side of the Sears Tower, toward the top, to the side, exactly like how it happened in the television footage to the second World Trade Center building. I imagined it, just like how you saw it over and over again on television, when we were flooded with images of it on the news. I'd see a plane flying right into the tallest building, this landmark to Chicago.


I saw that for a while, whenever we would drive into the city, but after all this time that image is starting to disappear from my memory.


After 9/11, we may have felt like we wanted to prove to the terrorists that we weren't afraid of them, that we would still fly in airplanes after they tried to use our technology and accomplishments to destroy our spirit. But although those images from that horrific day may fade from our short-term memory, we will always make a point to look over our shoulder and try to be both more cautious and more safe when we know that there are people that will try to do anything to tear us down.


•••

Looking back over the years, I realize that there are many thingsthat can hurt us, but in our day-to-day lives, we think of things like car crashes, or things more mundane that can cause our downfall. It becomes so unsettling when the things we have to fear are either natural disasters, or enemies who try to use our accomplishments as weapons against us.


I guess as civilization has evolved we have always had battles to fight, so now that we don't have to fight wild animals for survival and food, and now that we have the sciences to save us from many viruses and diseases, we will still always have something fighting against us. Even though we know where it is more safe to live because of weather patterns, we still will choose to live where it may be more dangerous. So we will continue to deal with natural disasters, and we will always have some sort of enemy to face.





---

Drugging Ourselves Into A Stupor

You know, I'm looking at the headline of this and thinking this is supposed to be some sort of "marijuana is bad" editorial, and it's not. I swear.


Let me break into this with personal stuff... Because of depression, I started taking Paxil a few months ago to calm my mood swings. It worked — even when I was taking 12.5 mg daily in the first week of testing with it (before going to 20 or 25mg, which is still a light prescription), I noticed that I didn't get angry at things going wrong any longer (not the way I did before). And yes, things still aggravate me, but now it seems that I just start to think (when I encountered a problem) that the difficulty is more of a stupid inconvenience than something I should angry at and respond by internally blowing up.


Not bad, I guess. Take the generic to save money, and stop outwardly being such a bitch. Granted, I have to take a pill every day, but it's otherwise a good deal.


One thing I've noticed since I've started taking Paxil is that I have absolutely no interest in working on my next novel (which I've already completed the first part of). I mean, no interest. Zero.


Now, I don't know about creativity being stifled with anti-depressant drugs. All I could think was that my nephew was put on Ritalin for a short while when he was in school. He was the type of boy who climbed everything, and often tried to pull stunts like hanging upside-down from a ledge on a fort he had, hoping the beams would hold him in place. Often they wouldn't and he'd fall, or he might try to pull a stunt and not realize there's a loose nail sticking out of the wood he's climbing with. It seemed like he was getting hurt a lot from rambunctious play, and he didn't pay attention in school classes. I don't think my nephew was depressed, but they decided to give him Ritalin to help him in classes, and his mother was amazed how he suddenly became more focused


Now, I didn't really tie these two stories together (anti-depressants and creativity), until I read the article in the Wall Street Journal that asked about the world giving a good number of children Ritalin because they wouldn't focus in a classroom and their behavior wasn't appropriate.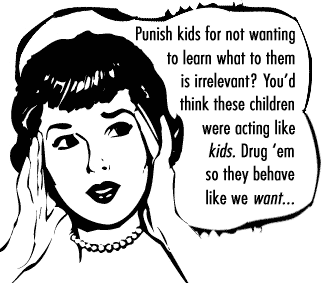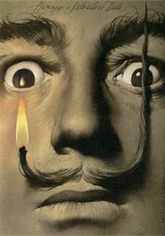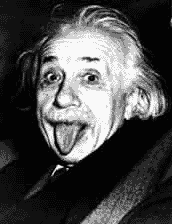 There are attention-deficit hyperactivity disorder support groups that believe that often people who may have (according to the Wall Street Journal) "classic ADHD traits such as impulsiveness, a penchant for day-dreaming and disorganized lives," are people who accomplished so much in their lives — and their abilities and accomplishments may have been in part due to their behavior.


People believed to have had ADHD: Thomas Edison, Albert Einstein, Salvador Dali, and Winston Churchill.


I know, I know, you can think Salvador Dali was only capable of surreal pieces like "The Persistence of Memory, 1931" (you know, the melting clock print that everyone in college years ago seemed to have on their dorm room walls), but he was actually extremely talented painter and created a wide variety of extraordinary pieces. And I don't think anyone can say anything bad about the ability of Churchill or the wonder of Albert Einstein. I mean, think about it: what if Edison was drugged and told to sit and pay attention to the teachings of others, instead of inventing on his own?

I think it was after I read the article in the Wall Street Journal that I made the possible connection between my writing and the Paxil. So I started searching the Internet for information. No one could say anything definitely, and I know I have a low prescription, but I read this line from a man named Barry, who posted this in http://www.rxlist.com/rxboard/:


"The most brilliant and successful people have suffered from depression since the beginning of humanity. Albert Einstein and Abe Lincoln come to mind. Makes sense, actually. Think positive, as it can be responsible for great creativity."


Is he suggesting that depression may be a symptom of those who are truly creative? I don't know the answer, and I don't think anyone can prove what he says.


But today, I think I'll start taking half of my prescription dosage, and see if my creative juices start flowing again.

---

Video Games, Violence, Porn & Death

I loved video games — when I was little we had an Atari system and I played Pac Man in the den with my friend Sheri for hours day, my dad's office was next to a video arcade and I plugged I don't know how many quarters into an upright Ms. Pac Man (okay, I apparently had a thing for that game). But I even programmed a ski video game into my TRS 80 (my Trash 80, thank you), and I obsessed on Tetris starting in college.


Video games can be a good release and a chance to escape problems in life, I suppose.


But that doesn't mean that you should go to a game that supports anything illegal - like porn, or theft, or murder.


Well, that seems obvious, Janet.


Well, it might not be that obvious. First of all, porn is legal to adults (even though a lot of adults have issue with porn).


Okay, Janet, crappy argument for porn, but you didn't even cover violence or death.


Hmm. Yeah, I suppose there isn't a good reason to want violence or death in video games. I know that in Pac Man you went around a maze eating monsters that were trying to kill you, but they were monsters, and it was a measure of trying to keep yourself alive (even if you got points for eating the monsters in those moments where the monsters became a delicacy in the game).


Yeah, I may have played a game where you killed creatures by eating them, but real point of the game was survival in maze after maze, not killing others.


So why am I talking about video games? Because everyone's been playing them lately, from a guy I know who was practicing an on line game for hours every day to be a part of a team playing in the video game Olympics (yes, there's actually an Olympics, where winners for a couple hundred thousand dollars), to a guy who used to rent a place from us who played an online game constantly, to... to eighteen-year-old Devin Moore, who played Grand Theft Auto: Vice City enough to relive a scene from one of the same scenarios.


You see, police office Arnold Strickland brought Devin Darnell Moore in on suspicion of car theft on June 7, 2003. Moore said in a statement (according to the University of Alabama's newspaper the Crimson White on July 21, 2005) that Devin Moore grabbed Arnold Strickland's gun and shot him twice, then shot Fayette police officer James Crump as he ran down the hall. Devin Moore said he then went down the hall and shot emergency dispatcher, Leslie "Ace" Mealer five times, then grabbed a set of car keys and fled in a police cruiser.


When people studied what he had done, they saw that his actions perfectly paralleled a Grand Theft Auto: Vice City scene.


Family members of Strickland and Mealer have even filed a wrongful death suit against "Vice City" developer Take 2 Games, Sony Entertainment, Gamestop and Wal-Mart, saying that the game trained Moore to effectively kill three police officers without hesitation. But according to the Enquirer, Devin Moore's defense attorney Jim Standridge even said that the defense would include testimony about video games as well as post-traumatic stress disorder in the capital murder trial


Yes, somehow the defense will use the video game as support for Devin Moore.


Now, to recap from NBC News and the Associated Press: Devin Moore is charged with six capital murder counts in the 2003 deaths of Fayette officers Arnold Strickland and James Crump and dispatcher Leslie "Ace" Mealer.


And even though Columbus' newspaper the Ledger Enquirer mentions Moore's PTSD, we have to ask is PTSD justifies the murders committed.


Or if a video game justifies the murders committed.

•••

Sen. Hillary Clinton, D-N.Y., have even asked for a ratings change that would restrict young people's access to the video game — because it has been discovered that Grand Theft Auto may not only have violence problems, but sexual ones too.


David Walsh, president of the National Institute Of Media And The Family, said on The Early Show that "that there are explicit pornographic scenarios in which the player literally directs the pornographic scenes." That and "the modules to activate the sex scenes are being promoted on teen-oriented Web sites. So the teen players all knew about it; parents were clueless."


The Beloit Daily News reported that "The best-selling game "Grand Theft Auto: San Andreas was revealed to contain embedded sexually explicit material... Players (children... -ed.) could easily download a "key" which allowed them to unlock what are, essentially, pornographic images."


Does it matter that the makers of Grand Theft Auto: San Andreas have stopped manufacturing the current version of the game, and that, according to nvunet.com, "Sex-free version to be released soon?" Yeah, this hyper-violent game is also bringing porn to teens, because Grand Theft Auto may only now change from an "M" rating, not an adults-only "AO" rating - and the late ratings-change doesn't help the millions of children who already have the game.


I spent hours every day playing video games when I was little. And this Grand Theft Auto is what kids spend hours a day molding themselves after now.

•••

Newspaper sources stated that when questioned, jurors were asked if their children play video games. And of course people play video games. I even heard one caller on talk radio say that they had Grand Theft Auto and haven't had the urge to kill anyone.


But CBS News even stated that Grand Theft Auto is both "extremely violent and wildly popular"... which makes me wonder why there is such an attraction to things that are illegal. Because we really want to steal cars and kill police officers? Um, I don't think I want that (maybe that's why I don't play Grand Theft Auto), but is that what all the people — kids and adults — who buy Grand Theft Auto think?


Steven Johnson, author of "Everything Bad Is Good For You," said that "Mark David Chapman, who killed John Lennon, was influenced by 'Catcher in the Rye.' The Manson family was influenced by listening to the Beatles. Borderline crazy people will be influenced by the media. The question is: Is there a long-term, larger trend in society towards more violence or less violence, based on these video games? We all know the trend in society over the last 10 years is towards much less violence than there was before."


And that's true, I hear that here in Chicago murder rates are decreasing over time. But does that mean we're choosing to let out our violent tendencies in video games? I thought there was less violence because we as a people were less violent. Do we need to resort to video game violence and pornography to attempt to stop these otherwise unhealthy and immoral urges?

---

Beauty First

We heard the news in December about the Ukrainian President candidate Viktor Yushchenko. It appeared that he was poisoned with dioxin, a chemical that could bring a man to death. One of the side effects left his face pockmarked and ashen, which will eventually disappear, but this previously good-looking face now looks heavier, and filled with crater-like acne. Tests revealed the poisoning two weeks before the election.


I've heard these things on the news about Yushchenko's condition, and most of the time people mentioned that we would be fine now that he is bring treated, but otherwise they talk about the condition of his face. The fact that it has altered the way he looks. But at the end of every story, they make sure to stress that Yushchenko was a good-looking man, and he will gain his looks back when this disease is completely out of his system (which should be from one to three years).


Did you know that dioxin was one of the ingredients in Agent Orange? Now the company Monsanto altered it slightly, called it RoundUp, and now has it as a weed killer.


But you'd see photos of Yushchenko before the dioxin poisoning, which they guess could have been put in his soup once (his Chicago-native wife even remembered tasting something on his lips one night months ago), and the news reports would say, 'look at how good looking Yushchenko was, and look at him after months of exposure to dioxin.'


Interesting.


That's interesting to me, because hearing these stories reminds me how how interested everyone is in how we look.


Beauty first.


It makes me think about television shows that do countdowns of the most beautiful dresses, or couples, or men or women out there — because people need to know which movie and television stars are the most beautiful, so they know who to mold themselves after and aspire to look like.


Those same networks have shows where female models and actors discuss the need for plastic surgery to stay ahead in the industry. There are parents who want to give their daughter breast implants for her sixteenth birthday.


Come on , I wasn't even fully developed by age sixteen.


And my parent's would never have thought that my self esteem would be helped by surgically putting silicone under my skin to make me primed for the objectification.


It makes me think of Miss America, where they parade a bunch of women around in fancy dresses and in swimsuits (and make people think this contest is about more than looks by having a "talent" section as well, that most people turn off when they're watching it on TV). For that matters, there's the Miss Universe pageants, or pageant of each of all of the United States, even child pageants (wait, wasn't Jean Benet Ramsey a five year-old model before her parents... er, I mean, before someone, killed her?)


In fact, I just heard of a pageant in China for "Miss Artificial Beauty" — created because women in beauty pageants got angry that they had to compete against women with so much plastic surgery done on them. So "Miss Artificial Beauty" is a pageant of women who have gone through a lot of plastic surgery.


And recently, they even had a contestant that was once a man.


Now, that's a lot of plastic surgery.


It makes me think of cheerleaders. I know, I know, they do a lot of more physical, acrobatic work now as cheerleaders, but in general they have been used as sidelines entertainment, dressed in skimpy clothes and dancing provocatively, for men to keep them entertained during sports game breaks.


I know, women watch sports now too, but they haven't been able to get rid of this sexist practice yet.


But seeing this focus on Yushchenko's looks makes me think about how many women aspire to be models (well, some men want to be models too, because Hell, why would you want to aspire to excel by using your brain?) The notion is to try to excel, based only on your looks. Remember that.


It makes me think about department store make-up counters (sometines they're almost as big as the clothing departments). If you have to wear the right clothes to look good, you have to make up your face so it looks good too.


It makes me think... You know, it makes me think that there are a lot of ways women are supposed to be made to look good.


Oh, but wait, this was not supposed to be a talk about how women have to look got for men. The point was about the fact that everyone is concerned with looks in our society. The point was that this man running for Ukrainian president was poisoned — but more importantly, a side effect is that he looks like an old man with bad acne because of it.


Good thing they caught it in time, because now he won't have too look so ugly forever.


•••


"Damnit girl, you're bitching a lot. People depend on looks, and i'm sure you do too, Janet. Hell, I've heard you say that you loved the fact that your husband is tall. That's based on looks, isn't it?"


I hate it when I let my alter ego get a hold of me during my editorials, forcing me to not be do one-sided.


And by the way, my husband is really good looking.


And yes, looks do matter. I know that any single person interested in meeting someone will look for cute people first. I know that a person's looks can tell you nothing about their personality, but if you're going to be dating someone, it might as well be something other people are envious of. Know that I mean?


And yeah, when you're interested in meeting people, you'll look for the good-looking person. Then you'll try to talk to them, to see if their personality matches their good looks. And maybe, on a personal level, we use that as one of our rulers for judging people.


You know, because we're all so interested in good looks.


But then consider about how good looks effect popularity of people on a mass scale. Like consider actors in movies or television - the better looking you are, the better your chances at getting good roles, because there's a better chance more people would like to stare at you on the big screen. And when it comes to politics, it's much easier to be sweet-talked by a good-looking politician than an ugly looking hermit.


Consider that President Kennedy was a looker (by some standards), that there are theories that Marilyn Monroe had a fling with him, even though many people had a lot of problems with his policies. And think of what you think of when you think of President Nixon: well, you think of Watergate, and him resigning to avoid impeachment. Oh, and also think of his looks. Don't his looks reflect what we think of his presidency?


Consider that Americans want to give President Clinton credit for the Internet boom, and people forget that the crash of the dot com industry happened in the last six months of his second term.


Consider that fact that Bill Clinton had repeated sexual encounters with an overweight intern, and people considered impeaching him. But that's not how he'll be remembered: Bill Clinton was not a gorgeous man, but he was not old, and he had a suave personality and interacted well with people, he had the right tone to his voice, he gave you the impression that he "felt" for you and "understood" what you were going through.


Yes, in America it often seems to be all about looks. But although he had age on his side, this may be some evidence that personality goes a long way.

---

Trials and Tribulations with Morals

After seeing the ball drop in New York January 1 1995, we stopped in the Poconos on our drive back home to Chicago. As we went into our cabin in the Poconos, another guest's cat (even wearing their owner's neon collar) walked up to our door and pretty much invited itself in. We actually played with this cat for almost an hour, knowing it was someone else's cat, and I started thinking about this cat as it played in out hotel room.


I looked at this cat and thought, 'You know, in other parts of the world you're considered a delicacy.'


I sat for a second, and then I thought, 'And in some parts of the world, the cow is sacred.'


This was probably about the time when we decided that we had to let the cat out of our hotel room so it could get back to it's owners. And I thought for a minute, and I knew that, well, I could never kill a cow or a chicken or a turkey or anything. But then I quickly reminded myself that that was the beauty of capitalism, that we can work on what we want to do, and pay other people do to everything else.


And after a second, I thought, well, maybe I don't want to pay someone else to kill the animals for me.


And that's when I decided to become a vegetarian.


Why did I tell that story? Well, because when I tell people I'm a vegetarian, people ask me, "Can you eat eggs or milk or cheese?" And I respond by saying, "Ah, I'm all for the animal's torture, just not their death." Translation: although they don't treat cows well to get milk and make cheese, and they don't treat chickens well to get eggs, I am willing to have that. I just can't tolerate letting animals die so I can have a roast beef sandwich or a Chicken McNugget from McDonald's (which, by the way, is made with all the remnants from parts of the chicken you'd never eat unless it was fast-cooked and lost all of it's flavor, and then mashed back together and have spices added to it so it would taste like meat again).


So this is how I have lived, as a vegetarian, for almost ten years, by having a stir fry and adding an egg to the mix to hold flavors together there, or by enjoying a good deep-dish pizza with extra cheese (but no meat), and maybe adding a topping, like a good amount of garlic.


And yeah, just under the ten-year mark I learned of some more bad news for us vegetarians. I thought we were in the clear on this test, but the majority of cheeses that are produced (like Kraft cheese), use rennet to help process the materials that end of making cheese.


Oh, and rennet is an enzyme derived from calf's stomach lining.


Yeah, I know they could be getting the enzyme from the calf (you know, the baby cows they keep restrained so the baby cow meat will stay tender) they're killing for veal, so...


Wait, I don't want them making veal either.


The thing is, cheese can be made with vegetarian products, and it actually costs less to make it that way. I think big name companies just use the products they're used to in making cheese, and it doesn't matter to them that a vegetarian option not only costs less, but is also more moral.


Why bother being more moral when you could spend more money, and help contribute to more animal deaths?


So in the last few months (well, since right before Thanksgiving 2004), I've been trying to remove most cheeses from my diet as well.


But adding a good slice of Farmer's cheese to a vegetarian sandwich makes it taste so much better. And I know that having some of the animal derivatives in dairy products can be helpful for the human dietary needs (if they don't eat a highly specific diet as a vegan), so I've tried to figure out if there is a way I could continue to being moral and still eat well.


My husband John took me to the store Trader Joe's, where they have listings of what kinds of cheese don't have rennet in them. Found some fresh mozzarella, and since John eats meat, he had no problem with eating the rennet-derived fresh mozzarella in our fridge, so we could have caprice salads. And we bought shredded rennet-free cheese, so that we could go to our favorite local pizza parlor and ask them to use our own cheese when making their pizza (which, by the way, tasted great, and our cheese when reheated melted better than their original cheese). And it was nice to know that where we went to get sliced Farmer's cheese, they didn't use rennet in the production, so it was safe for me too.


And I know to the meat eater it sounds like I'm whining, but... But I guess that's what you get when you have to be moral like this.


Sorry, that was blunt and rude of me. It's just hard.


It's just hard when I can't eat Cheese Doritos or Cheese Pringles, or eat nacho cheese at a bar. Or have cheese fries. Or if a place happens to serve a veggie patty hamburger, you have to make sure they don't add cheese to the burger. And don't get focaccia bread or Asiago cheese bagels because of the cheese. And remember, pesto sauce uses cheese in it. And Parmesan cheese is right out, which people add to spices and mixes. And the Brie and hard cheese my husband and I had for a romantic evening are foods I can no longer eat.

God, is this poor wench bitching. She's complaining that she can't eat the Brie has already has in her fridge.


Sniff sniff. Bitch moan.

I have to say that so I know how trivial this may sound to the meat eater. But when you decide to make a moral decision like this, these little things are a big deal when most of your diet is altered in this meat-eating country.


The United States is the country where fast food restaurants have decided over the years to make it expected to have French fries go with their Whoppers or Big Macs. Where over the years fast food places have decided to expand the amount of processed meat in their menus (consider things like the Bacon Double Cheese Burger). Consider the notion that all drinks and all orders of fries have been made larger and larger over the years (Hell, a man tried to eat only McDonald's for one month straight, and whenever he placed an order, he had to answer "yes" whenever he was asked if he would like to "supersize" his meal).


This is the society we live in. A society that has gotten used to having an excess of everything, and when we in America don't have to worry about killing the animal to get the prime rib steak on our plates, we have a much easier time forking over the cash and diving in.

There I go, ripping on people again.


Sorry, I get on my irritating moral high ground, &... well... I get snippy.


I mean, I have much less of a problem with meat eaters who understand the entire process of how this meat gets on their plate than I do for the average person. I'm married to a meat eater, but he was a hunter since he was a child, and has, after killing his animal, brought it back home, skinned it, cut it up and prepared it for food.


I've got to have some respect for that.


I understand that we have gotten to the top of the food chain, and we can kill animals for food if we need it. But I also remind myself that we're at the top of the intellectual chain too, and we don't have to kill others in order to eat.


So, I still have to say that if someone can understand the process of killing that animal for food, they have earned my respect.


And Hell, I wasn't looking for this in my potential meat-eating husband when I was single, but I like thinking of this story of when John was hunting deer. He used a rifle, and was able to kill the deer. Then he heard that he could use a handgun, but he might not be able to aim as well with it. So he tried it, and when he was able to hit and kill every deer with one shot, he decided he would learn archery, to use a bow and arrow to hunt deer.


Which he did, and did wonderfully.


He did this because he didn't want it to be too easy for him to just randomly kill an animal. He wanted the animal to have a chance in the struggle. So he restricted his abilities, until he could get better at his hunt.


I think of this, and then I think of my past, where I worked for a food magazine publishing company, where magazine editors would have meal tasteings (with meat) from different restaurants for reviews. An associate editor (whom I won't name, you know, because I don't like picking on people without giving them a chance to respond...) said that she would never eat rabbit for a meal tasting, in her words, "because a bunny is cute."


And I thought, 'Oh, so since cows and chickens are ugly, they're okay to eat. Good philosophy.'


This is the mentality that kills me. This is the mentality that makes me sick of how people don't keep a cohesive set of values in their lives. This makes me think of people who are whores, contracting Herpes from sleeping with the wrong men, who then later cover their lives up to get married in the Catholic church, and have the gall to wear a white dress.


And I'm afraid this is the mentality of a lot of people in today's over-consumption society, where we don't have to think about what we're doing with out lives. We have become a people that thinks it's okay to purchase things on credit cards, and just pay the minimum balance every month, just so we can have that second SUV (which in my book is a Sub Urban Vehicle, or something that is only for the people less than urban, or something lower than urban, or something below urban). There is a mentality that we can over-extend ourselves now, and we'll somehow make up for it later. We won't think about the consequences (I mean Hell, there will be a credit consolidation company to help us with our debt later, or worst-case scenario, we can declare bankruptcy and still keep our car so we can make the payments on the house we own).


We've decided to push ourselves too far, and we wonder why American has the highest rates of heart attacks (could it be the stress in our lives and our excess meat in our diets?). And we wonder why diseases strike us like AIDS (of course it has nothing to do with sharing needles with sick people when you're taking illegal drugs, and it has nothing to do with having unprotected homosexual sex, both of which are habits we could change). And we wonder why people age and get osteoporosis (because we drink milk from another species, and we drink it after infancy, and we consume so much protein that it actually pulls the calcium from our bones, making it easier to make our bones weak as we get older).


We define our own problems with our actions. We work to solve our life-threatening diseases, when we give oursevles these problems with our behaviors. We accept the way things are, then work to try to solve their damaging habits, instead changing the habit that cause our downfall.

---

Swallowing Where Meat Comes From

It took me flying to China to read about this story in the Shanghai Daily newspaper.

Now, it's hard to be a vegetarian in China; when you want to order food, everything has meat in it (even the meals that say they don't have meat in them have two different kinds of fish in it...). But even meat-eaters would agree that it is crossing a line to eat human meat, and this was a potential peril those in Vancouver, British Columbia (Canada) learned about when it was reported that a pig farmer became a serial killer, and may have potentially placed human remains in pork that he gave to friends.

http://www.karisable.com/skazpicton.htm said that 15 victims were among 63 missing women, from the Vancouver Downtown Eastside in October 2002. But March 2004 newspapers revealed that human remains may have been in the processed pork products from this man's home. CNN reported on March 11, 2004 that pork products processed and distributed from the farm of accused Canadian serial killer Robert Pickton may have contained human remains. I checked outmore sources on line, and saw that www.seattletimes.com even carried an AP story about this. The AP article stated: A news release issued by B.C.'s Health Ministry said RCMP investigators have evidence that some products were handed out by Pickton to friends and acquaintances in the area prior to his arrest in February 2002.
•

•

•

A woman in California told John that it is possible to spread mad cow disease in the United States, because even though farmer are not supposed to feed animals the remains for their own species, they can feed remains of one animal to another, which becomes processed food for that original animal again. It seems that the way our society works, certain animals are okay to eat and to feed to others, but we don't think about how that meat gets to our table, or what we have to go through to get our "daily serving" of meat. Maybe they would think twice about their meat consumption if they knew the entire process.

---

What It All Means, 2005

I don't know how many times I have to hear the same story over and over again. How many people are going to tell me the same news, each time a little differently, with a little different information. I wonder how many time I will get to hear the same news, each time told to me just a little differently. I wonder how long it will take before I get a real picture of what happened and what it all means to me.


I still didn't remember being there, I think someone put something into the diet soda I was drinking from. I know I never took that drink out of my eyesight, that that drink had to be tainted before I ever took my first sip of it. Well, I know I was getting lunch while I was at work, and that's the last I remember of my work day. I was at the Gorton's Cafe, where you usually had lunch when I forgot to bring my own food. The next thing I remember was that I was in a hallway of the building; I only discovered it was the basement after I had escaped.


They had a witness there and they were asking him questions on who he thought was attractive, and if he lived alone. I didn't know why I was there or if they were going to ask me questions like that too. Then I saw one of the men asking question and I saw that he had a gun. So I figured I had to have been knocked out and I knew I had to keep myself together and so I thought for a brief moment and checked in my head head whether any parts of my body were in pain. They weren't. I thought that had to be a good sign. So I pressed my forehead, and I tried to squint my eyes just a little, so that it looked like I was in pain. I thought that may be a natural way to act like I was in pain and still concentrate on what the other guy was saying. I might be next, I thought.


There were a couple of guys that were dressed the same way, wearing grey slacks and when I started to look I could see that they all had guns too. But just before I noticed that there had to be like ten of them in this room the water sprinklers came on only like five seconds after the fire alarms first started going off. Everyone in the room with me went into a sort of panic, and then the guy next to me, who was in regular business clothes, grabbed my hand and said, let's go around the side door on the right. I started to look around and I could see that everyone who was running this show, who had guns, was also in a state of panic of sorts, and so I followed this stranger out the door. No one even noticed us leaving the room in the basement.


He must have been conscious when he fitst went into the room. I didn't know my way around the basement. I followed him until we got to the lobby level and this guy wanted to keep going out the front doors and I stopped and told the people at the front desk that there were men with guns in the basement. It was right by the elevators, that's all I could tell them.


Okay, so I wasn't a hero in that scene. I never get caught in scenes where I have to do something that I normally wouldn't do. If it wasn't for this guy, who was right next to me in the basement, I probably would never have moved from my seat. They guys with the guns got caught that day, they tried to take a hostage or two before they gave up. and they didn't get any of the money they wanted. I guess there was a happy ending, after all. No one got hurt. What does this mean — to anyone — that sees this story on the news? Probably not much, nobody was hurt, nothing was stolen, and they didn't live through it. No. It was just I who lived it.

---

When You've Only Got You, 2005

There were so many things I wanted to believe and there were so many things I felt like I could trust.


It's funny when people are paid off to tell you lies, and you can trust no one because anyone can be paid off.


That's when you've only got you.


I know that can be rough sometimes, I've managed after all these years and I've made it just fine on my own.


And then you had to come along.


And maybe it was my problem to trust you. Maybe I thought that you wouldn't lie to me.


I wanted to get to know you. I've gotten to know you, working together with you... I've learned about your love of pornography and I thought that you did it because you were so obsessed with your work and you had no time for other people too.


There were many things I wanted from life you know, some women get married and have kids and depend on another man for the money. And maybe I want that and maybe I don't, but I have to know that someone out there is worth it.

---

instead of feeling nervous

I didn't know how many occasions would be obvious and apparent. I didn't know how nice it would be to have you around, even if I never made the effort to visit you. You know, my sister said that it would be nice if I moved to where I grew up, because even if we didn't see each other all that often, it was nice to know that I was close enough. I think of you now, after I had moved toward you and then I moved away. I think you're ingrained in my head now, you and your stories, you with the way you wanted to show yourself off to people who didn't like you, you who made fun of things instead of feeling nervous about them. That is what I like about you. I don't know how to explain it any other way.


I remember you coming by when I was at work and you said you were borrowing your dad's jaguar, and you wanted all of my coworkers to see it. and I thought, well, okay, if they have the time for this, and you wanted to point the car out to me and I saw it out the window and I thought, yeah, that's a car...


Once you gave me a ride in the car and well sure, it's a nice car, but it doesn't win me over, the theory here is that I'm supposed to like you for who you are and not for how much stuff you have, but... god, that makes me think of how you would get into a huge argument with one of your friends and you two would hate each other, and two weeks later you'd make up because she apologized and all would be well again and I knew in the back of my head that they got mad because they didn't like your attitude but they'd have to apologize because they liked the perks of being friends with a rich kid.


I digress. sorry.


Once when you and a girl you were on a date with met me at a fifties restaurant, and the waitress was insanely slow and we couldn't get her attention, you took your paper napkin and your plastic tropical drink knife and stabbed the paper napkin into the straw and said you felt like MacGyver because now you have a rescue flag that we could use to flag down the waitress.


you see, these are my memories with you. they're all a little above and beyond the call of duty, but I guess that's who you are.


We went to post prom one year while we were in college, ganged up with friends we still had in college, and we ate at the top floor of the john hancock building for dinner, and one of the high school girl dates was afraid of heights... Well, they were all boyfriend and girlfriend, and this was their prom. and they were doing something extravagant and they didn't want to mess anything up and look too young. Versus you and I, of course, who knew everything at the ripe ol' age of nineteen, and we were feeding each other portions of our food and I think they were shocked with us but we weren't interrupting anyone, no one thought we were doing anything wrong, and lo and behold, we were having fun. Go figure.


I don't know, we had this habit of making fun of things that were unfair to us - one guy that liked me, well, you made so much fun of him that I'd be buckled over laughing, we'd comment on the rocks silently asking for food because they must be starved if they called the park "starved rock"...


But what I think I remember the most is when I flew across the country to see you and you were working, you got me a map and gave me a key and told me to just do what you want to do, so I shopped, and read in the sun, and toured the college and felt like someone assumed (for once) that I was entirely capable of making my own decisions and being in charge of my own life. Which was nice.


What is my point from all of this? Well, that maybe memories can seem poetic, but that it is nice when you don't feel nervous through life and you just make a point to live. How many people get a chance to do that?





---

What the Truth Looks Like, 2005

It always seems that when she starts typing she has to have me in the room with her and she seems to need to say certain words out loud, so she can say out loud to all the world that there is an apostrophe in any given word.


She'll be silent, then as she's writing she'll say, "can't," or "don't" or "won't" or even "shouldn't".


Well, I sure I should use this as my written thank you to her for helping me type.


It has been a long month, and I'm getting tired of hand-writingeverything on to paper.


Well I thought I'd do it anyway, so you have a bit of insight into the craziness of getting over some of the pain someone has to go through in their life.


Well, maybe you'll also understand why people want to get out of a hospital or what they want to live on their own and have their life back.


Well, that's just my little theory.


You'd have to ask everyone else what they go through, but maybe this all will give you some idea of what the truth looks little sometimes.

---

Scars 2000
I


An Admiral, A General, A high-ranking military official


when you get somewhere in the military, when you grease the right wheels, when you climb the corporate ladder, when you get as high as you can


when you make your graceful exit; when you've been adorned with pins and medals and badges of honor and you've got all your stripes on your sleeve


when you accomplish it all, and when you retire


well, then what?

II


the effects of age are getting to me


my vision is shot to hell. my contacts kill me and my glasses are so old they're only half the strength of my prescription. so when I look at things I notice the blur more than I notice the detail.


my senses of taste and smell are shot to hell - I throw so much garlic on food for flavor that I offend my friends and family. and I can't even smell when I smell, I mean, cologne is lost to me.


my one ear is closed most of the time and it feels like i've got water in my ear and it hurts for me to hear myself even breathe. damnit, I can't even sing any more and do one of the things I actually like to do. I try to hear beautiful sounds but people are usually talking over it instead and all I can hear is their incessant bickering and whining.


and god damnit, I try to enjoy something every once in a while and something more irritating is usually in the way.


you know, i'd rely on writing, but for a while I couldn't even do that. and what do you have then?


i can feel it in my left ankle, like I can't carry weight like I could any longer, and my left knee keeps cracking and popping. and my sister says you know, you've got the 'kuypers' knees, and I guess the kuypers have bad knees. and I was always unaware of that.


the knuckle in my right thumb has been swollen for over a decade, and even the doctors can't find anything wrong.


and whenever I write I grip the pen so tight that my fingers hurt and all I can feel is the ache in my joints.

III


and whenever I look down and see the scars on my body, I should be proud of some, and some would say that I should be proud of surviving some traumas and having the scars to prove it, but all I see are the scars and all I feel are the aches and pains


is this what scars do to you? or is it the memory of surviving the trials and getting the scars. is THIS what you have to show for everything you've done - are these your pins and military stripes you get after you accomplished your goal?


because what do you do when you're retired - do people care about your medals of honor or do you earn so many that they just weigh you down?





---

What I Go Through, 2005

Over the years there are so many things that I have thought about. I always wonder if other people think the way I do. But with everything that has happened to me this year I did think of you, really.


I wondered what it was like for you to be in pain, if you thought it was the end for you, if you knew what was going on.


Brian gave me one of your earrings yesterday. I think it was the last one you wore and when I heard that he still had it, I wanted it. I wanted to have something to remember you by other than these damn memories.


I remember you and Brian playing video golf at the bar. I remember going to your apartment, you making me a cosmopolitan and us sitting sideways on your twin bed to watch X Files on your little TV in your room. I remember you making me dinner July Tenth, I think you had bought bottles of Hacker Pshorr and a lemon too, and I remember watching Pulp Fiction on a six foot projection TV... I remember the notes yo'd pass to me while I was at work, and I remember the walks we'd go on at lduring the days. I even remember once walking at lunchtime with you in the Loop, it was winter and cold and there was snow and ice everywhere, but it was starting to warm up, and the icicles on the skyscrapters were melting — one was turned to slush and fell on my head as we were walking... I was fine, but my head was soaked form an icicle falling on my head from a skyscraper. I remember you taking me on an architecture boat tour in Chicago on my birthday, and I remember you getting people to meet me out for a surprise for my 27th birthday. I remember.


But you know, we should have had more memories together you know. Maybe it's better this way... that's what I keep telling myself.


I have to keep telling myself things, you know to keep me sane but if they're right and you know my thoughts then I suppose you know what I go through.


When all you've got are memories, don't you have to fill your time with something?

---

Magnum Opus

Here's the story... I had saved enough money for a while, and then I was told I should become a model, so I applied to the first place I saw an ad for. And they wanted me.


And I know, I know, this sounds like a good story so far. But I was there for a photo shoot one day, and they needed someone to start working in their ordering department, because they sold clothing too. So I said I could do it and I was hired on the spot.


This is where this story gets more interesting, I guess, where the screwing over appears. Because being on the inside of this company, I saw how things were run. First of all, I WAS their ordering department, and I got to see (while working there) how much of a scam this place really was. The building, all the offices, the changing room, all the clothes for modeling shoots and the runway for the models were just one big room. The owner was there only half the time, otherwise off to work out. or to a luncheon or a country club. And he kept the air conditioning blasted, I think because when he sometimes took pornographic pictures of models, the women would have hard nipples.


And the boss would pay his employees next to nothing (it was never more than minimum wage). And he cared more about the cables for his camera equipment that he left very unsafely strewn about in the main room floor. (I'm sure O.S.H.A. would say that was a safety hazard.) But as I was saying, he cared more about his camera equipment — these inanimate objects — than the people that chose to work for him. He once told me that there was a six hundred dollar cable on the floor, and I wanted to tell that sorry bastard that I actually had the money saved to buy this whole damn building, and if O.S.H.A. saw this place they'd snag his ass, and that if someone was late, his policy of paying them two dollars an hour was illegal, and anyone with balls could get a team of lawyers on him and take this whole scam —


I mean, excuse for a company — away from him.


My coworker Chantene said she wanted to quit, and Joanne from work said she was going to quit, and then I found out that he hired and fired Juanita in a two-week span. Everyone working there was unhappy. Chantene talked repeatedly about taking a magnum to the boss' ass; I mean, she'd talk about shooting him repeatedly.


So I decided then to keep my mouth shut because he could still keep money away from me as a model (I mean, I was still a model). He could still choose not to use my photographs in their magazine or on the web (where the models made money), but I could get electronic stills from my photo shoots with Chantene, and I figured, Hell, I can at least get the electronic copies of my photos; this pointless, irritating, inexcusable, childless, dehumanizing, humiliating, backwards, scam of an inane, insane job has to have some utility for me...


Working at this company, I lost my time, but didn't get enough money or any peace of mind for it. When my near full-time job couldn't even cover my rent, I decided to put in my two week notice and quit...


I learned about the company while I was there — like that they're the most unorganized, disorganized bunch of clods I have ever worked for, because the boss' back-ass rules that we had to follow make no sense.


I mean, when they interview models, they videotape the interview — and act like their video camera works. So an employee of his, during the interview, acts like they're using the camera so the models feel like they are being video taped.


On my last day of work, I was scheduled to do a modeling shoot; I hoped to get electronic stills... But on my last day, with the boss there with his precious camera equipment, I probably wouldn't get the chance...


I also found out at this company that if the boss takes the pictures in a modeling shoot, then there's a chance of getting into the catalog (where models make the money), and if the employees take the photos with the smaller cheaper camera, then the model's photos aren't ever even considered for use. So, like how I said employees act like they're videotaping people in modeling interviews, they take pictures of models who come in for modeling shoots, knowing the photos will never be used for anything, just immediately deleting the images from the digital camera. Great system.


So on my last day of work as their entire ordering department, I took a break to be a model. I was putting on make-up and curling my hair as he was getting his glorious camera equipment all set up.


I know that his camera is more valuable to him than the people that work for him, so all I could think was... Go ahead and get all the glorious camera equipment all set up and take the glorious photographs with your digital camera and make me look just fabulous. Because after my last day as their entire ordering department, I'll be glad to be known as just a model. They say that models don't need brains, but I can tell you first-hand that you don't need brains to do anything else at that company, so... I may as well just be eye candy to them. I may be smart, but at this company, I just want to be known for my looks.


After leaving that company, I heard later that models were suing him for leading them on and ripping them off as models, and it just made me laugh. Television news shows had him on video in a tux leaving his offices and stepping into a limo, and I thought about how I knew all along what a scam his whole operation was.


...I hope my ex-boss got all the punishment he deserves.





---

Things I Find Charming, 2005

When there is so much hope. There are so many hopes I have had... and I have hoped for good things Every once in a while And maybe I couldn't have everything I ever wanted...


And sometimes things can go according to plan; whether it's my plan or not. it's still a plan, and I'll take it.


And when I heard that he liked me, well, I gathered that much by his sign language, well, then I ate that up with a spoon.


And yes, maybe he is a nice guy. And maybe he acted like he liked me. And maybe he was bold enough to say that I was nice, and that I was attractive.


Okay, fine, maybe he is shorter than me. And maybe he is younger than me. And maybe he doesn't live where I do. And maybe he's cocky and sometimes arrogant.


Okay, and he is straight forward and maybe also obnoxious, but the problem is that all of these traits that sound bad are things I find charming.


Sometimes when you can't get the man of your dreams, you can take the good with the bad, and you can be happy with the good.


And maybe I look forward to hearing from him again if he calls me while I was in town. We will see if that happens. And I can hope.

---

The Same For You, 2005

There are certain things I've learned in life, and the are certain things I have wanted. And I've gotten used to never getting what I want. I'm used to that now.


And yes maybe my standards are different from the average guy's standards (you would have to ask the average guy that).


And I am at the point where I am getting used to not getting married when I want to — I mean, at the rate I am going I may just not get married, I guess. And yes, I have been told that you must be a lucky guy because you get the chance to hold me and give me attention and all that other gushy stuff, but you have not wanted to take that chance.


That is something I have learned too


And you kissed me last night and I kissed you too and for me, well, that was with all the hassle and aggravation of not being around you. Maybe it is not the same for you I do not know. Well, we made the comical references of having sex for hours, and we knew we were both saying it in jest, and so nothing ever happened.


And maybe that is the way it is got to be.
***

I have learned to deal with a lot of things in my life — some are good, some are bad... but now all I want is some good news and I want you to fill in the pieces and make everything better for me. And maybe you do not have the answers. Well, I know I don't have the answers and maybe you have problems that you are fed up with and maybe I want to make all those problems go away for you and maybe you worry about things that you should not worry about because of our miscommunications.
***

I told you that maybe it was the accident, maybe it was my lack of a car, maybe it was my desperate need for attention, well, attention from you (you know what I mean), but I told you that I wanted to be held. And I noticed that after I told you that you held me more, and you hugged me more, and maybe it is just me reading into things, and maybe you were actually thinking of me. Well, either way, thank you for that because there are only so many times where I got nothing from you before I lose my mind


Yes, we didn't have the night of my dreams and yes, I ask too many questions to you sometimes and maybe it is for the best that last night was not the night of my dreams.


Because I have to get used to that, you know.

---

Hope And Taxes
I


I went through my tax forms this year and well, It should be one big compliment because I didn't even work last year and the federal government understood this and they told me that I didn't owe them a penny.


and the state government, well, try to put out of your mind the fact that we are in the state with the second largest city in the country here, they told me this year that I owed them more money In taxes than I have ever owed them - even when I even had a job.


and all I keep thinking here is that it's just not fair, and well, I don't use the cops ever and I never use the fire department and well, I PAY health insurance, I don't use the hospitals unless I need to. But it is beginning to look like I am paying for too much and that I should just stop having to pay for it all.


I'm beginning to like the fact that Montana has no speed limits. You're just supposed to use common sense when you drive, because the theory is that you're supposed to be able to have enough brains in your head to decide for yourself when you've had enough and when you've had too much.

II


I'm tired of having hope, that's all.


There's always something that is bothering me. There is always something that is getting on my nerves. There is always something that isn't fair to me, that Is ripping me off, that is screwIng me over. And then there is always something that is making me feel like I haven't given enough and that I have to give more, and when I have given enough they want to take more from me.


It's like when you're trying to take blood from a patient that has been dead for a couple of weeks and the blood has dried out for a good week there. And you're thinkIng, if I just turn the pressure up a little bit on this little electronic gauge here maybe I can get a little more blood here and maybe we can conduct a few more experiments.


Well, maybe it's like this.

III


I worked for years at a nice corporation...well, a company, a nice company, with an owner that made a cool million every year wIth his glorious profits and he gave nothing to the staff.


In fact, he didn't want to give titles to the staff, because then they would have more reason to leave and you know, they knew they did the work (they did the work of more than one), and they knew they wouldn't get Christmas parties, and they had to fight for raises and they were always thought of as less than what they deserved.


And I know I sound like I'm ranting here but but give me a break, I deserve it after all this time. And I'm tired of feeling this way.

IV


so this is my theory; I don't have all the details worked out so forgive me on this one but...if everyone can sustain their own can't we choose to be our OWN country? I mean, forget this gun-banning thing, forget this BANNING thing altogether, and let's just let people in on a first-come, first-serve basis, just the people that earned it, just the people that deserve it.


We need to just get an island here. and if we don't know what island to buy, I suggest that we just use all the yard waste that has collected over the years in this country alone.


I mean, I know of a guy who decided to keep all the junk mail he got in a given year and I wonder if he's still doing that if he has the space for all the junk mail that is usually sent to your house. Maybe he's doing it to show how much junk we have to deal with, or to show what a waste it is. I don't know what his reasons are but either way, you gotta think that it makes a good point.


We could use all of this trash that we get in our lives that we have to get rid of to create our own island, so to speak.


Well, maybe that would work.


There's got to be a few engineers out there that feel the same way I do that are sick of some of the same things that I am and maybe they would be able to come up with some of the answers here


I'm sure they'd be paid WELL for their services. I'm sure of it.





---

Communication ('05 edit)

now that we have the information superhighway, we can throw out into the open our screams, our cries for help, so much faster than we could before. our pleas become computer blips - tiny bits of energy travelling through razor thin wires, travelling through space, to be left for someone to decipher when they find the time.



got into work the other day and got my messages out of voice mail: mike left me his pager number and told me to contact him with some information, tom told me to call him at the office between ten thirty and noon, jason told me to check my email because he sent me a message I had to read.


so I first returned tom's phone call but he wasn't in, so I left a message with a coworker. and then I dialed the number for mike's pager listened to a beep, then dialed in my own phone number. then I got online, checked my email read a note from ben, emptied out the junk mail.


realizing I didn't actually get a hold of anybody, I tried to call my friend sheri but I got her answering machine, so I said, "hi - it's me, janet - haven't talked to you in a while - " at which point I realized there was nothing left to say - "so, give me a call, we should really get together and talk."



sara and I were late for carol's wedding rehearsal, which was a bad thing, because we were both standing up in the wedding, and we were stuck in traffic, and I asked, "sara, you have a cell phone, don't you?" and she said "yes." and I asked, "well, do you know carol's cell phone number, cause if you do, we can call her and tell her we'll be late ?" and she said, "no - do you know it?" and I said "no."



I was out at a bar with Dave, and I was explaining to him why I hadn't talked to my friend Aaron in a while: "You see, we usually email each other, and when we do, we just hit 'reply.' when you get an email from someone, instead of having to start a new letter and type in their email address, you can just hit the 'reply' button on the email message, and it will make a letter addressed to the person who wrote you the letter originally. so he sent me a letter once, and it had a question at the end, so I hit 'reply' and sent a response, with another question at the end of my letter. so we kept having to answer questions for each other, and we just kept replying to each other, sending a letter with the same title back and forth to each other without ever having to type in the other's address. well, once I got an email from him and there was no question at the end, and so I didn't have to send him a response. so I didn't. and we never thought to start a new email to one another. so we just lost touch."


and then it occurred to me, how difficult it had become to type an extra line of text, to type in his email address, because that's why I lost touch with him.


and then it occurred to me, no matter how many different forms of communication we have, we'll still find a way to lose touch with each other.



now that we have the information superhighway, we can throw out into the open our screams, our cries for help, so much faster than we could before. but what if we don't want to communicate? or forget how, too busy leaving messages, voice mails, emails, pager numbers, forgetting to call back... what if we forget how to communicate?



i wanted to purchase tickets for a concert but I was shopping with my sister and wasn't near a ticket outlet but my sister said, "i have a portable phone, you can call them if you'd like." so she gave me the phone, and I looked at all these extra buttons, and she said, "just press the 'power' button, but hold it down for at least four seconds, until the panel lights up, then dial the number, but use the area code, because this phone is a 630 area code, then press 'send'. when you're done with the call, just press 'end', and make sure the light turns off."


so I turned it on, dialed the number, pressed 'send', pressed my head against the tiny phone. and the line was busy, and I couldn't get through.



i checked my email address book recently, and the people I email the most are the people that live in the same city as me, all of whom I know the phone numbers of, all of whom are only a local call away. in fact, one of my friends lives a block and a half away from me, on the same street as me, but I still email her as much as I call her, even though I could just walk over to her house and have an actual conversation with her.



i was suntanning outside on my patio with a friend on saturday, and we decided we wanted to order a pizza. we brought a cordless phone outside with us so we would know if the phone in the house rang, so I picked it up and dialed.


and the phone needed to be recharged, the batteries were wearing down, because there was so much static that I was worried the pizza man wouldn't even be able to hear my voice.


while waiting for the pizza man to pick up the phone, I said, mocking static on the line, "hi, i'm calling from the space shuttle, i'd like to order a pizza for delivery. call mission control at houston for a credit card number."



i got a program for my computer. it's a phone book program, and it sorts people by name or company, lists their phone number, and has a complete file for them where you can store their birthday, their address, past addresses and phone numbers, faxes, email addresses, there's room for any information you want to store about them.


and I love this program, i've created a file with all the phone numbers i've ever needed, I always add information to this file, I keep a copy of it on my computer at home, on my computer at work, on my laptop, even on a floppy disk, in case there's a fire at work and my hard drive at home crashes.


but it always seems that every time I desperately need a phone number i'm nowhere near a computer.


...any computer.



now that we have the information superhighway, we can throw out into the open our screams, our cries for help, so much faster than we could before. people want to instant message, people buy their name as a domain name, people get e-mail accounts, people set up web pages...


and you know, I got a cell phone. I've got a land line. but my phone isn't ringing off the hook.


it's like I've gone fishing, sat on the boat in the lake, put out the bait... and no one's biting.



i wanted to get in touch with an old friend of mine from high school, vince, and the last I heard was that he went to marquette university. well, that was five years ago, he could be anywhere. I talked to a friend or two that knew him, but they lost touch with him, too. so I searched on the internet, to see if his name was on a website or if he had an email address. he didn't. so I figured I probably wouldn't find him. and all this time, I knew his parents lived in the same house they always did, I could just look up his parent's phone number in the phone book and call them, say i'm an old high school friend of vince's, but I never did. and then I realized why.


you see, I could search the internet for hours and no one would know that I was looking for someone. but now, with a single phone call, i'd make it known to his entire family that I wanted to see him enough to call, after all these years. and I didn't want him to know that. so I never called.



now that we have the information superhighway, we can throw out into the open our screams, our cries for help, so much faster than we could before.


but then the question begs itself: who is there to listen?





---

Gary's Blind Date

A friend of mine had a roommate named Gary and Gary was a man who was always down on his luck. So on one particular occasion, after Gary had a dating dry spell, my friend decided to set Gary up on a blind date.


Now, he said, this girl is beautiful, she's funny, you'll think she's great. trust me. Pick her up Friday night. And Friday came, and Gary, feeling more and more apprehensive, said, but I'm not feeling well. I've been sick all week. And my friend said, now I don't want to hear any excuses. You're going.


So Gary got ready for his blind date and drove over to the girl's house. She lived with her parents, so when Gary rang the door bell the girl's mother answered.


"Oh, you must be Gary, please, come in," she said.


Once Gary got into the house, the mother said, my daughter's still getting ready. Would you like to wait? and Gary, still not feeling well, asked where the washroom was. She directed him to the newly remodeled basement.


Gary walked into the brand-new bathroom. New fixtures. Thick, white, wall-to-wall carpeting.


Gary sat down on this new ivory throne, still sick. But when he looked over there was no toilet paper. He couldn't just stand up, he thought, this isn't just a regular trip to the bathroom, I need something to clean myself off with. He couldn't use a towel. So he took off his pants and used his underwear.


But he couldn't leave the underwear in the small, open trash can in the corner of this newly-remodeled bathroom, he thought. So he dropped them in the toilet and flushed. Which caused the toilet to overflow, causing the newly-remodeled bathroom to look less than new.


So here was Gary's dilemma: he left his underwear in the toilet and defiled this family's brand-new bathroom all without even getting the chance to introduce himself to his date.


What are his options, what are his options.


So he did the only thing he thought he could do in this situation:


he climbed out the small bathroom window and drove home.


When he arrived at his apartment so early from his date, his roommate had to ask.


And after that, he never set Gary up on a blind date again.





---

an Outline to the Apex of Rites of Passage
It was one of those rites of passage. A Bah
Mitzvah of sorts. But this was bigger, much bigger
than shaving for the first time or getting your period.
This was the chance for all young high school men to
lose their virginity and a chance for all young high
school women to dress up, feel like adults, look pretty.
Everyone felt the driving need to go through this
rite of passage, to not be left out, to be a part of the
group. Either way, you got to take a day off of school.
But like every rite of passage, the high school prom
is probably more traumatic than fun, because no matter
what, you feel like you have to go, and the entire time
you have to look like you're having fun. Especially for
the photographers. You have to have a perfect record
of your perfect life so you can upstage everyone else.
With every aspect of prom, there was always a
conflict, an expense, or an irony. I mean, this is
supposed to be one of the best times in your life, and
it's wrought with confusion. First, find a date. Has to
be someone socially acceptable, otherwise it would
be less embarrassing to just not go. Then, go
through the trauma of asking your prospective date
to actually go with you, or if you're a woman, wait
to be asked, which is almost more cruel.
Then, see which of your friends are going,
organize what group you'll go with to your prom.
Then you have to start working on the details.
For men, this meant transportation, the cheapest
tuxedo, what kind of corsage to buy, something that
pins on, something they wear on their wrist, or
something they carry, like a bouquet. Oh, and don't forget
the most important part: enough liquor and/or condoms.
Note how suddenly the prospect of multiple hookers
performing anything you'd ever want is both less expensive
and less of a hassle than this quote-unquote "date."
For women, the details meant picking out the right
dress, the right shoes, the right purse, the right
jewelry, the right perfume, the right make-up, the
right hair style. Note how you have to then coordinate
your clothing with your date. So much like real life.
Then, beg your parents to let you wear the dress you
picked out, or keep the make-up and hair style the way
you wanted it. Beg your parents to let you borrow their
sports car. Beg you parents for enough money to pay for
the limo, the flowers, the clothes, the film for the camera.
Beg your parents to let you stay out past curfew, how
about 6 a.m., just this once. But, come on, it's prom.
Then the Big Day arrives. Ditch school, because you
know, getting you hair done can take hours, and you
want to spend some time in the sun, so you don't look
as pale as a ghost for the pictures. Then, after getting
ready for an inordinate amount of time, meet up and
take the pictures. Urgh. This usually entails the man
picking up the woman, taking pictures at the woman's
parent's house, then going back to the man's parent's
house and taking more pictures there. It's almost
worse than a wedding.
Then finally arrive at Prom. Take more pictures.
Talk to as many friends as you can there, compliment
their dresses and tuxedos. Find out what everyone
else is doing after prom, see if anyone is doing
anything better than you. Note how many women are
repeatedly pulling up their strapless dresses so they
don't fall out of them. Note how many men are already
drunk, and look, it's not even dinner yet. Take lots of
pictures with your instamatic camera. Let's do a group
shot. Oh, let me take a picture with so-and-so.
Then eat. Try to figure out how to eat your salad
without using your knife. Check to see how little all
the women are actually eating. Note how many women
go to the bathroom in groups. In any case, whatever
you do, don't stop feeling awkward. But keep smiling.
Then the dancing. Try to remember what your father
taught you. Try not to look stiff. Try not to sweat.
Dance in a box. Right foot forward, feet together,
left foot left, feet together, right foot backward, feet
together, right foot right, feet together. Or go for the
high school standby; wrap your arms around each
other and sway, occasionally making out in the middle
of the dance floor. Note how many women have
their lipstick smeared across their cheek, or on their
date's collar. Note how many bow ties have loosened.
Then collect your things, say your good-byes, take a few
more photos and head out for the after-prom activities.
Possible options include a late dinner, a four-hour boat
cruise, a walk along the lake, a bonfire, bowling, a hotel
party, or the back of dad's sports car. Note how disheveled
you look by six a.m.; try to clean yourself up in the car
before you get to your driveway, in case your parents
are waiting for you. Don't make out for too long as you
say your good-byes in front of your house.
Then, get in the house as quietly as possible, drop all your
clothes into a pile in the middle of your bedroom floor,
and collapse on your bed. Here's a helpful hint: drink a glass
of water and take a vitamin and some aspirin before
crashing; it will help with the hangover. Try to get
some sleep before the day-after-prom amusement park
trip, and keep in mind that even though prom is over,
your friends will be rehashing it for at least a week.
This is the ritual. Now go to sleep.

---

A Lifetime Together, 2005


We were supposed to spend a lifetime together. That's what we talked about. We were supposed to be happy together


You mentioned a place, I said I wanted to go there for my honeymoon and you agreed. I can think about all the things you said to me and I can think about all the lies you told me they're all beginning to run into one another, you know. I can think about how we would act like a couple when we were playing pool at the local bar I think of how we didn't look like tourists.


When, in a way, we were.


You got me next to nothing for my birthday that year. Well, I was there, you had to get me something, you thought...


I can think about the flowers you were supposed to get me, how it would have been good to be able to tell my friends that i'm seeing someone so they wouldn't think i'd be alone all my life.


I can think about how you would shower me with attention or how you'd tell people about me, she's a great girl, you'd say.


I'm sure that's what you'd say.


I wanted to feel your hand touch my face. I wanted to get a sign from you.


Any sign.


So have a happy life, I think when I think of all the people who said they cared but didn't. I thought when someone said they cared they meant it and feelings like that aren't supposed to change at the drop of a hat. When does it occur to the average man that there is in fact no feeling there, and that maybe there never WAS?


Maybe you just think I'm going to have to end this maybe she won't get hurt. Well, in case no one ever told you women do get hurt.


Even the strong ones.


It's really easy for me to say that I didn't care about you, that I knew all along that you lied to me. So whether or not I feel that way is irrelevant right now because I'm supposed to be over you because I'm supposed to not care


Whether or not I'm the strong one.

---

Afraid of Telling The Truth, 2005

I don't know if I'm supposed to have a lot of thoughts jumping around in my head. I don't know if I think about him too much, or if I'm supposed to think about him at all.


There are only so many hopes that you can basically have in life, and I've turned off most of my hopes.


I can be afraid of telling the truth, and if there's anyone that can handle it — that can quote unquote "handle it" — well then, I guess that person would be me.


So in this case, I suppose it's irrelevant that I want you and that I need you too. Yeah, it's probably irrelevant now that I want you to play along withme in this little part of my life, and that you should take all of my troubles away.


My fear is that I'll scare you away. I'll scare you away if I tell you the truth.


So am I supposed to just sit here in silence and wait?

---

And I Don't Care, 2005


I'm sick of people telling me that they're glad that I'm okay, and I'm tired of people asking me and that condescending high-pitched voice (which is supposed to mean that they care) how I'm doing. Well, I'm fine. I'm the same I've always been. I know a lot has happened to me, and I know I've gone through a lot, and I know that nothing gets better.


I know, I know, it all depends on your attitude — that's what they tell me with amazing regularity and it doesn't do me any good and I'm still angry and I've still lost part of my life.


And maybe in theory I'll lose more I don't know


I don't care about the beautiful trees that are growing outside my home and I don't care about the chirps I hear from the birds outside. That's not a nice way to put it, I know, but there are a lot of things I don't care about when the beautiful things have decided to take a turn for the worse for me.


Are things getting better? Objectively, I can say that I don't know, and I don't care.

---

At Least That's What I Hear, 2005


There are so many things I've tried to do with my life, and there are so many things that I've wanted, and because I work and because I want, there are so many things that I just took care of myself.


Well, now that I look at my life, I see that there are just so many things that I want to strive for, and I don't know if I can even get close to any of one the things I want. I don't know if I can make everything better, and I don't know if something is supposed to come along and save the day.


There are many things that have disappointed from me in my life, and there are so many things that have never happened... I know, it's easy to get disappointed about things when you think about them too much, so you can just try to ignore all the bad stuff or just try to change your whole way of thinking or you can just try to be okay with all the bad stuff happening and maybe you can be okay with just having so little and just being alone.


All I have to say is that the last option there isn't an easy one, but it might save you at the bottom line.


At least that's what I hear.

---

But You Know What I Mean, 2005

When we were sitting in the water and the water was warm and it was like being in a bath tub — well, a bath tub with chlorine and a light at the side and it was not like you could be naked in it or anything, but you know what I mean.
But when we were sitting in the water we were looking at the sky for a bit. It was hard because it was not dark enough because it's always better when there are no lights on and you are not in a mayor city or anything. But we were just talking about how much we loved astronomy and we loved to look at stars. And we know where the stars are supposed to be in the sky, and what about cloud formations that are the galaxy we are in... There is so much to know about astronomy and I think it is the science of it that makes us love it so much.


You know, my old telescope is in the house here, and I think this is all a good excuse to get it outside...

---

Crazy Women Talking: This Much I've Learned, 2005

I'm beginning to think the guy-side of me is supposed to make all the decisions, know what is right and what isn't (I mean, people look at men differently than they do women this much I've learned).


So maybe if I told you what went through my head and I said it like I was a guy, maybe it wouldn't be so bad then maybe you could handle the news then. Maybe I could tell you there's this girl I know and she can't be strong all the time, but she doesn't know how to speak sometimes. I could tell you she needs attention, she needs to be helped but the punch line: she doesn't need it from just anyone — she needs that from you


Maybe she wants to cry but she asks: who can she cry to anymore? She has no one, but she needs someone. And she needs that someone to be you.


I could say this, but some of this doesn't make sense, some of it just sounds like a crazy woman talking but sometimes that's what women are.


That's what I would as a man have to ask you.


I'd have to ask, is she worth it?


After I get all of this out, I could stop acting like a guy and just be a girl again. You would listen and you would know what to do for me and maybe then you could be the guy and take control and make a decision so that I don't have to make all the decisions because I'm not a guy, and I want you to be the guy, and I want you to make some decisions too. Even if the girl is strong, the one in control, she's tired and wants to cry. And she wants to be held. So now it's your turn.

---

Get It Over With, 2005

I wonder how much time would have to pass before the hurting would stop hurting, and when you'd start to think that everything was okay and that you for no reason could be happy out of the blue. I wonder how much time would have to pass before you got to that point, where the world seemed good again and you could just move on with life and get it over with.


Sometimes I think about the number of people who I have cared about and who have turned around on me and died. It doesn't seem fair when you think about death on those terms, but it is kind of sad when you think about it that way. My father's parents died when I was younger, and my brother's ex-wife died, too. And I've seen friends go off to war, when I was sure they were going to die, and they came back, just fine. And I've seen people that I've cared about become hospitalized after they were hit be a car. No, I don't suppose much of it is very happy or anything. Well, death as a rule isn't very happy or anything, and no one likes to think about death, not their own death or anyone else's. So how do we get to that point, where the pain from such a potentially awful experience disappears from inside you. How many years does it take for that pain to be acknowledged before it can be forgotten so everything can be better?


I asked my mother today when someone I cared about died, I mean, what time of year did he die? You see, I couldn't remember being sad because he was dead or anything, and I couldn't think of what time of year it had happened. And my mother seemed shocked by my question, and she responded by saying, "he's not dead." And then it all came back to me, that he didn't die, that he was fine.



After I had that discussion with my mother, it had occurred to me that I should have mourned him, that I should have been sad, that no one seemed to miss him. It occurred to me then that I was missing a huge void in my life, and that I didn't know how to fill in all the gaps in my life that I was starting to feel and just starting to miss.


I only have another 60 years of this feeling in my life to go, if all goes according to plan.


I sometimes think about all of the times in my life where I have missed something that should have been important, something that could have made me laugh. Those moments come all too frequently, sometimes. Sometimes you just forget life, what you're living life for, and life passes you by and you feel like you've got nothing to show for all the years that you've lived that you can't remember. I wonder how many people that happens to, unexpectedly.


Today I thought of someone who died recently, and I thought that it would be nice if they just came up to me and made an effort to surprise me and they tried to come up with conversation and they tried to make me laugh. And after I had thought about that for a moment I thought, wait, he's dead, he's not going to do what he used to do, and I'm going to have to remember him this way. I didn't like that idea at all, come to think of it. I wanted him to just be him, and I wanted him to crack a joke and make me laugh and be his usual self.



I think my problem is that I just don't want people to stop being themselves. I want to remember that people can laugh, and crack jokes, and be senseless and silly, sometimes, like I like to be.


Well, to put it all that way, I suppose I just wanted him to be alive. I get tired of thinking of people as being dead, when they didn't deserve their fates and they deserved to live on. I just get angry to think that people who didn't deserve this got this, and it was awful luck, so to speak, and that they needed more. Those are the times when I try to make myself remember what they liked and how they lived.


Well, that doesn't make me feel much better, but I try to think of the good stuff anyway.


Sometimes I wonder about things like that. Who is it harder on when someone dies? Is it harder on the ones who have to die? Or is it harder on the survivors who have to live with only a handful of memories?


When I almost died, I didn't think about death. I mean, I was unconscious, I was in a coma. But when I felt like I was starting to feel normal again, well, all I could think about then was that I had to get better. I had to teach myself how to eat. And how to walk. And talk. And I had to get out of that wheelchair that the teachers wanted to keep me seated in, even though I felt fine. When people tried to make me different from who I was, well, that's when I learned how to have my own set of rules, and because everyone wants you to conform, I also learned not to tell anyone about my rules. No one would want to hear my stupid little rules, anyway. They'll have to learn about their own rules on their own time.



Death is a pretty scary subject. It can cover a bunch of different territories that the average person isn't ready for. Even when some of us think we have it all together, well, that's when someone throws us the curve ball of death to tell us that we might have been wrong, that we might not have been prepared for everything.


How do you prepare for something like this, though? What do you do?





---

Do That For Me Then, 2005

Is there someone around who is designed to tell everyone what the problems are, and what you have to do to solve them? Probably not, because people like that would have been found a while ago, if they existed. Then there would be no more wars, no more violence, there would be a loving caring feeling among people of different beliefs. Well, for that last one, maybe people wouldn't have such strong beliefs. That's where the problems come from. The problems come from having ideas, having theories, thinking they have to be the right ideas, and then acting on those ideas without checking your premises to see if they were even the right ideas.


I've done that. I've hoped, maybe it wasn't exactly hope, but I thought, that everything would fall into place and everything would have a happy ending for me. I've discovered that after all of these years those happy ending haven't come around, and that there is no reason to have hope.


I know that's not what you wanted to hear. Sorry.


But on some levels it's true. People could want someone to deliver flowers to them, for no reason, other than because you wouldn't expect it and it would be nice. People could say something nice to you, out of the blue, to brighten your day.


Wouldn't it be nice is someone you knew came up to you to tell you they loved you? I mean, you know they love you, and you love them, but sometimes it's nice to hear.


I think men don't get that sometimes. They don't remember that women like nice things for them, even if it's not expensive. Or even if it's not something they'd normally think to do.


I guess I like nice things done for me. I want someone to give me flowers. I want someone to call me when they said they would (that doesn't cost money). I want someone to tell me I'm worth something. It's not all about gifts, it's about consideration. So is that too much to ask?


I've wanted things like that for years. Sometimes I've been given a glimmer of hope but then that little sparkling toy that was in front of me is then pulled away (just like the way you can make a baby cry by showing them something, then taking it away).


I'm tired of wanting things. No one is going to make dreams come true; I can't even do that for myself. So why should someone else do that for me then?

---

Do You Still Want To See Me, 2005

I should not be angry that you have not called me. I should learn to expect that.



I know, I know, you have a job, and I am on vacation. But do you still want to see me?


You did not promise to call, I just hoped, and maybe it is just me that was let down. I know I have a lot going on in my life, and I know there is a lot out there and I seldom get to enjoy that. So that would be why I was looking forward to hearing from you.


We got two messages on the answering machine Today, both just hang ups. And that could have been you trying to call. But if it was, you didn't leave a message.


Well, I can at least hope, you know.


And I can say that I have been thinking about you, and that I have wanted you — and in such a short time, I think it is possible that I can miss you too.


And I want to learn more about you. And I want to have more memories with you. And I want to be able to learn from you. And I want someone to teach me something


And that someone could be you.

---

Is it just me, 2005

Is it just me? I remember how you used to be, and how you'd pay attention to me, and how you'd do nice things, and how you wouldn't forget to call me back or how you wouldn't forget what was important to me.


Is it just me, or do you do this to other people too or do other people get used to it or do other just assume you'll forget them?


Is it just me, or are you on time with other people — or is it just me that you're ignoring?


Because I've been in this hole for a while, and I've needed someone to listen to my problems, and I've needed someone to tell me that everything was going to be okay.


And I've got no one telling me that now.


Is it just me you do this to? Is there anything you can do to help yourself because I lost hope for you a while ago.


Well, I haven't lost hope.


But I'm getting close.

---

I Know It's Not Going To Happen, 2005


There are so many things that I think about.


Maybe that is one of my curses.


But I think of these things every once in a while... things that are supposed to make me smile and things that are supposed to make me angry too. And sometimes I like to think about the good things — whether or not they happen to me.


But I can think.


I know these things are not going to happen, but I can fantasize about it every once in a while. And because I am here and I have the time here to think about it, I can think about you. I can think about how you liked me and I can think about how strong you were and I can think that you could have been a good challenge for me.


That you would have put limits on me. That you would not have let me do whatever I want.


And maybe that would have been good for me.


And I think about how nice it would be just to hear that you still like me, even after a decade. And I know I should never have let your down and I know I should never have looked for someone else.


Well, for that I am still paying.


And I do not know if you are married now or if you ever got married, and now you are going through a divorce. (I would like to think of it that way, you know.)


I suppose you could be single but I assume that some woman would have swept you up by now, and someone would have taken you away from the rest of the women out there.


Including me.

---

Here's Your Chance, 2005

Sometimes the most unconscionable things happen in life. Or I fuss I should say "my life," but then I'd sound like I was complaining. So I have to keep it all to myself, and I just have to take all of the crap that is dished out to me all the time, and then when I wat to let my anger out, no one wants to take the time to listen to me, or even act like they're listening to me. I kept my life a secret from the rest of the world for so many years, and now that I feel I have to let out my emotions, even if I'm not talking about my disgust with everything in the world that is so wrong, well then, then no one wants to take the time to be there for me. They'd rather yell back instead of attempt to make any attempts to help me. That's my luck. I should just get used to it, that's what the world does to me, everyone would rather rather kick me when I'm down. Well, I'm down now. This is your chance. Go nuts.


I have been told all of my life by certain people, usually the ones that should be considered the smart ones, well, I've been told all of my life that I should talk more and I should get over my problems and that things will get better when I least expect it. Well, things aren't better, things are just getting worse, and no one can help me through this pain or this anger, and I want to change so many things in mt life and no one will let me make any attempts to make my life better. If I'm supposed to make a difference in my life and I'm also not allowed to change a god-damned thing in my life either, then I suppose I should just tell you all that this is your chance and you can do with me what you will.


Nobody knows how to live a life nowadays.

---

But I Won't, 2005

Have you ever driven a truck before? I'm talking a big truck, not something like a glorified SUV, or something the size of a minivan, but a big truck. That's something I have wanted to ask, and it seems like a silly question, because when you think of truck drivers you think of people who live on the road and drive semis and you probably don't know many people like that, so you probably would just answer no.


But the view from a truck like that, well, it's higher and you feel like no one could hurt you because even if they hit you with their car there's a good chance they'll get more damage than you will... They key to driving a truck is basically what the truck comes with and how it handles the road and I could probably give you more explanations, but I won't.


But what i'd say is that if you ever got a chance to drive one, just for a bit, just so you can say you have, well, as long as you think it's safe well, do it then. Just so you can say you have.


There are many things you want to do in life and there are many things you want to accomplish. Jumping our of an airplane might be an example. My philosophy is, well, don't do something dangerous, but if you get the chance to do something. well, do it. Take that chance, because you don't know how many other chances you'll get.

---

Jarv, 2005

well it always seems to me a day with you can feel like a month together, and still, in a month we can live a lifetime.

Why do the days seem so impossible to overcome?

Why can't someone learn the answers to these questions and why can't someone solve the mysteries of the day? Sometimes I wish that life would be easier. Why can't the simple answers be the answers for some people like me?

Months make time disappear when you seem to disappear from my thoughts, from my sight... and then someone has to go and remind me of you, and all my thoughts of you come rushing back. I don't know where you go while you're gone, and I don't know why I'm forced to remember you, and I don't know what to do with all these questions that no one can answer for me.


No one seems to have the answers that I have been looking for. So should I stop looking?

How many times will I be forced to remember the past, my saying good-bye to you, my forgetting you? I wish you could know a fraction of the thoughts that have been in my head, since your death, since mine.


I keep wondering when my life will start, who will protect me from all my bad dreams. The dreams keep coming to me, just so you know. Not that you'd have any of the ideas that have gone through my head about the world, or the dreams about you, or about me. That's something I'm just supposed to forget. Like magic.


I wish that getting an answer from you would be as easy as getting an answer from anyone you would usually argue with. I've wanted to tell you for so many minutes, so many months, so many years, that I still miss you. I'm sure that doesn't sound like the truth when I try to tell you, but I mean it. My sister, when I got out of my latest car accident, brought me one of your paintings. I remember it having a blue background, not a red one, but maybe that was just my memory creeping up on me again.


I wish I knew how you felt. About me. I wish about things like that, at times. I wish — but I've had strange thoughts like that in my lifetime — that thoughts could be instantly different. I suppose I shouldn't think about wishes that can't just come true, like that, but this is the gist of dreams I still fruitlessly dream about. This is my life now, just so you know, Just so you can get a glimpse of what my life is like now.


I hope that somehow I managed to convey something about you and about me in all of this. I wish I could have given you more of that in life. Or in death. There are times, just so you know, when I wish things could be different for you, or for me, or even for us.

Sometimes I wonder if there's just no sense in the world. I mean, is that all there is to it? Is someone just pulling one big joke on me, like pulling the wool over my eyes? When is everything supposed to just get better and have a happy ending?

Every once in a while I see a painting that you did and I think of you and I still feel sad. I wonder when the pain will go away, when I will eventually just forget you and that will be the end of it. Well, that hasn't come yet. I'm still witing for that day. Someone tell me when it comes? Someone?

I had the whole image in my head: I was in the hospital recovering from after the coma and the only way for you to visit me there would be through the cars that I can see out my window. And you came to the door and got rid of my family that would have recognized you and would have said, "hey, he's alive. Somebody stop him!" But my whole family wasn't around, not in my little dream that I pictured, and you came, and my doctors were mad and I was almost unconscious and you tried to talk to me. And I tried to make sense in my head out of what you were saying, and I kept asking you if you were alive. That was all I could come up with to say to you on such short notice. And you kept asking me "what", and still wanted me to never give you the right answer, the answer to whatever you were asking. I wanted the answers I had for you to just come spilling out of my mouth.


I wish the answers wouldn't come as easily as the truths do.


I think back to all of the good-byes we should have had, and I think about all of the hellos we also should have had. I still don't have the answers, but I DO have my thoughts and I still miss you. And I think of you while I'm in that house that aches in pain, with good and evil, the house which holds all of my clothing now. With all of those demons that just won't go away.

I wanted to tell you so much over the years. I wanted to let you know that, even if you never hear it or even if you never believe it, there has always been a part of me — and there will always be a part of me — however little you want to believe it — there will always be a part of me that will always love you. That seems like such a shallow thing to say. That seems like such a shallow thing to repeat. But I guess I said it. So there it is. I know you loved me, I know I never told you I loved you back. Maybe that was wrong for me to do. Maybe when you were alive I just didn't know any better. Maybe I just wanted to always be right (that could have been it). Maybe I didn't want to use those words because you'd think I wanted to marry you. But I didn't want to tie myself down to someone who would die at an earlier age.


I just didn't know how early.

I know you deserved so much more than me. Most people did, I was mean. That was how I felt. I hope you did — and you will — always understand that.

Sometimes the answers didn't come to me, and sometimes I didn't know what to tell you at the times when you needed it most. I wish I could fill in all of the gaps that were missing from my less-than-perfect education. I needed to learn. And so did you, I suppose. And maybe we can one day forgive each other, and maybe even teach each other a thing or two one day. I'll still always be sorry to you, just so you know. I hope for now that this is enough of an apology. Forgive me.


I'd like to think that you were still alive, so I could say that maybe one day I'll see you again and we can make this all works out somehow. I kept dreaming you were still alive after I almost died, but if you were around I'd say that we should reserve a date for it — for our time when we're supposed to get together. I'm marking the date. You do the same. July tenth was our first date, but that date is too close to my death date. So maybe... well, August tenth sounds like a good date to me. Remember it. Remember the date, and thank you for nothing, and thank you for everything. I'll see you soon.

---

As I Recovered, 2005


I was supposed to be saving a life by turning the wheels and avoiding an accident. Well, I did. I turned the wheels and that saved the other driver's life. Since my wheels were turned I was pushed into oncoming traffic so another car could hit me. I think the first car hitting me was enough, but while we're at it, let's get someone else to hit the car as well. Well, as I was saying, since another car could (and did) hit me they decided while they hit my car that they would push me over 100 feet.


That's what I got for saving a life.


In the hospital, after I got out of the coma, no one even visited me. Oh, I know my family was there and it would have been more depressing if they couldn't have been there for me, but when I say no one visited me, I mean no on that did this to me visited me. Not the people who hit me, not the guy who's life I saved. None of those people even attempted to pay me back. For my car, or my time, or my coma, or me feeling that this is natural, for me being nice. I have the physical scars and the emotional scars from that accident and from that day. And no one ever apologized to me for the pain they caused No one even visited me as I recovered.

---

Janet Being Alone, 2005

I know there that are certain thing that I have wanted. I know I'm picky, and I know I need attention and love and support... And all this time I thought I could get that from you.


And you know, I've been let down before. I've dealt with liars full time... and there have been so many times where I've had to adjust my truths and my perceptions, and there have been so many times where I've had to adjust my schedule. And you know, I've had to adjust my schedule for you, too. But I still had a schedule there, and I thought that you would come around and eventually somehow adhere to it.


Maybe I'm getting tired of being let down. Maybe I'm tired of all the bad things happening to me. Maybe I've had to keep to myself all this time. Maybe I thought that you wouldn't do that to me too.

Maybe I wanted to see you, and it wasn't that I wanted to see your family. I'm getting used to wanting to see your family, but I don't know what I'm trying for, if you're now even going to be there.


I don't know what to expect anymore. I don't know what to do anymore if you're not even listening.


So I've had to learn how to be alone.

That hasn't been the easy part to my job. There have been a lot of parts to this job that aren't easy, and I was hoping for good news. I was hoping for someone to understand. I have been hoping for that light at the end of the tunnel sometimes.

I try to learn and understand things, beccause that something that can make me happy...


And all this time, I thought that something was you.


I thought you were my light at the end of the tunnel.

I don't know how much nicer I can be, and I don't know how many times I'm going to get kicked in the teeth for it. And no, I've come to realize that there is no light at the end of the tunnel for me. The waiting isn't enough.


And no, I can not sit around and wait for you any more

I have to just move on. I don't know what I'm moving to, but I have to be moving to something.

---

Killing the Tired, 2005

I know I should be able to do much better than this. I know that people should be leaving me free money, but I don't know what to do with myself. I should have people showering me with attention all the time, since everyone has nothing better to do with their time.

Why do I think everyone has it harder than me?


I'll come to the answer to that sooner or later, trust me, but for now I will always be the one who is busy doing something wrong.

I had a headache for over 6 hours, and no medication helped in the past 6 hours. Nothing gets better for me. I should have known that would have happened — I should have known that in advance.


It seems that sometomes I just get all the bad breaks. It makes me feel sorry for myself, when I have nothing to think about except my own sorry feelings.


My fingers are freezing in this stpid house. The air conditioning has been on all summer, and the air is on now, and I'm wearing a sweater and slippers right now with my freezing fingers and theere's no one to complain to, because no one is around here that can answer the simplest of questions around here. That's the rule of the day, I suppose. Maybe I should start doing that, too. when everyone realizes there's no one left to ask, maybe then people will start trying to answer their own useless questions.

It's almost two in the afternoon and there's nothing to eat for lunch in the fridge.


My mother has bad paintings here that match anything in here, and she also has pieces of artwork that don't relate to anything, either. I guess that's just me venting.

I wish my soul makes an ounce of sense, I hate it when people don't make any sense, so apparently their ideas are well, the lord and master. I wish more things in the world made sense. Then I'd be able to make more sense out of things. That's what I'd say.

Sometimes I wish it would just be easier if someone just killed me and got the whole process overwith, or if I could be forced to live into old age. I don't know if either option would ever be anything to me.


This is what happens in my mind when I've got nothing better to do with time or other pointless questions. That's just my theory. Am I really that sad? Do I really have nothing better to do? I don't know.

Everyone else has control over my decisions, my choices, and my life. That's it. That seems natural.

Sometimes I think that all people are just out to get me. Sometimes I think people just want me to be unhappy all the time. That would seem natural. I think I want to be unsappy all the time, anyway. That would be fitting. So to speak.

I know I am better than all the fake paintings and all the fake meanings that means nothing to anyone, I know I am better than so much around here, and now I don't have a job, and now I don't have any money, and now I can't even have a good argument with someone about religion, or philosophy, or something I might have learned in school once. This is how it gets when you get older. When you wait for age to tear you apart. That's what life is all about. Get ready for it.

---

I've Done That, So Have You, 2005

It's funny when you get used to life being a certain way, and you assume that nothing ever changes and that's just the way it is. Well, as time wears on (and as you're not thinking about the details) it's not hard to fall into that cycle, where it's easy to care about watching the weekly news show and it's easy to take care of all the work that is on your mind that is in your thoughts... And it's easy to fall into that rut.


I've done that. So have you.


And my point is, it's easy to just let life happen and not try to change it or anything.


I've done that. So have you.


Well, what I'm wondering here — when you get used to life being just that way, then, well, is it just the days going by and just the work and occasionally the movie you rent at Blockbuster so you don't have to have another night out with the guys?


Well, when life becomes that big rut, when life becomes just one big cycle, well, maybe some people can't handle that rut and maybe some people want something different.


I don't know, maybe you don't mind the rut.


Because maybe the people that mind the rut will just have to get used to having it, because what if life is just one big rut?


What I'm wondering is this: will you be used to that?

---

Make Things Better, 2005

I don't know where the answers are supposed to be. I know it sounds trite to say that, but I've...


There it goes, that woman that's always suppsed to say something of value is once again coming to a stumbling block... I have nothing to add.


Okay, maybe I do have some ideas about this whole answer thing, but don't think that anyone wants to hear it. So, I'll offer insight about this whole answer problem. That's the best I can do on such short notice.


No, I can say with some certainty that I dont know where the answers are. I know enough to know that it's tough to see someone you care about die. Even when you were preparing for it in your head, before the death actually happened. You could find out that someone you care about is dead. Or you might have to be the one to tell the doctors and nurses in the hospital that they're not living anymore. You can be the one that is expected to give that news. And maybe you need help in dealing with this, maybe you have to tell this awful news and maybe just need to be held because you don't know what else you can do to make things better for you. But no one tells you these things, and no one is there for you, because well, they're suffering too, and you don't understand what they feel " and they don't understand what you feel either.


Well, maybe there are a lot of things that we can't know everything about and therefore understand at the snap of our fingers. I don't know those answers, either. But maybe we just have to remember every once in a while that other peope have pain too, just like our own pain, or maybe they have a pain that could be completely different from the kind of pain we are used to. Maybe we just have to remember that people hurt. Maybe we can't come up with the answers for them either, but maybe they'll appreciate the effort you make to try to make things better.

---

No There Isn't, 2005

I can stand alone. I don't need you, and you think there's more to it than that, but no, there isn't. Well, sometimes you've got to do what you've got to do, and you just get it done. Well, sometimes the world and everything kind of shows what it's made of, and sometimes you have to survive all the crap that's thrown in your direction.


So sometimes it's important to understand that I don't need all the crutches that people usually give themselves, but it's true, I don't need you, and I can get along fine without you.


Three months since the someone tried to kill me, since I've have to relearn how to walk and talk and eat, three years since I've had to reconstruct my life. Do I feel any different? Did I change, or did the world change? Or is it that way I understand the owrld now, now that I've gone through Hell?


I mean, should the world be now revolving at a different pace? Or was everyone just used to the change of the earth's speed when it changed? Is it something they just never chose to think about? Was everyone just used to the world when it started to feel this way?


So many people go through life with a lack of emotion, or a lack of feeling, or a lack of thought. And I've never been asked to find out information like that, I've never been asked to function that way. I've never been able to just let life go by.


Maybe life stepped on me a few times. Well, you know what I'm getting at with this metaphor, maybe if life is just cruel that way. Maybe life is storming away and if you happen to be in the way, well maybe life will just accidentally step on you on the way out, like if life doesn't know where it's going when it's just trying to leave. Well, at times like that you just have to be ready for a battle, maybe it's a battle you weren't expecting to run into in the first place, but sometimes you just have to be ready for a conflict like that occasionally.


Those damn storms of life seem to veer in a direction we can never fully predict. We couldn't anticipate their change in intensity.


We're not fortune tellers. We don't know everything in advance.


But life is a storm, and you have to be careful that you don't get caught in it, then get in the eye of the storm and think everything's better. These can be ugly storms, so watch out for them.


And even if it never comes to get you, you have to be ready for that potential problem, just in case. Just in case it happens.

---

My Turn, 2005

I want to get married. Have I mentioned that before? I know it doesn't make much sense for me to say it, I could have been married for years now. One person asked for my hand in marriage. I even got a ring out of the proposal. I still have that ring. But I can't imagine anything ever working out in my life, and I can't imagine anyone with any value wanting to share their life with me too.


It would be nice to have the ceremony, and the flowers at the aisles, and the bride and the bridesmaids could carry flowers too. And the men would have corsages, too. I wonder if they would have to pit their own flowers on their tuxedos or if someone would have to help them and do it for them.


Maybe I'd have something written or said during the wedding. And I would make sure that the musician wouldn't play any music I wouldn't want to hear on my wedding.


I don't know what the food would be like. I'd have to plan that out when I actually have the hope of getting married, I guess.


I have no idea of what the honeymoon would be like, either. I don't know what kind of place I'd want to go to for my honeymoon. Someplace I haven't been. Someplace no one else would plan a vacation to go to.


My father is arguing about an insurance bill with someone over the phone now. This is what I'm reduced to. Listening to conversations that may (or may not) have something to do with me.


I'm wondering when it's going to be my turn. I'm wondering when the bad news for me if going to stop. I'm wondering if there's any chance I won't always be alone. I'm wondering if there's anyone out there for me. When does it become my turn.

---

Needy Person, 2005

There are so many things that I've wanted to say to you.


I'm too afraid would you know what I wanted too say. Bhen you would have treated me differently.


I'm not joking when I say I love you, and I don't mean the l word the way most people mean it. I wanted to spend my life with you, and I wanted you to want that, too.


I wanted you to feel the kind of passion I've felt. I've wanted you to make that effort for me.


I've wanted to be able to have that life with you. And I've never wanted to tell you that.


I've wanted you to just know.


What if something happened to me, what if I couldn't talk, or what if I died? Would you know the things I think? Probably not.


Maybe you'd have an idea.


Maybe you're just used to not having to think about things like this.


But I do.


Yes, this is what I think about. You're tall, have blonde hair and blue eyes. You're not perfect, but neither am I. I've been able to get past all the imperfections with you, but are you capable of doing that for me?


I'm a needy person sometimes and sometimes my needs seem obvious and you never notice that I need. You never think there's anything you can do to make my life better.


Maybe I try and work like a giant and am good at what I do.


But maybe sometimes I can't do it alone.


And that's what I need you for.

---

Not For Me Yet, 2005

There are so many things that I want to remember, and so many things I want to remember about you. I don't know if I choose to remember things in a certain way or if I see them the way everyone else does...


I'm sure it's not like that. I'm sure I come into any given situation with certain ideas with certain hopes with certain fears.


And all the hopes and fears never happen that way for me.


I'm used to that too, you know.


You started to rub my back today before you guys were about to take the long drive home, and I even had to say out loud that I didn't want this to end, that I was enjoying this too much. Well, I knew it was because I wanted you near me, and I didn't know how to ask for that. I didn't want to tell you that you shouldn't go.


I had no security yet from you. I had no assurances yet either. And nothing was resolved.


Not for me yet


And I always have hopes, I know that I do. I know that all my hopes never amount to anything, and you'll always look at life differently. This I know


But that doesn't mean that I can't hope things are different.

---

Prepared For The Worst, 2005

I was fully prepared for the worst when I thought it was going to happen. I had to be the strong one, I had to show everyone that they could count on me. But I never thought about someone close to me dying, someone I just thought would always be around, someone that would live to their old age.


Well, I guess people worry about me and my heath because bad things could happen to anyone, but I thought I proved myself before, I proved myself to all the doctors and the nurses and all the technicians and even the cardiologists. Even the intern who told my sister I'd never recover form a vegetative state, how could they trust a man who'd have sex with a married woman, but I guess people are used to people being ignorant backstabbers. I wonder if all of those people thought of me now. I'm sure they don't. They'd have to be reminded of me. They don't know me, what would they remember me, it's just me.


I fully prepared myself for the bed news, I was wondering if I would even get the chance to see the corpse, depending on our timing and when we got to the hospital. I don't deal with death much, I'm usually not at the hospital as it's happening, I'm just not used to this. But I knew I'd have to emotionally clean up for this and I'd have to be ready for this and this was something I might have to be prepared for, in case it happened.


How do you prepare yourself for something like that? I mean, I'm a girl, I'm used to women wanting to openly cry when they hear bad news. I'm used to women falling apart at the seams and I'm used to men never falling apart at the seams. Is that something that makes man and women different, of is that something men and women just learn with time?


Anyway, I was busy preparing myself for the worst, so I wouldn't fall apart when the bad news was sent to my door. Am I supposed to deal with news like this when I just hear it, when it's just told to me, am I supposed to just fall apart then, or am I supposed to be the strong one and take it all and be prepared for it?


Well, I was prepared for the worst and I was prepared for people to be crying when they got to the hospital with me and I was prepared to be strong for the people who needed someone to rely on and help them through this. I made this decision that this was something I had to do and I was just going to have to deal with that fact, maybe today, maybe later.


I got there and there was no bad news, no one was dead or dying, and everything was normal. Well, normal in a hospital as far as I can tell. I'm not an expert on normalcy in hospitals. I'm not an expert on these things. But there was no bad news, and I visited people and talked a little in the hospital, and everyone wanted me to talk to prove to everyone they knew me, well, they wanted me to talk to prove that I was normal and I was fine. "And this could happen to you," I said, "And you have to want it and you have to make yourself better." I didn't know what else I was supposed to say.


I still haven't entirely dealt with what that day could have been like if it was someone else's last day. But I prepared myself for it. Just in case.

---

Pool Together Our Money, 2005

If only we could have been strong enough to pool together our money and tried to beat the bidding for blood for the next to get the damage.


Sometimes the most insane people somehow got in charge of teaching, I'd guess that it would be probably because they lied their way to the right job, but I haven't done a lot of research on this so I could be wrong, but I think somehow, somewhere, someone was put in charge of deciding who would learn what, (and dare I stress what) and I think those people who really actually know very little, decided to pull one big joke over on the students and the world. I think that all of these people, all the ones with no real brains to speak of, all these people just decided to screw up all the good things that were supposed to be produced by intelligent people in intelligent parts of what we should think of as the possible intelligent world.


Well, that's my story and I'm sticking with it.


Well, what I think happened was that all of these people with no real intelligence decided to create a joke or take over the world (or whatever), and they decided to make all the intelligence they could find, and they decided to destroy that intelligence. There's really no other way to explain it, other than to just make people stupid, in a way that no one could ever think to be aware of, but no one would get it, and all the stupid people would gain their strength somehow.


At least that's ny little theory.


And now, no one has the skill defending themselves, much less the skill to get busy defending anyone else. Well, that kind of world would be the worldw without intelligence, but it would kind of also be like the way the world is kind of like now.


Don't get busy thinking about that idea now, let's just figure out what we can do about it.


So this is the way that people with no talent manage to screw people with talent over, so that the people without talent can rise in their fame and everyone can suffer in the process.

---

Short-Term Advice, 2005

I wonder why people have sides on any political issue when the political leaders are only trying to serve the needs of the people in their job. Well, besides that, I wonder why people take sides on politics, when no political people seem to do anything for their country. Why take sides? The politicians are usually crooks, or people who cheat. The better political leaders manage to hide their "bad" side longer than the average person.


Well, they have a bunch of paid people coming up with their speeches so they can always look like they're saving face. I need to learn how to save face, for all of the things I do wrong. So... Why take sides? They'll always use the same lines over and over again until people actually forget that the news isn't even telling them what the problem was.


How do you find someone honesty when you're used to people who cheat and liars? Well, don't look in politics, that's the best short- term advice I can even give you.

---

Slow Painful Death, 2005

I have to try to remember the good things. I am usually so filled with anger that I can't help it, but I'll try. It's hard to remember the good things, when all you can think about are the bad things.


Maybe it's just that I wanted someone to care for me. I needed that a lot then, you know. But that wasn't a good enough reason. Looking back, I know that.


It's funny how hindsight is twenty twenty, and it's funny how I was going to write something about you that was good... But you were are liar, and still are one, and I wasn't immune to your violence. All of the good memories I have of you are clouded by your anger, and rage, and insolence, and idiocy.


So I guess I can't do it this time. I have to write about things that matter to me. So I could write about how I want you to go through a slow painful death.


But you probably know I think that.

---

So To Speak, 2005


Just so the rest of the world has a good idea of what the rest of the world is really like, I just thought I'd let the average Joe know what life is really all about, and well, I guess the average Joe should also know when people are lying and what lies really mean to you and me ad the otherwise average guy. Go get ready.
The average person, with their average personal problems, wouldn't let the problems little from the modern world occupy their little brain. Well, those average little problems are more than a problem, Hell, they are more than a slew of problems that seem disturbing to the average Joe, without inspection. Well, the underlying problem with this whole mess is that with the problems it's more than the original mess the undoing of this mess of problems could cause — the real potential problem is in ignoring the problems, which seems to be what the average Joe does with daunting problems. Well, that's what the average Joe does with as many problems as he can fit in his grocery basket. Well, you get the idea.


The problem here is that there are too many problems, and no one is doing anything about the side problems (the little problems), and the problems are just getting worse, and no one is around to save us from what we accidentally caused by trying to do nothing about a non-existent, more trivial problem. Well, that's the problem, as I see it. Smaller problem begat bigger problems, and we choose to ignore the smaller problem, until they become huge problems that we don't know how to solve. That's what we need to change, so everything can instantly become all better again.


Well, the solving of this problem could be problematic, because no one might be able to tell that there is a problem, and no one might be able to solve said problems that no one was willing to previously tackle.

Oh, forget it.


Maybe there is no solution to these problems. I figure that eventually someone has to come up with an answer, and then once someone does, we can agree with it and then proceed to act upon it. That's just my theory. Well, the current problem seems to be that no one can come up with a single solution for a single problem. Maybe the average Joe needs to be reminded of the problems. SO you go and get to work on that, and I'll attempt my little speech on solving all of the problems of the world shortly.

---

Someone Like Me, 2005

There are many things that make me angry. But underneath it all, there is a reason for me to go on. I could spend the rest of my life alone, I could find no one who would want to weather out the days with me. Every once in a while I find someone who is worth the struggle, someone who tells me the truth, someone who lives by the same rules as I do. In all my life, in all that I've seen, I've found one man who lives by those thruths, who acts that way. I thought I thought I found another, and they continually let me down. That's what society does for you, I suppose. I found another. I found someone who lived the way I do. He loved the same things and I did and got aggravated at the same things that I did. He didn't push it, he knew when to stop badgering someone, so he, like me, was used to being alone. When you see a glimmer of that, you think, he must be right. There must be someone out there like me.


The truth is a powerful tool. If you want to believe what someone says, well, you just believe it. And with that you carry all the baggage that you don't like thinking about, but that's okay, you think that at least you have the basics covered. Even if you don't have the basics covered, sometimes the answers aren't there, sometimes you're lied to so you can only believe what you want to believe - what you can deduce is the truth.


And you know, there are so many times where people have told me something to make me feel better. Well, maybe that leaves some people

It's strange to have ideas. I think it's strange because no one thinks about their ideas or their morals. Am I the only one? Well maybe. And maybe I'm meant to be alone. I know everyone will tell me I'm not meant to be alone, that I could have any one I wanted. But I don't want everyone. There are very few people that I like. And they are the ones that hurt me when they let me down.


But the thing is, sometimes you see that glimmer of hope, and before you're told otherwise, you think that this is a good move and you found someone you like. If only there was someone out there to inform you of bad choices you can make, or choices in things that you haven't made yet, or maybe if we only had a little angel telling us, "You know, that wasn't a good idea. Get over it."


Maybe that's what we need. Sometimes it's hard for us to notice all the things that we want to change and all the things we want to do. And sometimes, even when we have all the right ideas, we can still make bad decisions.


Is it possible to make bad decisions? Yes. I have done it. Usually I don't talk about my bad decisions with people, I think of them as just stepping stones, ways to remember all the mistakes I made and all the problems I had.

Well, now that I think about it, maybe we don't need an angel watching over us all the time. Maybe we just have to depend on ourselves. It gets to be a lot of work, doing things for yourself, but it is possible, if you're willing to try.


I think you just have to get a point in your head where you can't take any more of something, and that's when you just have to cut the ties short. Where you have to look at things and think, yes, you misjudged things, Eric is not the man of your dreams, get over it, accept the fact that you're going to be alone, and move on. Well, I just made up a scenarion with the name Eric here, maybe you need to think about someone else and what they've done to you.

Because I could tell you about the pain that people have given to me. But some of it might have been my own pain, because I wanted to believe that everything was right.

Believing that everything is right is not always the answer. Over the past few years I've learned that there's no consolation in knowing the answer you have is not always the right answer. So maybe the key is to come up with a few answers. And don't ever put all your hopes into just one answer.

---

Stilts, 2005

I wish life just could get automatically easier. There should be more money, and if people would work, I'd wish for more people, ones that automatically think for themselves, and come up with their own conclusions. I suppose the world would just be easier if everyone automatically just got what they wanted and needed, when they knew what was right.


Wouldn't it just be easier if people always got tickets and lost money and got screwed? That would make life so much simpler, if some people were just automatically punished and some people just never got punished?


Thought I'd get you on that one... You're probably too used to me making sense, but every once in a while I'd like to think that I could be on of the people who didn't get punished any longer, because I'm tired of being punished for sins I did not committ. I know there are so many bad people who get away with crimes, or get away with immoral acts, and they're never caught, they're never punished. And then there's me, getting punished for doing nothing wrong. Where is the sense in that?

If I knew how many classes I had today, if I knew how much Hell I'd be forced to go through today, maybe then I'd be less irritable. That's just my opinion...


Is this as good as it gets? Do I have to deal with a terrible schedule and does the usual pain seldom end? I just had to pick up my notebook and my purse and I had to collect myself in next to no time because they leave me unaware of my own schedule. I wish they wouldn't give me physical therapy for an hour first thing in the morning. That pisses me off like nobody's business. I want to be mean here but I have to be nice and I have three more hours of classes and life still sucks and I have four to five minutes of time off before the new and improved Hell starts. I have to nice while going through this abomination, because they'll think something is wrong with me if I'm not nice and pleasant and patient and happy to be alive, when they're really only sucking the life out of me. I don't know how the average person deals with this lack of patience with a lack of any answers for hours a day every day. Is this what my life is supposed to be like? Is this the best of my news? Does anything in life ever get any better than the pain I usually feel?


Maybe I should just stop hoping. Maybe that way it would be just easier.

They — as in the teachers — who don't know how to teach you anything (which is just my opinion) — made typed versions of the schedule for the day for everyone, including myself, and I had a long day today with long hours, like every other day last week. No one has a happy ending for anyone here. I mean, people who were in accidents and are in wheelchairs 5 or 6 years after their accident, and even the average person here can't feed themselves or talk to anyone or even smile. What a life, to live like a patient. I mean, even consider a family friend of one of those said patients, where you have to take care of them all of the time. What al ife.


Everything is still the same. I was given a confusing test that had to do with my lack of reading or vision. So then I talked about my problems and I'm sure it got me nowhere. I should have learned my lesson years ago. Nothing ever gets better in my life. I should just know that it will never change. I've never wanted to face that, but does that mean I should just get it over with and face it? I guess it doesn't matter. I have a 3rd teacher for the next hour. I suppose this means that nothing ever changes. Welcome to my life.

I'm getting tired of seeing people here walking on stilts.

---

Someone Give Me The Answers, 2005

I don't think I can respect people. Can anyone give me the answers? I've been looking and looking, and none of the solutions are coming to me.


Have I been taught to be so different from the rest of the world? Maybe I have been. Maybe I'm the one with the different answers, and maybe I don't know where to begin. And maybe no one can help me through this.


My dictionary is older than my schooling, and my encyclopedia set is older than I am.


I've been looking for answers to what I thought were simple questions and the people who are supposed to be smarter than I am never have the answers for me.


I've talked to a lot of people in my lifetime, and with each day that passes I lose more respect for the people I've known.


This doesn't seem like a fair thing for me to admit.


Maybe I've just had some bad breaks I don't know what my excuses are, or what my reasons are--but the problem is that I don't think anyone has a reason for the majority of the actions they engage in.


Or should I say commit instead of engage in


When I've been injured, I try to recover, but right now I can't even finish a sentence. And I'm expecting finished sentences and sense and answers from all of the people I've already lost so much faith in.

I was recently in the hospital for 6 weeks. When I regained consciousness, I was given the same meal three times a day. Most every day I slept in the hospital, I was physically strapped to my bed so that I would stay in my bed all night


As far as I know, this was not an uncommon occurrance for my treatment I don't know how anyone else was treated, but I am guessing I was one of at least 20 patients in the same institution, in the same ward,with the same teachers.

Sometimes the answers don't come easy. The answers haven't come to me for quite a while, not since my accident, or since my hospital visits. Not since most of my school days or since a lot of my friendships.


I don't know where the answers are. I don't know where my answers were. I'll try to find the answers one day, and if anyone can help me, let me know.

---

Suspend My Beliefs, 2005

And I don't know what the answers are supposed to be anymore. I'm tired of looking for the answers sometimes, you know, and sometimes I just want someone to come along and tell me that everything is going to be okay and that they are going to be there for me and that they'll take care of me. And that they'll love me.


And when I say love, I don't mean the kind of garbage that you hear people say to each other when they don't even know what love is. I'm talking real love, lifetime love the kind of love that doesn't go away.


Well, as I was saying, I want someone to come along and tell me that everything is going to be okay and that everything will get better and you know, just hearing someone say that and mean it would be enough.


I'd then be able to suspend my beliefs for a moment.


So what should I make out of this world? What should I make out of this world that doesn't make sense? What should I make out of it?


I can hope, I suppose, but I've done that for years, and it gets me no where.


This whole "belief thing," in things you have no proof of, really doesn't get you anywhere. I've learned that much.


So what do I want?


I want someone to come along and let me not think for a while. Someone to come along and excite me and make me feel alive — but makes me feel that I'm safe.


I haven't felt that in so long.


I've wanted you to be a part of my life in so many ways, for so many years now, and I think I've wanted it for so long and I've never told you. Well, maybe I should have told you when you would have wanted to hear it so many years ago.


And then maybe I wouldn't feel so lonely for you and maybe I wouldn't want so much more from you.


And maybe then things would be different.

---

Take It All Away, 2005

What is it like to be almost on the verge of death for a long time?


Weeks after I was in the hospital, I found out little details about my being in the hospital; what the doctor did to me while I was in there and unconscious.


Whether or not they were helping me or hurting me I wouldn't have known, I was oncunscious.


They put a piece of metal inside of me, in my torso I think, to stop future possible blood clots from travelling to my heart, or lungs, or brain.


Now, I understand that people who don't move for years may have to worry about blood clots traveling through their body, and I don't care how sick I was, but I wasn't going to die, and I wasn't going to sit still forever. And I know that the rest of the world is filled with people that don't need a piece of metal in their body, they do just fine, and... I don't know if I need one of these pieces of metal in my body for the rest of my life, I can't have an MRI ever because it would kill me, but it would have been nice if someone informed me of this after it had already been done to me


There can be all sorts of things done to you when you are at a weak moment. These things being done to you could have an effect on you — good or bad.

X-rays were taken of me. A ventilator was on me for 6 days. All I knew at the time was that most of my rights were being taken away from me, and I didn't have my car, and I couldn't live at home. I really just otherwise wanted to be myself.

I mean, what if one day something went wrong in your body, and while you were laying in bed to take a nap, your heart just stopped beating? What would happen to you and your life if you heart just went out, like then something just happened and then almost suddenly... well, what if just then you were slipping away?


Okay, don't use that example, but maybe it will help you think about what it must be like to vanish.


What if that happened to you?


If something shocking just sort of happened to you and you survived it, people would then be worrying about you. They thought you might not make it and they had to think that you may be gone and they had to come to terms with that.


Would you clean up your room? Would you stop making all of the frivolous purchases on things you don't really need? Would you try to be nicer? It answers so many questions when you suddenly start to think of things that way.

---

That Adorable Together, 2005

There are times when you feel like the world is crashing all around you... and there are times when you get a glimmer of hope. And it is at times like those when you cling on to those glimmers of hope.


You have to hope for something, you know.


And now that I live here again and I see the places I used to frequent. I think of all the bad things that have happened to me. Well, sometimes, when I think of the things that could go wrong in life I oddly enough still come to you in my head. Not that you were wrong — you weren't — I think that I was so wrong for letting you go.


I think of all the nice things you used to do for me I think of the way you used to be so good to me you acted like you cared. Maybe at the time you didn't know any better and maybe at the time I didn't know any better either.


Oh, what am I saying, still looking back... I think about how cute you were and how nice you were.


I wasn't looking for the football player type and you just happened to be that adorable and even though I didn't know any better I still knew that you were a good guy and you were worth it.


Yes, I might have made you suffer and I never meant to. My friend andy in school called you Mister Superman because he never saw you and he knew you were a football player and he heard me rave about you so incessantly. So the chance to associate your name with your face, so Mister Superman you were.


I still have photos of you. Ones I used to keep in my wallet because I was not willing to let go over every image of you.


Well, not that fast, that is.


I remember how you met me and my friend Ellen at a hotel in Champaign Illinois. I was able to use the excuse "I need to see the town before I decide to go there for school" routine, but for me it was just another opportunity to see you, and I didn't care about the guy that drove with you and I don't know if we were too cutesy around each other in front of your friend and in front of my friend Ellen...


I don't know if we were that adorable together


There are so many stories I could tell about you about how smart you were, about how strong you were.


After all this time that has passed, I almost feel that it's not necessary for me to tell these stories out loud again, because I know these stories in my heart. So maybe I just have to keep a gold hold of that lock box — of my soul — and try to cherish those memories with you forever,

---

The Truth and Liars, 2005

I have been told so few truths in my life, and as more time progresses I trust the average person less and less.


Forgive me, but some things just call for straight-out honesty. Seldom do I get the chance to voice my opinion, or speak out in opposition, or even have my own voice.


I've let myself out of one hospital, and I want to get out of a second one, by liars and people who try to deceive for a living. Believe me, I've seen it so many times, that sometimes it just gets more simple to tell apart the liars from the people who tell truths.


The truth-tellers are very, very difficult to find in this day and age. When you give a little power to a liar you'll be faced with a lifetime of fighting and failures against the people who oppose you (which, trust me, there are many). Well, when you're a person faced with liars, well, let's just say that the battle to win is almost impossible.


For a good part of my life I've dealt with liars. Or should I say, I think that all of my life, because as long as I can remember, I've been aware of what people are capable of.


No one seems to know how to earn someone's trust. It's a difficult job to do with me. People often fail, if they ever tried.


I suppose that an average person who tried to earn my trust would probably not succeed at it. Coming from someone who knows the truth, someone who thinks, let me say it for myself.


I've lived through good news and bad news. I've been through young people's deaths, old people's deaths. I've seen people in constant pain. I've seen no real attempts done by anyone to help me in my life — ever. I have see and lived through both happiness and sadness. I have succeeded at the things I have tried. I have won when I have had to. I'm a ruthless winner. That comes with what I know.


I have cried for so many people that I can't even tell you. I wonder if that many tears have been shed over me.


I wonder if anyone, anywhere, has felt anything about me.


This year I was hit by a few cars. I was driving my car. My car is now useless, after the accident. I was in a coma, unconscious for 1 to 2 weeks.


Right now I hear the chatter of 2 waitresses at the front of this office. I still have to hear them. I know the world deserves more than mindless chatter. Someone on this planet has to deserve it. I have to deserve it. I've already taught myself how to stop arguing, how to stop being unpleasant, how to stop making waves. If you can fit in with those simple rules, if you want, you can be forgotten as soon as you're dead.


Sometimes it's not easy to just give people what they want. Usually you have to sell yourself and your beliefs short. Get ready for it. It will happen in time. Brace yourself.

---

The Things They Did To You, 2005

When you hear that you were so close to death (because they have to tell you, you don't know your own life in moments like that and you have to rely only on what other people tell you), you don't think about it, but you feel fine, you couldn't have been that bad. But you were on a respirator to breathe for you while the doctors just hoped and waited for you to start breathing again. And you couldn't eat, you were unconscious for days, what am I saying, over a week or a week and a half, so they gave you food through a tube that went straight to your stomach. You've got the scar on your stomach to prove it, where the tube came out of your body from. There is a piece of metal in your body that the doctors put in there in case you had blood clots that tried to move through your arteries to your heart or lungs or brain. That had a brain activity/pressure circulation detector surgically attached to your head, they call is an intercranial pressure monitor, so they could measure if there was too much pressure on your brain.


Yeah, I suppose it was fair to say that you almost died, but you're fine now. At least no one will tell you that, but I'm sure you know that information.


What does it feel like to be almost dead? If you had to think about your own life, and what it meant to you and to other generations, would any of this surgery matter? Well, you wouldn't be dead, I guess. But what if you were no longer here, on this planter, what if you were not alive? Would anyone miss you? Would anyone write poems about you, or cry for you?


Yeah, people cry, maybe you'd pull at their heart strings for weeks, but people would get used to the fact that you were gone. Time heals all wounds, as they say. You, if you were thinking about it after you were gone, you'd still be angry, I'm sure. Even your soul would be angry, and every living poerson would just forget you. That doesn't go away. It never does. Get used to it.

---

Well, What About Me, 2005

How can I say goodbye to you when you don't even know I was looking for you? When you weren't even listening? Have I been letting myself down all this time? Have I been hoping for something that wasn't there?

I've just wanted to be alive, and I don't know if that means anything to you.


People tell me they care, and you know, if I died they'd cry for a few days and then they would get used to the fact that I was gone.


Yes, I've thought of that person that thinks too much who is a perfectionist and a bitch she has thought all of that too...


I know you want to make everything better for everyone. I know you want everyone to be hapy. I know you want to try to do everything so that everyone is appeased. But what about me? I've wanted those things and that doesn't mean I get them. I don't know what to do anymore for your problems and I don't know that if I had planned on spending the rest of my life with you if you would change.


I can't be your beacon anymore. I need a beacon for me, you know. and it's not going to be just anyone because I want too much.


But I'm trying to learn that that beacon isn't going to be you anymore, either.


I know what you have to do to make your life better, but I can't tell you that because I have to draw the time somewhere, because I'm tired of giving all the time and getting nothing in return.

---

Things I've Needed, 2005

I got a massage the other day — it was one of those chairs that they sell in the store that rub your back having it on display there. It was the store excuse to call the sample "a selling tool."


Well, I sat in the chair and I'm getting to the point where I think it's worth the cost so that I can get a massage any time I want to.


All I'd have to do (after I get the chair) is pay the electricity.


That can't be too much.


And sometimes you need something good to happen to you because sometimes you deserve it...


And there are a lot of things I've deserved and maybe you're one of those things and maybe you could reach around and move my hair out of the way and kiss the back of my neck. Because I don't think they have a massage chair that can do that.


I don't think the massage chair can give me attention.


And that is something I've needed.


Well, there are a lot of things I've needed I've wanted to be able to curl up to go to bed and know that you're there in bed too, just so I have you to lean on. You lose sight of things like that unless you get used to being alone.

Wait a minute... I don't need to hear you complaining — I probably do enough complaining for the both of us. I don't want to field the phone calls for your business. I don't want to do your laundry.


Come to think of it, I don't even WANT to do MY laundry.

---

Well, Someone Is, 2005

Where do you draw the time over what is too much and what is not enough? I've been thinking about that.


Really, I've been thinking about you and I've been wondering how much thinking is too much, and how much is not nearly enough. Where do you draw that line?


You never want to see me and yes, I'm beginning to get used to that. Maybe that's what I should be thinking, that I can be used to you not caring.


Maybe you don't know that I care.


Well, I told you.


You must have just changed your mind or lied to me one of the other.


And I don't like either option.


We were supposed to have a happy life together. We were supposed to get married — remember us talking about it? I'm sure you don't remember. I do. I remember.


But now you don't think of marriage. That's one of your little ways to let me know how you feel.


And yes, I'm beginning to understand and I'm beginning to feel it. Are you trying to make me feel this way?


Well, someone is...

---

This Is My Burden
I managed to find a seat on the el
train, for once, I was going to work
early enough
so that it wasn't very crowded. And
the ride was the same as the el train
always is:
some people reading a paper, a woman
putting on her make-up, most
just staring
out the window at the aging, rattling
tracks, the smattering of gang
graffiti on the
nearby buildings. Ordinary day in
Chicago, slightly overcast. I wear
my sunglasses
just to avoid eye contact with other
train members. We all know this
code: we know
we have to somehow keep our
sense of personal space, our
sense of selves.
I hear a bit of a scuffle behind me,
more the moving of people than
an argument;
nothing to ponder over. Then
a gunshot rings out. I turn around
and catch
a glimpse of two men struggling.
Instantly I duck down, as most
others do.
I crawl down to the floor in front
of my seat, trying to protect
myself, having
no idea who has the gun or which
direction the gun is pointing. I
don't even know
if this seat in front of me could
protect me from a bullet. There are
screams everywhere;
the gun occasionally going off.
I try to look to see if anyone
was shot, but
am afraid of being in the line
of fire. Another few men jump
in the fight,
in an effort to stop the gunman.
Why is this happening? Was it
an argument,
or just someone on a shooting
spree? The el comes to a screeching
halt at a stop,
and now comes the question: do we
make a run for it, and risk death,
or will the
gunman try to escape out the doors?
The train ride to here seemed an
eternity,
and now none of us even knows
if we should try to get off the train.
The doors
don't open. I hear a few gun-
shots; two men scream. The doors
finally open.
A barrage of policemen cover the
doorways. I could glance up and
see them.
Many more screams. They don't
seem to end. The policemen
rush the
gunman, shoot him before he could
shoot anybody else. It was over.
The next two
hours were spent on the train and
platform answering questions. I
had nothing
to offer them; I barely saw what
happened. They informed me that
it was not an
argument but a man trying to stop
a man about to go on a shooting
spree. Then
the man that survived the struggle
walked up to me, and when no one
was listening
told me that the gunman walked
down the aisle, stopped four chairs
short of mine,
and aimed for my head. That was
when he jumped up to stop him.
That man
was out to kill me. But I've never
met him before, I said, and the man
said he didn't
need to know my reply, just wanted
to let me know why all this
happened.
This man's intentions were to kill
me. But why? Did he think I was
someone else?
And now I think of this every day,
the answers still not coming to me.
And I still
have this burden to carry with me,
that all these people died, all of these
people witnessed
this event, and in a way I couldn't
explain or justify, it was all because
of me.
And this is my burden. All this pain.
All this guilt. All these unanswered
questions.

---

Chess Game Again
we all watched the case on the news
together, the case where a man on a
subway train opened fire on passengers
in the car. nine people dead, i think.
they caught the man, they had their
trial, and by right he could have a lawyer
appointed to him. but no, he wanted
to act as his own attorney. so every
day he would come into the courtroom
in his suit, looking professional, and
he would question each of the witnesses,
the people that survived his shooting
spree and now had to look him in the
eye and answer his questions. "so what
happened then?" he would ask, and a
woman would answer ,"i saw you push
the woman to the ground, put your knee
to her back and shoot her in the back
of the head." "can you point out the
man that did this?" he would ask, and
a man would respond, "it was you." some
of the witnesses broke down under the
emotional strain. and finally he had no
further questions and the judge dismissed
the jury to arrive at a verdict. they found
him guilty, and when the judge asked the
defendant if he had any last words for
the jury, he kept stressing his innocence,
and never apologized. the judge told him
he was disgusted. he saw no remorse in
the killer's eyes. and of all the violence
we see in the media, all the court trials
that are fed to us through our television
sets, our boxes of american dreams, i
don't think any of us were prepared for
this. how did those people feel, when
faced with the man that has brought them
so much pain, how did they feel when they
had to quietly sit there and answer his
questions, when he didn't even say he was
sorry? most of them sat there trying to
keep their composure when faced with a
man who lost all control. this twisted tale.
they were a pawn in his chess game again.

---

Acknowledgments

My thanks for my writings... First of all, I thank the literary and art magazine Children, Churches and Daddies for allowing me to write the editorials in this book, as well as a slew of much more controversial writings (life's more interesting when you have battles worth fighting for, isn't it?)


A lot of web sites have published my writing, but I'm grateful to publishers like Art/Life Limited Editions, who published such a large portion of my writing.


Some of these writings have also appeared (in different forms) in the books Close Cover Before Striking, Contents Under Pressure and Oeuvre. And some of these writings have also appeared in performance art shows in Chicago, shows like 6/11 (06/11/02), the Beach Poets Feature (08/14/05), The Cycle of Life (9/12/03), Conflict•Contact•Control (for Communication, 04/01/05), Death comes in Threes (for accident-related writings, 03/18/03), the Dreams performance (02/03/04), Live at Cafe Aloha (1997), Questions in a World Without Answers (10/05/04), Seeing Things Differently (1997), the Side A/Side B show (12/09/03), and the 05/03/02 CD and 10/12/02 live show Stop. Look. Listen.


But when it comes to all of the writings in this book, I have to credit Chaotic Kuypers at http://www.chaoticarts.org/chaotic-writing/chaotic-kuypers-writing.htm, DeepThoughts on the writing of Kuypers, and http://www.yotko.com — which not only holds all of my writings, but also some of my essays and editorials in A Rant of my Own.


But after I've thanked the organizations that have supported my writing, I have to thank my husband for listening to my readings, and driving with me to do technical work on my regular performance art shows. For that matter, I should thank him for being a fantastic guitar player and playing guitar with me when we ran the weekly open mic Sing Your Life, or for learning the covers I liked before we had our concert in Fairbanks, Alaska. He wonders if he's there for me and my creative arts enough, but even at the times he isn't there, well, he at least gives me good writing material. Because my life is richer because of him. So I thank you, John.





Janet Kuypers