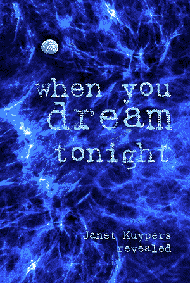 pick up this June 2014 poetry book
of dreams poetry from Janet Kuypers
when you Dream tonight
order the 108 page, 6" x 9"
paperback ISBN# book

Though you can find this book at amazon.com
(and Amazon.co.uk, Amazon.de, Amazon.fr,
Amazon.es and Amazon.it), you can directly order
this through the printer.


below is a listing of the writings in this books
(listed in order in this book) in this collection.
All YouTube links listed below are of readings FROM this book.
new Dreams poems
Dreams 09/07/07
Dreams 09/08/07
(Dreams 12/22/08) the indescribable infant
(is it a fish? is it an animal? is it human?)
dreams turned into nightmares
Dreams 12/3/12
Dreams 12/6/12
Out Of Place (Dreams 12/3/13)
Dreams 2/20/04 two, for Charlie Trotter 11/5/13
Dreams 08/24/08
---
"Dreams" show 2/3/04
he told me his dreams 4
realistic dreams
The Dream
transcribing dreams 3
he told me his dreams 5
Dreams 01/19/04 Three
A dream about murder.
people's rights misunderstood
he told me his dreams 9
---
older Dreams poems
he told me his dreams 1
he told me his dreams 2
he told me his dreams 3
he told me his dreams 6
he told me his dreams 7
he told me his dreams 8
she told me her dreams 1
she told me her dreams 2
she told me her dreams 3
she told me her dreams 4
she told me her dreams 5
she told me her dreams 6
transcribing dreams 1
transcribing dreams 2
Dreams 01/14/04
Dreams 01/16/04
Dreams 01/17/04
Dreams 01/18/04
Dreams 01/19/04 one
Dreams 01/19/04 two (dog stuck to my face)
Dreams 02/13/04
Dreams 02/10/04
Dreams 02/12/04
Dreams 02/20/04 two
Dreams 02/20/04 one
Dreams 03/08/04
Dreams 03/11/04 (truck on truck)
Dreams 03/19/04 one
Dreams 03/19/04 two
dreams 04/20/05
dreams 05/26/05
Dreams 09/06/05
Dreams 09/24/05 (a phone as a purse that matches my shoes)
Dream 12/24/05: Aeon Flux Crawl
Dreams 04/29/06 hotel flirting
Dreams 09/04/06, Original High School Pot
Dreams 09/03/06, The Room Is A Boat
Dreams 09/11/06, Incorporating Life Into Dreams
Dreams 09/17/06, Carting a Man in Shock
Dreams 12/28/06, Jump Out of the Ship
Dreams 08/30/06, Forgot to Pack
Dreams 09/17/06, Dad Talking To Me
Dreams 01/28/07 (seeing mom)
Everything was Alive and Dying