Respect Our Existence or Expect Our Resistance
cc&d magazine
v272, June 2017
(the 24 year anniversary issue)
Internet ISSN 1555-1555, print ISSN 1068-5154

---

Note that in the print edition of cc&d magazine, all artwork within the pages of the book appear in black and white.

---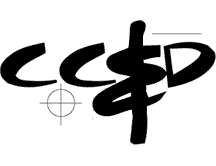 no one's prize
Linda M. Crate
i'm not that
agreeable
girl
that allows herself to get
hurt for the benefit
of other people
anymore,
but rather i fight for my own
dreams;
carry your own crosses
won't crucify
myself for others anymore because
they refuse to carry me
when my knees are weak and my mind is torn
so let them suffer their own solitude
as they've left me to
suffer—
perhaps,
i sound selfish or cruel;
but i am often too giving and too kind
to those who simply want to use
me;
i am exhausted
can't fill from an empty cup so i'm losing everyone
else to find myself
because my true friends love me
for who i am
as impossible as i can
be—
i am wild
cannot be tamed
too often they try to clip my wings and put
me on a pedestal,
but i will respond like medusa
look them right in the eye
turn them all to
stone;
because i am no one's prize
just the flames of hope and love and passion
and dreams.

Linda M. Crate Bio
Linda M. Crate is a Pennsylvanian native born in Pittsburgh yet raised in the rural town of Conneautville. Her poetry, short stories, articles, and reviews have been published in a myriad of magazines both online and in print. She has three published chapbooks: A Mermaid Crashing Into Dawn (Fowlpox Press - June 2013) and Less Than A Man (The Camel Saloon - January 2014), and If Tomorrow Never Comes (Scars Publications, August 2016). Her fantasy novel Blood & Magic was published in March 2015. The second novel of this series Dragons & Magic was published in October 2015. Her third novel Centaurs & Magic was published November 2016.

---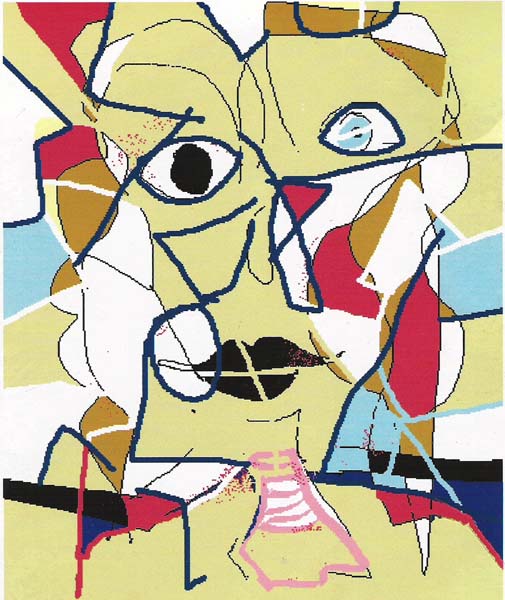 ---


cherry tree
Linda M. Crate
rigor mortis
already
set in
because you have
died before your time
forgot what your
heart and soul were used for
so you forfeited both
to drink of the
devil's wine,
and as such you could only
ever know longing and thirst but
never kindness nor compassion or truth;
you have every halo of your father's
lies clinging to the lapel of your
wings
just another fallen angel in a world of darkness
struggling to remember light—
you told me that you'd save me like the heroes
do in novels,
but i doubted your authenticity;
so then you said that you loved me and i had to stay
because you knew that i was rooted to your
need that i loved you with all my
strength
forgot myself for a moment and made
you a god—
i became the cherry tree,
and you were george washington
chopping me down
into the winds of oblivion.

Linda M. Crate Bio
Linda M. Crate is a Pennsylvanian native born in Pittsburgh yet raised in the rural town of Conneautville. Her poetry, short stories, articles, and reviews have been published in a myriad of magazines both online and in print. She has three published chapbooks: A Mermaid Crashing Into Dawn (Fowlpox Press - June 2013) and Less Than A Man (The Camel Saloon - January 2014), and If Tomorrow Never Comes (Scars Publications, August 2016). Her fantasy novel Blood & Magic was published in March 2015. The second novel of this series Dragons & Magic was published in October 2015. Her third novel Centaurs & Magic was published November 2016.

---


this isn't okay
Linda M. Crate
you say
that a woman should close her legs
if she doesn't want raped,
but how well does
that work when he's stronger than you
are or doesn't require your open legs to rape
you?
i wonder,
do you have a brain in the right head of yours?
you're like brock turner's father
insisting his son shouldn't be punished for
"twenty minutes of action"
instead of showing any empathy or compassion
to the true victim of the crime,
and i want to know why
rape culture exists
because it needs to die here and now and forever more;
i want to know why
to this very day
women are seen as property and sexual slaves and nothing
more than a body
yet are not recognized for their accomplishments or their souls—
in sports
women aren't even taken seriously
being told to twirl around or being criticized for their hair
or not even being acknowledged by their names or
even acknowledged;
and yet people say that women have it better
that women have more rights—
more rights than whom
or what
exactly?
i want to know why society allows this
why any of this is accepted
because it shouldn't be.

Linda M. Crate Bio
Linda M. Crate is a Pennsylvanian native born in Pittsburgh yet raised in the rural town of Conneautville. Her poetry, short stories, articles, and reviews have been published in a myriad of magazines both online and in print. She has three published chapbooks: A Mermaid Crashing Into Dawn (Fowlpox Press - June 2013) and Less Than A Man (The Camel Saloon - January 2014), and If Tomorrow Never Comes (Scars Publications, August 2016). Her fantasy novel Blood & Magic was published in March 2015. The second novel of this series Dragons & Magic was published in October 2015. Her third novel Centaurs & Magic was published November 2016.

---


Question
Eric Obame
Art?
A fool's gamble
Passion and hope in a black hole
What's an artist?
Disappointment
Struggle
Running uphill
Swimming against the tide
Flying in storms
Art
My marriage, for better or worse, until death to us part?
Made a choice
Gave up steady pay and a set schedule
Years ago
I dream I'm homeless
Walking back and forth on the street median
Whenever the light turns red
Looking for a helping hand
A few dollars or some change to get through another day
I beg in the rain, in freezing cold, on the hottest days
Holding a sign claiming I have pride because I'm not a thief
Thank you for your help
Another homeless man, Robert, a street down holds a different sign
His is more direct, Give to the less fortunate
Two blocks further, Betsy, a homeless woman walks the line
With a sign saying she has kids to feed
Further away, Mike, a veteran, he says, receives a dollar
There is teamwork in our begging
But the result of it repeats
A window goes down
A hand comes out with a dollar or some change
I dream I'm homeless
I sleep in my car in a mall's parking lot
Go to a bathroom there to clean up before stores open
And wash my dishes
Go to the library to work, power my laptop and print
Earn just enough from my art and odd jobs to pay for gas and insurance
To buy salads, bananas, juice and water at grocery stores
Or go to McDonalds
Contact agents and publishers, submit my poems and novel chapters
Enter my poetry, script, and book into contests
Surviving
I dream I'm homeless
Today, I failed to reach the final round of another contest
Today, another one of my poems was published
Tomorrow, I'll be a successful artist?
Am I Sisyphus pushing the boulder up the hill?
Hope
My writing improves
I get better feedback, reach more finals
Enough success so I push on
When the path I'm on is littered with barriers like a labyrinth
I'm not Theseus, don't have a string to find my way out of the maze
Hope is a curse
Losing is my religion
It's natural, born with it
Not a snake, a scorpion, a spider, or a shark
Wasn't born to kill
Human babies die without help, children same
What's an adult who isn't rich?
What good are dreams, if they don't pay the bills?
What good is good if it doesn't reward, if it doesn't put food on the table?
What good is good, if I think I am, but I'm the only one who thinks so?
Being kind, helpful, moral, what's the point if I'm poor?
Good deeds are pharaohs buried in gold, decorated memories
Wallet is empty, can't afford problems
Misfortune is a lioness on the hunt
Downwind and hidden to avoid detection, creeping closer
I feel her coming
Wake up and get a regular job, be normal?
Head out of the clouds, feet planted on the ground?
Work long hours again, come home too tired to write, or write well?
Steal?
Every time I find a way over or around an obstacle
I'm slowed by another one down the road
I dream of who I want to be
But reality pushes me toward other paths
Which is braver?
To pursue my goals despite the numerous walls in the way, persevere?
Or accept the hand of fate and flow with whatever life hands out?
I don't know my place
No
Conflict focuses me—makes me smarter, wiser, stronger, more disciplined
I'm grateful
Nothing will stop me from reaching my goals
Art?
A roll of the dice
The house always wins?
Not always
What's an artist?
Creator
I write therefore I am?
How many times can I tell my parents I'm fine, before it's a lie?
Have to believe there is a light at the end of the tunnel
The light could be a train

---


haiku inspired by Buson
(remember)
ayaz daryl nielsen
above that campsite
a harvest moon was all mine
my heart remembers

about ayaz daryl nielsen
ayaz daryl nielsen, veteran, former hospice nurse, ex-roughneck (as on oil rigs) lives in Longmont, Colorado. Editor of bear creek haiku (26+ years/135+ issues) with poetry published worldwide, he also is online when you search for bear creek haiku - poetry, poems and info.

---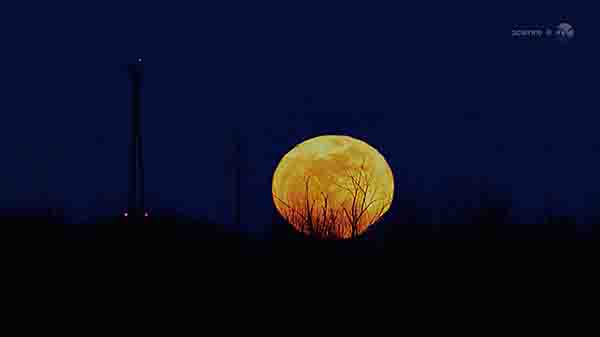 Harvest Moon photograph from Science @ NASA

---


haiku inspired by Buson
(rivers)
ayaz daryl nielsen
without mountains
streams still find
their rivers

about ayaz daryl nielsen
ayaz daryl nielsen, veteran, former hospice nurse, ex-roughneck (as on oil rigs) lives in Longmont, Colorado. Editor of bear creek haiku (26+ years/135+ issues) with poetry published worldwide, he also is online when you search for bear creek haiku - poetry, poems and info.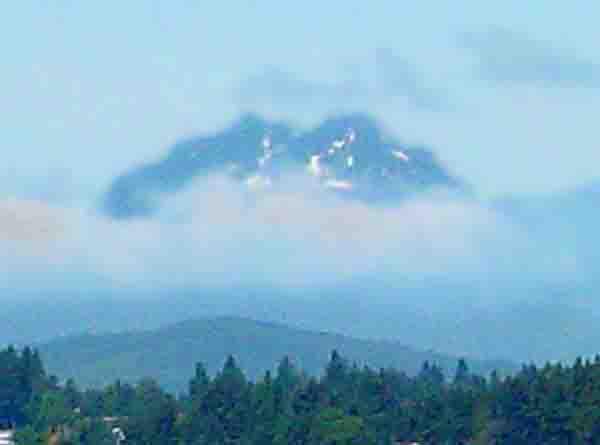 ---


haiku inspired by Buson
(trail)
ayaz daryl nielsen
high country trail
far below, interstate highway
scurry of ants

about ayaz daryl nielsen
ayaz daryl nielsen, veteran, former hospice nurse, ex-roughneck (as on oil rigs) lives in Longmont, Colorado. Editor of bear creek haiku (26+ years/135+ issues) with poetry published worldwide, he also is online when you search for bear creek haiku - poetry, poems and info.

---


Act Your Age
Carl "Papa" Palmer
Watching South Park on TV
as his grand girl enters the room,
he's writing on a notepad, bare feet
propped on the coffee table,
munching caramel corn, drinking
chocolate milk from the carton.
"He stays up as long as he wants,
doesn't have to get up for school,
eats whatever, whenever and
nobody tells him what he has to do."
"I can't wait until I'm an adult,
so I can be a kid just like my Papa."
"He was a poet; and they are never exactly grown-up."
~ Peter Pan in Kensington Gardens

Author Bio
Carl "Papa" Palmer of Old Mill Road in Ridgeway VA now lives in University Place WA.
He has a 2015 Seattle Metro contest winning poem riding buses somewhere in Emerald City.
Carl, president of The Tacoma Writers Club is a Pushcart Prize and Micro Award nominee.
MOTTO: Long Weekends Forever

---


Church Ritual
Carl "Papa" Palmer
Warm unmoving August air
miserable mid-morning mass
penalty penance punishment
for drinking sneaked rectory wine.
Entire summer every Saturday
every Sunday sitting kneeling
same front left pew hands folded
holding plastic rosary pocket bible
wearing only owned suit blue wool
white cotton shirt starched scratchy
itchy sweaty too tight too hot
topped with one of dads clip-on ties
perpetual smell of faded dying flowers
overly perfumed blue haired women
acrid smoky yellow odorous incense
unfocused eyes daydreaming downward.
Alerted as I feel mothers close inspection
hear her familiar forced tsk tsking sigh
unsnapping the red leatherette handbag
releasing familiar aroma mix cloves
menthol cigarettes smelling salts
Black Jack caffeine chewing gum
pink dust of cracked compact powder
rattle of keys coins cellophane
as she locates the least wadded tissue
wets a clean corner with nicotine spit
tries to wipe that newest brown freckle
from my blushing sunburned cheek.

Author Bio
Carl "Papa" Palmer of Old Mill Road in Ridgeway VA now lives in University Place WA.
He has a 2015 Seattle Metro contest winning poem riding buses somewhere in Emerald City.
Carl, president of The Tacoma Writers Club is a Pushcart Prize and Micro Award nominee.
MOTTO: Long Weekends Forever

---


Family Love
Carl "Papa" Palmer
Gran always has time listens
hears what I do in school
what makes me happy
want to be when I grow up
always understands eye-to-eye
explains the why out of my questions
not providing but provoking answers
Our discussion and relationship
change as Mother enters the room.
Mother says she loves me, but her
eyes never tell me she does.
She talks at me, rather than to me,
like I'm the reason Father left

Author Bio
Carl "Papa" Palmer of Old Mill Road in Ridgeway VA now lives in University Place WA.
He has a 2015 Seattle Metro contest winning poem riding buses somewhere in Emerald City.
Carl, president of The Tacoma Writers Club is a Pushcart Prize and Micro Award nominee.
MOTTO: Long Weekends Forever

---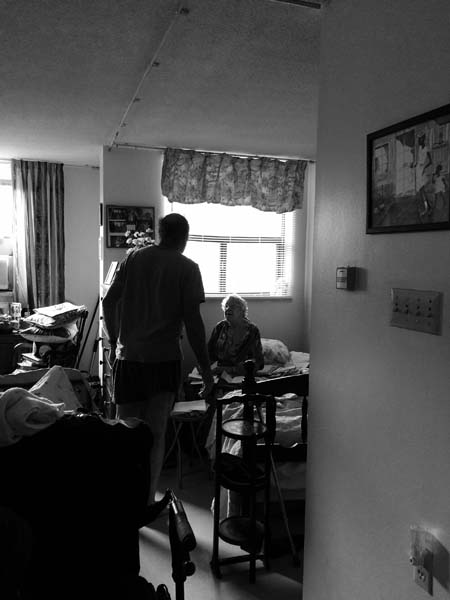 A Thousand Words, photography by Rose E. Grier

---


Father
Carl "Papa" Palmer
I never saw him cry
no tears of joy or regret
never an apology
no hugs, no kisses
His stiff upper lip
emotionless smile
made me strong
no momma's boy
Handshakes firm, hurtful
until I was strong enough
to squeeze back
however never did

Author Bio
Carl "Papa" Palmer of Old Mill Road in Ridgeway VA now lives in University Place WA.
He has a 2015 Seattle Metro contest winning poem riding buses somewhere in Emerald City.
Carl, president of The Tacoma Writers Club is a Pushcart Prize and Micro Award nominee.
MOTTO: Long Weekends Forever

---


Times
Michael D. Jones
So, I was walking in the town square, on the street past the courthouse on a hot summer day, and there were lots of pretty girls in short shorts and skimpy tops. Of course, I couldn't help but notice them, even though none of them gave me so much as a side-long glance. Who knows, some of them might have smiled or flirted with me—if I'd been thirty years younger. But I knew my day in the sun was past. I was over the hill, just dreaming of happier times.
And it was there, on the town square, that I saw this old man—old and beleaguered, kind of withered, wrinkled and beaten down...I could see how beaten down he was just by looking into his eyes. It was like I could see directly into his mind and read every sad, depressing thought. But even so, his eyes twinkled a bit when he looked at me, and he smiled in an odd, but friendly, way. He strode right up to me, straightened himself up really tall and said, "I been looking for you."
Other people walked past us there on the sidewalk. They passed us by without seeming to notice. The old man held out a wrinkled paper bag—it looked like a lunch sack that had been used and re-used, for maybe a year. It was all tattered and stained, and, frankly, kind of nasty. I didn't really want to touch it, but the old man kept holding it out to me with his liver-spotted old-man hand. He had an expectant look on his face, and he said: "It's for you, boy. Go on, take it."
Well, hell, standing there, feeling like I was trapped in a bubble of light with this crazy old man, I just didn't know what to do. So I reached out and took the bag from his hand. It had the word "Times" written on it in black marker, like the way you would label your lunch sack with your name. I was curious about what was in the bag, but at the same time, I was a bit reluctant to look. The old man seemed to sense my reluctance, and he said, "It's just a collection of different times. Go ahead and have a peek."
So I opened the bag and saw that it was filled with little scraps of paper. I took one of those scraps of paper and read what was written on it. As I read the words, I could see the time that was described on the paper—I mean, literally, I could see the time unfolding before my eyes in a kind of magical panorama. It wasn't like looking at a picture or watching TV—it was more like I was living the moment, and all the people walking past us on the town square were transformed into the scene. When I looked at them I could see the difference in some real and palpable way. It might have been their facial expressions, or maybe just the overall vibe, I really don't know. But the effect was intoxicating. I felt sort of dizzy. I probably would have fallen down if the old man hadn't helped to steady me a bit. He said: "I know, boy, it's awesome, isn't it? Go ahead, look at some others." So I did.
It was like eating potato chips—I just wanted to keep looking at one after another. I saw a time when Republicans supported their troops with more than cheap magnetic ribbons, a time when they realized that if you want endless wars you might actually have to raise taxes, even on the wealthy. It was a time when allegiance to your country meant something more than wearing a lapel pin. Standing there in the courthouse square, the people around me looked sort of...I don't know, different. I sensed a sort of acceptance, as if I had a right to exist, even though I'm a Democrat.
The mere acceptance of my humanity made me feel all warm and fuzzy, so I put that time back into the bag and grabbed another. Suddenly, I saw people in big SUV's with chrome fish on their bumpers, and they were driving politely, there on the street by the square. It was a time when faith was something more than what you wear on your sleeve, a time when Christians talked earnestly about the words of Jesus, and seemed truly concerned with things like the parable of the good Samaritan, the shepherd dividing the sheep and the goats, the camel passing through the eye of a needle...
I wanted to savor that time a bit, and I looked more deeply into the scene. I saw a time when Pro-Lifers marched in the streets to protect infants and children as much as fetuses, a time when they earnestly condemned people who gunned down doctors and bombed clinics—why, they even called the people who did such things terrorists. Whoa, I was stunned! The old man tightened his grip on my arm, pulled me closer, and he said to me:
"I know what you're thinking, son. You can see a time when preachers stop exploiting the hopeless, when politicians stop exploiting the faithful, when people look beyond the echo chamber for truth, when we throw off the shackles of yesterday to shed the dogmatic absurdities of theology and the intransigence of law..."
"Yes! Yes!" I shouted. Suddenly, I was jumping with excitement, and the old man, with eyes alight, was holding my arms and jumping with me. We laughed like children, both of us. We must have been quite a spectacle, but we didn't care. And the people walking past us there on the square—I don't think they even noticed.

---


Versions of the Truth
Richard King Perkins II
For J.P.
In gym class,
I saw his legs five times a week for
three years of middle school.
Those tortured limbs never stopped scaring me—
to my eyes,
they still looked as twisted and raw
as if it had happened yesterday.
I'd heard him explain the tragedy
more than a dozen times
and it usually went this way:
My mom put me in the bath and she had
no idea the water was scalding hot
and I just stood there, not even able to scream
and my legs just kept burning
until she saw the look in my face
and when we got to the hospital she was
in such shock she let the doctors take skin grafts
from the back of her legs without using any anesthesia.
Except for the way they look,
my legs work just fine and....
at this point, he'd pull the bottom of his gym shorts
up a few inches,
showing a tract of perfect human skin
....it didn't get any higher than this,
so I was really kinda lucky in a way.
Of course he wanted us all to know that his cock
was also just fine and hadn't melted away
like a sacrificial candle into that terrible cauldron.
That was the story he invariably told.
A few years later,
I heard a different version of the incident
that went this way:
Mom had gone upstairs to check on her son
and when she found him
wearing her makeup and clothing
she marched him right into the bathroom,
stripped him down,
put him in the tub and tried to burn the gay right out of him.
She supposedly couldn't see him again
until he became an adult and could determine for himself
if he actually wanted to see her.
I don't know which version is closer to the truth
and maybe it doesn't matter
because he seemed well-adjusted
and his legs worked just fine
and I do remember him having
the most exquisite penmanship I have ever seen
so that in seventh grade I asked him
to sign my name into all my textbooks
and every time I'd open one
my eyes would swim just a little
with seeing my name written
more beautifully
than I'd ever seen it written before.

About Richard King Perkins II
Richard King Perkins II is a state-sponsored advocate for residents in long-term care facilities. He lives in Crystal Lake, IL, USA with his wife, Vickie and daughter, Sage. He is a three-time Pushcart, Best of the Net and Best of the Web nominee whose work has appeared in more than a thousand publications.

---


No Reason to Leave Elburn
Richard King Perkins II
I met Andie a time or two at his dad's shop.
Angular, thin,
too sweet for his own good.
When Andie was in fifth or sixth grade,
his dad moved the family
twenty miles away
so that Andie could start fresh.
The father, Jim, told me that his son
wasn't being bullied nearly as much
in the new town.
A few days before high school graduation,
Andie went out walking
through fields of reclaimed prairie.
He waited patiently, weaving bracelets
of wildflowers, watching ants
build their tiny volcanoes
of dirt and sand.
His patience rewarded, Andie stepped
onto the tracks
and waved goodbye to the engineer.
Jim kept his family in the same town.
There was no place in the world left to go.

About Richard King Perkins II
Richard King Perkins II is a state-sponsored advocate for residents in long-term care facilities. He lives in Crystal Lake, IL, USA with his wife, Vickie and daughter, Sage. He is a three-time Pushcart, Best of the Net and Best of the Web nominee whose work has appeared in more than a thousand publications.

---


Abandoned Church
Dan Fitzgerald
Doors darkly closed,
locked against salvation.
Cars slow to pause,
faces staring with hope
at an empty parking lot,
then drive on,
searching for other passages
to redemption.

---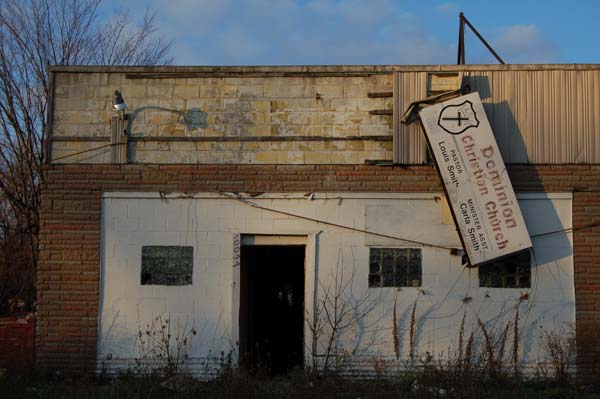 Dominican Christian Church, photography by David J. Thompson

---


Marc and Quentin
Marc Livanos a/k/a Panhandle Poet
Evenings were full of laughter,
sitting round
that pot-bellied coal stove,
catching up on events.
We knew how to tell jokes,
sing hip hop,
break dance and
get loose.
Suicide rides down steep hills
on skateboards that
took all day to make
were worth every scrape.
I learned how keeping out of trouble
was not just what mom saw
but what the neighbors
told her.
Greasy hair smeared
blackboards
where my head lay
during mind-numbing classes.
I had a fade,
while the girls rocked
tight braids with colorful barrettes,
kinky twists and relaxers.
The kids at school did ordinary stuff,
English, math, science,
square dancing and
HORSE.
I remember the people around me
were living in the same circumstance
and we all just watched out
for one another.
Nights were spent toiling
on mechanical drawing sketches
listening to Dean Martin and
the Kingston Trio.
Mom taught us to do chores,
while she worked, and
was strict about it too
with consequences to pay.
Mama's kindness was always
more action, than words,
as she daily prepared meals
smothered in love.
I was always intrigued by the sense
of community one has living in the inner city.
The closeness of everything,
not just everyone.
Stick ball nights
with Momma standing
by the front door
calling us to dinner.
Mom made
our home nice
no matter
what her situation was.
Walks home passed
manicured lawns,
mature trees, trimmed bushes
and picket fences.
There were distinct
white and black
sides of my
segregated town.
I went to college
where hard work later
guaranteed a good paying job
at any establishment.
Mom was killed in 1991
after her boyfriend was in 1984
and then my brother succumbed
to our circumstances and was arrested in 1993.
I sat shivering in my military haircut
filling the car with my alcoholic breath,
when the cop simply asked if I was drinking
and let me go.
Had violence
not plagued the area,
as time grew on,
I would have stayed in Camden.
Generations after us
will never know
these simpler days in Weirton.
Ah, to just step back in time.

---


Words sprout wings
Oz Hardwick
Words sprout wings, escape their paper
cages. Your head spins as they dart
like hummingbirds, tongues flicking to lick
the flowers on the wallpaper, the ceiling rose.
You sit, stiff-backed, rapt, wrapped in sheets
of blank white which unroll to the floor,
across the carpet, and into the waste paper basket.
You need to take control, so raise the gauze net
you never noticed you were carrying, and catch them,
one by one, until you finally realise you are
a Victorian explorer (the moustache and hat
should have given it away years ago), so you pin
each one in a glass case, in its allotted place,
determined to make them mean something.

---


mobius poem
John Sweet
let the wolves grow fat
on the corpses of dissidents
let judas be crowned
the future will arrive
with or without you of course
and truth is not beauty when
beauty offers no hope
the truth is a circle and the
passing days scrape and
bleed against one another
until they all look the same,
and how much can human
life be worth when all
wars are fought for
profit?
who exactly do we need
to kill to
make things right again?

---


Chicago Enforcers helmet (XFL Reality)
CEE
Your ultimate Love
Made a gang bang porn
Filmed by film students via the
Experimental, with a since-banned
EX-HD device
Your ultimate Love
And the five guys she was with
Were all cutting edge, time-release
Aphrodisiac-doped (gills)
Filming went on for four days,
The film students, having cut it together
Watched it once
Committed suicide...
The movie, as long as Birth of a Nation
Is everywhere
And it permeates everyone's mind
And it is Videodrome as Orwellian
And it has made a New Earth
Where every man is
Destroyer mook, kegger mind
Fists hairtrigger, ape in leather 'n denim
Where every woman is thing-midriff
A robot
Farm wife arms knit or simper kitten kapo,
This Neanderfuck Reality
Is the Town where I live yep
There's just no mass mind control
Or, there is
But, not as cool as what I described

---


Life of Roses (in Red)
Xanadu (Oflibaifame)
(i)
Ringing on your sound a while
to near resonance frequency
when she gives her heart away
after, say, ten smallest nails
do not hook into the flash
but into your soul instead
where red roses bloom
(ii)
Exciting full blossom
her soul is when the dress
slips a way down unto
where black lilies gloom
not onto defeating senses
but your heart instead
you'll see la vie en rose
(Thanks to Louis Armstrong Xiao Yu and Shenzhen)

---


black hole down
Tom Woodruff
DR. STEPHEN HAWKING SHARED —
"I know I said you cannot get out of a black hole...
Well, you CAN - but but it takes an enormous amount of energy!"
As a metaphor and a parable, his scientific sharing
lifted the depression and malaise that had hung over
both dark matter and the matter of black holes.
Of course, most space is simply that - end energy exists
in motion and in relationships... Yet to hold a scientific vision
that change is possible once you allow your beliefs to change
makes even religion just another set of projected beliefs.
Science is not a religion. All it's tenets are up for grabs.
They just need more evidence to prove new theories.
Thank you, NASA! Thank you Dr. Stephen Hawking!

---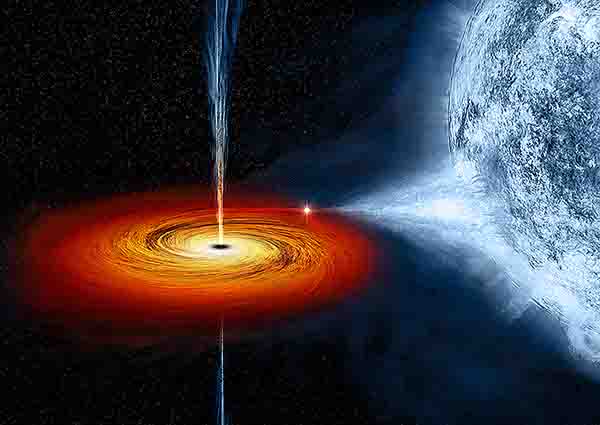 artist's rendition of a Black Hole, from NASA/CXC/M.Weiss

---


This Just In
Natasha Hooper
The news say black people's hair is trendy now.
Say black people's bodies are trendy now.
Say black people's skin is trendy now.
But only if it is not on black people.
The news say black on black crime is worse than police shootings.
Don't say white on white crime is more prevalent.
The news say white is God.
Say black is gas leak.
Black is oil spill.
Black is something that needs to be cleaned up.
The news say black is guilty until proven ... questionable.
The news don't say that this is another civil rights era.
It don't say that this is history continuing itself.
The news don't say they got a multi-purpose prison pipeline now. They can funnel you through it, beat you with it, hang you from it.
The news say "the cops took the mass murderer to Burger King, gave him a bullet proof vest to cage in all his anger."
The news don't say "the cops let the little black boy bleed on the ground for four minutes. They did not think he was worth the happy meal."
The news say forgive and forget.
Say what is the point in remembering?
Say everything you need to know is already on the news.
The news say what elephant hanging in the middle of what room. Question mark.
Say what institutionalized racism and what white privilege. Question mark.
Say what slavery and why must you keep bringing up the past. Question mark.
The news say stop asking all those relevant questions. Period.
We are not here to give you any answers. Period.
We are not here to give you any justice. Period.
The news say sit down, stop all that rioting, stop being that black and that proud or you will get a bullet in the back, in the chest, in the neck, in the head, never in the leg.
We will keep broadcasting your dead bodies.
We will keep calling your people criminals.
We will keep showing your killers roaming free.
We will do anything to keep our views up.
We will do everything to keep your people down.
Don't question the things that we feed you.
Don't think about the parts you should pick through.
Believe everything you see, but formulate your opinions blindly.
Believe everything you see, but formulate your opinions blindly.
Believe everything you see, but formulate your opinions blindly.
The news don't say that sometimes brainwashing is just a little repetition.
Don't say that sometimes brainwashing is just a little too easy.
And the plans will always work out perfectly
As long as good people don't intervene,
As long as everyone stays in front of their screens,
As long as they all just listen
And don't stop watching.

---


On Small Talk
Natasha Hooper
It is universally known that small talk is the easiest way to fill in spaces.
Dream jobs, new cars, and weekend plans suddenly become important topics of interest in the midst of silent thoughts.
Some feel small talk is meaningless. Others feel it is a necessary distraction in awkward situations.
I hate small talk, but while I'm sitting in the break room of my workplace, minding my own business, my coworker feels the need to talk about something.
She feels uncomfortable in the quiet.
Feels the need to fill the air with her white noise.
She brings up the weather.
Drags the sun into the room without his permission.
Attempts to drag my voice in too.
She keeps her conversation light,
Does not ask me about death.
Or how it feels to keep evading it,
how it feels to still be a breathing brown shadow.
She mentions flowers, but does not speak about the blood that waters them.
She mentions trees, but does not ask if they are still being used as weapons somewhere.
She tells me she wants to spend the weekend chasing the horizon, to admire the way the sun seems to hang in the sky.
I think of how she will never know what it feels like to be chased, or to be hanging and burning with people gathering around to see.
I think about the night sky, how it becomes a black canvas littered with white stars.
How we all consider these stars beautiful, even when they are shooting.
I think about the morning, how it is always pushing the darkness of night out of the way, making more room for daylight, because blue skies matter too.
I think of how the sky wraps itself around the sun, holds it like a deity.
Holds it like a god that only belongs to the morning.
A god that runs away when the darkness comes around.
A god that does not sing spirituals in the voice of night.
My coworker keeps speaking. This time about a breeze. This time about soft sand between her toes. This time about laying out in the sun to work on her tan.
I think of how a breeze will never be strong enough to stop a bullet. Of how asphalt is never soft even when it is soaked in blood. Of how tanning has only ever made our melanin look more dangerous.
She asks me what I think of the weather.
And I want to tell her how much I hate small talk.
That my existence is much bigger and much smaller at the same time.
That they might kill me and few will want to fit me into a conversation.
That they might kill me and I will become an awkward pause.
That I might die and no one may speak about it, because the weather is a lot easier to wrap words around than death.
Than black death.
Than black woman death.
I want to tell her that I wish to leave this earth in hailstorm.
In sunset and tsunami.
In clear sky and flood.
I pray that my spirit cracks the sky in lightning, pray that the earth opens up to swallow my slain body whole, and I pray that the sun is there.
With all its rays and luminance and small conversation so that maybe
my memory
will be something
worth talking about.

---


Dick fabric
Marlo Swagemeier
In every pair of boxer briefs there is this extra bit of material to hold your junk
My friends once jokingly called it
Dick fabric
I loath dick fabric
Spoiler alert there is no snake in my boot
I'm not packing anything besides a punch
As someone who prides themselves on being a gold star lesbian
The logistics confuse me
I just can't figure out where things go...is there enough space for it to...like where does it...do they have to.... I don't even want a penis
I don't
And Dear dick fabric
Sometimes you pinch when I walk
Or sit
Or breath
And when I try to take cute minor selfies you make it look like you don't fit me right
Or that I don't fit you right
And sometimes when I am alone
I try to please you
I roll up a sock and fill the emptiness
But I don't want anything there
I don't want you to be there
Bc you are just another reminder
A reminder that my body will never really be mine
A reminder that my body will never really be right
Until I've cut and stitched it into the binary
And now it's not only strangers in restrooms
But you it seems
So eager to ask me about the space between my legs Dick fabric
It took me until I was 17 to bye underwear featuring you
And now you are This abusive relationship I have not yet figured out how to leave And I don't know if I ever will
Much love and until next time,
Confused queer kid

---


Enemies
Robert Ronnow
I cultivated at least two enemies yesterday
the enemies I wanted
I wanted them to be angry instead of me
my attitude being I don't care I'll do as I please
Please is a word we're trying to teach our sons to use
when they use services or receive gifts courtesy is required
it requires a show of gratitude and recognition for the effort others make
in making their love felt and known
Knowing how to say yes when you mean yes and no when you don't
and doing it without hurting the feelings of others
is another chickadee skill along with watching your partner's back
holding back negativity and expressing joy
I'm joyous making friends and enemies
enemies these days are my only friends, no one lives to hurt us
who hurts so much from something done or said
they'd say our demise gave great satisfaction
O to be great with enemies satisfied
and want something done
to hurt and be angry
and love more than one friend!

Robert Ronnow Bio
Robert Ronnow's most recent poetry collections are New & Selected Poems: 1975-2005 (Barnwood Press, 2007) and Communicating the Bird (Broken Publications, 2012). Visit his web site at www.ronnowpoetry.com.

---


an editor's cut
Brady Peterson
your hair wet,
your teeth white,
we swam that summer before
the speech, before the signs came down—
four boys enter the water and swim
to a deck anchored thirty yards offshore,
the lake emptied, and you led me up the hill
to where a crowd had gathered around a family,
gathered like brooding thunderheads—something about
the way young men stand, rounded slumped shoulders,
their fisted hands dangling like clubs, as if they ruled
a section of the world too small and insignificant to matter,
yet prepared to act—mostly in the cover of night.
we took a stand there, or you did. I merely went along,
but knowing it was a good move, the right choice—
this going along with what should have made sense
to anyone capable of thought, what we ought
to be and believe. I was fifteen and you were nineteen,
or I was sixteen and you were twenty, raised
on scripture and prayer, though beginning
to see the rift in the fabric, that Jesus didn't really
mean any of it be applied to them, those kept apart—
the stain.
church was never the same to me after that afternoon
when the crowd wanted to kill us, really wanted us dead—
simply because I dared to swim out to the deck and join
four boys. they have every right, you said. my mother
pleaded, saying I didn't know any better, didn't mean—
anything by it. that I had lived on an island as a child
and didn't understand the ways and days of men.
my mother pleaded.

---


Dysphoria
Brian Looney
Tired of womanizers, the sexually depraved, whose only method of affirming their existence is the carnal act. Who assert themselves sexually, and who strut, a picture of fulfillment, like your common rooster.
Tired of e-mails about pussy and penis pills, because 'every inch matters,' all in caps. Enlarge the junk but not the brain. Be too big for your small-dick britches. Play a game of pocket pool.
Tired of the sex-obsessed, of those who scratch their heads in wonder when I run. Tired of the underwear commercials, hair-dye, face-paint, mansome muscle machines. Tired of the worldly, the worldly, the worldly. The philosophy of now, if one can call it a philosophy. Of cliché' action before thought. And truly, I would know.
Tired of the shallow, who compare their lives to mine and find themselves supreme, far beyond my isolation, within the common mass. Tired of the condescension through these Days of Lust, from one repressed mind to another. Tired of the dry-ice life.

---


Pop-op-op
Brian Looney
Anxiety complex draws a gun, derailed by false perceptions,
all alarms awake, although the situation was, in fact,
perfectly disarming.
Anxiety complex owns a gun, strictly for defense.
"Think of it as a tool," she countered.
"I do," said I, "I do."
"To protect us from lunatics," she countered.
"But," I answered, "what if I'm a lunatic?"
Anxiety complex fires a gun.
Shoulders back, arms outstretched, gun hands locked, studied aim,
expression blank, mask of tension, trigger tension, resolution,
bang, bang, bang.

---


[It was some kind of human noise...]
John Lowther, Sonnets from 555

It was some kind of human noise that was happening all over the place.
It is no dense to say that the listener is getting the broadcast free.
No pecking order, in other words.
It's like listening to ice water.
Transfixed between pure rapture and anguish.

It is a concept on the way.
In other words, a memory.
Jump, and you will find out how to unfold your wings as you fall.

The transcendental and the transcendent are not synonymous.
Let's not look for the summing up of things.
The quest for certainty blocks the search for meaning.



555 is a collection of untitled sonnets whose construction is database-driven and relies on text analytic software. I crunched and analyzed Shakespeare's sonnets to arrive at averages for word, syllable and character, these averages became measures for three sets of sonnets. The lines are all found, their arrangement is mine. Values for word, syllable and character were recorded. Typos and grammatical oddities were largely preserved. The line selection isn't rule-driven and inevitably reflects what I read, watch, and listen to, thus incorporating my slurs and my passions as well as what amuses and disturbs me. These sonnets were assembled using nonce patterns or number schemes; by ear, notion, or loose association; by tense, lexis, tone or alliteration. Think of Pound's "dance of the intellect among words"— The dance in question traces out a knot (better yet, a gnot) that holds together what might otherwise fly apart. I espouse only the sonnets, not any one line.



---


[You are divisible.]
John Lowther, Sonnets from 555

You are divisible.
This is both pathetic and epic.
Looking at yourself in a mirror isn't exactly a study of life.
It's the lie that stands behind the idea of the memoir.

In fact, we can reinvent ourselves because our identities are so fragile and inauthentic.
Which eases the agony of passing a bloody stool no end.
The realm of the born—all that is natural—and the realm of the made—all that is humanly constructed—are becoming one.

Last night you begged a man on your knees to sell you his beard.
I almost thought it was good news.



555 is a collection of untitled sonnets whose construction is database-driven and relies on text analytic software. I crunched and analyzed Shakespeare's sonnets to arrive at averages for word, syllable and character, these averages became measures for three sets of sonnets. The lines are all found, their arrangement is mine. Values for word, syllable and character were recorded. Typos and grammatical oddities were largely preserved. The line selection isn't rule-driven and inevitably reflects what I read, watch, and listen to, thus incorporating my slurs and my passions as well as what amuses and disturbs me. These sonnets were assembled using nonce patterns or number schemes; by ear, notion, or loose association; by tense, lexis, tone or alliteration. Think of Pound's "dance of the intellect among words"— The dance in question traces out a knot (better yet, a gnot) that holds together what might otherwise fly apart. I espouse only the sonnets, not any one line.



---


My Life With You
Greg G. Zaino
You say I'm cruel-
and always leave out the good parts.
The good parts of you and I;
your 'finer qualities' as you'd say.
Pardon my omission, madam.
Here's something for you.
In our years together-
"You were the best piece of ass- I ever had sober."
How's that for a finer aspect-
of our exchange in misery and murder?
Before we collided-
I thought your brand of perversion,
only happened in the dark-
on stained motel mattresses.
In the dark-
stinking of liquor and cigarettes,
my lips still tasting of vagina at sunup.
In lightless rooms with tramps,
I'd never telephone- or see again.
In the dark,
with my trashy mouth pouring over-
filthy sex words- my seed spilling on your stomach.
Words you'd give as well as receive.
Words you devoured- with perfect fingernails.

Your brand of sex-
I had with drunken swine, feet behind their ears.
You know the kind-
the kind without a conscience.
The kind of screwing I had with bar whores.
A chick all fucked up on booze and coke-
in full collapse of reason,
had nothing on you sweetheart.
You sucked a mean pole my darling-
had a lot of practice
and enjoyed showing off your aptitude.
You'd lay that pussy on wet and heavy
and strangle my dick in your gums-
enjoyed being the pig.
That was the best component of 'us'
The high-quality 'us' I had with you- this I'll share.
It was your bed that kept me there.
Hope you're not displeased.
After all- I offered up something fine and memorable.
You always insisted on,
the "Fucking Truth."

---


Coffeehouse Poem # 172
Erren Kelly
met a girl who wore
a chicago cubs t-shirt
and it reminded me of
days riding the el trains
when i found poetry
in blues
god in soul food
and riches in watching
a woman sway her hips
poetry was the currency that
bought me the world

---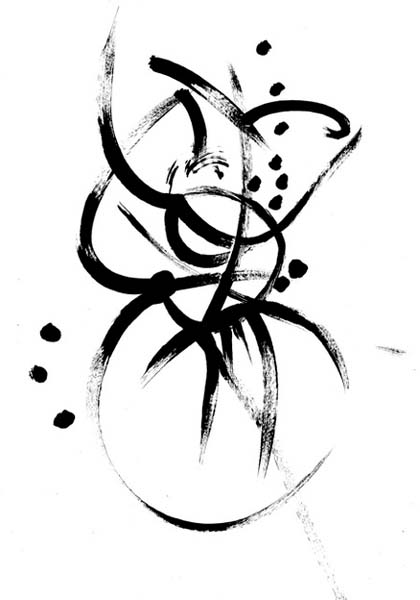 ---


Before the Primary Primary
Kelley Jean White MD
My mother mutters murderously, mouth
mercilessly chewing. Hillary's her
hero, it's high time we had a smart girl
in the white house. And she's known her about
twenty-five years, since back when she'd come by
the High School, sometimes the Gilford Town Hall
or the Soda Shop, campaigning for Bill.
Talked to her dozens of times. No lie.
She's smarter than Bill. Smarter than any
of them. All those men've had two three wives,
kids out of wedlock. Bastards. Living lives
just as bad as Hillary's husband's. Men,
hypocrites. So she stayed with her husband.
And women hate her for taking that stand.

bio
Pediatrician Kelley White worked in inner city Philadelphia and now works in rural New Hampshire. Her poems have appeared in journals including Exquisite Corpse, Rattle and JAMA. Her most recent books are TOXIC ENVIRONMENT (Boston Poet Press) and TWO BIRDS IN FLAME (Beech River Books.) She received a 2008 Pennsylvania Council on the Arts grant.

---


Modern Olympian Ode #17:

Run It Up the Flagpole and See What Happens (1906)
Michael Ceraolo
These games, held at Athens,
were given the title of Intercalated Games
because they were to take place midway between
the Games that rotated among other cities
(some then refused to call these Olympics,
and some today refuse to recognize them as such)
And despite the brave front displayed
in scheduling additional Games,
they were practically a last gasp
to rehabilitate the image
after the fiascoes of 1900 and 1904,
where the Games were buried
in months-long World's Fairs
It is always dangerous
to commemorate something as a first,
and that applies to Olympic protest also;
those who covered the earlier Games
could have missed a subtle protest
And the decision of some ethnic 'exhibits'
not to take part in the egregious Anthropology Days
in St. Louis in 1904
could also be considered a form of protest
But the first protester known by name
was an Irishman named Peter O'Connor
O'Connor was the world-record holder in the long jump,
but he and two other Irishmen were greatly dismayed
(to say the least)
at having to represent Great Britain,
as it then ruled Ireland,
instead of their homeland
And they made no secret of their feelings,
so
it wasn't a surprise when Britain answered back:
a British official who was one of the two men
assigned to judge the long-jump competition
mysteriously backed out of judging at the last minute,
leaving as the only official Matthew Halpin,
who was also the manager of the American team
and as such fully prepared to do the dirty work
for his own selfish reasons
First,
he changed the jumping order,
allowing the best American jumper
to jump way out of turn;
then,
he didn't measure O'Connor's best jump,
claiming that O'Connor had fouled
(witnesses disputed the foul and also said
O'Connor's jump was the best of the day)
And he did measure the American's best jump
And there was no appeal of any of his decisions
The American took gold, O'Connor took silver
Then came the flag-raising ceremony for the medalists
O'Connor, with a fellow Irishman standing guard,
dexterously climbed the twenty-foot pole
and replaced the Union Jack with a green flag
that proclaimed Erin Go Bragh
The Greek king, a relative of the English king,
was not amused, nor were the Olympic officials
But unlike officials of later Games,
they did not ban O'Connor from further competition
And O'Connor subsequently won a gold medal
in the hop, step, and jump (today called the triple jump)

---


The Cicerone in Golden
J. Quinn Brisben
The name of this elevated place,
Safe, so far, from the ever-rising
Brown haze suggests an origin in rape
Of mountains, if mountains can be raped.
The cicerone silently reflects that miners
From that first great rush might say
The mountains were asking for it, and
Manifest destiny made their picks and sluices
And dynamite hitorically inevitable, but
He does not say this aloud, for his companion
Has witnessed rapes, counselled their victims,
Been betrayed and hurt by careless
By-blows from mindless wills to power.
This canyon is her refuge, even when once
She encountered a nest of rattlesnakes here.
It is an honor for the limping, sagging
Cicerone, taking extra gulps of the thin air,
To be invited here to share and reflect,
To see what he can see and say words
That might inform and even heal.
He looks for a sign of harmless joy
And sees it on the road below, buffed
And gleaming, a 1937 Lincoln Zephyr:
"He lives near here. I know him.
Keeping that beautiful thing almost
As old as him and me purring and
Climbing, and others like it, is his way
Of ordering his mind, preserving skills,
Even skills that may never be needed again,
And astonishing us with mostly forgotten
Splendor. That is his way of spending
His modest and well-earned surplus
And showing his love for those like me
Whom he has only met once and those
Like you whom he has not met at all.
It is like designing a book for those
Who may or may not have something
To say. It is like freeing those caged
By ignorance, arrogance, and bad metaphors,
A vocation practiced by those I have seen
In the company of that happy restorer.
I do not know whether there is more
Motiveless good or motiveless evil,
But this refuge should celebrate good."
They drive further up the mountain
To see where famous "buffalo bill's
defunct" with a great view of Coors
Where pleasant poison is brewed and
Unpleasant lies spread with the profits.
Lives may be in or out of balance here,
But there is always something to do next.

---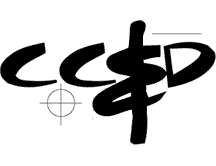 the "New Beginning,
Firsts and the Future" feature
with Janet Kuypers 11/5/16

See YouTube video of Janet Kuypers in her 11/5/16 show "New Beginning, Firsts and the Future" at Expressions 2016! New Beginnings: the Future of Poetry in Austin reading her poems "a New Life", "Under the Sea", "Saving Fingers and Scooping Ice Cream", "New Beginnings: getting married to my knight in shining armor", "My First Time", "Falling From the Sky", "Questioning Creativity through the Cosmos", and her song "In Love I Abide" to live guitar and keyboard (this video filmed from a Sony camera).

See YouTube video of Janet Kuypers in her 11/5/16 show "New Beginning, Firsts and the Future" at Expressions 2016! New Beginnings: the Future of Poetry in Austin reading her poems "a New Life", "Under the Sea", "Saving Fingers and Scooping Ice Cream", "New Beginnings: getting married to my knight in shining armor", "My First Time", "Falling From the Sky", "Questioning Creativity through the Cosmos", and her song "In Love I Abide" to live guitar and keyboard (filmed from a Canon Power Shot camera).

View or download the free PDF chapbook
New Beginning, Firsts and the Future
with "a New Life" "Under the Sea", "Saving Fingers and Scooping Ice Cream", "New Beginnings: getting married to my knight in shining armor", "My First Time", "Falling From the Sky", "Questioning Creativity through the Cosmos", & "In Love I Abide".



A New Life
Janet Kuypers
1986

A new life
A bundle of joy
Your flesh
Your blood
Your love
Your life
This little child
an individual
is yet
an extansion
of you

A new life
A bundle of joy
Your hair
Your eyes
Your laugh
Your Cry
This little child
a separate life
is yet
an extansion
of you


A new life
A bundle of you
Mirroring your smile
Reflecting your love
Being your life
This little child
this life that's new
will always
be
an extension
of you


---


Under The Sea
Janet Kuypers
1980

I'd like to be
Under the sea
To see the fish go swim,
I'd like to squish
A jelly fish
And then let go of him.
I'd like to grab
A soft-shelled crab
And take him for a walk
I'd like to hurdle
Over a turtle
And teach dolphins to talk.
I'd like to see
A manatee
And then go play by him,
I'd like to do
All of these things
If only I could swim!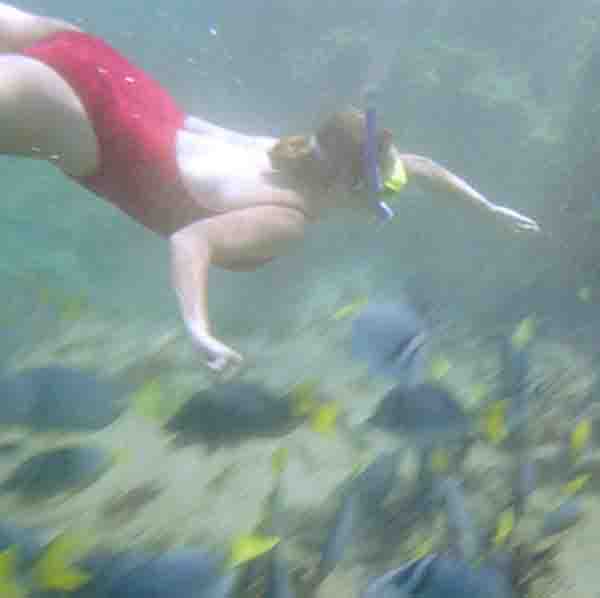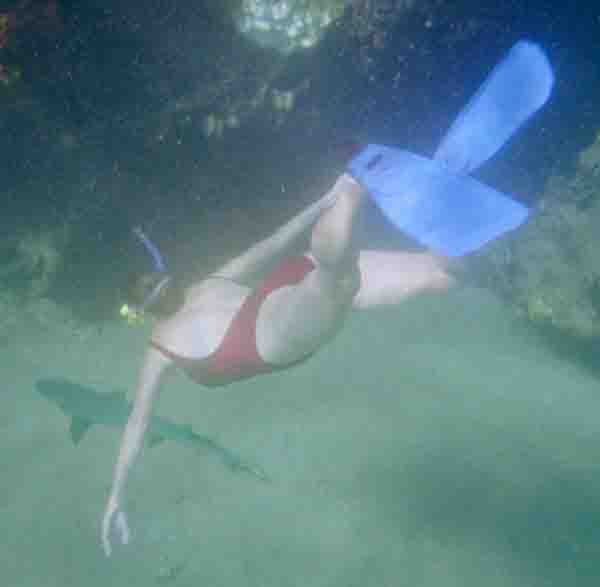 ---


Saving Fingers
and Scooping Ice Cream
Janet Kuypers
1995 poem "Let's Go" & May 2015 poem "Empty Chocolate Counter" edited for 11/5/16 show 10/24/16

One summer day in August, I was
sixteen at the time, sister Sandy and I
were in the house, it was an
average Thursday, mom was out
golfing, dad was at brother Bob's form
yard, doing something man-like,
cutting wood or something.
I was getting ready for a summer
job interview that morning.
The phone rings, I answer it,
suddenly there's this strange voice
on the other line talking, asking,
"Is your mother there?"
and my first instinct was that it
was dad's friend Greg on the other line,
he always liked to put on
a fake voice and try to fool the
kids. So I put on my most cordial
voice and said, "No she's not, may
I take a message?"
and then the voice starts going on
about how he's cut his finger and
he has to go to the hospital, and
then it finally occurs to me that
it's my father, and he was in
so much pain that he could barely
speak. So he hangs up the phone
and Sandy and I try to call the
golf course, hoping to catch mom,
but she already left, and while
we waited for her to come home
dad came home to get us and
bring us to the hospital with him.
His hand was wrapped in a shirt,
half-soaked in blood. Sandy got
in the wagon, but she told me
to wait at home for mom. So dad
whipped the car out of the drive-
way and down the road, And I stood
in the driveway, suddenly alone,
watching him drive away.
I was so distraught, I started to
cry, but I had to keep myself
together, because I didn't want
to make it sound serious when I
told mom and make her more nervous.
I didn't want her to cry, he cut
his finger, he'd need stitches,
but he wasn't going to die.
So I waited at the front window,
and when I saw her car drive down
the road I went to the garage.
When she pulled in I hopped in
the passenger side before she
turned off the engine. "Come on,
let's go," I said, with a smile on
my face.
I tried to preface the story with
"Let me just say, that everything
is fine," but you just know when
bad news is coming up. But I tried
to make it sound funny, like dad
the klutz cut his hand.
I hope I did a good job. For eleven
blocks I was the one that had to
make sure that everything was
okay, being reasonable when dad
actually lost the tips of two fingers....
And it was an interesting excuse
to explain why I was late for
my first job interview.

And I got the job
at this iconic ice cream parlour -
now, only boys were allowed
to scoop ice cream there,
so my job was to work for their
brand-new candy counter.

And one day at work with the boss,
when deliveries were dropped off,
I picked up a larger box
and the owner then stopped me.
"Wait, that's heavy —
you shouldn't carry that."
And I laughed, explaining that I carry
fifty pound salt blocks for our water softener,
that I'm fine.

I think maybe him seeing
that women can stand up for themselves
made it okay, in the heat of summer
when the lines are out the door for ice cream,
for me to leave the empty chocolate counter
and be the first female there
to ever scoop ice cream with the big boys.

Looking back, you may say
I'm a feminist pioneer
by being the first female
to scoop ice cream there,
but when I look back
I don't see it that way.

I just remember home-made
chocolate ice cream
with chocolate chips,
molasses bits and added fudge,
and that, my friends,
was whipped
into the perfect shake —
no matter which gender
did the job.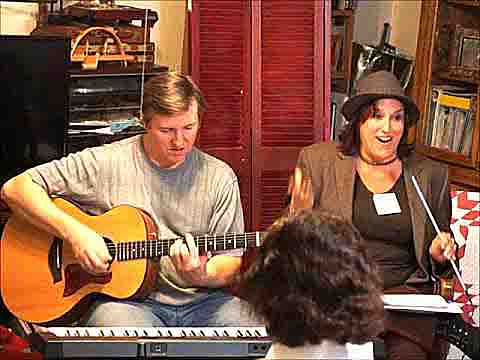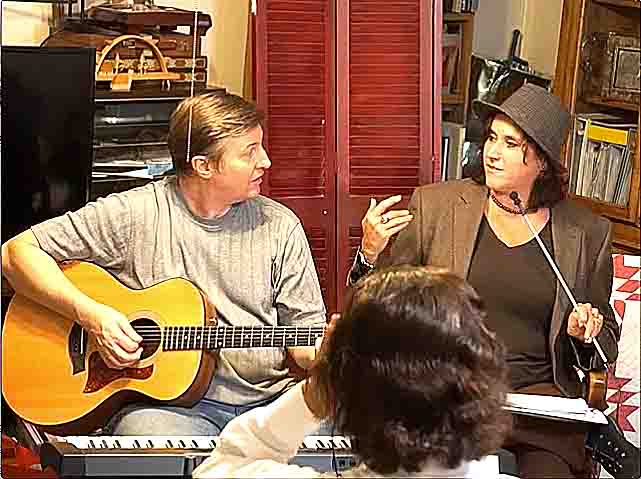 ---


New Beginnings:
getting married to my
knight in shining armor
Janet Kuypers
10/26/16
(starting with adaptations
from prose "King of the Universe"

Once I got on my own,
I was queen of the Universe.
I had a good job, and
I had meaning and order
and direction in my life.
I used my brain,
and I was invincible.
I produced RESULTS.

I needed no one.
I thought I had it all
in the palm of my hand.

#

And once when I was driving
to visit my parents,
someone was texting and driving...
I saved a motorcyclist's
life by turning my wheels —
but I couldn't save myself
from two cars nearly killing me.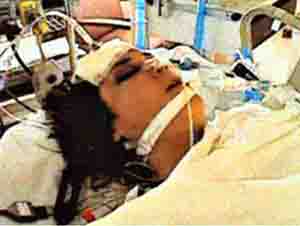 A machine breathed
for me
for days.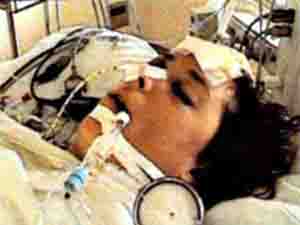 So much for being
queen of the Universe.
All my life
I took care of myself —
I still had the brains,
I still had the power,
but that doesn't matter
when the tech market drops
and you can't get
or keep a job.
#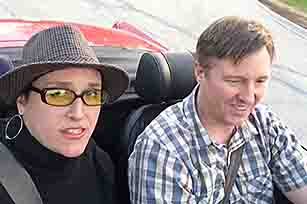 And I suppose this is when
you insert the story book ending,
where a knight in shining armor
sweeps me off my feet.
But it truly only was
when I was at the bottom
that I met someone
who could bring me along
on a trip to the top
together.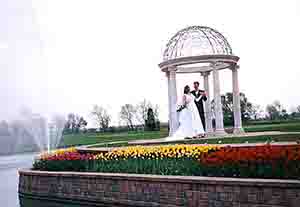 Suddenly this idea of marriage
didn't seem so scary.
This is someone who is like me —
and more importantly, is different from me.
Because nobody knows
what they're doing
when they take
their first steps
together in this life...
But if you can learn to tolerate poetry,
I can learn to tolerate rifle ranges
and target practice.
You're my race car driver,
you're my motorcycle man,
like the motorcyclist I saved
the day I almost died.
Maybe you're also my reward...
So although I don't know
what will happen the day
after the day of my wedding to you,
I can't help but feel
that the road before us
must be clearing up,
and if we tackle this ocean of life together
it will be smooth sailing
all the way.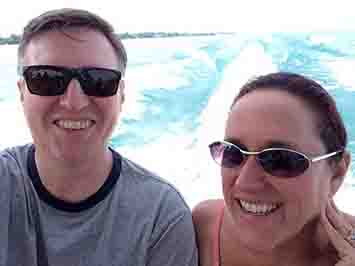 ---


My First Time
Janet Kuypers
06/07/11
there are some towns known for their food...
New Orleans has it's Po-Boy
Philadelphia has it's Philly Cheese Steak
and if you're in New York
and want to carry food out on a street
you better get a pizza slice
fold it in half
and eat it with one hand
And if you're in Chicago
(and you can't eat a deep-dish pizza
with one hand in the street)
you better get a Chicago-style Hot Dog
with yellow mustard, relish (the bright green kind),
hot peppers, tomatoes, onions, celery salt
and a pickle on top
I lived in Chicago all my life
frequented the tops of sky scrapers
visited legendary blues bars
but even when I was a meat eater
I never had a Chicago Hot Dog
just ketchup, please
I'll take the pickle on the side
and I don't even like hot peppers
but as we left the Planetarium today
I passed a Chicago-style hot dog vendor cart
and they listed Vegetarian Hot Dogs
as a choice for the Chicago Hot Dog
I passed it,
then I stopped.
walked back
and asked for a Vegetarian Hot Dog
with everything except the hot peppers
(and no,
ketchup is not included
when you say "everything")
and when I got my paper-wrapped
Vegetarian Chicago Hot Dog
I was tempted to pull the pickle away
and they had to remind me
no,
that's a part of the Chicago Hot Dog
so I put it all together
took a bite
then I took another
and another
and I thought,
I've been missing out
on this fantastic Chicago tradition
all my life
I heard the Chicago Hot Dogs
started during the Depression
because it was something cheap
you could sell it on the streets
and it was a full meal:
meat, bread, vegetables
all at a reasonable price
and I thought,
we Chicagoans had it all figured out
with a gooey, deep dish pizza
when you had the time to sit down
as well as a way
to make any hot dog taste awesome
when you wanted a treat on the street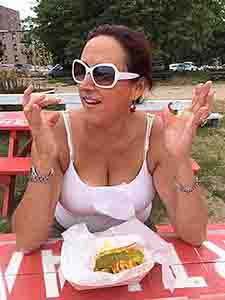 ---


Falling From the Sky
Janet Kuypers, 6/16/07 (11:27 A.M. mountain time)

I'm taking a one-way flight today

And you know, when people say they have a one-way ticket
You assume the plane


is landing them somewhere
And not flying them back
But lucky me, my only way back
Is to jump out of the sky
And hope I land on my own two feet
And my flight takes off
In just a little while
And I can feel that tension knot
That knot's rope, being pulled
By all my nerves
And like it was heartburn
I want to slam my fist into my chest
To try to make the pain go away
So I've spent all my life
Trying to soar so high
But I guess I have to be prepared
For coming back to earth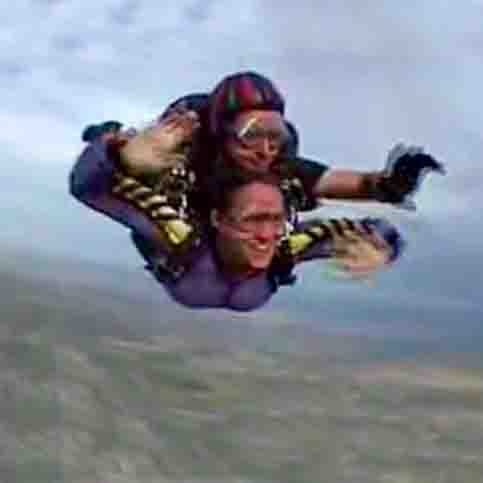 ---


In Love I Abide
Janet Kuypers
1986 (song)

well you started a commotion when you walked in the place
I was flooded with emotion when I first saw your face
So I had to find out if there was a chance we could be
But I couldn't understand how you could only want me

and as time went by my love grew stronger than before
but I never dreamt I'd get what I was wishing for

so don't be afraid
to let your feelings show
because our love has stayed
and I won't let you go

in love I abide
for to love I am bound
and I'll stay by your side
with this love that I've found

well you parted all the people when you walked in the room
when i saw your ice blue eyes i knew you would be mine soon
but i couldn't understand how i fell for you so fast
and i only hoped our feelings for each other would last

well do you believe that fate could make us feel this way
because i know that a love like this is gonna stay

so don't be afraid
to let your feelings show
because our love has stayed
and I won't let you go
in love I abide
for to love I am bound
and I'll stay by your side
with this love that I've found

###

and as time went by my love grew stronger than before
but I never dreamt I'd get what I was wishing for

so don't be afraid
to let your feelings show
because our love has stayed
and I won't let you go

in love I abide
for to love I am bound
and I'll stay by your side
with this love that I've found

so don't be afraid
to let your feelings show
because our love has stayed
and I won't let you go

in love I abide
for to love I am bound
and I'll stay by your side
with this love that I've found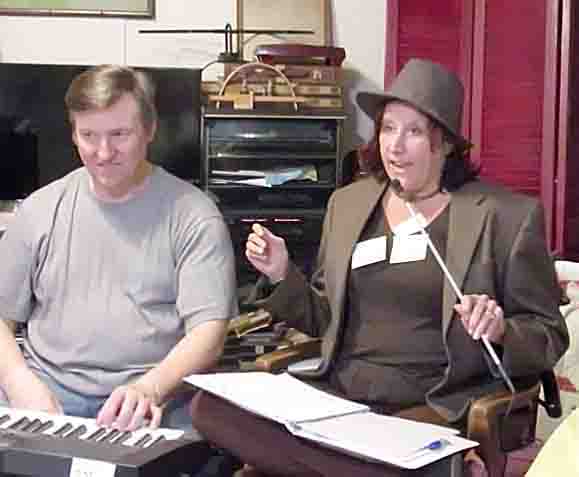 ---


Questioning Creativity
through the Cosmos
Janet Kuypers
11/3/16
with references from prose "How Do I Get to the Moon"
and "Travel Through Space", and poems
"From Orpheus to Nuking the Moon", "Eleven and Two, plus Eight",
"Travel Through Space" and "Universe... Now In Color"

When I think of the future,
I think of astronomy,
space, the final frontier —

and you better believe
that outer space is so poetic
and all about the art.

NASA even had an artist in
residence, who learned
that astronomers estimate

the moon's orbit every year
pulls the moon farther
and farther away from the earth...

So if you remember the moon
looking so big when you were young,
well, you may have been right.

Because if I think about it,
maybe I'm not a writer,
maybe I'm not an artist —

maybe I'm an observer, like
an astronomer, learning what
makes everything everything

because molecule by molecule,
we originate from stars, and that
makes us all linked by stardust.

And like all star gazers
who love astronomy,
I assume I'll never

actually go into outer space.
But it occurred to me:
I have.

Ever talked on the radio?
Ever appeared on tv?
Because all of those signals

are shot out into space,
they continue past our earth.
towards the ends of the universe.

I wonder what other stars
have seen and heard
my poetry by now, and

I wonder if anything out there
can decode our signals
and understand what we say.

So I keep looking at the images
from Hubble, the mind-boggling
colors from galaxies and nebulas...

But NASA's artist in residence
talked about those telescope photos.
Because when images come in,

they're all completely digital
(a series of ones, a series of zeros)
and there's no color at all.

Astronauts describe the cosmos
as a vast black void —
so scientists guess from the data

how outer space should look.
So they guess from radiation data,
when red is hot and blue is cold,

to make the images look the best.
These outer space images are beautiful,
but now, they're literally an art form.

The final frontier could be creative.
Look at the evidence:
imaging in astronomy

is actually existential art.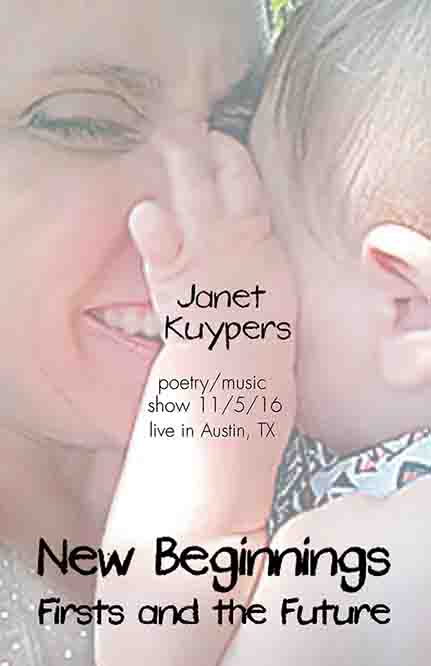 ---


Janet Kuypers has a Communications degree in News/Editorial Journalism (starting in computer science engineering studies) from the UIUC. She had the equivalent of a minor in photography and specialized in creative writing. A portrait photographer for years in the early 1990s, she was also an acquaintance rape workshop facilitator, and she started her publishing career as an editor of two literary magazines. Later she was an art director, webmaster and photographer for a few magazines for a publishing company in Chicago, and this Journalism major was even the final featured poetry performer of 15 poets with a 10 minute feature at the 2006 Society of Professional Journalism Expo's Chicago Poetry Showcase. This certified minister was even the officiant of a wedding in 2006.
She sang with acoustic bands "Mom's Favorite Vase", "Weeds and Flowers" and "the Second Axing", and does music sampling. Kuypers is published in books, magazines and on the internet around 9,300 times for writing, and over 17,800 times for art work in her professional career, and has been profiled in such magazines as Nation and Discover U, won the award for a Poetry Ambassador and was nominated as Poet of the Year for 2006 by the International Society of Poets. She has also been highlighted on radio stations, including WEFT (90.1FM), WLUW (88.7FM), WSUM (91.7FM), WZRD (88.3FM), WLS (8900AM), the internet radio stations ArtistFirst dot com, chicagopoetry.com's Poetry World Radio and Scars Internet Radio (SIR), and was even shortly on Q101 FM radio. She has also appeared on television for poetry in Nashville (in 1997), Chicago (in 1997), and northern Illinois (in a few appearances on the show for the Lake County Poets Society in 2006). Kuypers was also interviewed on her art work on Urbana's WCIA channel 3 10 o'clock news.
She turned her writing into performance art on her own and with musical groups like Pointless Orchestra, 5D/5D, The DMJ Art Connection, Order From Chaos, Peter Bartels, Jake and Haystack, the Bastard Trio, and the JoAnne Pow!ers Trio, and starting in 2005 Kuypers ran a monthly iPodCast of her work, as well mixed JK Radio — an Internet radio station — into Scars Internet Radio (both radio stations on the Internet air 2005-2009). She even managed the Chaotic Radio show (an hour long Internet radio show 1.5 years, 2006-2007) through BZoO.org and chaoticarts.org. She has performed spoken word and music across the country - in the spring of 1998 she embarked on her first national poetry tour, with featured performances, among other venues, at the Albuquerque Spoken Word Festival during the National Poetry Slam; her bands have had concerts in Chicago and in Alaska; in 2003 she hosted and performed at a weekly poetry and music open mike (called Sing Your Life), and from 2002 through 2005 was a featured performance artist, doing quarterly performance art shows with readings, music and images.
Since 2010 Kuypers also hosts the Chicago poetry open mic at the Café Gallery, while also broadcasting the Cafés weekly feature podcasts (and where she sometimes also performs impromptu mini-features of poetry or short stories or songs, in addition to other shows she performs live in the Chicago area).
In addition to being published with Bernadette Miller in the short story collection book Domestic Blisters, as well as in a book of poetry turned to prose with Eric Bonholtzer in the book Duality, Kuypers has had many books of her own published: Hope Chest in the Attic, The Window, Close Cover Before Striking, (woman.) (spiral bound), Autumn Reason (novel in letter form), the Average Guy's Guide (to Feminism), Contents Under Pressure, etc., and eventually The Key To Believing (2002 650 page novel), Changing Gears (travel journals around the United States), The Other Side (European travel book), the three collection books from 2004: Oeuvre (poetry), Exaro Versus (prose) and L'arte (art), The Boss Lady's Editorials, The Boss Lady's Editorials (2005 Expanded Edition), Seeing Things Differently, Change/Rearrange, Death Comes in Threes, Moving Performances, Six Eleven, Live at Cafe Aloha, Dreams, Rough Mixes, The Entropy Project, The Other Side (2006 edition), Stop., Sing Your Life, the hardcover art book (with an editorial) in cc&d v165.25, the Kuypers edition of Writings to Honour & Cherish, The Kuypers Edition: Blister and Burn, S&M, cc&d v170.5, cc&d v171.5: Living in Chaos, Tick Tock, cc&d v1273.22: Silent Screams, Taking It All In, It All Comes Down, Rising to the Surface, Galapagos, Chapter 38 (v1 and volume 1), Chapter 38 (v2 and Volume 2), Chapter 38 v3, Finally: Literature for the Snotty and Elite (Volume 1, Volume 2 and part 1 of a 3 part set), A Wake-Up Call From Tradition (part 2 of a 3 part set), (recovery), Dark Matter: the mind of Janet Kuypers , Evolution, Adolph Hitler, O .J. Simpson and U.S. Politics, the one thing the government still has no control over, (tweet), Get Your Buzz On, Janet & Jean Together, po•em, Taking Poetry to the Streets, the Cana-Dixie Chi-town Union, the Written Word, Dual, Prepare Her for This, uncorrect, Living in a Big World (color interior book with art and with "Seeing a Psychiatrist"), Pulled the Trigger (part 3 of a 3 part set), Venture to the Unknown (select writings with extensive color NASA/Huubble Space Telescope images), Janet Kuypers: Enriched, She's an Open Book, "40", Sexism and Other Stories, the Stories of Women, Prominent Pen (Kuypers edition), Elemental, the paperback book of the 2012 Datebook (which was also released as a spiral-bound cc&d ISSN# 2012 little spiral datebook, , Chaotic Elements, and Fusion, the (select) death poetry book Stabity Stabity Stab Stab Stab, the 2012 art book a Picture's Worth 1,000 words (available with both b&w interior pages and full color interior pages, the shutterfly ISSN# cc& hardcover art book life, in color, Post-Apocalyptic, Burn Through Me, Under the Sea (photo book), the Periodic Table of Poetry, a year long Journey, Bon Voyage!, and the mini books Part of my Pain, Let me See you Stripped, Say Nothing, Give me the News, when you Dream tonight, Rape, Sexism, Life & Death (with some Slovak poetry translations), Twitterati, and 100 Haikus, that coincided with the June 2014 release of the two poetry collection books Partial Nudity and Revealed.

---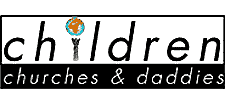 Nothing Lasts
Jack Moody
I looked at the bartender's contorted face through the bottom of the beer glass, emptying what was left of its contents as fast as I could. She watched me back, methodically drying a single glass with a dirty washcloth. Milo was about to join me, once he returned from the convenience store across the street for a bag of nuts. She was attractive, with short hair that I could tell was naturally brown, but had been dyed blonde in most areas.
"You want another?" She asked, eyeing the empty glass in front of me.
I nodded affirmatively, and she continued with the small talk that I was hoping she wouldn't.
"How're you tonight?"
Normally I would ignore the question, but the full, pink lips from which the words came enticed me to be pleasant.
"I'm okay," was enough to suffice, but I decided to steal second and really flex my human communication skills. "How're you?"
She replaced the beer in my glass and returned it to its rightful place on the bar in front of me. Her fingernails were painted red.
"You know, I almost believed you there for a second." She flashed a smile and burned her gaze into the back of my skull. Her eyes were alive and hypnotic; the largest eyes I had ever seen in my long, inebriated life.
Another soft voice lifted me from my drunken trance.
"Excuse me...are you Jack Fontaine?"
The bartender glided away to serve another loyal patron. I spun around abruptly in my seat, irritated with this soft voice for shooing away the large-eyed bartender with the short, bleached-blonde hair.
"What." I stated more than asked.
She was at least twenty years younger than me. A round nose encompassed most of her face, which appeared to be blanketed with acne scars. Her eyes were blue. On most other people, they would have been the very first thing I noticed.
"I said, are you Jack Fontaine?"
"Shit. What did I do?"
"Oh, nothing. I mean, you did. You wrote My Tainted Youth, right?"
I stared at her for a moment and drank from my beer, very confused.
"How do you know that?"
"Oh shit," she laughed, getting that I wasn't in on it yet. "Someone put your picture up on TMZ a few days ago. It's all over the internet."
"You're kidding me."
"Nope. I wouldn't do that, Mr. Fontaine."
"Jack."
"I wouldn't do that...Jack."
I looked back down into the foaming, golden liquid in my glass and drank instead of giving a proper answer.
"So it's really you?" She asked behind a furtive grin.
"Yes."
I could have lied and gotten her off my back, but I didn't.
"What's your name?"
"Shauna. I can't explain how great it is to talk to you, Jack."
She couldn't hide her smile any longer and was bursting at the seams.
So that's it, I thought; your last moment of anonymity.
I feared this moment for a long time: the invasive interviews, the unwarranted voyeurism and the armies of angry freaks who would come looking for me, the unsolicited introductions to nobodies whom I already hated. My privacy was now an illusion. Thirty years of successful novels written under a fake name with no face to put it to, and now that was gone. But for some reason, I felt strangely at peace with it. Maybe it was the decades of being another no one drinking alone at the bar, maybe it was the ecstatic face of the woman beaming at me from her barstool, or maybe it was just that I wanted to see what would happen. But most likely, it was the fact that I hadn't written a goddamned usable word in seven years, and if I really couldn't write anymore, then maybe this mystical turn of events would pump some very necessary revenue into my previous, all-but-forgotten literary oeuvre. I had spent too many years drinking good whiskey and sleeping in Manhattan penthouses to go back to being a starving artist. Success had made me soft.
Shauna continued gushing as I filled time with a healthy sip of beer.
"Your writing changed my life. I've never had an author...get me so well. My Tainted Youth got me through college without hurting myself...without you and your characters...I would've been so alone. Thank you so much...Jack.
I emptied the glass and signaled silently to the large-eyed bartender for a refill.
"My Tainted Youth was the worst novel I ever wrote."
Shauna appeared visibly appalled by my answer.
"But...that was the last novel you ever wrote..."
"Exactly. What was your name again?"
"Shauna."
"Right, Shauna. Okay Shauna, I'm gonna let you in on a secret—oh thanks," the newly christened beer glass had appeared before me and I drank deep before continuing anything further. Shauna hung on every movement I made, anticipating whatever barstool philosophy I was about to bestow upon her with wide eyes and open ears.
"Shauna, I've lost the juice."
"The juice?" She asked in puzzled astonishment.
"Yes, the juice. Every novel I've ever written has taken something very important out of me. See, people will tell you that that's the way to write, and I agreed with those people. But that means that every character and story and sentence and fucking comma took something vital out of me; something vital that gave that story a heartbeat, you understand?"
"To create life as a writer, you must take life from your humanity."
"Okay, well put, Shauna. My inner twenty-two year-old can get down with that."
She laughed, "Is that a good thing?"
"That's a good thing. But with a lifetime of stories, comes a fractured life for the writer, the human. Well, if you do it right. No one who truly writes gets out alive and in one piece."
"That's an awfully nihilistic view of the most beautiful adaptation in human creativity."
"That's a painfully naive view of something you don't know anything about."
She didn't take that well. I filled the empty static with a gulp of something bitter, that wasn't what I was drinking previously.
"What is this?" I hollered to the large-eyed bartender and raised my glass as evidence.
She burned through my skull with her blue gaze.
"Something new."
"I actually do know something about it."
"What?" I swiveled back around to face Shauna.
"I said I do know something about it. I've written a novel."
"Oh ho ho hooo, that's adorable. You did, did you? You and every NYU undergrad in the five boroughs. And what's it about?"
"I'm not going to be belittled by you, Jack, no matter who you are."
I have to admit, I was a little angry with her. I wasn't sure why yet. Then she said it.
"At least I wrote something. You haven't had shit published since I was in high school, for fuck's sake."
"I LOST THE JUICE!" I screamed. "My shit just got worse and worse until I couldn't even sit down at the goddamn typewriter anymore."
"You use a typewriter?"
"Yes, I'm old."
"No, I think it's cool."
She smiled warmly and put her hand on my shaking leg.
"Do you always do that?"
"Since I was a kid. It's just an anxiety thing, like a nervous tic."
"You're just like your character in the book," she said.
"How's that?"
"You're a self-hating, neurotic, depressed alcoholic with a God-complex."
"Well, I thought I took a few liberties with that character, but it's always nice to hear one's failings and shortcomings as a human being."
I raised my half-empty glass to her in sarcastic tribute.
"No, I didn't mean it like that...how much of it was true?"
"My Tainted Youth?"
"Yeah."
"Most of it. I'm not really that interesting, though."
"The mental hospital?" She asked.
"Yeah, that part's true."
"The overdose."
"Yeah."
"When you were out in the rain in your boxers, fighting with Lacey? And she stabbed you? Was that real?"
"Mostly."
"What was different?"
"I was naked."
"What?"
"I wasn't in my boxers, I was naked. I decided my protagonist needed a bit more dignity."
I put the glass to my lips without looking and realized there was nothing in it.
"Let me buy you one," Shauna offered.
Naturally, I accepted.
Milo had walked back into the bar, and was talking with the large-eyed bartender and a tall man in a black trench coat with a green mohawk and facial tattoos.
Shauna continued to prod at me.
"If it was true, then how could it have been a bad novel?"
I drank, belched and indulged her.
"Because the soul's not in it anymore. I don't have anything to write about. I just use loads of pretty, descriptive words to mask my lack of plot because all I ever do is drink. It's superfluous and amateur."
"Jack, I wholeheartedly have to disagree with you. You're a poet. Everything you write conveys meaning. I've never connected with any author so mu—."
"The prose is fucking purple! It's like I think that I'm actually saying anything, its pathetic."
"It's not too purple! It's creative, abstract."
"THE PROSE IS FUCKING PURPLE!"
My raised voice caught Milo's attention, and he gestured that he would be over momentarily, apparently quite engrossed in whatever conversation he was now having with the mohawked, facial-tattooed, lanky stranger. The large-eyed bartender had floated back to her post and slid over a scotch and water to me, on the house. Her gaze was anything if not hypnotic, and seemed to follow me like the Mona Lisa as she glided across the barroom floor.
Shauna laid her hand softly on my shoulder.
"Look, you writers write about what you know, right?"
"Right, write, right?" I said and laughed, finishing off the scotch and water faster than I anticipated. This chick was making me anxious.
"I'm serious, Jack. Why don't you just write about what you know?"
"What, drinking whiskey in bed until five in the afternoon, then taking enough pills so that I can answer the door and face the prostitute I called without curling into a ball and throwing up?"
"Exactly."
"Well, I was being a bit hyperbolic."
"Spoken like a true writer. Jack, if I may suggest anything...it's to get out of your own fucking way. And write something. As a fan, please; write something."
I drained the last of the tainted water at the bottom of the glass, and life was quite dream-like. I hadn't expected it to last this long.
Milo found his seat on the barstool to the left of me, with Shauna to my right. The tall man in the black trench coat exited swiftly out the door in silence. I ordered another scotch and water, and one for Milo as well.
I slapped him on the shoulder.
"Who the fuck was that?"
"Oh him?" He pointed towards the closed door at the far corner of the bar. "That was Ace Venom."
"Ace Venom?"
"Yeah, that's his real name."
"The tall guy with the mohawk and tattoos on his face?"
"Yeah, he paid $175 to legally change his name to Ace Venom."
I nodded. "I can't be mad at that."
The large-eyed bartender yelled out last call. The bar was emptying out. Milo was busy finishing his drink under the new time constraint.
Shauna tapped my shoulder again. She was paying out her tab.
"Hey. Don't you wanna know how people found out that it was you?"
I finished my drink, stood up slowly and tossed a fifty on the bar counter.
"No. Nothing lasts."
I walked out of the bar alone and drove home drunk.

---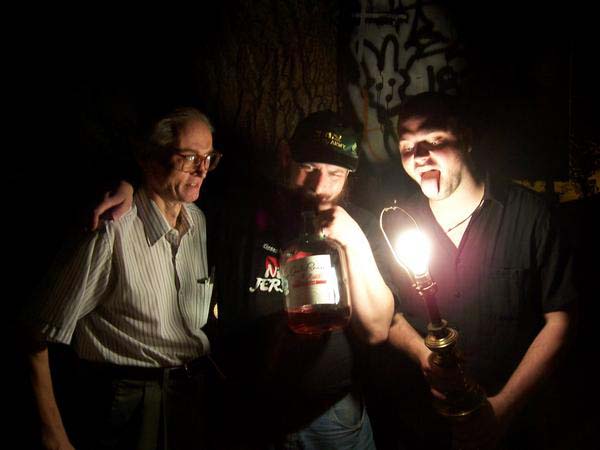 l_cf3885e96a41, image by Wes Heine

---


Long Before ISIS
Donal Mahoney
Thirty years ago, long before ISIS started executing Kurds, Muslims and Christians, I hired a Pakistani Muslim as an art director in Chicago. I was an Irish Catholic editor putting out a small national magazine. I hired him because his work samples were good and he had worked for the United States embassy in Pakistan for more than a decade. The embassy facilitated his emigration to America. It didn't hurt that he had seven children and I had five. I too knew the misery of being out of work with a family.
Different as we were, Mohammed and I were also much alike. Deadlines and details were important to both of us. Other than the two of us, the staff was female. It helped on occasion to have another man around the office.
After a few years Mohammed invited my wife and me to dinner. His wife put out a big feast of Pakistani food, dishes we had never had. We also had never had Indian food and we know now there are certain similarities between the two cuisines although I remember to this day that a staple dish like biryani was moist in the Pakistani style and not dry as I have experienced it to be in so many Indian restaurants in America. I have no problem with either version but personally prefer a moist biryani.
My wife and I knew very little about Pakistani culture and Islam on our arrival for the dinner. This showed when I shook hands with his wife, something I found out later to be a no-no although our hosts said nothing and his wife shook hands like an expert. I also engaged her in informal conversation during dinner which again is something of a no-no but she seemed delighted to respond in kind.
And I probably made a big mistake asking her about a famous Pakistani poet alleged to be a drunk. Mohammed had previously denied this allegation as a complete falsehood. But his wife assured me the poet was indeed a drunk and seemed to disapprove of liquor in general since most Muslims, I believe, do not drink liquor, never mind to excess.
When his wife confirmed the poet was a drunk, I just happened to see Mohammed look down at his empty plate. He rubbed his forehead for a minute and then managed a slight smile. He knew that I did not know any better about carrying on a conversation like this and he loved his wife. It may or may not have been the first time she had engaged an American in an informal way. She was a terrific cook and certainly knew her Pakistani poets, much to the momentary distress of her husband.
Maybe a month later or so, the subject of religion came up at work. Mohammed told me he was sponsoring a cousin to emigrate from Pakistan and they were not close friends, simply kin, and he was obliged to do it. Apparently his cousin was a Sunni Muslim and Mohammed was a member of the Shia branch and the two branches do not get along when it comes to their theology.
It was just Mohammed and I talking at that time while laying out an issue of the magazine. I can't recall precisely what areas we covered but we did not get very deep into the vast differences in theology between Islam and Christianity. I may have asked him questions about his faith but I don't recall that he had any curiosity about mine. But since I had asked for clarification about certain points in Islam, he wanted to make certain I understood what the facts were. I appreciated that and then somewhat facetiously said all was well as long as he didn't try to convert me.
He paused for a moment and said, "You be a good Catholic and I'll be a good Muslim." I knew already that he was certainly a good Muslim. I also knew at that time I had a ways to go to qualify as a good Catholic.
All this took place as I said 30 years ago when there was no ISIS and I don't recall any simmering conflict at the time between Islam and Christianity. I knew that neither side had forgotten about the Crusades but by and large the Crusades were at most an unfortunate fact of history for Catholics. I did not realize that certain Muslims still burned quite hot about the Crusades and had other resentments against the West and wanted to avenge the injustices they thought had been visited upon them.
I am happy that Mohammad is still alive despite the fact that we are both long of tooth. I found his phone number today through Google. I saw his picture as well. He still lives in a suburb of Chicago but the picture must have been taken at a religious event because he was dressed in a black robe and black hat not unlike the garments worn by imams addressing the faithful on the evening news. Needless to say his appearance disturbed me.
I still might call Mohammad but if I do, it wouldn't bother me if his wife answered the phone. It's been 30 years but I think I'd ask her if she can tell me the surname of that drunken Pakistani poet since I remember only his given name and can't find him so far on Google. And then maybe I'd have the guts to ask if Mohammed was home. If he was, maybe I'd ask him what is going on in the world today, from his point of view, because people like me don't understand it. I imagine it would be a long conversation. Thank goodness there are no long distance charges on my wife's cellphone.

Donal Mahoney bio
Nominated for Best of the Net and the Pushcart Prize, Donal Mahoney, a product of Chicago, lives in exile now in St. Louis, Missouri. His fiction and poetry have appeared in various publications, including The Wisconsin Review, The Kansas Quarterly, The South Carolina Review, The Christian Science Monitor, The Chicago Tribune and Commonweal. Some of his online work can be found at http://eyeonlifemag.com/the-poetry-locksmith/donal-mahoney-poet.html#sthash.OSYzpgmQ.dpbs=

---


Menace to Propriety
Drew Marshall
Surrendering my belt forced me to constantly hold up my pants with my left hand. The shoelaces were also "requested." My sweat socks were replaced by something paper thin. They barely reached my ankles. My sneakers wouldn't stay on my feet without the laces. I walked on the freezing floor without any protection.
Once the staff had determined I was somewhat articulate, not obviously violent and seriously disturbed (at that moment anyway) they agreed with me that the situation was degrading.
The light switch was not inside the room. It was on a wall in the hallway. A speck of light snuck through a tiny window. It is darker than I would imagine hell to be. It seemed my fellow inmate was asleep. When I switched on the light, he suddenly sprang out of his comatose state screaming; "SHUT THAT LIGHT! I'M TRYING TO SLEEP!"
My roommate was about my age in years, several months before the mid-century mark. This short stout man exuded a burnt-out charisma. I remained awake most of the night, frightened and starving. I must wait until their clocks told the administrators of the ward; it was time for a morning meal.
Today's electroshock therapy menu includes, rage appetizers, terror soup, and an anger soufflé. For the main course, feel free to try my fear on for size. As a side dish, what's left of my selfish kindness is on the house. Eat here now!
The female employee's words came at me in slow fragments. I faced her, but my eyes were distracted by an unrealistically thin, flat-chested, black woman in her late twenties. She sprang up from her chair, violently throwing her head downwards as she sped past me.
The young girl was heading directly into the wall. Stopping just short of a collision, she then spun on her heels to the right.
This woman quickly offered up a military salute, while calmly saying; "Good morning!" She then retrieved her salute and spun back around, looking at the ground. Walking at a slower pace, she nestled into the chair. The security camera she addressed did not return her salute or greeting.
The ward keeps no prisoners. Standing guard are strategically placed video cameras. They warn the warden of any wrongdoing. The inhabitants hidden in this unsafe harbor are a menace to propriety.
On occasion the occupants can endure, even outwit this set-up. The vigilance demanded however, is relentless. The mad house mirrors are blinding, and can only see what's in front of them, not beyond.
When I returned my gaze to the nurse she waited for a reply. I told her I understood. The lady smiled sweetly, and went to speak to another ward employee. I was expected to attend all scheduled meetings and activities, be aware of my surroundings, and participate in the groups. This would show I was ready to be discharged when the time came.
Back in my room, I was anxious about the first meeting with my assigned doctor. My thoughts threw me back to being strapped down on that gurney. I was placed into the ambulance, looking out at strange faces set against the night sky. I had never felt so useless or helpless, in my entire life.
The tall doctor in his mid-thirties had short, thick, black hair. He wore large framed glasses. He remained expressionless as he asked me to tell him about myself, and why I was in this hospital. He seemed distant.
I have been in a year-long suicidal depression. The only reason I'm still walking this earth, was due to my 14-year-old shepherd lab, Brando. He is being boarded at my vets, in a cage that was too small for him.
I mention my father was a psychiatrist with his own practice. He died a few weeks before my fifth birthday. He is not impressed. I explained that my mother, ten years earlier, was admitted to this hospital for depression. About a year after her lumpectomy, she had become suicidal and depressed.
As part of my strategy to be transferred, I told him how she had been placed in a small two-story, building, without a roommate. She had been free to go out onto the grounds, walk around, and sit by the garden. It just happened to be the truth.
He indifferently said that those were different circumstances, which occurred a very long time ago. I would remain in the ward until I was discharged. After a few more questions he abruptly exited. There was no blood dripping from this stone. I did not feel confident that I was in good hands with this machine.
You appear to want to suck my mind, but it's absolutely dry. No cells or original thoughts left alive. Since those are the results you're after, I'm of ahead of you in that department. I am the poet's fist. I don't need facts or statistics. I believe it's better to be gone but not forgotten, then to be forgotten, but not gone.
The community room doubled as dining hall, where my fellow refugees from reality met. One young man in his mid-thirties eerily resembled an old college friend that I hadn't heard from in several years. This person was the intermediary between us and the staff. He was in charge of our setting up tables and chairs for activities and meals. The man saw to it that we kept the place clean and orderly.
The Awareness group session was beginning. I observed my fellow vacationers at this resort from sanity, while trying to ignore them at the same time. There are about two dozen of us, ethnically mixed, including several females.
A young Hispanic man, whom I had observed to be reserved, sat down to my left.
"I am Alfonso Fernandez. It is a gray moose day. No? Snow buries fire under heaven."
He then looked straight ahead, remaining silent and motionless.
The disease bids high here and rarely loses. I hold on to a shredding veneer of awareness. I am now void of all alibis, and seek shelter under the trees of pity.
The matronly woman kept emphasizing the need to report any changes in thoughts or feelings, which may result in inappropriate behavior, for themselves or others. We must comply with the doctor's instructions. Maintain all medication regimens. Keep all clinical appointments. She must have given this speech a thousand times. Despite this fact, this person seemed very warm, and concerned for our well-being.
Sitting behind me was a young, intense, bearded man. He looked menacing, like an angry homeless person who was dragged here kicking and screaming. His hostility was palpable. Towards the end of the meeting, he jumped from his seat shouting; "YOU ARE WASTING MY TIME! YOU ARE KEEPING ME FROM MY ADDICTIONS! YOU'RE ALL WELL RINSED BANDITS!" The nurse reprimanded him about shouting. He dropped back into his seat, cursing under his breath.
As I got up to leave, my eyes caught his for a second. They were an incandescent blue that leered at me. I froze for a moment, like a deer in the headlights. This derelict's laser like stare seared through me, smothering me with his rage.
I returned to my closet like room, shut the door, and sat on the small bed. I engaged in a relaxation breathing exercise when the door slowly opened.
I looked for a weapon to defend myself. I flew into my fight or flight mode. A familiar stance, when employed at my current day job. The enslaver was an alleged, mental health provider. The ones I hold responsible for my being housed here, at inpatients anonymous.
The staff employee entered. I was asked by the social worker to leave the room.
My co-tenant's parents had arrived for a visit. My parents were long dead. So was I.
We are the results of our evasions.
I suffered a breakdown a few years ago and had refused hospitalization. I was already in therapy. I started attending a day program several months later. Through the program, I was able to obtain a part time office support position with a mental health provider.
Their consumers were trained in janitorial maintenance. The employer was located at the former site of the state mental institution. No one made any effort to tell me they served a mostly felon population. I had served several weeks' time in the felon colony, when my mother suddenly died.
She was being treated at the local hospital for a routine procedure. Pneumonia was listed as the cause of death.
In the year prior to my mother's death, I had lost most of my support network. Three close friends had moved, and were now scattered across the country. My girlfriend returned to her home state, to be with her terminally ill father. My childhood friend had adapted a beautiful baby girl from China. He was a special education teacher. His plate was full.
At Felons Incorporated, obnoxious and aggressive behavior was the order of the day. Confrontations and verbal threats were par for the course. Occasionally, there were physical confrontations. Every day I wondered if I'd make it home, or wind up in jail, the hospital or the graveyard. This was supposed to be a low pressure clerical job. One which would help me make the transition back into the work place.
I was unemployed for the previous two years. I had been laid off from my Benefits Analyst position, with a large insurance company.
The Deputy Director was not sympathetic to my plight. I was accused of bringing my personal problems to the job. I was told I was considered a regular employee, and not disabled in any way. I was at my most vulnerable, went sent to this place of torment.
I was beaten into submission. I accepted the fact that my life was over. I had murdered faith. Now I must pay for my fate. It is no surprise; I now reside in the debtor's prison of the mind.
Felons take pawn. Checkmate. Endgame!
Tonight's exciting activity was bingo. Some seemed to find this exciting, most were indifferent, others oblivious. I found myself sitting on the end of a long table. The conductor of tonight's group activity, sat to my immediate right. We sat elbow to elbow.
The person sitting directly across the table zeroed in on me. He was less than three feet away.
I continued having difficulty focusing in the moment. At the same time, I was acutely aware that I must go through the motions of participation. Towards the end of the third game, I found myself looking down the table at all these fatalities.
I wondered if I would become another of these shredded souls. Fugitives from sanity, warehoused, hidden away in an eternal limbo. Would I become part of a population, doomed to pace forgotten hallways in a wounded sanctuary for malcontents?
I was grabbed by the throat, and then ripped from these thoughts. A balding senior, sitting in front of me, sprang from his seat. He pointed his finger at me, shouting; "HE WON! HE WON! HE'S NOT TELLING ANYONE HE WON BINGO! HE'S CHEATING!"
I tried to regain my composure, while looking at the Bingo card. I turned towards the staff member.
She handed me a small child's toy. I put my hand out and offered it to this disturbed mind, encased in a human body. With lightning speed, he grabbed it from my hand. A happy child with his candy, he sat back down. Thank you was not in his vocabulary. That ended this evening's Bingo session.
A woman pushing sixty, who never stopped talking, was standing by the exit. She had hard-core vanities and was always primping herself, pulling on her long curled, silver- gold hair. Her bangs almost covered the tops of her dead eyes. This troll constantly claimed she was descendent from Russian aristocracy. Her husband was an important diplomat at the United Nations.
Her faithful servant was by her side. The devotee was a short, round- shouldered black man, in his late twenties. He was a hulking mass of symptoms. He spoke in staccato bursts, starting at a high volume, and then shorting out before finishing sentences. By that time his words were reduced to inaudible, incomprehensible, mumbles. He moved like he spoke and appeared to be on fire, revolving in a perpetual state of panic. Whatever false music was whirling around these war -torn minds, it was obvious these two had retreated from logic long ago.
The hospital employee who ran this group entered, as the others took their seats. The exception being the noble woman and her friend. They had to be told to sit down. I looked around and wondered if these people were abandoned by law, or by love?
Maybe they reached their outer limits for bearing the unbearable. Then again, these humans may never have been glued together correctly in the first place.
The nurse, who had seen me through the admission process, entered the room. She called my name and motioned for me to come see her. The young lady asked for the name, address and phone number of a family member.
I had given the hospital the name of the therapist that I have been seeing, for the past year. I was hoping to avoid giving out this information. There was only one family member, and I didn't want my cousin to see me like this. I listed his dental office address and phone number.
I turned around, and saw the descendant from royalty, had taken my seat. Her right-hand man was overwhelming Fernandez, trying to convince him to move.
The group leader told everyone to take their seats. The aristocrat's aide spotted a folded chair in the corner. Racing toward it, he grabbed the chair, and planted himself by the lady in waiting.
I had taken an instant, intense, disliking, to this blue-blood. She served as constant reminder, as to how far I had fallen. A symbol of how thin the line was between us.
I took a seat in the middle of the third row. I was surrounded. Here I sat on the oblivion borderline, surrounded by ravaged minds. These stunted souls made up the armies of the forgotten. They marched in this shut-ins jamboree; down Exile Road. Time has no memory. If it did, it fell on blind ears and deaf hearts.
From the moment I landed on this foreign soil, I wanted to escape. I needed to break Brando out of stir, and retreat back to my small apartment. Suicide was no longer a part of my waking thoughts.
When the meeting was over, we were instructed to fold the chairs and put them up against the walls. It was now time for "social interaction''. For the next sixty minutes, we existed aimlessly for the allotted time, in the assigned space.
As the happy hour ended, Mr. Fernandez stepped in front of me, smiling as usual. "God bless you." He then drifted off into a corner and started sobbing silently.
These unfortunates were definitely dancing on an underground porch, while their brains bashed through the back stairs of their thoughts.
I headed through the lobby towards the bathroom. I stopped dead in my tracks, as I witnessed my cousin being ushered in by one of the attendants.
Anxiety and embarrassment quickly turned into relief. I waved to get his attention. His sudden appearance was an oasis on this demented desert. We went to my room. My lethargic bunk-mate had been discharged earlier in the day. Ronald had received a call from the hospital, letting him know I was inpatient. He left his office to meet with me.
Ronald couldn't stay long; he had a dinner engagement with his wife and another couple. I hadn't seen him in several months. I tried explaining my situation to him.
Thirty minutes later, I escorted Ron thru the madness maze, back to the exit of this unsavory destination. I was scheduled for a dental appointment the following month. We would stop for a meal afterwards.
I looked at the clock and noticed it was almost ten minutes past dinner time. When I arrived for my meal, all the seats were taken except one. There was a lone chair, next to the czar's wife.
Fernandez was sitting to her left of the empty chair. I strolled up to him and asked how he was doing. He smiled, stood up and pulled his chair back, so I could slip in. I thanked him as he sat back down. He stared at me while saying a quick prayer to the Lord. This mortal thanked him for the hospital bounty. He then began picking at his food.
The Soviet premier's wife was displeased with tonight's dinner menu. She took a bite out of her burger and then spit it out.
The monarch reached for the soft drink, took a sip, and swallowed. The Queen-bee abruptly slammed the paper cup down on the table. It spilled over into her right-hand man's rice. She stormed away from the table shouting "WHERE IS THE CHEF? I ORDERED COGNAC WITH MY CHATEAU BRIGNON!" Her confidant followed at her highness's heels.
Since I was first hauled away in that midnight ambulance, I had seen many strange faces attached to unknown bodies. Dozens of names had been hurled at me. Few could stick. I was not able to remember most of them. Except for certain staff, I made only a superficial effort to blend in.
We rearranged the furniture for tonight's animated movie. This was the big social event of the week. I was able to grab the first chair in the last row. I was furthest from the entrance and staff.
This film has something to do with a penguin that is shunned, because he can't sing. He can never attract a mate. Years go by, until it is discovered this penguin can dance. He then becomes quite popular.
This nonsense seemed to go on forever. About fifteen minutes into this cartoon, a middle-aged woman sitting up front, stood and started clapping and wildly cheering. After thirty seconds she sat down.
I took this opportunity to rest my eyes, closing them for about five minutes. At some point I heard the familiar introduction to one of my favorite songs from the nineteen sixties. The sound was emanating from the screen, part of the soundtrack. I can never enjoy this song again. It will drown out my wonderful childhood memories. It is now indelible engrained in my brain, as the one song I heard, while voluntarily imprisoned.
The dignitary was conspicuous by her absence from breakfast. Rumors began escalating. I heard bits and pieces of various conversations. One woman, who had never once uttered a sound, since my arrival last week, stood up. She announced that "Tubby", a nickname thrust upon her, because of her weight, had tripped.
She was unconscious, and taken to the emergency room. The Bingo policeman, who accused me of cheating said to no one in particular, "That woman, had a heart attack. She died!" He then calmly proceeded stuffing his face with the morning meal in front of him.
The formerly silent middle-aged woman, who announced Tubby had tripped, reminded me of my late aunt. There was some physical resemblance. My mother youngest sister had been an aspiring artist. In the nineteen forties, she left home to move in with another male artist, fifteen years her senior.
My grandparents, uneducated immigrants, somehow managed to get their daughter committed to the campus of the state mental institution.
The cure for a Bohemian lifestyle was electroshock treatments. This "therapy", continued on and off for several years.
My Bingo buddy, started shouting;" MY LIGHTER AND CIGARETTES WERE STOLEN"! He then proceeded to devour the remainder of his meal.
I tripped back through my memories time tunnel, almost thirty years before.
I had the summer off from college, and took a job waxing floors at the state mental institution. I was majoring in psychology and interested in clinical research as a profession.
The inhabitants in these wards were convicted, violent criminals. These frightening specimens roamed freely as we worked. This joint was housing savage cargo. They constantly approached the work crew, asking for cigarettes and a light. Sometimes they snuck up from behind, slapping our backs, before making their demands. I spent half my time apologizing over the fact that I did not smoke.
The following week in the women's ward, we were subject to crude come ons. Many struck seductive poses, sometimes flashing their flesh. If their looks could kill, we would all be dead. I quit at the end of the second week.
You can't escape your past. No man can run that fast!
Doctor Stoneface arrived exactly at the scheduled time. Never one for the social amenities, he sat down and start rifling through my file. He looked up and said I would be discharged at noon.
For a man in his mid-thirties, he was quite solemn. He seemed to be carrying the weight of the universe on his thin frame. I don't know if it was his policy, or the lack of a personality, that kept him so remote from his patients. He seemed determined to say as little as possible, and spend as little time with us pathetic creatures, as he could.
I thanked him for his help. He looked at me oddly for a moment, nodded, and then disappeared. This professional epitomized lobotomy cool. My former cellmate had a better bedside manner.
I raised myself from the wheelchair, turned around, and thanked the nurse. She smiled, and pushed the chair back into the hospital. I was elated to be out in the world again, with socks and shoes under my feet, and a belt around my waist. I waited for the bus, inhaling deeply, all that surrounded me.
I gently pulled on Brando's leash so we could stop at the corner. I poured out the large pills from the container into the sewer. The bottlee followed. The hospital medication caused constant chills. It's was a warm, wonderful, spring day. Perfect, for a man and his dog to take a long, lazy walk.
I didn't think about returning to the cesspool from hell, employer. That was two weeks from now. I would storm across, and hopefully burn that bridge, when I came to it. I don't know what earthly good; that weeklong hospital stay did for me.
There was one unknown side effect no one knew of or spoke about. My visit resulted in thoughts, feelings and sensations of sanity. I would never again volunteer to be an inpatient, of a hospital psychiatric ward.

---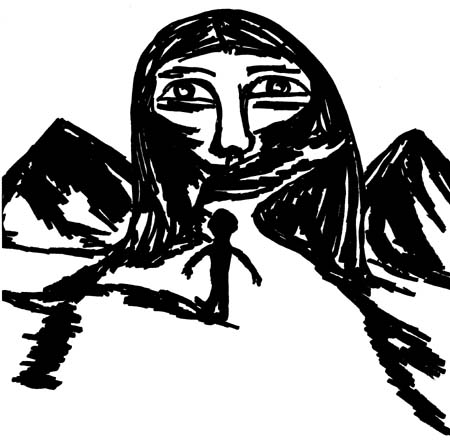 ---


how david letterman saved my left hand
Patrick Fealey
i once ate pizza every night, bought $50 books i never read and kept the fridge stocked with cocaine. then i quit college. got a job in an injection-molding plant, second shift. pressed the same two buttons at the exact same time three-thousand times a night for a buck over minimum wage. out came plastic earpieces for glasses and those plastic microwave thermometers people stick in turkeys. the buttons were overhead and about two feet apart. you had to use both hands and you had to press them simultaneously for the machine to work. the design was to prevent crushed hands, law suits, workman's comp, any bleeding that might occur on their million-dollar machines. but i figured out how. by using a pen in my mouth and standing on my toes, i could press the left button with the pen and simultaneously the right button normally (or the other way around, but i think you'll find most people would prefer to lose their left hands.) i had the time. eight hours a night, three-thousand chances, five days a week and headed nowhere and in need of a yacht and my own private island, but i hung on to my left hand. i'd drive home in time for letterman. mom left dinner leftovers warming in the oven. i watched letterman with the volume down low because my father could hear a spider plant sneeze. i sat in the dark eating roast chicken, mashed potatoes, stuffing, green beans and almonds, laughing at letterman's first episodes. the thing i liked most about letterman, more than his jokes, his grin, how he grilled guests, or his band, was how he made not knowing what the hell he was doing look so respectable.

---


Hard to Get
Patrick Fealey
She lived in a dorm. She was cute. She thought I was cute. I fucking hated to be called cute, but she looked worth it. She had a nice body and the sweetest, most patient smile, an unabashedness from which I naturally inferred experience and willingness. She was sexy. We walked on the beach. I went with her to the dining hall. We hung out with her roommate, a small beautiful Jewess with a frantic social life. Christina was also Jewish. She was also catholic. She talked about Judaism and she talked about Catholicism. I listened and did not believe her religions had anything to do with me.
Christina was less available than she could have been. Her last boyfriend had been her first and only love. He had dumped her and moved to Israel to join the army. He had felt it was his duty as a Jew. He was out of her life until his two years were up. She showed hope about him, was thinking about their chances when his military duty was done. I imagined this guy, who once truly cared for her, reading backwards and forwards while Christina tended the idea that so long as she did not fuck me, he would not get blown up. I hung in there because I had nothing else going on and I didn't care. She was okay. She did not talk too much. I don't remember kissing her for the first time or the day or night which led to this kiss. It came too late to burn. These were the days when I was trying not to discard girls. When Christina asked for assurances, I lied and gave them to her. She needed to hear that I was serious.
Early on, I saw that to get anywhere with Christina, I had to convince her I would set the mantle clock ten minutes fast so we could get the kids to bed in time for I Love Lucy. I acted, and acted well – like a guy without a dick. I was patient and let her convince herself. I was slow. Unfortunately, it was time enough for me to start disliking her. It was becoming a prolonged courtship behind which I heard the voices of her rabbi and her priest arguing for my soul. I realized what a liar I was becoming. But it was intriguing. I liked her, but not her restraint. I guess that means I did not like her. But I liked her ass. I was back to the same old cynicism. She was an obvious dead-end on religious, psychological, and sexual grounds, but I still wanted to fuck her. And to think I had first seen her for a fun time. How I missed it I don't know, other than I was misled by a friend's confidence in her interest. I was pretty experienced at foraging three-hour relationships. My judgment would have been sharpened by an eight-ball and a twelve pack, but those days were behind me. I needed to get used to my new eyes. Or maybe I had called her right and she knew it, got insulted and was going to learn me. My friend Cody talked to her enough and probably had told her all about my past, and what I might have said about her. Maybe she had cornered the prick, plied him with milkshakes. "Tommy's fucked more women than you'll ever know."
After three weeks of discussing how we would see one another during the summer to plan our wedding, we were in her top bunk. It was very nice up there. I remember she came out of her clothes when I pulled on them. I did not pull on them until we had kissed the appropriate duration. She could kiss. She had full lips, the taste of patience rewarded as I took off her shirt. Her breasts were more than I had expected, they converted me. These were not for the street or the home. To cover my surprise at seeing them, I buried my face. Her cunt was tight. I moved down and she allowed herself to become wet. Her odor was as a sifting of sweat and soil, harmonic. She made beautiful unexpected sounds my balls had ached for. I rose onto my knees and unbuttoned my pants. I do not remember how we or she or I got them off. Maybe they stayed around my knees. I leaned onto her and my cock touched her. I felt her hand on my cock. She grabbed so hard my eyes popped wide. "Do you have a condom?" she said.
I did have a condom. I never had a condom, but in fact, this one had been given to me earlier in the evening by Cody's roommate, Randy. Randy was an optimist. A tall and handsome kid from Connecticut, he drove a red Burt Reynolds trans am and had a curl of hair which hung over his forehead into his eye. He constantly was pushing it up or flipping it back with a snap of the head but it always fell back. That lock was his key. His easy smile and that curl disarmed and impressed. Girls chased him and he acted disgusted, but he kept putting gas in his Trans Am, maintaining his lock of hair, and buying condoms. Randy talked more sense than all of us together. I had not asked for the condom. He just offered it when he heard I was seeing Christina that night.
I found my wallet. I tore the wrapper and discovered the condom. I rolled it down my cock. my cock bound and blinded, robbed of its senses. Penicillin is more sensual. I wanted the journey, the contact and presence. After Christina had let go of my cock, the erection returned without her help. Protected by my consent to her request, I moved in for a second pass. There was momentum, but abandon had been lost when she had choked me. There was the pre-condom hard-on and the condom hard-on. Christina was quiet under me. She seemed to have her nerves, most of them. I went slowly. the outer skin of the rubber touched her. Before heat transferred through the latex, she seized my cock again. I broke her painful hold on me. "How old is it?" she asked. "What?" "The condom." she said. "I don't know." "Where did you get it?" she asked. "Randy," I said. "Is there an expiration date on it?" she asked. "I don't know. I can't see it, here, now." I was on my knees. my cock wilted. the rubber hung down, stretched and loose. "I'll get a new one," she said. She climbed naked out of the bed and put on a robe. She left the room. The door was open a crack. She was gone, into the bathroom across the hall. I sat and waited with the rejected condom. This cunt was out of her mind. Never before had I been told my condom was not good enough. Did she think it was used? how old is it?
Did she think Cody or Randy had stuck a pin in it? Made a passage from me to her? If she thought that, she did not know guys if they had done that, then I did not know them. Randy, dean of bachelorhood and non-commitment, and Cody, who was so paranoid about disease he put on condoms for hand-jobs, which he consented to only twice a year besides, this one came from Randy spur of the moment and he was the least likely of the two to mess around. If I imagined a plot, I saw them both arguing against it. Sabotaging condoms happened, among the dim and deranged. During my five years of school, including my time as a gentleman, I never heard a story of, nor saw, a guy sabotage a rubber. We were immature, disrespectful and disrespectable. At times we were inhuman and brutal to one another and we had a limited view as to who women were, but we were smart and we were selfish. It could be you. Pregnancies and abortions, kids? Pissing razor clams if some moron put a pinhole in a condom and a girl became pregnant, who would know? The idiot would, the idiots he laughed with would, everyone would. A crime like that would ruin him. he would have two black eyes, a bloody nose, and would be unable to walk.
Christina must have feared the condom would break, and if she at all believed what Cody had surely told her about me, she was not just fearing that her string of near virginity might be broken by pregnancy, but that my ugly and distressed cock would never leave. I had no diseases, but I understood. there was a fear of AIDS. I remember thinking about it while I was at the frat house. I did nothing about it. That means the women did nothing about it. I must have had good sense about women, because statistically I should have been blind. We did not take AIDS as seriously as we were being told to. As it turned out, we were right. It was lies. Heterosexual AIDS cases were low. Meanwhile, we heard little about the ones who were dying. That was the 80's, the decade of big lies. If you were Christina, your chance of contracting any sexually transmitted disease was zero, even though condoms were only 99 percent effective. It was the grab and stop method and it prevented physical contact and pleasure more than any republican propaganda. The only fluids around were the guy's tears. This must have been a church technique. Or maybe she feared my cock itself. She was small and had some lingering virginity. I now was not sure if she wanted to at all. She could not speak. We had a disconnection.
I sat on the wrong bed. Christina was in the bathroom. I climbed down off the bed to see what was keeping her. I looked out the door and saw the light under the bathroom door. What was she doing in there? Hiding? Sick? Reading the Old Testament and expiration dates, holding them to the light, filling them with water? I drifted back inside, nakedly waiting on her preciousness and paranoia was an aggravation I had not trained for. Preparations are for the dying and royalty. I found my clothes and pulled them on. I walked out while she was in there. She was hopeless. Slipping out of the bedroom, I looked at the light under the bathroom door. Perhaps she was on the can reading Consumer Reports. I limped back to Randy's and told the story to him and Cody. They laughed until they passed out. My balls hurt all night and I couldn't walk the next morning. I should have jerked off in Randy's bathroom.
I saw Christina again two years after she had turned the head of my cock into an aneurism. It was on graduation day. The seniors were all lining up by the quad before the commencement. I had already graduated and was there working for the newspaper. The crowd of students was trying to make itself into a thing which could proceed. It was in this disorganized mob that I came eye to eye with Christina. Robed bodies moved and there we were, four feet apart. Her mother was fussing over her hair and cap. The last time I had seen her was in the dark, my cock pressed against her cunt. She gave me the look for shit and turned away without a word. A lot of time had passed since our night of cock squeezing and maybe by now her Israeli soldier was waiting for her, out in the audience with a fresh pack of junior size Trojans scanned by Doppler lasers at the college of engineering. She was slightly heavier. Her face showed wear, a decline. Maybe she was realized. Her face made me jealous of the men who had finished her off. She looked older, like she had been roughed up by acceptable mistakes. I had missed out on the days when semen flowed, but I had played a role in her education, showed her the things you do and don't do to a guy, but I had gotten there too early for the easy part. I believed this after considering whether I was once again mistaken about her, seeing cocks where there remained only candles. It was possible, but I knew her and here she was, bitterly sexy and looking like she had used a few guys herself. You might have expected her to be grateful towards me, but her eyes spoke this: "Fuck you, even if you were right." And I said: "It's too late."

---


The Accident
Charles Hayes
Stepping lightly along the old dirt road to my shack, I see the moon lift above the bumpy horizon that surrounds me and the hollow that I live in. As I pause for the view, the call of the whippoorwill challenges my return. Peering about for the bird, I notice the reflected light from the creek, its flickering sparkle calling time for the tune played by sandstone pebbles. Then I see it, the eerie red glow of the whippoorwill's eye. In the weeds between the road and the creek. Many nights, through the screened window of my cottage, its call has padded my anxious thoughts. Coldly glowing, like a tiny brake light afar, the eye is all that I can see of the bird and, in the darkness, I wonder if it can see me. Maybe it is too busy calling for a mate to notice my creeping. Drawing closer, I hear the soft murmur of wings followed by feathered air to my face. It is gone.
This night has been OK, I guess. Just me and the whippoorwill......and the snake. Earlier I had stepped on a snake that must have been gathering warmth from the road. Although I never saw it, it had to be a snake. Springing to the air as soon as my foot felt its round largeness, its wiggle, I heard the weeds bend as it slithered off the road. Only a black snake I figured, since I was not bitten.
Back in my shack, a little four room affair with an outside toilet, the freedom of being outside with other living things slowly drains away and is replaced with a caged feeling. I am already counting the hours until my next night walk. The night walks keep me going ever since the accident over there. I was busy over there and had too much to do to think about it. And others didn't seem to be bothered by it. But when I had to come home the scabs on my face began to turn mushy and rub off......and there were no others here. With the scabs gone, and no others to pass among, I stick to the night and avoid the looks. Surely, they must know about the accident.


***
Dark skinned and with eyes that are almost black, the VA shrink quickly enters the examining room, gives me a smiling nod, and sits on the large desk with one foot on the floor and my file open on his thigh. In his early forties, tall and lanky, he moves with the quick, surefooted grace of a soccer player. Over there I would watch them play sometimes and wonder if they had seen the accident? Were they part of it? Starched, pressed, and smelling of disinfectant, he reminds me of an Arab Mr. Clean, prepared to vanquish all the dirty demons in the heads of those that have been cursed.
"You are Ben James," the white smock says, "I saw you last month?"
I nod.
"Is there anything that you wish to talk about today? Something that would maybe make you feel better?"
I shake my head thinking that it's always about talk, digging up bones, blabber, blabber. What good will talk do my sores?
"Take off the sunglasses and remove the face mask," he says, "I want to see your eyes."
Grudgingly I uncover my face. Now this Arab doctor will see my sores and he will know about the accident.
"How do they look?" I ask.
Without looking up from my chart he replies, "How does what look?"
"The sores," I say. "I think maybe they are more infected."
Lowering the chart, he looks at me and shakes his head.
"There are no sores, Ben. Your skin is as unblemished as a baby's ass. Are you taking the medicine I gave you for sleep?"
I am taking multiple doses and chasing them with a glass of vodka to even approach sleep but I simply say, "Yes."
"Good, good, you know that we are here to help."
Scribbling on a pad, he tears the leaf off and hands it to me on his way to the door.
"Here's a fresh prescription," he says, "have it filled at the pharmacy on your way out. I'll see you next month."
I don my glasses and face mask as the door closes and hurry out of the building to the safety of my car. Maybe next month the sores will be better. I mean, what does he know?
***
Smashing into the side of my head, the butt stock of the Kalashnikov almost knocks me cold. Stars and flashing lights blossom in my vision. Like watching a film play at half speed, I see the concrete floor slowly rise up to smash my face. Lying in the rubble, I know that I am still conscious because I can taste the dirt and feel the warm blood running down my cheek. Standing over me, stretching to the roof it seems, is an older Arab holding the Kalashnikov. Dressed in a common disha dasha but shod in good desert boots, he wears a bandolier of ammunition over his shoulder and several grenades attached to a web belt. Three other slightly younger men, dressed similarly except for the boots, are with him. They wear only sandals. All have faces marked by hatred and contempt as they stare down at me. The older one says something in Arabic that makes the others laugh as he viciously kicks me in the stomach. For the next several minutes they beat me. Still laughing, they strip my boots and desert fatigues and drag me to a half collapsed wall. Draping me head first over the wall, they tie my hands and arms to a supporting post and spread my legs, doing the same with them. More excited now and looking at each other like addicts of cruelty before the feed, they rip off my underwear, leaving me naked from the waist down. Suddenly my fear turns to terror as the older man grabs my ass with both hands, looks at the others, and says something in Arabic. Moments of silence follow.....until I hear the thud of a bandolier hitting the floor. Looking over my shoulder, I see the leader, his dark eyes riveted to mine, remove his loaded web belt and gently place it beside the bandolier. Lifting off his disha dasha, he reveals a huge erect penis with a bulbous scarlet head as big as a softball. The mammoth cock head, like a half human-half phallic being, has the face of a laughing clown. Wild tufts of red hair growing from the sides of its bald head start flapping like wings as it prepares to mount me. A rumbling sound in the background, barely audible at first, grows louder when I feel the kiss of the clown on my ass. I scream.
At first, when I open my eyes, I do not recognize the torn and faded wallpaper near the edge of my bed. It is the rumbling sound of the morning school bus outside my bedroom window that nudges me around to where I am. My blanket is on the floor and the sheets and mattress cover are pulled from the mattress. Lifting my head from the pillow, wet with spit and sweat, I come to an elbow. Stretching out my hand, I watch it shake. My whole body is shaking. And the sores on my face are running wild. With trembling effort I stumble to the kitchen for the good medicine, fearing that it will be gone. There. Thank God. On the counter near the medicine cabinet with no mirror sits the half gallon bottle of vodka......still a third full. Ripping out the plastic jigger with a fork so that it will flow unimpeded, I grab it tight with both hands and turn it up. I do not count the gulps. It is like air. What difference does it make? Lowering the bottle after I have pulled enough to stay together, I look at the clock over the refrigerator and count almost 12 hours until darkness.
***
Cool nights amplify the crunching sound of my steps on a ground covered with brilliantly colored and dying leaves. Impromptu detours off the roads and paths of my night walks are not as silent as before. Winter will quieten things down again soon. But my range will be limited by the drag of the snow. That's ok though, for there will be less sweat in my sores. Tonight I am leaving the hollow. The changing dusk, like a lizard of morphing colors, fads to a grayish blue hue before offering up its darkest cover. I check the failing light just in time to see a wild turkey soar from one ridge, where it has fed, to another, where it will roost.
Reaching the river that drains all the hollows and their secret places, I hop from rock to rock out towards the smoother, quieter water. The large tan colored sandstone rocks slow the flow enough to kick up a little white froth that I use as my beacons for the traverse. Furthest out is where I like it best. Out there the rock is big and comfortable enough to spend time and not need to rush. When I get to my spot, camouflaged by the ways of the river, I look like a big wet spot on the tan colored rock to any shore side observer that can see that far in the night. Like Siddhartha, I wash my sores in the never ending waters that flow around me. This medicine that has no beginning nor any end is my favorite—a life without accidents......or accidents that are only life. Far beyond my rock, near the other shore, the loud slap of a beaver tail tells me that there are living things here. It is important to be among the living things.
Not like here where the beaver lives, there is so much death over there. I was sick of it after the accident. At least that is what they said when they decided that I had better go with a medical discharge. Having me around didn't help when it came to explaining to the village chief how a young mother and her baby got incinerated with a white phosphorous grenade. Probably I was done and gone when that happened. And in my hurry the grenade must have slipped from my cartridge belt. The child found it, pulled the pin, and whoosh, crispy critters, one big black burnt mound of flesh lying by a little black burnt mound of flesh. I don't know for sure what happened, the fog of war, my memory is not so good. A terrible accident they said but the scabbed over burns on my face were hard to explain with desert mites and psoriasis, a terrible itch, or a vicious scratch. Best I get shipped back home to recover. A terrible accident.
I just wanted to see her up close, make a little visit. Babies are such idiots. They will drag around anything. A terrible accident.
My sores are not that bad this evening, a little drier than usual. The river is the best for me. Soon I will crack the ice and the beaver will no longer herald my arrival with a tail smack that sounds like a one gun salute—one gun is plenty to do the job. I know this for sure, but I don't need it. I am a modest man. And the new medicine from the VA takes less Vodka to work. I sleep some......but only during the day. I must have the nights for my walks, my therapy. The VA shrink says that I am getting better. Maybe soon my sores will heal and I can get further out, mix it up a bit.

---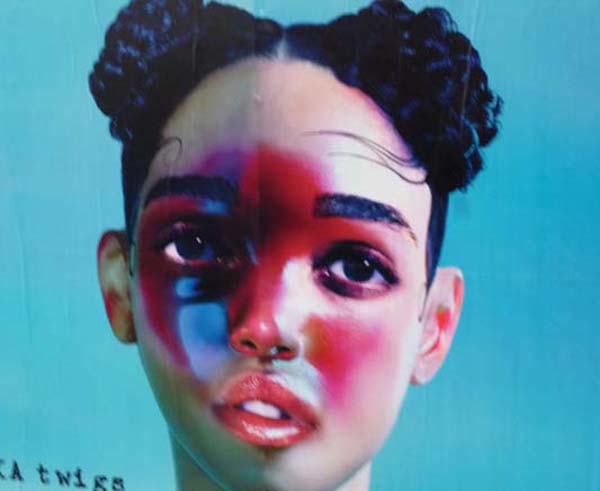 art Hemmings Gone Girl, art by Kyle Hemmings

---


The Price of Freedom
D. C. Weiser
Oei Tiong looked up from his invoices to see Chu-Li standing before him. Quite distraught, she said: "My father is sick. I need to visit my home kampong."
"Of course. Do you need anything? Money?"
With downcast eyes, she said uncertainly: "No."
Oei Tiong opened a drawer and dropped a handful of gold coins into a small leather pouch with drawstrings. "Here. Take this," handing the pouch to Chu-Li. "Just in case."
She bowed to him. "Thank you."
Chu-Li walked toward the door.
"Chu-Li?" he said. She turned around. "Take as much time as you need."
Nodding, she turned and left.
The sudden rush of air as the door closed left a certain vacuum in her wake.
#
It was night before she arrived at her village. Before she could reach her family's thatched hut, Chu-Li was accosted by the wraith-like figure of a woman. "Chu-Li?" came the hoarse whisper.
"Sun-Ying?" Chu-Li asked incredulous; she had barely recognized her childhood friend. Her hollow eyes and gaunt expression told of pain and loss. Chu-Li took her hands in her own. "What has happened?"
"I was living with a wealthy merchant. A young Englishman. I thought he was a good man. But—" Sun-Ying's lips trembled as she spoke, "after living with him for two years as his concubine, he has thrown me out. Cast me aside for a European woman, a Dutch woman, I believe."
Chu-Li squeezed her friend's hands tightly.
"I am ruined. My own family will not take me in. They say I am little better than a whore."
Chu-Li found Sun-Ying's dull monotone even more distressing than what she said. "Here," taking the pouch from her pocket. "Take this and take care of yourself."
For a moment Sun-Ying looked shocked; then her tearful eyes and broken smile were a peep of sunshine through rainclouds. "Thank you, Chu-Li. Thank you. Thank you."
She turned and fled with the pouch clutched tightly to her breast, her clothes like tattered rags whipped by the strong breeze.
Chu-Li hurried to the house of her mother and father.
#
In the same village, not a mile away, police chief Kirk Dekker met with a headman. Dekker was there to collect the Dutch administration's share of the profits from the legal opium revenue farm. "Ten-thousand guilders," the Dutchman said when he had counted and packed up the loot. "Not bad for a week." The lurah nodded and smiled. They made small talk for a few minutes.
It was not easy for Dekker to find Drake for the Crown's take from the illegal opium smuggling and prostitution. The spy and informant had been drinking and gambling. He led Dekker to a nearby house, where he set the money out on the table. Before Dekker could pick it up, Drake put his hand over it. "You sure you wouldn't rather have Al-Chen or ChangChang for the night? They'll do anything you want."
Dekker hit him hard in the face, a right hand blow that knocked him back over a chair to the floor. The Dutchman dragged him up to his knees and began flaying his face with punches: left, right, left, right...Then Dekker dragged him outside by his hair and the seat of his pants, sat him up on his knees once more, holding him by the hair, and kicked him as hard as he could in the back of his head. A few teeth shot out of Drake's mouth. Dekker dropped him face down in a rain-soaked ditch. Stooping, he then went through the man's pockets carefully, confiscating all the man's cash. He stuffed it inside his jacket pocket and went inside to retrieve the money on the table.
#
Chu-Li's mother was used to a hard life. She stood wringing her hands when she saw her daughter approach. They kissed and hugged and wept. Her mother made tea and they sat, catching up on things in the village.
"Things aren't as bad as they could be," the old woman began. She sipped her tea.
"Famine is the worst. Debts are mounting. Suicides are frequent. The young people are fleeing to the cities in search of work."
They shared a bowl of rice and some chicken.
"How is father?"
"He's fine," the old woman said tartly. "He's sleeping."
Chu-Li was exhausted and wanted to go to sleep. Her mother was tired, too.
"Opium addiction is rampant, too," her mother added, a final note.
#
Dekker hung up his gun and holster, his baton, and placed his Terai hat on its peg on the wall.
After washing his hands, he seated himself at the dinner table. A native Malay woman brought him food, which she served to him silently. Dekker ate his supper in silence. When he had finished, he got out a bottle of brandy and two tumblers. He filled each glass with brandy. The Malay woman entered the room and took a seat in front of one of the tumblers. They held their drinks in their right hands. Dekker said something: "Proost!" She said nothing but showed a weary smile. It was painfully evident that they had no language in common beyond a handful of Dutch and Malay words; perhaps they found comfort in the distance this situation afforded them both. "Good dinner," Dekker said to her, then gave her a quick awkward glance. She gazed uncomprehendingly at him, then sipped her brandy. They drank quickly and in silence. When they had finished their drinks, Kirk rose from his chair, picked her up, fondled her breasts, and coveredher mouth with hungry kisses. They separated and she walked away, presumably to the bed they share. Dekker followed her out of the room, loosening his trousers.
#
The next morning, Chu-Li visited her father at his bedside. "Rama," she said, pulling a stool next to his bed. "What is the matter with you? Why are you ill? Is it fever?"
Hollow-eyed and listless, "Donya iki, putrid," he said. "Urip iki."
Depressed, he whispered: "There's no point. We are ground underfoot. It is too late." He looked at her with sunken eyes "Too late."
Chu-Li tried to reason with him. "Rama," she said, "Father, listen to me. You have to fight, fight this. You can't give up." She bit her lip, seeing him like this. He exuded resignation.
"Save yourself, my beautiful..." but his voice traile off and he could not finish his sentence. He looked at her one last time across a void of despair. "Chu-Li," he said in a barely audible voice. "Go." Her father closed his eyes and eased back into the bed.
Hopeless. He had lost the will to live.
Chu-Li departed. Hiding her watery eyes, she fled the compound, with its revenue farm, its rice paddies, its despair. She passed a small gutter between two buildings at the edge of the kampong but continued looking straight ahead.
She did not notice the body lying there or recognize it as her childhood friend. Sun-Ying had spent all the gold coins on opium, then slit both her wrists with a kris.
#
Chu-Li's heart raced with anxiety and she could not concentrate her mind. She did not know how she was going to break the news to her master about Ji-Suomong, who would soon have the money to buy her freedom from Oei Tiong Sien. At the fish market she found calamari, oysters and abalone, special food that she knew he liked...That might be a way! She would prepare a grand feast for him that evening. Chu-Li went about the rounds of her shopping, dreaming of the future life she would share with Ji-Suomong, his love for her. Interspersed with these came images of Oei Tiong, anticipations of the dinner she would prepare for him, her love for Ji-Suomong...
Oei Tiong Sien didn't know what to do about Chu-Li. A wealthy silk merchant of the Jung-Lum clan in Nanking and a prominent member of the kongsi, Be Hong Lum was pressuring Oei Tiong to marry his daughter. From a business point of view, the match would be a good one, he reasoned, despite the fact that Nahia Lum was fat and dull. She would probably make a good mother and a dutiful wife. Oei Tiong frowned.
His appointment to the kongkoan or Chinese Council was imminent, Oei Tiong felt certain; it would solidify his position with the Dutch and give him unlimited control over trade arteries throughout Java, unparalleled access to routes from the island's agricultural heartland to the various ports of Java.
When he got home, Oei Tiong found the dining-room table set with a fabulous supper awaiting his arrival. Chu-Li poured him wine and he insisted that she join him. As their enjoyment of the meal proceeded, Oei Tiong Sien began noticing little oddities about her behavior—she avoided eye contact, appeared intermittently nervous and distracted. Finally, he asked her: "What is the matter, Chu-Li?"
She said, haltingly, that she needed to speak with him but doesn't know how to begin.
Oei Tiong's curiosity overcame his mild irritation. "Have I ever given you a reason to be afraid?" This calmed Chu-Li. "No," she admitted, and her anxiety washed away.
"Whatever is on your mind, just tell me. You have nothing to fear from me."
Oei Tiong Sien listened patiently as Chu-Li told him of her love for Ji-Suomong and their plans to marry as soon as he has earned enough money to repay Oei Tiong for his purchase of Chu-Li and restore her freedom. He gently questioned her about the young man until he was satisfied that their love was genuine. Oei Tiong smiled at Chu-Li; in one way, he was relieved, for this would certainly solve his concern over what to do about her. He toyed with the idea of teasing Chu-Li about his "investment" in her, but thought better of it as he saw the way her face lit up when she spoke of her young man. "Your price will be fixed at what I originally paid for your freedom."
Chu-Li brightened at this news.
"How soon will your young man have enough money to repay me?"
"In another moon," she tells him.
"There should be no problem," Oei Tiong Sien assured her. He poured himself some more wine.

about D. C. Weiser
D. C. Weiser is the author of Sinister Dynamic and Plum Skulduggery. He has recently published work in The Legendary, Truthout, and The Five-Two: Crime Poetry Weekly. He has read his work at the Writers Place, Uptown Arts Bar, and Westminster College. Based in Kansas City, Missouri since 1981, he is currently finishing a book about Bram Stoker's Dracula and the British Empire.

---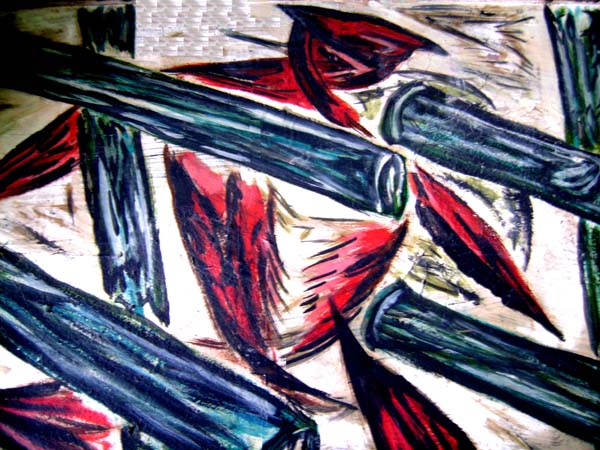 ---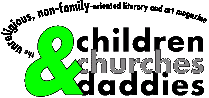 The Bastille of Everything Beyond the Eyes
CEE
It would figure a contentious nation like ours, sported an outer fringe, neo-Founding Father, named, "Paine". As surely as the onomatopoeia of his surname, the author of Common Sense, but for the rigidity and customs (today, Standards and Practices) of his era, immediately communicates to one by feel, why he spent the days of Lexington and Concord, doing what I currently do. Unlike George Washington, who, by all accounts—until drafted by "name" friends to ride for our original Cause—was content to elder, gnarl, sicken and die as a monied Virginia squire, the anarchist Thomas Paine, exemplified my mother's branding of Me as a carbon copy of my Dad: "Nothing's ever good enough!"
Rigidity and customs with no signing off on Tina Fey's # count of "vagina" uses, make Thomas Paine but a name in 2017, one we think stood next to Franklin as he took quill in hand, or fired until gutted on Bunker Hill, or had a noose slipped around his neck, regretting he had but one life, as the other, he'd traded to Lucifer for magic beans. But, our "Paines" are with us, today, which would be terrific, as I believe in inclusion if I don't have to hear the shit. Mom's family has a history of hearing problems, so I might get lucky, but, that's not the fix I want. Only having cable television turned off for near a decade, has kept me breathing, above ground. You know the lone reason, why life is NOT Orwellian, yet? We get to choose whether or not we have a Telescreen in our dwellings.
Of course, there are all kinds of Telescreens. Everyone gets to share on the WWW, don't they (just buy the MP3 of whatever song I don't want you to play for me—you're askin' for it, if you tread where others blat their, "Don't Tread on my picayune personal obsession")? Me, I do it with Old and New wrapped, pig-in-a-blanket into Mobius blanket, and as though I wore a Roman collar, held a hatchet in one hand and a 7th cavalry sword in the other (google the famed depiction of abolitionist John Brown, by John Steuart Curry, except, I don't play facial hair). Others, must voice their "'peen-yun", as I said in The Thing in The Lounge at Wagon Wheel. "'Peen-yuns", understand, are houses of cards of links and blogs and shares by those likeminded, battened into paper sailboats of "facts". The New Painesinthe, want to share. Sharing, is so important to them. Many, claim they are "reporting". Most of the many, lie the title of "journalist". A hefty percentage of the most, call patronizing spin mixed with a worldview in place by the time they could vote, "truth". And something Tom Paine himself called, "the Bastille of the word", is both enemy and friend, Big Brother and Ste. Jean d'Arc, Decaprio and the other one, the one who had him put in the iron mask, the other historical guy there, you know. The Bastille, or let's now say the Spandau of any word, any concept or ideology, Cause, hope for More's Utopia or halfbaked bright idea, any thought as prison, has both prisoners and jailers. Because of our cyber friend, The Loch 'Net Monster, anyone makes everything anything—to my mind, only without objection, in that addicts get to die as they choose. And, when it comes to the "how we all should live, folks" Helpful Hannahs, imprisoning comes in whole, spoken litanies, through bad social behavior, a twist cone of the super-organized, Key Clubbin', frown-at-you-forgetting-to-remove-your-shoes, "but that's what the rulebook says" kids, and the one in almost every Real World who, screw you, was going to take the private bedroom, if it escalated to cops, and ran on COPS.
A lot of clips and news as "reported", rambles, spiced with insults and reminders it ain't the 20th no more (like you need to tell us—Crystal Pepsi, we hardly knew ye...). These people count on you not sitting up straight to click away, giving them time to build their nucleus. Time, they require like an iron lung, as their viewpoints echo the animation in Liquid TV's "Stick Figure Theater", but not as nuanced. If said news views were stated in their pure form of bumper sticker sloganism, these wise-eyed, wisecracking wiseasses, would come off like the so what-middle of the Actual Planet of the Apes—Dr. Zaius, kneejerking away: Charlton Heston is a hostile invader, as he told them he was from Fort Wayne. "A fort!" concludes simian Torquemada, and even as a boy, I'm rolling eyes heavenward, "God, what a stupid asshole!"
The behavior of pundits and pun lovers cum activists is tired, and died as insightful, with George Carlin. The rhetoric, I find inane. That they think it a call to arms, has me wondering if nitrous oxide is still sold over the counter. It's as though because unionism exists as entrenched in America, the genome of acceptance or apathy can be exploded into some Fidel-came-out-the-hills bit, where people impossibly ride in jeeps standing up, gun butt to hip, and never go tumbling after Jack and Jill. The rhetoricians, especially the ones FAR too obsessed with DC Comics, I think believe Underdog's Super Energy Pill, was real, and somehow can be recreated with classroom asshat behavior and a dash of Noah Webster. "BlahBLAH, 'sheeple'! BlahBLAH, a populace willing to be led!!" 'Makes you start reflecting if, maybe, Uncle Wiggly was a historical figure. Perhaps a revolutionary. (?) I have to love this concept of learning by grammar school recess. "If you don't know the new words I learned at camp, you're a fartypants, and I will tell you you are, in front of others, until you suck my words. And I will make up words. And logic of my own. I'll butt in, overtalk like a phone solicitor. Make sure the real boogereaters hear me use my new, neato keywords. Jeer. Snipe with sneers. Mug, like I'm having a doody in my shorts" (possibly explaining those with the "artwork unfit to be a Halloween mask" masks). It's a structured technique, dipped Achilles in the Pool of Condescension, but it's no child of Freud, Zig Ziglar or the NSDAP—it's Professor Bitter Buns having reawakened your inner "wash the other kid's face in snow". Assuming you forgot that hot hollowness, to begin with. Or are blessed, and know it's hateful.
Payout, here = Reasoning and argumentation, are about winning, as in any conflict.
It truly is fish or starve. You agree to have sex or you don't. You have the baby or you don't. Sandaled toes stick north of the Boundary Monument at Tia Juana, or they don't. The cop drops the hammer or he doesn't. A pipeline is built or it's not, finished or it's not. Relative temperatures say, "Dead Earth in a few decades", or they don't. Words of any sort, can be openly uttered by anyone who chooses to use them. No one likes to think of this as a lifetime pit fight, where you have The Bad Guys and The Not-Quite-As-Bad Guys. But, proof's in the pudding. A friend long ago, confronted re: the intractability of another in a minor matter of game rules,
Q: "Why do you have to have your way?"
A: "I don't. It's only that, if I don't get my way, someone else, is going to get theirs'."
It's really very simple. "Manichee, Manichee!", a little mockingbird keeps singing. When it comes to Intended End Result, Highlander, there can be—startin' to get the picture? "Winning", et al = Given Way = Control = "The Decider" = if-an-oppositional-path-leads-to-success-as-proscribed, then, Firesign, "everything you know, is wrong!" This could well include all the sciences and their data, the place of Zero in mathematical configuration, and your life mattering, if the Mount Olympus-gang click, "Dislike". Success, is All. I champion Jaqueline Susann (Valley of the Dolls), e.g. it is The Public, who decide greatness. Or genius. Via success. Success, determines "correctness"—if it doesn't, I insist argumentum ad hominem be granted validity across the board. We're all jailers and their prisoners, or none of us are. POV, comes with the handcuffs of yielding to any fait accompli. Doesn't matter, if ugly, angry, hate-spewing Quasimodos, build an ark out of leather and balsa wood, then jump up and down while we sail to our goal. Did We Get There? "Yeah." Well...
I'd throw in, assuming people in main would rather not be led, is in itself, foolish. Evel Knievel, trying to jump the Snake River thinktank. I take my cue from the 90's Aussie series, Brides of Christ, the poor, dumpy nun who could not assimilate Vatican II and cowered on the floor before the Mother Superior. You want "human", Mr. Guy? THAT's IT. All the taunts and "read this article you'll find gibberish", all the "let me prove you don't exist" or Sunshine Mankind as word games, won't cut it, don't cut it. FAIL. Some, if you opened up History like a website on the update, would hump pre-Magna Carta to death. Let's emphasize the "whole", of inclusion. It's living South Park as ethic, in that all oxes are gored in the fullness of time...all oxes, and no one can censor that or interfere. There's room for those who cry to be led, and room for those who wish a life as naked, shouting, "Point of order!"...but, that elbow room exists only as rigidly stratified. Unversality, cannot exist as fully overlapped. There is room for us all, apart, among thinking/believing/POV gens, these here and those over there, and for my group, I dibs a Far and Away land grab which forces personal enemies to relocate...but, the roads will be jammed for a few years, get used to that. A Bunch, Have To Move. It's multi-mini-Germanys, pre-Bismarck, because the next alternative, if we descend the scale, is "stay palette-overlapped in the mud of IDIC ("infinite diversity in infinite combinations", yeesh), but then, STFU". Even I'm willing to do that, and stow your rejoinder, but how many out of 100, are going tick a lock on their syllables, for a referee's count of 10? I suppose we could pass laws, then enforce them, strictly. "I don't know. Third base!"
Okay, no Stratified Earth, No Shutting Up, as God Knows, every shaver-me-lad with polysci chin stuck out, pouts, "This is FREE!"...let's descend the scale:
Wow. Uhh, okay, "we all live together as we presently do, but ladle in that 'Law'-thing as stated, all decisions final, the arbitrator is our god."
No? Okay, next lower choice...here we all are as now, say whatever we want without any restrictions ('cause we're FREE!!), and if I kill you, then it's all right for your brother to kill me, and one of my number kills him, and it's a free-for-all from Dogpatch, USA, but with Matthew Brady pix of corpses and HD vids of weeping children.
What? No? Well, I'm afraid the next level is the bottom one. The gutter one. Run out in the street and start unloading, NOW, goddam us, every one. If you're in a missile silo, draw on and begin winging your partner until he trades his key, thumbprint or retina scan, for his momentary life. The bottom level of Solutions of Tolerance, is redux. Romney's Etch-a-Sketch, as I like to call it. Mainly, the sound you hear if you listen close on the shake. That's the sound of one hour after Man agrees not to agree to disagree. Man isn't agreeable, no matter the diaper lads and iron au pairs. There are many who have shrunk to watching the flower live, or who cannot continue, as the pain of struggle is too much (I was there, once). There are also those who go into that good night or just hang out all night, laughing like psychotics as the distilleries laugh all the way to the bank. In main, however, it's The Main Event, and brackets multiplicative. Too many, though I and ten thousand went away, will still refuse to shake hands. It doesn't work like 60's and 70's dramedies, where we fight and jibe but still are friends. In this—I will actually call it "latter day" moment, it's personal honor and dignity bursting, John Madden as his own cartoon, through your taunts and belittlement and faux parental barbs, re: "ego". You betcha it's ego, but not "fragile". Holy. The "I", is beyond reproach, if this carries over to interference by control of thought and breath and movement. Protocols for these, cannot be grandfathered in. You don't jack with motherboards. Han Solo shot first, boom goes the dynamite. Trying to recreate understanding past Freudian development, with the 9th grade male bonding of "blowing shit" married to Freshman Logic as mental fencing destroying your foundation like it's boot on Paris Island, has reached mutation level. The post-secondary process is backing up with fails, stubs, negatives, corruptions and the black tater chips you used to only find one of, in any bag. There are now, HELLO!!, all Bastilles and no roofs. Every voice, IDIC making sick and "blog" the sound of puking, making the process of indoc...brain wa...education, one of low yield, with much higher odds of a 180 who turns right back on his Fronk-en-steen. And, that sounds so singular, doesn't it? Compute the factors, and multiply.
Put briefly, any real fighters, old and new, will never concede, each for their reasons, but dug to China, it's for Self. Goof face, acidic remark, blahblah bullshit, have you any sense, rarely cows. It's too late in the Timeline. Jade, is a hard substance. No fighter keels. And, look out, you have harmed the One True Self of Iron John Doe. No, he can't reach through the monitor. But, you'll never bring him into the party line. Not now. Which leaves Washington, DC, most of its measurements tipped into a 9-member panel of "Who cares what Jefferson meant, I don't play that shit". It's the bully-God concept I shared with you last year, but no danger of prayers unanswered. Providing the deck is stacked in your favor. Or marked well enough. Or you hold the lone Serra Angel. Point driven, it's a game. Are you there to lose it? Ah, I thought not. Then, I just won this one.
Fish gotta swim, birds gotta fly, someone gonna take the stein full a' change to a Coinstar machine, and someone gotta accept it wasn't him/her/letters in the spectrum. If we're talking cards, dice, miniatures, "Axis and Allies Cold War Continuation" or Richie Cunningham catching quarters off his elbow, so what? Chill, Dick Dastardly, you'll get 'em next time. So, you lost your tenth straight at Triv. Pursuit, big deal. You Know You're Obviously Smarter. Games as parlor, come and go, unless it's Rachel Dratch's finest hour and a hardcore goes apeshit. Losing at control of 'who' controls which tweaks of the one, Ultimate Reality, means at least 4 years in a nation-sized minimum security prison. Well you know, No One in prison, is ever "guilty", and even today, many facilities field boxing teams. The men on these squads, command immense respect...but here, the analogy breaks down, as any prison is a large "box", but America is a box of what constitutes "normal"...which, keeps being altered. And, it's 4 years of low current shock, no matter a single decision made, no matter pols and bills arranged like chips at the Vegas tables. I refer you Above, to the "fails, stubs, negatives, corruptions" which chum post-secondary processing. The mutations, the lone wolves. I'll advance the radical theory it's wrong to claim lone wolves as tabulated, have always been there, but now societal tensions bl'hbl'h-babbleshit. No, these came naturally, Tinker to Evers to Horace Mann, through every advancement as mistake, every legislation in error, every taking of scissors to what might well disgust but wasn't broken. Again, you could have left Man as he was, and burned all which you thought up. Buried your anger. Taken life as an endless, unchanging chord of "Is". Or, you could have kept all the metal crap secret, only for top echelon, directed Man's life quietly and he who spoke of it, disappeared. Cut to a high school friend and I as Duelling Cosells on the NFL Highlight Reel, "But, NO...!"
If I told you I avoided having children, because children put their parents in nursing homes (check the stats), I'd receive no sense, only horseass emotion. Yet every monster created, though the purpose be noble, though dreamers strive for good...no. Gonna hit the game show buzzer on ya. Maybe give ya a "Tonight Show" rim shot. Every stronger, suped-up, more powerful, larger, expanded, megalithic entity newly made, crushes the flower when you attempt to show Beauty. The one I'm speaking of, is composed of millions, and would define Beauty and Ugliness for you. That, is the equation, Ruk. Existence, survival, must cancel out programming. Hence, the System destroys Itself, Rock 'em Sock 'em. Not bad, but Ant Community is cleansed best, via the postwar method—get gas can, lightly pour into cracks, then bonfire match tossed. Pretty final. There isn't a lot of equivocation. This, too, is natural selection. "But, can Satan cast out Satan?" old Bible pals would ask.
No. But, then there'll be only one.
Credits. Look for your keys.
CEE

---