---
Outside Looking In
Ricard Schnap
He wandered dark streets
Peering through windows
At other people's lives
A woman painting
A wall with portraits
Of herself as a queen
An old man watching
A faded video
Of his own wedding
A young girl strumming
A dusty guitar
With only one string
Then he passed by
One where a boy
Stared into the night
Whose eyes met his
While seeming like someone
He had seen before

---
Elements
Richard Schnap
There's the one of air
Expressed in the sigh
Of a girl's first crush
And the one of water
Flowing from the eyes
Of a lonely widower
And the one of earth
In the bones of a boy
Walking home in the dark
And the one of fire
In the heart of a woman
With a cheating husband
And sometimes all four
Caged in the mind
Of a poet driven mad
By watching each fade
Like a sunset heralding
The end of the world

---
life (haiku)
Janet Kuypers
Periodic Table haiku 2/22/14


I am more than just
C, H, O, N, P and S —
I am so much more

---
Probably an asylum of some sort
Jason Galt
Those first waking moments.
Fluid, neither here nor there.
Dreams quickly melt away in your mind.
And you feel. Your face on the pillow.
The sun on your body.
Then you crack your eye open.
Lime green paint, supposedly a 'soothing' color.
Cracked concrete walls,
a metal screen over the windows.
Light dragging of slippers across tiled floors,
quiet murmuring of medical terms.
Pills hitting paper cups.
For a second a panic sets in,
where could I be?
Probably an asylum of some sort.
Another reason to stay in bed today.

---
This thing
Jason Galt
J was a cool customer
Handsome, but bedeviled at this
thing called love
Was it a thing?
Was it a lunacy?
Was it a good fuck on a Saturday night
or the mutual agreement to put up with each other
for all of eternity?
He had been in love before
but told he was too passionate for the job.
He tried to make love
but she said she only wanted to fuck.
He tried to love her
but she only loved herself, if she loved anything at all.
So J put love away.
He locked it away in the same place
he put his coke habit, his thirst for Scotch
and all the other monstrosities
good men with a hair trigger
fall for.
Love became a transgression.
A line you don't cross
unless you carry a loaded shotgun
and a crucifix.
Then damned if he didn't meet another woman.

---
Butterfinger or Not to Butterfinger?
Joseph Sheldon
Upon a flawless, white china platter sat a lonely unwrapped Butterfinger, it glistened underneath the dining room chandelier. Jonathon paced beside his possible dessert with a longing in his heart. One nibble wouldn't hurt, he thought to himself.
Unlike Jonathon, the Butterfinger was stationary and could not articulate its feelings of hatred directly towards his captor. All the Butterfinger could do was wait. It could wait until the very end when Jonathon would decide whether it would be eaten for its hardened peanut butter center and rich chocolate layer or tossed aside like an unwanted pizza crust. For now, the bar waited.
"Oh Butterfinger," Jonathon started, "why do you tempt me with your delicious mass? Can you not see that I am on a diet?" He slammed his hands on the table causing a ripple of force to rattle silverware set for another meal. His eyes crossed from his continual struggle. Had his wife not told him to wait until after dinner to have anything sweet, the man's plump fingers would be sticky and covered with the remains of his enemy.
If he ate the Butterfinger at all, there would be consequences. He would suffer the wrath of his wife; a temper no force of nature could match in destruction. On top of her incessant nagging, Jonathon would be forced to run laps around the mansion to burn off the extra calories.
"Did my wife put you up to this?" the giant shoved his index finger into the platter in an attempt to bully the defenseless bar.
Still, the bar gave not a single yelp. It was a truly noble Butterfinger, for this particular Butterfinger had not a single finger laid upon it from conception. He would not cave into his enemy's demands so easily.
Jonathon grabbed a rustic butter knife from the table and swung his trusty blade toward his delicious foe. "You're a trick! I'm not afraid of you!"
As Jonathon's knife broke the chocolaty skin, his fingers let go. He pushed the knife away and held his face. "I can't," he sobbed, "I can't do it. If my wife finds out. She'll-"
From down the hall, his wife could be heard saying, "Jonathon, if that Butterfinger is nudged even a little bit, you will run laps and sleep on the couch."
The goliath darted away from his trap as a fox would if caught in a hen house. He adjusted his sleeves, straightened his collared shirt, and tried to position himself in a less incriminating pose.
Jonathon's wife, Elaine, marched into the room inspecting her disheveled husband. Under the pressure, he would crack, but she didn't expect to get the honest truth from him. She reached for his hand to check for chocolate marks. Clean. Her nose caught a whiff of sweat and the musk of cologne she had chosen. Clean. Smelly, but clean.
Finally, she marched away. Jonathon took a moment to sigh. His life would not be ended just yet. Little did he notice his wife inspecting the bar in question.
Elaine had begun to search for more fingerprints, melted edges, anything that would acquit her buffoon of a husband. She was about to give up and return happily to a faithful partner, until the chocolate bar screamed out the light she was searching for. With an exasperated gasp, she turned and smacked the face of a guilty man.
"What did I tell you? No sweets!" She yelled.
Jonathon whimpered quietly. If he defied her, the consequences would only be worse.
Her umber eyes bored into him. She pointed out the evidence before her, a lowly scratch cut into the side of her bait, and began to berate Jonathon with just her gaze. When he tried to speak, she interrupted him, "What did I say?"
"No sweets," he said.
"Say it again."
"No sweets."
"Why do I see a scratch on that Butterfinger?" she asked.
He shuffled nervously where he stood. How could a woman this small have so much control over him? He was portly, a gentle giant. His Butterfinger prey was his to eat. "Because- I want it," he replied.
She took a second glance towards the plate. "You laid a finger on that Butterfinger and now I'm going to lay a finger on you," she said. "Go, five laps. You're sleeping on the basement couch tonight."
Jonathon looked at her. His facade did not last much longer as his wife would not fold to a his pouting lips and watery eyes. He sauntered off to the front door and glanced back at his wife. Elaine stood before him with a slight frown.
"Jonathon," she said with a slight sigh, "I'm sorry, but we have to look after you dear. Your diabetes needs to be under control."
"I know."
"I don't want to see you in that wheelchair again," Elaine said. She moved to him, wrapping her arms around his chest. "Please. I'll help you through this."
Jonathon sighed and returned the hug. He really needed to stop eating snacks. He had to stop for her sake.

---
Gangs of Men's Homes
Brandon Knight
I was fucked, stuck in that place. That place where you can't tell if your dream was a dream. East Ames. To not care that I was fucked made my pride shine out of my skin, like rays of light stabbed through the stained sheets of a worn bed at dawn. The black blood was on its way. I'd come to crave it. I slept—or tried to sleep—next to the train tracks. Those trains, those slow blurred slugs that crawled past the foot of my dirt bed. It took no time at all to get used to that roar. You can't wake a drunk.
As luck would have it, the spot to fly a sign was right there. It took some gasps and a few tics of the neck to cross the street both ways, there and back. But it was worth it.
The first hour would take some nerve on my part. I cared too much. I let the stance of the bum with the sign hurt my pride. But, as bums do, I got used to it. The cars were just cars. They can't see you. What they can do is keep you drunk. At that spot, my sign, scrawled with the shakes in thick black ink read, "ON THE ROAD, OUT OF FOOD." My dog would trot out on her leash next to me and on a good day, we'd make at least half a bill in an hour. She'd trot right back to the spot by my side.
"Nice work, Soot."
The point where the bridge met by tracks was my home. My place of work was the spot on the street by the light. Once that light turned red, I'd put on a smile and pace up and down the row of cars. Tins of meat, socks, gloves, dog food, these were all trash. I had socks. I had gloves. Dog food was weight. But work was work. At each shift's end, I'd fold up my sign. I'd slide it through the straps of my pack and make sure that all the non-cash kick downs I received were in my bag. Most of the kick downs in these bags were thrown out. I'd pawn these bags off to the cans in front of the beer store. The store was just a quick left, less than a block off. Trash gone, cash in hand, beer in bag, and back to the spot.
*
My last men's home was run by Bill. Bill was like the rest of them. He was proud, dumb, sad. I saw it in his face. He was not a bad man, just weird. And proud and dumb and sad. The kind of man you can't talk to though he thinks you can. I'd beg to be shot just to get out of Bill's room, his world.
"You've been in and out of these homes, huh chief?" his shirt failed to hold in his gut, his breath was slow and loud and must have weighed a ton. He made me think of the word "gorge."
"Yes sir, I have, but I can't see why you, or I, should care."
"I care for all the men that come through my home. That's my job."
With each word, he gave up an inch. An inch here, he'd have a stroke, his huge frame might seize up, an inch there, and his heart might fail. An inch any which way and he might cry, which I felt would be the worst thing he could do to the both of us. In my mind, each move he made screamed death.
"But I don't care, Bill, that's the thing."
"Oh come on chief," Bill called everyone chief, "if you don't mean to care then of course you won't!"
His shirt slid up his gut a bit, his face turned bright red and took on a look of pride. He was proud of the point he made.
"Don't you see though? That's what I mean, Bill. If I don't mean to care, and to be clear, I don't, I do not, at all, mean to care, then of course. You're right."
A dumb grin formed on Bill's face. That dumb grin told me that Bill thought he had caught me. He thought that he was right, that he had won.
"So ya just don't care then do ya chief?" Bill's smirk just made a dumb man look smug. It made a dumb, smug man look like an ass. It made me want to say the word "gorge" out loud.
I tried not to laugh, but made a note in my mind to save the sight of that smirk for a time when I might need to laugh.
"No I don't. I do not care, Bill."
Out of all the things he'd heard in his life, this seemed the most odd. Strange, as I'm sure he heard it all the time. All his life, I'd bet. No one cared for Bill.
"So that's it huh? Gone? Just like that?" he asked me, mist in his eyes.
"Bill, I've been here four days, calm dow—"
Bill's face was beet red. It leaked out the sweat and tears of all the men he had cared for, all the men that had left his home, all the men that had told him off, in that very room, that very desk.
"Listen, Bill, it's not you, you've been great, you're great, the home is great, it's just not where I need to be right now."
Bill wiped his tears. Did he know that I knew he was crying?
"Well, just give it a few more days, next week we planned get a net to set up out back, have a tourn—"
"Bill, I can't, but listen, thank you for—"
"Nope! Go on! Git!" Bill could not, for the life of him, look me in the eye at this point by. So he chose to hang his head, his eyes fixed on the cheap rug at his feet.
I felt bad for Bill. He cared. He loved his men, he was proud of his men's home. Old Bill, God bless that dumb son of a bitch.
I took one more look at him, I hoped he could find it in him to look back, but no, just one more, "Go on! Git!"
So I got.
By now, I had lost count of all the men's homes. There was not a damned thing in these homes that could meet the need of my id. So I checked out, found a site to camp by the bridge and went at it.
*
It was all gore. Beer, rum, gin, all the drinks I used to get down my throat now failed to stay in the sore ache that was my gut. Each drink would spout back out as soon as it went in. The hues of bile and booze that spilled out my throat changed with the time of day. At dawn, a damn near black ooze split the dust and tossed it a few feet in the air. At the day's end, I'd pass out on a deep, dark, red. All the cash I'd make would end up on the ground, spewed forth, my will be damned, from my mouth, dick, or ass. I felt like it was time.
There was a home for drunks I knew of a few miles west. I thought I could make it, so I tried. Cars sped by and now all I felt was shame. Snow fell. The pride came back. My legs, at last, gave out. I heaved one last time, for the road. "The End" by The Doors was stuck in my head. Strange, as my brain, it's whole life, was not a fan of The Doors, strange too, that the song choice felt so on-the-nose. Why now? Why was my bad taste saved for this? I fell to my knees and thought about Bill. That gut, that dumb smirk, that warm bed, the roof.
My face hit the snow, turned blue, then grey. I was done, thank god, and it proved my thoughts on death right—there was no one, since the spark of time, there was no one—it was all a man could want. They'd find me at dawn, old black blood on new white snow. The only thing on me was Bill's card. They called him first. When he heard the news he hung his head and cried. He thought of all the men he had failed, the men he thought cared for him. I thought of Bill now. All I could do was laugh as I froze to death in the snow on the side of the road. I hoped Bill would be the first one to see my corpse.

---
Difficulties
Marlon Jackson
Before it settles it's like a hailstorm of problems circling,
like snowflakes in the winter, scattered and falling.
It feels wet on the ground, I slip but I don't stumble.
The wind blows and hurrying and rising, the
cold air carries on like a cloud of smoke uprising.
The headaches, the stress, the mental exhaustion...
All a part of life, on the road to construction...
And building up high, rising through the thick clouds to alas see the sun...

---
From the sky
Marlon Jackson
A star drops from the sky onto earth,
to a premium meaning a gash girth.
Sometimes the truth hurts and sometimes it hurts
more to tell it.
The star stays and it withers...

---
A Hitchhikers Story
Christina Basher
I hang up the phone and smile. Moving quickly, I climb the stairs two at a time and reach the top step. Turning to the right, I walk into the bedroom me and my wife share. I grab the bag that was packed for this occasion and run back down the stairs to my jeep.
Checking my mirrors, I look at myself and realize I look goofy because of how much I am smiling. I place the key into the ignition and wait for the engine to rev to life, but there is only a clicking noise. I wait a few seconds and try again, same thing.
This was not happening. Then out of nowhere I have a thought, hitch a ride. I run to the end of our dirt road and make my way to the highway. Cars are driving by minding their own business as I try to wave one down. Thirty minutes go by and I am still waiting for a ride.
Finally, a blue Chevy truck slows down and pulls over to the side of the road.
"Need a ride?" the man in the driver seat asks.
"Yes."
"Where to?"
"New Orleans?"
"Hop in."
I jog to the other side of the truck and climb in. The truck smells of cigarettes but my mind is on other things. We drive in silence for a while and then the man looks at me and asks, "Whatcha headed to New Orleans for?"
"My wife's at the hospital."
"Oh, sorry."
"No, she's having a baby. I'm going to be a dad."
"Well, congrats then," he says as he pulls a cigarette from behind his ear and places it in between his lips. After lighting the cigarette and filling the truck cab with smoke he turns to me and asks," You mind?"
"Nah."
"You got a name?" he asks.
"Charlie, you?"
"Name's Buck, I too am a dad."
"Oh ya, how many kids?" I ask smiling.
"Well, there was a total of seven but we lost Johnny as a baby."
"Sorry to hear that."
Buck sighs heavily and then continues to smoke his cigarette.
I pull my phone from my pocket to check the time and I see that twenty minutes have passed already. I don't want to be late for the birth of my child.
"Buck, you mind driving faster?"
"I'm going the speed limit kid."
"Sorry, I just don't want to be late."
"Alright, I guess I can speed up a little."
"Thanks."
"It's your first kid, huh?"
"Yes, sir."
"Well, savor the first one, after that they grow so fast and then they want nothin' to do with ya."
"You and your kids aren't close?"
Buck waits a few seconds and then shakes his head but doesn't speak. I know that I have hit a nerve and I don't press for an answer.
"Just keep your children close."
"Thanks, Buck, I will."
"Is it a boy or girl?"
"We're waiting to find out."
"Never understood that," he says chuckling.
"It was Beth's idea."
"Beth your wife?"
"Yes, sir."
"My mother's name was Beth."
We talk about Buck and his mother and he shares that once his son Johnny was born and passed away six months later he and his wife divorced and she took the children with her. His children have not seen him in nearly 15 years and he has tried so many times to contact them but never went through with it.
"The youngest is twenty by now," Buck says softly.
"He's a man now. Maybe he will understand."
Buck is silent. I use this moment to check the time and see that it has almost been two hours since Beth's mother, Leah called me.
"Buck, I hate to be pushy. Can you speed up a bit?"
"Kid, I can't go any faster. You want to stop and find another ride?" Buck flicks his cigarette out of the open window as he says this.
"Buck, I didn't mean to make you upset."
"Well, I think it is time you find another way to the hospital."
Buck pulls the truck to the side of the road and looks at me. I don't have time to argue with him, so I thank him for all of his help.
"Listen, Buck, it's never to late for reconciliation."
Buck looks back out the front window and doesn't say a word. I open the door and get out of the car. After closing the door, Buck pulls his truck back into the busy street and I stand there with my hands on my head.
I look at the street sign that says Tchoupitoulas street. Pulling out my phone, I dial Leah's number and wait for an answer.
"Charlie, where are you?"
"Stuck. I am about an hour away."
I hear a scream in the background and know that it is Beth.
"Is she okay?" I ask.
"She is doing great. About to give birth to your child, so get here fast," Leah says and then hangs up the phone.
I shove my phone into my pocket and take off in a sprint toward the hospital. People stare as I run by but I don't slow down.
Nearly two hours later, I run into the hospital. Covered in sweat and breathing heavy, I walk up to the front desk.
"Beth Nelson," I say to the lady at the front desk between heavy breaths.
She directs me to the maternity wing and then I find my beautiful wife in her room with our beautiful baby in her arms.
"Where were you?" she asks as I walk over to her.
I lean down and kiss her forehead.
"Gross. You smell terrible," she says leaning away.
"It's a long story," I say smiling.
"Well, once you have showered you can hold our baby boy."
"We have a son?"
Beth smiles as she nods her head.
"Let's name him Johnny," I say smiling.
"It's perfect," my wife says smiling at me and then at our son. "Now go shower so you can hold him."
In this moment I know that I will do whatever it takes to keep my son close and I will never let go.

---
Chronically Ill, Chronically Insecure?: The Tie between Battling Chronic Illness and Battling a Bad Body Image
Casey Cromwell
"I wish I had celiac disease so I could be skinny like you."
As I stared into my dorm room mirror, Lily's words echoed in my mind. Our dinner provided me all the material needed to be a killer comedian. I could picture it easily: me standing on a lighted stage, microphone in hand, setting the scene: "One newly diagnosed celiac and a handful of fellow freshmen enter the Caf. They load their plates, pick a table, and start small talk." Then, the punch line: "Lily, the gorgeous blonde, would rather be me, the 5'3", 88 lb celiac." Like most people, Lily doesn't know that the struggle to love a "broken" body is no laughing matter.
That night, as my fork screeched against my salad plate, I imagined stabbing more than wilted lettuce. I imagined saying, "I wish ingesting gluten wouldn't kill me." Or sharing that my knees often buckled walking to class; my stomach randomly bloated and ached; and, no matter how much I ate, I never felt energized. But it was only our first week, so I didn't. Instead, I forced a chuckle and replied, "I'd trade you ten pounds for a slice of that pepperoni pizza."
The discussion trailed off at our table, but Lily's comment dominated my thoughts long after we ate. According to "The Body Project," those with chronic illnesses often see their bodies as "personal failures" to society's fit and beautiful ideal. I proved it that night–and many nights after. As I undressed for bed, I searched the mirror for the body Lily envied. I failed. I only saw my underweight self: bony, bruised from my lack of padding, and – spiritually and functionally – broken.
I lasted two months as a zombified freshman before I – all 83 pounds of me – landed in Balboa Naval Hospital. For three days, I tolerated an IV chaining me to a hospital bed. I survived a feeding tube forced through my nose and down my throat. Then, Dr. Mantalto patted my knee and said, "You're malnourished and vitamin deficient. The NG tube needs to stay."
"Until I go to back to school?" I resisted touching my right nostril, raw and bloody around the plastic tube.
He shook his head. "Until you heal."
I didn't bother hiding the tears. "I'm already the skinny freak on campus!" I yelled to my parents. "Now I'll be the freak with a tube in my nose and a nutrient pump in my backpack? I'm sick of being sick!"
More importantly, I was sick of pretending I wasn't one of the 117 million chronically ill Americans. So I stopped. I posted an NG-tube selfie on Facebook. I wrote a blog post titled "Hospital: Heaven and Hell," and, after a popular celiac blogger shared it, watched as comments appeared from all over the world. No more hiding. I was viral. We – the chronic illness community – were viral.
My friend, Elizabeth, never had the option of concealing her cerebral palsy–her walker and two large surgical scars make her illness obvious. Yet, she rarely wishes for camouflage. "When I'm asked about my CP, instead of shying away from it, I give them the facts," she explained. "It's amazing the respect that comes back now that I accepted myself."
I learned a similar lesson reading the blog comments. Some suggested I bedazzle my NG tube or follow Dad's advice to dye my hair pink; however, one comment stuck out. "Celebrate your struggles," it read, "They awaken you to what matters most."
Two weeks later, I walked back on campus five pounds heavier, one NG tube (blessedly) lighter, and with a new idea of what mattered. I wouldn't berate my body for "failing" me; instead, I'd celebrate every baby step.
Yet, I didn't fully embrace my dysfunctional body until late sophomore year, lying in bed with Nick on a lazy Saturday night. Silence fills the dorm room except for the fan's rotating clicks and the rustle of heads on pillows–until we decide to play Twenty Questions. He speaks first.
"What's one thing you don't like about your body?"
No hesitation. "My stomach."
Nick turns his head towards mine, fingers tracing the hem of my t-shirt. "Why's that? You know you can tell me."
A laugh sticks in my throat. Eight months of dating already revealed worse secrets. Yet, my cheeks burn red as I mumble, "Celiac disease. Bloating. Gluten-hating. Hurting. The whole shebang."
It's his turn to hesitate. "Your celiac has never bothered me. It's part of Casey. And I like Casey."
"I do too." For one of the first times, I realize, I mean all of me. Celiac disease took away fifteen pounds, dietary freedom and a "normal" body – but it gave me strength. Thanks to celiac, I know how to advocate for my health. I appreciate how hard the human body fights to thrive. And my comedy routine? Sharing how Nick must brush his teeth before kissing me always gets people laughing!
When I asked my mom what life with fibromyalgia has taught her, her answer was simple. "As I've gotten older, I finally have come to terms with the knowledge that I'm just not 'normal,'" she said. "I try to count my blessings and concentrate on what I can do."
What can I do? What can any of the millions of chronically ill Americans do? We can't totally "heal" our broken bodies. We can, however, heal our spirits by realizing that loving a body with chronic illness is worth the struggle.

---

---


What Is Your Nationality?
Eugene Soukharnikov
"What is your nationality?"
"Czech Republic?"
"I don't mean that," a squeaky female voice said in a British accent.
To Lisa, it sounded as generic British. It could have been Cockney or Received Pronunciation, or a blend of both—Lisa couldn't have told them apart. It sounded bloody Southern English, the type of accent with which typical Hollywood villains speak.
The Villainnesss on the other end of the phone line continued,
"I meant your real nationality. I know your desire to be with us here, in real Europe, is strong, and your parents will pay a premium for that. Some nationalities come at a premium." She sounded haughty, like a colonial administrator addressing a specimen of one of the lesser breeds, as what she really meant was something like, "So you savage lowlifes want to be with us, hang around us the good white people and our brown pets, right?"
But of course she didn't say that; instead, she just questioned and preached.
"We really need to find the truth behind your nationality. So what is your nationality?"
"I've told you, it's Czech Republic."
"So you are Czech?"
"No, I am not...not exactly."
"So you are trying to defraud us?"
Lisa, who was over the phone conversing with a Hollywood-sounding Villainnesss at the admission office of a private British university, was confused, angry, and bewildered. Her nationality or her multiple nationalities had been a source of a misunderstanding and assorted troubles before, but she'd never thought that they would lead to a disaster of this magnitude. Her carefully prepared application for study at this UK university was to be rejected because of her nationality.
"I am not trying to defraud anyone; my parents will pay the tuition."
"The question is how much. UK and EU students pay 6,500 pounds per year; in your case, the rate is 14,000. Besides, where did your parents get the money to pay for your tuition?"
"I don't know. But I am an EU student, Czech Republic is in the EU."
"I don't understand what you are hinting at, what is your nationality? Are you Czech?"
"No, I am not..."
"...and you are?"
Lisa's mother was standing next to her, perplexed, befuddled. What was her daughter talking about, what damn nationality?
"Mom, what is our nationality?"
"It's complicated, well..."
"Hello, I cannot be waiting here forever. Don't you know what your nationality is?"
Lisa got the answer from her mother.
"I am a Buryat. From my maternal side, I am Buryat."
Now the Villainness had to take a pause. She was talking to someone else. Then she came back.
"Buryat is not a nationality. We don't know what it is. Besides, you said you're a Czech."
"Well...wait a second. I am Jewish. I am a Jew. On my father's side."
"That's a religion. You want to say that you also hold an Israeli passport?"
"No, I don't."
"Well, you see, your parents should have taught you to speak the truth. On your application form, you stated that you were born in St. Petersburg, Russia, and that you also have a Russian Federation passport. Is that right?"
"Exactly!"
"So your nationality is Russian. That means that your tuition is 14,000 pounds, plus you'll have to furnish us with additional paperwork and prove quite a few more things."
"But I am not Russian. Well, I am Russian, because it is not nationality, but citizenship. But I am also Jewish and Buryat."
"Oh dear, you are a piece of work. You said already that you are a Czech! What matters is that you are Russian, and it doesn't matter who you really are if you are Russian."
"Yes, I have a Czech passport as well."
"But you also said that you are not a Czech. Where did you buy that passport? In the Moscow metro?"
Lisa didn't know what to say.
"No, I got it because I also hold Czech citizenship."
"Fine. Let me email you some paperwork along with additional requirements we have here. Today is Friday, so please submit the completed paperwork and all the additional documents by Monday. If you fail to do so, then we will assume that you withdrew your application. Good luck."
The Villainnesss hang up and Lisa began to sob.
A wealthy friend of mine, a member of Russia's post-Soviet kleptocratic class, has two daughters. He sent his first daughter to the medical school in Leyden. I thought that was cool, because the instant I heard "Leyden," I remembered that among all people, Defoe's Robinson Crusoe studied medicine here. His second daughter was Lisa. She never got along with sciences, but could draw well. She wanted to become a fashion designer, and the only place she saw herself studying was the UK, namely London. Her obedient parents went along. I have no idea why post-Soviet nouveaux riches and their offspring, along with children of Eastern European thieving classes and wealthy Arabs, are so attracted to that has-been metropolis. Why not Paris? Why not Rome? Why not even Vienna? Why not Tokyo? Or maybe even Hong Kong. Why not somewhere else if you are, as a budding member of Russia's thieving elite, so determined to stay away from your own country? Why London, this drab, overpriced, over-policed headquarters of the eastern branch of the Transatlantic Reich, full of surveillance cameras, plainclothes cops, devoid of rhyme or soul? To me, London was always an odd place. Yes, on one hand the city is rich in history, but on the other hand history is oversold, perverted, raped. In that way, London is a bit like St. Petersburg, a ghost of its former self, occupied by totally wrong people. But for the post-Soviet nouveau riche and the oligarchs and their children, the story is different. They fly to it like bees to honey or, say, flies to manure.
Lisa—Elisaveta for long—filled out application forms and submitted all the paperwork to this fairly expensive, irredeemably newfangled "arts" university. On the application form, she'd had to state her place of birth (that was St. Petersburg) and her nationality, which she'd assumed was synonymous with citizenship. Side by side, she had put down Czech Republic and Russian Federation. If I had known about this gaffe in advance, I would have told her to leave just the Czech Republic and avoid mentioning her second "nationality." But no one asked me for advice, and so she sent her paperwork in.
Within half an hour after that conversation with "the Villainess," Lisa got an email from the admissions office. It came with a bunch of attachments.
The email, which was a formal letter, said that after giving a careful consideration to her application to determine if the school would benefit from her as a student and to ascertain the exact amount of tuition to be charged, they would like her to provide some additional information—just to clarify a few details. As she'd mentioned that her mother lives in the Czech Republic and was married to a Czech national, they would like to see her mother's marriage certificate as well as tax returns for the past six years. They would also like to see rental agreement for their flat in Prague, and if it was purchased, then they would like to know sources of funds with which the unit was bought. Since Lisa's father was a Russian Federation resident, they would like her to provide them with six years of his tax returns, translated and apostilled. They'd like to see his detailed curriculum vitae and the list of his employers, with references and contact information, for the past ten years. They needed to know how he earned money, and she'd have to prove that the money with which he intended to pay her tuition did not come from illicit sources. The list was endless.
What am I to do? thought Lisa. She realized that there was no way she or her very well-connected father would be able to make, collect, or forge a fraction of those documents. Not over the weekend. The list of absurd requirements meant that she was already rejected. She was hysterical when she called her father. About five minutes after hanging up, he called me and asked for advice—not about Lisa's getting admitted to that university, as it seemed to be hopeless, but how he should calm his daughter.
I told him what I thought. "Why do you post-Soviet thieves want to emulate people who hate you and what do you try to push yourself into places where no one wants you? Why London? Why not Milan?"
"Because she wants to be there."
"No, because you are frigging foolish, uncultured thieves. Your entire thieving class are just nationality-deprived vermin. The damn nomenklatura."
At this moment, he was prepared to listen to my rants. He even agreed with what I was saying, but asked me to give Lisa a call anyway.
"Come on, you've got ideas. Please calm her down."
I called Lisa. I told her that her problem was that she really became a Czech, and in the process became disused to the discrimination Russians are subjected to. "You were mistaken for someone with wrong nationality. It is perfectly fine to discriminate against Russians but not against some other people, least of all EU vassals. Your grave mistake was mentioning Russia on that application form. Those idiots would never have figured out who you are; what they care about is your association with Russia, the country and the people against which their regime wages an undeclared war. Caught unawares, you ended up on the battle line and, worse, you allowed them to abuse you. That letter and those requirements basically say that they don't want you."
"So what am I to do?" she asked again. "Is everything lost?"
I had an idea. I had read about it in the memoirs of some Soviet dissident. In jail, he'd found a way to spoil jailors' lives, and his misery generation method had then spread all around. "Get a wad of paper and a bunch of envelope. Then you write a complaint—the more preposterous, the better—and then you send that complaint out to everybody. Literally to everybody. They will come down like a snowball, like an avalanche; the superiors would have to do something about the situation you are complaining about just to spare themselves from the unending harassment. If it worked in the old SU, the method must work in a similar though much more evil entity like the EU. That's just pure logic."
She wrote an intelligent complaint. She accused the UK university of discrimination again and of substituting one's origin and ethnicity with nationality. She threatened to file a human rights complaint and go to the media. She said that she was a Czech Republic citizen and deserved the protection of the EU. I was searching for email addresses and she was sending out her complaint by email: to the Villainnesss at the Admissions, to the university president, to their public relations department, to all newspapers, to Downing Street, to EU commissioners, to the Czech embassy, to British Airlines, to the Royal Albert Hall, all with a request to forward the complaint to the proper recipient. Lisa labored until six in the morning. She was engaged in intelligent, destructive, carpet bombing-style spamming. And she was quite afraid of the consequences.
The next day, the Villainess called Lisa at around noon. Lisa was surprised, because she didn't quite believe that my email carpet bombing plan would work—she had sent those complaints out of desperation. Her heart almost stopped when she heard the Villainess's voice. At that moment, she was certain that not only would she be rejected, but she would be blacklisted with other the UK schools.
The Villainess...apologized. She asked Lisa most humbly if she had a spare moment. She told her that they had resolved the issue and that they mistook her for someone else. "We are terribly sorry." Of course her nationality, as far as the "university" was concerned, was Czech, and she wouldn't have to present years of her parents' tax records, leases, or marriage certificates. She was admitted. Yes, of course she would pay the standard EU citizen tuition—6,500 pounds, that is "Sorry about all the confusion."
It sounded like a miracle. As if recognition of a secondary vassal state citizenship transformed a lowly Untermensch into almost a human.
"That's it?"
"That's it. Once again, sorry about that, and congratulations!"
Lisa was on top of the world, in seventh heaven, right on cloud nine; the sweet Villainnesss's words fell down like heavenly manna.
"Thank you. I am so happy it worked out."
"Me too. By the way..." The Villainnesss paused.
"You don't have to answer...sorry...but may I ask you one private question?"
"Sure, go ahead." Lisa was too happy to object.
"Well, tell me...how should I put it? I just became curious. Tell me if you can...what is your nationality?"

---
Still Around
Eric Doubek
The first selective waste bins in Cartierville neighborhood were implemented in the late 1980s. I followed the whole show leaning on my bedroom window. There was a ribbon-cutting ceremony, believe or not, and even a small TV crew that reported the event. Two city councilmen gave speeches.
The rectangular receptacles contemplated five types of material. Same way it still does in most places. Glass. Metal. Organic. Plastic. Paper. Although they stored different waste, the bins shared a unique symbol. The circle of arrows represented the spectacular scientific revolution: Recycling.
My encounter with the boy happened the following week.
Hands shoved in the pockets of the black jacket, more or less like a biker whose bike had been confiscated by his own gang, I was rambling staring at my shoes. In truth I had abandoned the Cab far from home with the intention of walking alone through Cartierville's empty streets after a breakup which details can be ignored.
That dark morning did not make it to the books as the coldest one of the century, yet sometimes the agreement of thermometers is not needed for something inside you to freeze. The correct image is just enough.
When I eventually lifted my gaze, there he was.
The boy had come around the corner, in my direction, but not toward me, unhurried, eyes also downcast, perhaps counting the cobblestones as he dragged his feet. I calculated his age between ten and twelve years old. Despite the limited light from the intermittent lamps, I swear I saw dark circles under big brown eyes when he also moved his head. The ragged shirt had been green once, though never bore a print. Jeans warmed the legs. The irregular hair seemed to have been cut by knife. Close to his chest, a package.
"He will pull the trigger even if I give him all the money. It's how it works these days. Man, what a world. Demonstration of power. Response to society. Gross evil. Drugs. People will talk about holes in my head for years to come."
Those first impressions still haunt me.
The devil is that I never again crossed paths with the boy. The waste bins attracted him, you see? Don't think I didn't strive. I scoured the city like a detective nevertheless failed in having started the search only on the next Saturday.
Upon agitating the bag the small figure did reveal no damned gun.
It happened like this:
The boy stood before the five waste bins, solemn posture, waited an instant, as if hearing divergent opinions from his diverse inner creatures and then finally opened the package and pulled out the dead pup.
He put the lifeless puppy in the box carrying the inscription ORGANIC.
I do not know the exact amount of time he waited for the recycling crew, as I went into home and did not open the window.
But I know one thing for sure. Never mind. I really don't.

---

---


Memories of a Sunday Afternoon
Nancy Christie
When Elizabeth was a little girl, she would spend countless Sunday afternoons watching her grandmother make homemade noodles for soup.
First, a snowfall of flour would drift onto the old wooden dough board, to be piled into a high white mountain. Inside, a well was excavated, filled with fragile yellow egg yolks and transparent slippery whites.
Elizabeth's grandmother worked quickly and almost without thought. And, as she whipped the eggs into a frothy pool, she would tell Elizabeth about the past—of growing up on a small farm on the outskirts of a peaceful village, of driving cows home each night through the fields, and how the sweet smell of hay rose around her like a blessing while she milked the tired animals.
"Not like now," and, as she gestured toward the plastic milk jug, bits of dough flew from her spoon in a wide arc. "Now, the milk comes from who knows where, and what they do to it, no one knows. I knew what made the milk my cows gave me," and she licked her lips reminiscently, "and it was rich milk—not like this white water we buy in stores."
Elizabeth nodded her head. She had never drunk milk warm from a cow—never even touched a cow, although she had seen pictures of them in books. But she accepted her grandmother's words, looking with distaste at the glass from which she had been drinking.
The egg began to eat at the flour walls, and what was once a pale, yellow liquid became cream-colored as the two were combined. Her grandmother's hands moved quickly, independent of the speaker, and soon the flour and egg were irreparably mixed and ready to be kneaded into an elastic mass, almost breathing with life on the scrubbed wood board.
Pushed and pulled, folded over on itself and drawn out again, the dough seemed too strong to ever surrender to the old-fashioned rolling pin. But slowly, reluctantly, the mass began to give way.
Elizabeth watched the stringy muscles in her grandmother's arms flex as she fought the mound. And inevitably, the dough ball became a parchment sheet through which Elizabeth could almost see the horizontal grain of the dough board.
"The flour was better, too," her grandmother continued, picking up the conversation as though there had been no pause at all, "not so white and delicate. All the best parts were in the flour, and the miller ground it just enough but never too much."
"This—" and she sniffed contemptuously, "this flour is for weak people, not for people who had to dig the ground with their own two hands, not for people who had to live with what strength the good God gave them."
Elizabeth's grandmother had dug the earth. Elizabeth had heard all the stories about the farm and the hard life and the endless round of labors from daybreak to long past sundown.
And she wondered why her grandmother hated the life she lived now, where a trip to the store bought whatever was needed, and there were no fields to plant nor animals to tend.
The knife, its long curving blade ending in an oak handle, now danced across the sheet of dough, cutting it into long strips to be piled neatly on top of each other.
Elizabeth's grandmother held the knife firmly in her right hand, rocking the edge across the narrow end of the layers of dough, reducing them to threads as slender as the grass that had once grown in the upper meadows of another land.
Up and down, faster and faster—too fast to be hypnotic—the blade was raised and lowered with one hand while the other held the dough in readiness, work-roughened fingers barely resting on the white-floured surface.
Each time, Elizabeth feared to see the knife advance faster than the fingers could retreat, but the dance was well choreographed, and never once did the shining blade cut more than the white length of soft dough.
"I brought this knife with me, hidden among the small bundle of clothes they let me take." Her grandmother had told this story many times, but Elizabeth was still entranced, listening as though for the first time.
"I thought that, if he was waiting for me, I would need a knife for our kitchen. A good, sharp knife, to cut what meat I could find, or slice the bread I would make, or chop the vegetables for soup. If there was food..." and her voice trailed off, as her stomach ached in memory of the deprivations that had preceded her arrival.
Starved to gauntness before she left her homeland, too sick to eat in steerage, there was little left of the round, red-cheeked farm girl he had married. She knew that, and knew as well that, if he refused to take her as his wife, she would use the knife one last time.
But he was there—for what it was worth, he was there—and agreed to take her. And no longer expecting love, she was not disappointed by its absence. To eat, to sleep in peacefulness without fear of soldiers—this was enough for her.
And yet, the memories lingered—of kisses stolen while the cows had grazed, of promises made before the war came and burned them all to ashes.
All the while, the parchment strips grew shorter and the pile of noodles higher. Elizabeth's grandmother continued to talk, filling the modern kitchen with memories of long ago—when young girls wore brightly-patterned headscarves and stars shone like diamonds on the velvet sky, and the world was only as large as the people one knew from one village to the next.
And still the knife moved—flashing in the sunlight and never faltering in its rhythm—until the dough strips were gone and only noodles remained.
Then, there was peace on the wooden board, as the noodles dried in the air. Elizabeth's grandmother bustled from stove to sink, chopping golden carrot medallions and green celery rafts, while the kitchen was filled with the aroma of chicken and onions simmering in the blue enamel soup pot.
There was no more talk, for there was too much to do and too much for Elizabeth to watch as the ingredients were added to the broth, one by one.
Elizabeth sat quietly on her chair, her eyes following her grandmother as she made soup the way her mother had made it, and her mother's mother before her. And as the old woman worked, her cheeks flushed from the heat and a few strands of soft, white hair escaped from the tightly rolled bun to curl around her lined cheeks.
Later, there would be ladles of steaming broth filling the old-fashioned china bowls. The noodles would be set on the table, rinsed and gleaming, for Elizabeth to take as many or few as she desired.
And then, while she slowly sipped the rich liquid, the noodles sliding easily down her young throat, her grandmother would begin again to talk of years gone by—of a childhood spent in a kitchen of a small cottage, watching her grandmother make noodles for Sunday supper.


---
clogged
Janet Kuypers
haiku 2/16/14


I want to explain
after leaving clogged bathrooms,
"I didn't do that."

---
I'm Only a Boy
Ken Williams
I was young then
too young—too innocent.
Mere months ago,
A lifetime ago.
Playing
Running
Laughing
Youth's heyday,
in the green rice fields,
next to my father's yellow straw house.
Till that morning,
that crystalline morning
with the impossibly blue skies.
When the silver tubes,
shinny,
reflecting harsh sunlight,
tumbling end-over-end
burst out of the skies.
Engulfing me,
devouring me
with blazing Dragon Fire
in so pretty colors,
the colors of hell.
No longer do I run,
Skip,
Play,
Laugh.
No longer,
can I.
Crippled like the ancient ones
in the old village, bent.
My steps hobbled,
but not like them
not by age, instead.
Burns.
Scars.
Fleshed melted onto flesh.
Napalm burned more
than just flesh that morning.
It boiled innocence
from my soul.
The heat...
it was unbearable.
Flames from hell,
of hell.
What I became,
men's inhumanity to men.
Also us,
Children.
I cried then,
no longer now.
Mouth twisted in Munch's scream.
Goya's history book
stamped onto my body.
Smothers my screams.
Honor the warriors?
both sides?
Ribbons
Medals
Parades.
But what about us?
We count not?
Collateral damage is—
collateral,
Easily ignored.
Easier forgotten.
Pushed under rugs,
Buried by glory.
Casualty of patriotism gone mad.
Do our scars hinder post PTSD?
Our deformities scare the innocent?
And guilty alike?
Eyes averted
because we repulse?
Or to protect souls
innocent only by indifference?
I'll favor my crocked arm,
avoid mirrors,
drag my leg,
down dusty paths,
till life's path mercifully
ends.
Life as a living hell,
merely the cost of war.

Ken Williams Bio
Ken Williams worked as a social worker for the homeless, primary the mentally ill, but including veterans, women, the elderly, drug and alcohol addicted and the physically disabled in Santa Barbara CA for over thirty years. His dedication to his clients has been acknowledged by the Board of Supervisors, the State Senate, State Assembly, A.C.L.U. Santa Barbara Chapter, Housing Authority, California chapter of the National Association of Social Workers, Mental Health Association, Salvation Army, Catholic Charities, National Council on Alcoholism and Drug Abuse and others. The late Paul Walker highlighted his work in the documentary, SHELTER which Paul produced. His writings include the novels: CHINA WHITE, SHATTERED DREAMS, A STORY OF THE STREETS and his current release, FRACTURED ANGEL. THERE MUST BE HONOR is a non-fiction collection of his writings interwoven with his autobiography. His work has appeared in numerous media outlet. He is a combat Marine veteran of the Vietnam War.

---
Formality
Reed Redmond
Behind my eyelids
spins a carbon copy
of the Earth in full bloom,
teeming with life as
though it were not alone
shivering in the cold
transience of eternity.
In front of my eyelids,
a hardware store employee
is demanding thirty five
cents in exchange for
seven wood screws.
I suspect this man
of contemplating
the effects of acid
rain on the skin
of his estranged
daughter although
I have no rationale
or means of asking.
I fork over forty
cents and mouth
keep the change
because I am the
generous type
of asshole.

---
Homeroom
Allan Onik
Tab took his worksheet out of his backpack and placed it on his desk. He sharpened his pencil and attempted to start when his homeroom teacher interrupted him. She stood at the blackboard with a beehive hairdo and a knit green sweater.
"Would you like some help with your homework?" She asked.
"Of course," Tab said.
"Math huh? Let's start with some exercises. What's two times three?"
"Six," Tab said.
"No—that's five silly." The teacher began to write it on the chalkboard.
"Huh?"
"What's five plus two? Exercise those frontal lobes dear."
"Seven?"
"Ten."
"What?"
"Final question. What is the end decimal of Pi?"
"3.14..."
"Trick question dear, you're in the wrong dimension." The demon's makeup began to melt off its' face revealing red skin, yellow teeth and eyes, and a horned forehead. The playground and courtyard outside the classroom window burst with beetles and tall flames. "Did you bring your running shoes? Next period is gym class."

---
More like You
S.F. Wright
I didn't care much for Lewis Goodman, but I liked going to his house. He had Super Nintendo, an adjustable basketball hoop, and a backyard big enough to have games of touch football. And there was also his mom, the most beautiful woman I'd ever seen.
Mrs. Goodman was a large-breasted, slender brunette who favored running suits which fit her like a second skin. She had them in different colors- light blue, lavender, brown- the top of which was never zipped up all the way.
The other guys I played football with thought Mrs. Goodman was gorgeous, too.
"God, how I'd love to fuck her," Nick Lake said one October day as we walked home from a game at Lewis's house. It was six o'clock and already dark, and the piles of leaves on the sides of the street made it impossible for two cars to pass at once.
"She's got the nicest rack I've ever seen," Mike Galloway said.
"I'd kill to be Lewis's dad," Gary Ross said.
Mr. Goodman was a tall man with thinning hair and a neatly-trimmed beard. He never spoke to Lewis' friends. Often if we were over there late he'd walk halfway down the basement stairs, look at us with annoyance, and then say, "I need to speak to you, Lewis." Lewis would go upstairs, and a minute later he'd return and say, "You guys have to get going. My dad says it's too late for my friends to be over."
When November arrived the days got colder, but we still played touch football at Lewis' house after school. I always kept an eye out for Mrs. Goodman. Despite the change of weather she still wore her tight, low-cut running suits.
Then around Thanksgiving a rumor began to circulate: Lewis' parents were getting divorced.
I couldn't believe it. Who'd divorce Mrs. Goodman? You couldn't find a hotter wife. I decided it must've been she who wanted to get divorced from Mr. Goodman and not the other way around.
No one said anything to Lewis about his parents, although I'm certain he knew everybody knew. We simply continued playing football and watching out for his mom when she'd call him from the backdoor for something.
"I wonder why they're getting divorced," Mike Galloway said one afternoon as we walked home.
"Maybe he's got a girlfriend," Gary Ross said.
"Maybe he's tired of her," Mike said.
"No," I said, with authority. "I'm sure it's she who wants the divorce."
"How would you know?" Nick Lake said, skeptically.
"If she was your wife," I said, confidently, "would you divorce her?"
No one, not even Nick, disagreed with my reasoning.
One Saturday in early December I rode my bike to Hauser's Deli, and as I was going inside I ran into Lewis coming out with a bottle of fruit punch Gatorade, a stick of Slim Jim beef jerky, and a bag of Lay's potato chips.
"Hey," he said
"Hey."
"What are you doing?"
"Just getting something to eat."
"I'll wait for you."
Hanging out with Lewis Goodman at his house with his Super Nintendo, basketball hoop, and the chance of seeing his mom was one thing; but spending time with him away from his home was something different entirely and not something I wanted to do. So trying not to sound rude but also wanting to express disinterest, I shrugged and said, "If you want," and went inside.
As I waited to pay for my bottle of birch beer, Rice Krispy treat, and bag of Lay's potato chips, I tried to think of an excuse to not hang out with Lewis. I decided on saying I had a dentist appointment.
But when I stepped outside, Lewis said, "Want to go to my house? I got this new game: Streetfighter II."
This changed things. "Cool," I said, and forgot about my fake dentist appointment.
We rode our bikes. I hung my plastic bag with my snacks on the handlebar. The temperature was in the mid-thirties, and the cold air whipped against my face and caused my eyes to tear and my nose to run. I didn't have any tissues, so before we got to Lewis's house I blew my nose into my hand and wiped it on my pants.
We went into Lewis' house through his garage and passed his mom's red Acura. The other side of the garage, which usually housed Mr. Goodman's silver BMW, was empty.
We had our snacks and drinks and then played Streetfighter II. It was a good game, although difficult to get used to at first. Soon I got really into it, though. I became so immersed in it, in fact, I was annoyed when Lewis suddenly paused the game and simply sat there.
I knew he was having one of his emotional crises, and I cursed myself for coming here. Finally, I said, tentatively, "What's wrong?"
Lewis was quiet; then he said, "I know everyone knows my parents are getting divorced."
I didn't know what to say. I decided to act surprised. "Really? I didn't hear anything."
He gave me a look of impatient disbelief. "Come on. You knew."
I shrugged sheepishly and looked at the floor. "Well, I guess I've heard a few things."
He was silent, staring at his game control. Then he said, "You know what happened?"
Part of me did not want to hear any of this, sensing a responsibility and burden about to be placed upon me. But another part was eager to know why Mrs. Goodman was splitting from her husband. So I looked at him and shook my head.
"My mom thinks my dad was having an affair," Lewis said. "He says he wasn't, but she says she has proof. When I ask her what proof she tells me to mind my own business."
I considered this. "Well, what do you think?" I finally said, not sure what else to say.
"I believe my dad," Lewis said, impassioned. "He wouldn't lie. I think my mom's being a real bitch about it. I mean, my dad's living in some hotel now, when he should be here, and every night. . . Every night. . ." His voice cracked.
I looked away, at the wall. I heard soft sobs. I didn't want to look at Lewis. But I had to, so I did.
He was crying. I didn't know what to do. I wanted him to stop. I wished I hadn't run into him.
For a few moments the room was quiet except for the faint murmur of the video game consul and Lewis' stifled sobs.
Finally, I coughed. "Sorry, man," I said. "But you have to look on the bright side. They might get back together. I mean, maybe it's just a phase your mom's going through."
Lewis nodded and sniffled. I could tell he was trying to hold back more sobs.
Right then his mother called from upstairs. "Lewis?"
"What?" he said, trying to control his voice.
"Do you and Sean want some hot chocolate?"
Lewis looked at me inquisitively with his red eyes.
I shrugged. "I'll have some if you want some."
"All right," he called back, his voice nasally.
"Are you getting sick? It sounds like you have a cold."
Lewis wiped his nose with his sleeve. "I'm fine."
"Make sure you wear your jacket when you go outside. I don't want you coming down with anything, okay? I'll let you know when the hot chocolate's ready."
Lewis got a tissue and blew his nose. Then he picked up his video game control. "Want to play?"
I again became immersed in the game. It seemed as if hardly any time had gone by when Lewis' mother called, "The hot chocolate's ready!"
We kept playing, though, completely engrossed. It wasn't until Mrs. Goodman called us a second time that we went upstairs.
On the kitchen table two steaming cups of hot chocolate sat next to a bag of mini-marshmallows. Mrs. Goodman stood by the sink. She wore a tight silver tracksuit, her ass looking shapely and firm. My dick slightly stiffened.
"There you are, guys," she said. As we sat down she reached to open a cabinet, briefly revealing her toned and tanned midriff. What an asshole Mr. Goodman must be, I thought, to screw that up.
Mrs. Goodman then poured herself a cup of coffee. I thought she was going to sit down by us, but she just stood by the sink sipping from her cup and looking pensively out the window.
"What do you think of Streetfighter II?" Lewis said.
I'd forgotten he was there, so enraptured was I by his mother. "It's a good game," I said, and took a sip of my hot chocolate, hoping he hadn't noticed me staring at his mom. "It's really good."
"Lewis?" his mother said; she'd turned from the window and now faced us. "Did you ask Sean if he wanted to stay for dinner?"
Of course I'll stay, I thought. But how about just you and me, Mrs. Goodman, and we send old Lewis here to his room?
Lewis shrugged and looked at me. "Want to stay for dinner?"
"I was just going to make hamburgers," his mother said. "But I've got plenty if you'd like to stay."
"Sure," I said, concentrating on keeping my eyes on her eyes and not on her tits. "Thanks very much."
She smiled faintly and looked back out the window.
We returned to Streetfighter II, playing intently, speaking rarely. Almost two hours passed when Lewis's mother called us to tell us dinner was ready.
Three plates, glasses, and small bowls were set on the table. In the middle there was a large bowl of salad. As we sat down Mrs. Goodman asked what we wanted to drink.
"Iced tea," Lewis said.
She turned to me.
"Iced tea is fine," I said.
She opened the refrigerator and took out a white jug and poured iced tea into all three glasses. Then she took a platter from the counter with three large hamburgers on it and placed one on each plate. As she put one on mine I got a nice view of her cleavage.
Mrs. Goodman then sat down and put salad from the large bowl into the smaller bowl next to her plate. Then Lewis did the same. I didn't like salad and only wanted the hamburger, but I didn't want to look rude and uncultivated. So I did the same. I tasted the salad. I didn't like it. But I ate it.
When we finished the salad we began eating the hamburgers. I put lots of ketchup on mine. It tasted good. I told Mrs. Goodman so.
"Why, thank you," she said, smiling at me.
God, how I wanted to fuck her.
We were halfway through our hamburgers when the phone rang. Mrs. Goodman got up, but when she looked at the caller I.D. she made a face and came back to the table. The phone kept ringing.
"Aren't you going to get it?" Lewis said.
"It's your father," she said. "I'm not talking to him."
Lewis gave her a look of reproach and walked to the phone and picked it up. "Hi, Dad."
I sat there, feeling awkward. I glanced at Mrs. Goodman. She was watching Lewis.
Lewis spoke so softly I couldn't understand what he said. After a minute he looked at his mother. "Dad wants to talk to you."
"I'm not talking to him," she said.
"Mom," Lewis said, sounding whiny, his face contorted in annoyance.
Mrs. Goodman took a bite of her hamburger and didn't answer.
Lewis put the phone back to his ear. "I don't know," he said more loudly, his voice trembling. "Because she's a bitch!"
Mrs. Goodman turned sharply toward Lewis but didn't say anything.
"All right," Lewis said. His eyes were wet. "Bye." He slammed the phone down and glowered at his mother.
"I hate you." Tears streamed down his face. "I fucking hate you." He left the kitchen, and a moment later a door slammed.
I sat there quietly. Mrs. Goodman sighed and looked at the table. I was only half-finished with my hamburger, but it felt inappropriate to continue eating.
Mrs. Goodman looked up at me, as if suddenly realizing I was there. "Finish eating, if you want. Don't worry about him."
I nodded, hesitant; then I picked up my hamburger and ate.
Mrs. Goodman sighed again. She looked at me and appeared as though she was going to say something but then seemed to change her mind. But a moment later she appeared to change her mind again, and she said, "Lewis' father and I are separating. Lewis is not taking it very well."
I nodded and tried to think of something tactful to say. Finally, I said, "It must be difficult."
Mrs. Goodman exhaled slowly and stared at the middle of the table. "He's never been able to cope with anything. He always gets hysterical. I hope he doesn't continue to be like that when he's older." She then looked at me and smiled. "I wish he were more like you, so carefree and not worrying about anything."
I smiled back, although I wanted to tell her I was in fact not carefree and worried about many things.
Mrs. Goodman got up and cleared Lewis' and her plates. She hadn't finished her dinner. She washed the dishes at the sink, and as I ate the rest of my hamburger I often glanced at her ass.
When I finished I sat there for a moment. It seemed rude to just stand up and leave. But really, though I could've stared at Mrs. Goodman all night, there was no reason for me to stay. So I gently pushed my chair back and stood up. "I guess I'm going to go. Thanks for having me over for dinner. It was really good. Tell Lewis goodbye for me."
Mrs. Goodman didn't answer. I then saw that her shoulders were trembling.
I didn't know what to do. My heart began to race. "Mrs. Goodman?"
She began to sob. I wondered if I should just leave. But I took a few steps closer to her, and she half turned to me. Tears ran down her face.
"Are you okay?" I said, because this sounded like the appropriate thing to say.
Mrs. Goodman waved her hand dismissively and reached for a tissue. Even though she was crying, she looked even hotter; the tears made her alluringly vulnerable. Once more, I so wanted to fuck her.
"Excuse me." She blew her nose. "This whole thing is just very upsetting."
I nodded in what I hoped looked like an understanding way, and as she reached for another tissue I glanced at her breasts, navel, and thighs and thought the only thing between me and her is that skintight running suit.
Mrs. Goodman blew her nose again and appeared as if she was going to say something more. But then another crying fit overtook her and she started sobbing again.
I again had no idea what to do. Should I leave? Should I say something comforting? Mrs. Goodman's sobbing then intensified, and I decided to do something I'd seen people in movies do in these types of situations: I put my hand on her shoulder.
Mrs. Goodman looked surprised, and I feared I'd done something wrong. But then she smiled- albeit in a self-effacing way- and even forced a slight laugh; she then reached over and patted my hand and then rested her palm on my knuckles. Her hand was warm and lovely, and my dick got hard again.
For a few moments we stood like that. Mrs. Goodman seemed to stop crying. She wiped her eyes with her free hand and forced a small smile and slight laugh. I didn't move my hand, as she hadn't moved hers from on top of mine.
I began to feel a bit ridiculous, but the touch of Mrs. Goodman's palm felt so nice, as did the warmth of her shoulder beneath my own palm and fingers, I wasn't going to move until she indicated me to do so.
Then suddenly Mrs. Goodman was no longer smiling or laughing but was looking at me intently, or what I thought was intently. How gorgeous she was! My erection bulged against my pants. As she continued looking at me a wave of heat coursed through my head, an electric tingle ran down my back, and a gorgeous hollowness suffused my stomach. I felt in that moment that I was on the brink of change or discovery, only I had to act or it would forever be lost, and without thinking anymore, I stepped closer and put my other hand on Mrs. Goodman's breast.
For a moment she didn't move. I kept my hand there, my heart racing; I'd never felt so alive. Her breast was soft and warm, her tracksuit velvety and delicate. My erection was so stiff it hurt, and images flashed through my mind: walking with her to her bedroom; taking her clothes off; fucking her.
But suddenly Mrs. Goodman pushed my hands away. "What are you doing?" Her eyes were narrowed, her expression shocked and indignant.
"Um." As ethereal and daring I'd felt a moment ago was as abashed and inept as I felt now.
Mrs. Goodman now looked plain furious, and she pointed in the direction of the door. "I think you better leave."
I held my hands up in apology. "Sure. Sorry."
She kept looking at me while also slowly shaking her head.
"Sorry," I said again, and hurried out of the kitchen.
Mrs. Goodman didn't follow me, but a moment after I closed the front door I heard it lock behind me.
Feeling numb, I walked to the garage door where my bike was parked. Quickly I rode down the driveway and onto the street.
It was dark out and had gotten colder. As I rode past the Goodmans' house and saw Lewis' light on in his room, I realized I'd left my jacket in the basement. But I couldn't go back for it. All I could do was pedal hard so I'd get home as quickly as possible.

---

---


Dendrology
Thomas Massari
"I'm a tree!"
Joe and his co-workers sit at the bench in the park, bemused by the girl before them. A young girl, no more than ten years old, donning green body paint and brown clothing, with outstretched arms. She stood there, unwavering in her stance. Periodically, she would reaffirm the park of her identity.
"I'm a tree!"
"Where the hell are this girl's parents?" one of Joe's coworkers asked.
"Yeah, she shouldn't be out here alone," another chimed in. "What do you think, Joe? She yours?"
Joe lets out a chuckle. "Yeah... maybe."
"Time to head back," another coworker said.
The group of burly men all popped up from the picnic table.
"You coming, Joe?"
"I'll be right behind you guys." Joe diverged from the group and ambled over to the girl, scaling the patchy hill she was perched on.
"Hello," said the girl. "I'm a tree!"
Joe looked her up and down. "I see that. Do you have a real name?"
"Call me Tree!"
"Alright, Tree, my name is Joe." He outstretches his hand.
Tree looks down at the hand. "That's your hand."
Joe pulls back his hand. "What are you doing out here?"
Tree looked at him quizzically. "Well, I'm talking to you."
"I meant, why are you out here?"
"Why am I out here? Well, this is where I was planted by my parents."
"Your parents?"
Tree looked down. "Well, I technically don't have parents. Just the people that planted me."
"Oh... I'm sure they visit you, right?"
"Um, no. I haven't seen them since I was planted. But, they'll be back, eventually"
Joe's eyes widened. "So, you've just been standing out here, waiting for them?"
"Yeah, but that's okay. They'll be back. Won't they?"
Joe stood silent for a couple of moments, staring at the ground. "Well, it seems things are complicated with your parents. You know, sometimes life can get in the way." Joe took a breath through his nose. "Sometimes, people plant irresponsibly and don't know how to respond. Sometimes, they care for the tree but can't take care of the tree."
"Why can't they take care of the tree?"
Joe's eyes shift across his surroundings. "They aren't well equipped to deal with it. Maybe they are too young or too irresponsible to foster a life. It's a tough thing."
Tree drops her arms and sinks her shoulders. "Well, they'll grow up and come back, right?"
Joe drops to a knee and puts a hand on Tree's shoulder. "I don't know. Maybe."
Tree's eyes well up.
"Hey." Joe interrupts her tears. "I know you can't leave where you are planted, but what if I leave and come back with ice cream?"
"How would I eat it?"
Joe lets out a chuckle. "I think we'll be able to figure it out." He rushed down the hill, to his car. Once he was sat in the driver seat, he pulled out his cell phone, which is inundated with calls from his coworkers and boss. Unfazed by the messages, he locates the contacts folder. Scrolling down the list, he finds the name Julia and clicks the bright green phone icon. The phone chimes, with each interval increasing his heart rate. After a couple of moments, the phone goes to voicemail, with a soft, weary voice greeting Joe.
"Hey, this is the Fletcher household. We can't get to the phone right now. Leave a message and your name at the tone. Bye."
The high-pitched beep rang in Joe's ear, leaving him dazed for a moment. "Hi, Julia, this is Joe. I know I haven't called or visited... for years, but I wanted to know if there's anything I could do to help with Ricky. Whether that be—"
Joe's message was interrupted by the click of a picked up landline.
The voice of a young boy greeted Joe. "Hello?"
Joe's hand began to tremble. "Ricky?"
"Yeah, who is this?"
"This is your dad."

---
He's An Escapist
Janet Kuypers
10/27/06

he's an escapist
from his wife, kids, the business
and fled by drinking

---
The Candidate
Elizabeth Sachs
What was she thinking, she in her red dress, being introduced to Edwin Meese at the Cambridge Union Society reception? She wasn't thinking. She was smiling, holding the glass of sherry she'd been handed, unable to hear over the hubbub. Edwin Meese looked her up and down then turned to Mark and said something rough and unintelligible. She hadn't understood much of Meese's speech before the Society, either, except that it was Reaganomics, and the Union didn't like what he said and he didn't care. He and Reagan were thick with Thatcher. ". . . Duke of Edinberrgggg," Meese said, and again ". . . Edinberrrgggg." A taunt. The Society hissed, deep inside their mouths and with faces still as masks so the sound couldn't be traced. They thumped sticks invisibly against interiors of wooden desks. ". . . Edinberrrrrrgggg. . ." "Ssssssss. . . . thump, thump. . . Sssss."
Clever. She'd take the strategy back to the States, try and sell it to unions over the course of her career. They'd be too timid to buy it, she'd lack confidence enough to press, and they'd get beaten, over and over again. But all that was in the future. This was a June night in 1983, the last spring freshness lingering in the air.
Mark smiled like a wolf.
"Ed thinks you're pretty," he said. "He likes your dress."
Well, that was okay. Wasn't it? It was nice to be attractive, even to politicians from the other party. It was also okay when Mark put a small hand to her back, just above her panty line so she shifted in order that he not feel it. He already had, and smiled weirdly, but moved his hand to her elbow, steering her aimlessly and probably for show. She didn't much mind, though was glad when he stopped. She was a little dizzy. He'd never touched her before. She'd assumed he didn't really want to, which was fine because she didn't want him to. She was here for a semester, and for two weeks after that to travel. She'd already traveled for five weeks, on the Continent. Now she could say she'd been to "the Continent," and own everything wonderful that meant. It was a wonderful time to be just who she was, twenty and poor, but very pretty, and smart. She was also tall, nearly as tall as Princess Diana, whom everyone said she resembled. She'd been a little worried about wearing heels this evening, not just because they hurt her feet quite a lot but because Mark was short. Short, rich, American, here for a Ph.D. he was earning in record time, before he'd go back to Georgia and into politics, behind-the-scenes. She knew all that, vaguely, but it didn't matter to her yet. She was having such fun. The ratio of men to women at Cambridge was seven to one. She couldn't swing a cat without hitting a dozen swains plying her with invitations, which was good because otherwise she wouldn't have eaten well at all. Mark had invited her to the Canary Islands over the spring break, but coldly, and she'd have said no in any case. He'd taken another girl and they'd both come back orange, the girl dangling a Tiffany watch on her skinny wrist.
"Shall we go?" he said, surprising her. She'd assumed he'd want to hob-nob, which would give her a chance to wander a bit, eat canapes, squint at volumes in glass cases, at plaques and busts. She'd left her glasses back at the flat, but was nearsighted and could lean to peer. An Episcopalian, she thought she could understand this place pretty well. Soon, she would learn that Princess Diana's favorite hymn, sung at her wedding and much later at her funeral, was also her own favorite. She would understand, somewhat, why Dodi Fayed was Diana's true love. She'd completely understand why it could never have been Charles.
"Did you get what you needed?" she asked, as Mark hailed a taxi—because of her shoes, and because he was rich. He nodded, his smile less wolfish, a brief, satisfied gleam. He didn't explain, but she imagined: a de-briefing the next day at which he would be told he'd done very, very well at whatever it was rich sons did to play an early part in Halls of Power.
"I really like that dress. It's the greatest dress I've ever seen. You should wear dresses like that more often," he said, slipping in the other side after handing her in. He slid quite close, his hip touching hers. Primly, she moved a little aside, but it was hard. The leather was slippery, and so was her dress, the hem hiking up to expose her long legs in the high shoes awkwardly wedged, canted sideways in the short seat. She hunched forward, understanding Diana's hunch in taxis, caught by paparazzi, demonstrating pendulous cleavage that would later cause Charles to tell Camilla that his beautiful wife made him think of a cow.
Her own bust was of moderate size, and Mark's arm, thrust for the putative purpose of depressing the lock button on her side, brushed nothing. She gave him a cool, near-sighted stare. His orange skin was smooth as Malibu Ken. His red-orange hair looked stiff and artificial. One of her flat-mates said he was attractive. But that flat-mate was majoring in political science and on the hunt for an internship when she returned Stateside. Her flat-mate would probably have gone with him to the Canaries. He hadn't invited her.
"Hungry?" said Mark. She was. In fact, she felt a little faint. She'd managed only a Camembert on toast before he'd put a sherry in her hand and steered her Meese-ward.
"I thought I'd see whether Peter is back, and maybe Simon," he said. "We can all step in at the pub for a Welsh rarebit or something. Sound good?"
She sighed, relaxing. She loved that pub, the Three Crowns, where their classmate staying over from the fall semester to pursue her love affair with an English don had taken them, their very first night here last January. A world ago. Sure enough, the boys from Magdalen had been there, boozing and playing darts, waiting for Kristen to bring in the new flock. Five new girls, all tall, clear-eyed, exhausted by the trip from the Middle West. "Ohh, I love American girls' teeth. You can read a book by their reflected light," said Simon, landed gentry and snaggle-toothed. She'd eaten a Welsh rarebit, reviving when the melted cheese and horseradish hit her bloodstream, then blanching at the bill. Mark had reached to take it from her, but Peter intervened, plucking it from her loose fingers.
"Allow me," he said.
Peter Futali. She'd begun to fall in love with him that night. He was so sophisticated. Such a playboy, though. She'd learned that, half a world ago.
Mark paid the taxi fare while she balanced gingerly on the cobblestones outside his low door. None of the boys lived on campus anymore, not even the elegant dormitories surrounding Magdalen's shaved-close quadrangles. "We're fledged, thank you" they said, and only attended halls and garden parties there. She'd liked hall, the white-gloved porters filling her glass, serving her, pouring sauces from a silver urn when she leaned right and left. Later, those same porters would at first watch indulgently as "gentlemen" scrummed on snowy quads. Then, when things got ugly, would heave and toss the gentlemen off the yards like dogs, gloved hands gripping collars and waistbands. These elegant, unsupervised flats were an easy, windy walk from the house on Madingley Road where the flock stayed. Easy, in sensible shoes.
She waited, while Mark scratched keys into his double lock, reversing the order roughly when the first proved wrong.
"Peter—? You there?" he called, into the dark parlor, and in the answering silence she noticed the silence all around. No music, or voices, or wands of light beneath silent doors. She held her watch face close. Ten, on a Saturday night. She folded up her arms.
"No, of course. They're at the pub," said Mark. "I'll just step in and change, then we'll head out. All right? Sorry. I guess I wasn't thinking."
He flicked the overhead, flooding the interior with bald light, then turned, holding the door wide. His face was blurred, and she felt, more than saw, the irony there. She'd "showed him up a proper chump" regarding the Canaries, Peter said, laughing handsomely at the humiliation of his friend. She'd felt sorry. These men could be brutal with each other.
"Stay out there if you want to," Mark said. "Be that way—your choice. I'll only take a minute."
She was suddenly impatient with herself. The other girls dared so much more than she did. "Goody-goody," they teased her. Mo-pedding from Nice to Monaco she'd been terrified, wondering what on God's green earth she'd do if the vehicle got damaged. She'd used her father's credit card as security deposit. Then she'd relaxed, and had a wonderful time. Only to learn, when they reconnoitered with the rest of the flock in Paris, that another of them had wound up staying a weekend in half of the Villa Emma in Naples, guest of the U.S. head of NASA. "The Italian president lives in the other half!" she'd gushed.
"No, that's okay," she said, just as glad when Mark turned off the overhead and clicked on a single, low lamp. The room looked elegant again, smoke-stained walls thrown in shadow, leaded windows gleaming. The coat of arms in the center of one was a blood-red shield whose motto in Latin like small, gold daggers Peter had interpreted for her. "The Power of the Liege is our Device," he'd intoned, fervently and without a trace of irony.
Clearly, she remembered taking off her shoes. Putting her feet up on the ottoman. After that, she didn't remember much. Mainly shapes and shadows, slippery in the shifting light. A lorry trundling past, beams delineating Mark's form as he shucked off his shirt with a liquid, boyish motion that pushed his hair askew. Him bending, such a smooth, hairless chest with nipples like stains, to retrieve and uncap a tube. The guttural splooge of lubricant squeezed onto his fingers. The yank of his belt like unwinding, and the clank of the buckle onto soft carpet. She remembered, not thinking much. Not being able to, because of what he'd evidently dropped into her drink, but also because it was hard to believe that this was really happening to her, or that it could be rape. It couldn't be. What he grasped and kneaded, paused and pulled and kneaded once again was soft as dough and disappeared inside his hand. It was violation. That much felt real, even then. But what she mainly thought, as fretfully he pushed her hem high and leaned to peer, then pawed the bodice, yanking loose a button, and, with a gasp, another, was that her dress was ruined. Her one good dress, vermillion acetate with tiny stripes. She remembered buying it, on sale, at Casual Corner. Wishing it were blue instead. Red wasn't her color.
She'd tell the story, though not for a while. She'd furled it like an umbrella, propped in a dark corner of her imagination. Then, events unfurled it. Listeners cringed. It was becoming such a familiar story. Anita's. Monica's. Diana's, first and last. Increasing, countless others'. Her story was far less significant, of course, and much less hurtful. Of course. Still. What to do with it? Anything?
Her listeners speculated. So did she. What if she'd kept a diary? Or, the dress? She waved her hands. She'd thought of this, and heaven forbid. The diary would have been a damning list of swains. And, long before anything remotely like DNA, the poor dress was best gone. She'd stuffed it, along with hosiery shredded by her unshod stumble home, into the incinerator on Madingley Road.
"You left your slipper, like Cinderella," said one listener.
"I left them both."
"What happened to the prince?"
She hesitated.
For years, Mark's fame had risen, though always behind the scenes. He'd advised, machinated, helped pull strings of various puppets, until one got very close. That fat, bombastic blond, an early front-runner, had been terrifying. Then the blond was flummoxed, flailed, and failed. Mark failed along with him, the party splintering like old wood. She'd rejoiced. She'd hoped for more change, and gotten some.
Now, he was back. Her political science classmate confirmed it. She wasn't surprised. She'd sensed him, felt him switching gears, greasing works, bringing matters to climax if he could. Sometimes she almost saw him, infused in the new candidate like ink. The orange skin. The smirk, angry and arrogant. Even the red-orange hair, whose mess Mark had settled, that night, first thrusting a hand into shadows, making her think he was fetching up a weapon to bludgeon her with, before she saw that it was hairspray, had even made out the blurry label, "Happy Hair," before he sprayed a fog about his head and she leaped up and fled.
The memory chilled her, and made her laugh. Shrill laughter, ugly and tense, carrying the load of generations. It had to be a joke. It just had to be. Even a joke was bad enough.
"He'll get trumped," she said. "She'll bury him."

---
Swift Summer Flight
Gregg Dotoli
there's a calmness
in watching sandpipers
zooming in tandem
over the summer ocean
searching and playing as one
not a flock but in harmony as one
yes the whole is greater than the sum
flash-turning diving up and around
coordination genius
a miracle in wings
landing simultaneously
on golden warm shelled sand
teamwork taught by Mother Earth
a lesson humanity dangerously failed
as we gaze at our eco-sick planet

Gregg Dotoli Bio
Gregg Dotoli lives in New York City area and has studied English at Seton Hall University. He works as a white hat hacker, but his first love is the arts.
His poems have been published in, Quail Bell Magazine, The Four Quarters Magazine, Calvary Cross, Dead Snakes, Halcyon Magazine, Allegro Magazine, the Mad Swirl, Voices Project, Writing Raw and Down in the Dirt.

---
Asteroid
Doug Hawley
Ray detection
The outer space probe Arrow detected an increase in cosmic rays traveling towards earth beyond the orbit of Pluto. The intensity of the rays increased by a factor of ten and then Arrow became silent. NASA made the report to the White House with the rather panic-inducing possibility that the rays could wipe out all life on earth. One sardonic joker in the inner circle said "At least we don't have to worry about asteroids anymore." NASA hedged its bets by saying that the best case was an interruption in all electronics. After all, the incident was unprecedented, so no one could say with certainty what the results would be. Not that it helped, but they narrowed the cause down to two or three supernovae observed in historic times. Some true believers at the highest levels of government wondered if their death would be from the star of Bethlehem.
The leading edge of the rays was discovered at ten times the distance from Pluto. President Burton had no idea what to do. His skill set was campaigning, raising cash and pushing expensive bills without any way to pay for them. One thing that he did do well was pick men who were knowledgeable and skilled. As a result, he put Chief Of Staff Duke Hanley in charge of liaison with NASA chief Sally Olsen. They got adjacent rooms in a DC hotel to keep people in government from wondering what was happening. Each took open leaves of absence.
Preparation
At their first meeting, Duke asked "Level with me, how bad do you really think it is?"
"I think that it could be comparable to one of the great asteroid collisions with earth that caused mass extinctions like the one that killed the dinosaurs. Unlike an asteroid collision, the deaths won't happen immediately, plants and animals will die slowly. What cosmic rays do is mess with the DNA. Not only will there be a massive die off, there will be mutations, mostly fatal, some neutral, or even improvements. We've got eighty days to prepare."
"So what can we do about it?"
"The greatest effects will be on exposed life and that at the higher elevations. It wouldn't be practical to get lead suits for everyone or move them all into caves. Even if everyone stayed indoors, it wouldn't save the plants and animals we live on. Being indoors wouldn't be perfectly safe for people either."
"So far you have told me what we can't do about it."
"Are you religious?"
"No."
"Me neither, so praying is out. We can probably save some people from death by moving them into caves or fortified structures. Long term, after the rays have passed, the problem may be with finding suitable food for those that survive the initial barrage without getting cancer."
"It sounds like we may end up with some healthy people, a lot of ill people and not much future. How do we choose the people to save, what do we do about the ill people and how do we get to long term survival?"
"I can't answer the first part. As for the second part, it depends in part on how many we save. If most of the people die, there may be enough resources to go around, particularly if you like eating cockroaches. Seriously, if there are a lot fewer people, it may be easier to feed them with surviving plants and animals."
"OK, Sally, you've given me enough very scary information to try to build a plan around. I'm going to need to call a lot of people tonight, so let's call it a wrap. Do you want to meet in your room tomorrow or back in my room?"
"Your room is fine."
At the next meeting, Duke summarized his plan. "We hold a worldwide asteroid preparedness drill. The leaders that we can trust will be apprised of the game, others will get the cover story. We will explain that buildings and caves will be used to protect people from the effects of a possible asteroid impact in the next year. We'll make a survey of buildings which offer the best protection and find the best routes for getting to those buildings. The caves will be reserved for personnel deemed necessary for humanity's survival. Under the cover of the 'drill', we'll provision those caves as best we can. My idea is to accept that millions, if not billions will die, but I can't see anything better. Informing the world that we're going to be hit by massive cosmic rays is folly in my mind. Clearly, this is the Cliff Notes version. What do you think? I'd love for you to tell me it's a crackpot idea and you've got something much better."
"Could you get me a drink while I think about it? How about some scotch?"
"Coming up."
Sally drank about half of her drink and said "I think that what you are trying to do is to get prepared while keeping the real reason secret to avoid panic. Is that right?"
"Yes."
"I agree that your goal is sensible and your approach reasonable. I'm afraid that I don't have a better idea. My guess is that you need to work on the details and I need to talk to my people at NASA."
The next day while Sally was talking to NASA, Duke ran his plan past the President. Burton said "Fine work. First rate. You go ahead and handle all of the details." Burton's response was just what Duke expected, since the President always had others do the heavy lifting.
Duke then made calls to three cabinet secretaries to prepare them for the job ahead – Jackson at Defense, Williams at State and Gomez at Interior. Jackson would organize the logistics of moving people into safer areas and obtaining food and whatever would be needed for a lengthy stay in shelters, Williams would contact the leaders of other countries with either the true story or the cover story and Gomez would inventory shelters and caves around the country.
At that point Duke noticed he had never asked how long it would take the cosmic rays to pass. It seems that somehow he had been distracted, probably by Sally. He immediately called Sally to get the answer. When he asked, she was equally dumbfounded that he had never asked and she hadn't volunteered the information. Maybe she was distracted too. "Crap, Duke we have to get our heads straight. The rays will pass in a month after they start."
Over the next month they jointly kept up with the preparations. As expected, a lot of people doubted the cover story, but oddly no one guessed at the truth. Both the left and the right wings kept coming up with conspiracy theories claiming that the real reason for the exercises was to enslave the public.
The thoroughly ignorant wondered why the government wasn't doing something to destroy errant asteroids as was done in the movies "Deep Impact" and "Armageddon". Exasperated, but patient government official had to keep repeating why the methods portrayed in those movies wouldn't work in real life.
While the physical work was being done stockpiling medicine and food, and preparing hardened sites for protecting important people, the VIP committee consisting of Duke, Sally and the cabinet secretaries Jackson, Williams and Gomez concentrated on the list of the necessary survivors. Farmers, engineers from all disciplines, physicists, chemists, medical personnel and mathematicians were at the top of the list.
The first draft was disproportionately Asian and Jewish given their prominence in the sciences and medicines. Everybody, including the female members Olsen and Williams, insisted on more females. If the cosmic catastrophe was bad enough to kill all of those that weren't completely protected against the rays, women would be more important to repopulate the world than males. Jackson complained about blacks being shortchanged and Gomez argued for more Latinos. After much haranguing and consulting data bases, the essential list was completed along with alternates for those on the list that wouldn't go to the shelters or were otherwise unavailable. The rest of the available safe spaces were filled by a random selection of those deemed young, healthy and multi-talented.
Aftermath
In most cities there was enough capacity in fairly well shielded buildings to shelter the urban population, but many people were not convinced to go to them. Many stayed home and many were outdoors when the cosmic rays hit earth. Previously appointed wardens moved as many as possible into some kind of shelter. When nothing else worked, the cosmic ray warning was used. There were so many skeptics, that the second class shelters weren't filled.
In most developed countries the majority of the population had some kind of shelter for the month of cosmic ray bombardment. Less developed countries were less lucky.
Assessment
For several months after the rays passed through there were no obvious health problems. Electronics recovered nicely. The major reaction was relief, but George Hughes, a celebrity trial lawyer, filed a class action suit against just about everyone involved in the planning. All of those involved in the planning had been indemnified against damages by executive order, so the suit was filed against the Federal Government. After both sides had their say, the Supreme Court threw out the suit, claiming that it did not have jurisdiction. Over a hundred websites were developed to claim that there was no increase in cosmic rays despite every reliable scientist acknowledging the major increase in rays.
After consulting with Hanley and Olsen, Burton gave a speech starting with "Yes we may have over-prepared, but would you have wanted us to under-prepare?" and went on to praise the work of the cosmic ray team.
Sally told Duke "Better than I predicted, worse than I hoped."
Julie Lanson, the secretary of Health and Human Services, decreed that a sample of those who had the most exposure to the rays should be medically examined. Of the three thousand that were examined, 20% were found to have cancer and all had changes to their DNA. From those statistics, she projected an extra 2.6 million would have cancer in the US alone. The increase in cancer shut up most of those that claimed there had never been excess cosmic rays, but created a health crisis all around the world. For countries without much health care, the richer nations sent tons of pain killers because the richer nations had their hands full with their own health care.
Lanson instituted a triage approach to the cancer crisis. Those that had a good chance of a cure would get normal treatment. People with a possibility of recovery were put on a waiting list and those who were terminal were placed in hospice treatment. Given the huge influx of those to hospice treatment, a crash program to train hospice staff was initiated.
Not only humans had health problems. 27% of mammals that lived above ground died within three months of the bombardment, according to Under Secretary of Agriculture Jay Simmons. Other forms of animals either were underground or underwater, protected by scales or feathers or simply more resilient like the infamous cockroaches.
The effect on plant life was, in a word, 'bizarre'. Some plants such as squash and cauliflower died out completely. The 'supertasters' that could not stand the smell and taste of certain healthy foods were pleased, until they heard that seeds for all of the dead species were held in the Svalbard Global Seed Vault and had not been harmed at all by the cosmic rays. Some tomatoes grew so large that their stems could not support them. An apple variety grew as large as cantaloupes. A few poisonous plants were no longer poisonous, and some that had not been were now. All animals and humans had to adjust to a moving target as to what was edible and what wasn't.
The initial media reaction was to proclaim that this was the worst disaster ever to hit the planet. The reputable fact checkers "Reality Inc" immediately started to research the claim and ended up classifying what came to be known as "The Bombardment" as only number seven on the all time worst list after some plagues, wars and influenza epidemics.
Bad Politics 1
The size of the catastrophe was enough to get the owner of the huge Lucky Penney casino in Las Vegas, Jason Atkins, to start another political party, Revolution. Atkins claimed that he would have handled the crisis much better than Burton, not knowing that Burton adhered to his hands off policy during the crisis. Atkins said he would have built underground caverns large enough to hold the whole US population. Despite the impossibility of his idea, he got a large following from the ignorant and the paranoid and he threatened to run against Burton in the next election.
As Atkins' following grew, President Burton called in Hanley and Olsen. "Let's be honest. I'm not too bright, but I've got a way with people. People love me from the time that I played "The Benevolent Billionaire" on TV ten years ago. As long as things are going well, I have my staff and cabinet officers handle things, and I get the credit. Everybody wins. I was fortunate to come into office when we were at peace and the economy was cruising along. The bombardment made it clear how useless I am and I don't want to sink to the level of that Atkins moron just to stay in office. My one great talent is evaluating people. Both of you are qualified to be president. If one of you is willing, I'll appoint you Vice President and then resign. Don't worry about Jenkins, he's tired of his do nothing job and wants to return to his family and start the Jenkins Foundation. Feel free to consult with him, but nobody else. Why don't you two talk it over and get back to me tomorrow."
Later, Sally started off with "I just want to go back to NASA. You'd be great as president and please don't think that I'm doing this for you. A scientist has never been a president for good reason. The people want someone who is a leader, not a thinker. Oops, I didn't mean that as insult. I mean someone who is not JUST a thinker."
"If I do this, I could appoint you to some office befitting you talents."
"Nope, when our relationship becomes public, you'd be charged with nepotism." They had become engaged during The Bombardment when they realized that they wanted to spend their lives together following their many previous romantic misadventures. Duke had made the mistake of marrying a woman that turned out to be a lesbian and Sally's success had led to her intimidating almost all men.
"I guess that some military men have made good presidents and some haven't. Nobody has done it since Eisenhower."
"Plus, I couldn't be the first woman president."
The call to the vice president affirmed that Jenkins was fully behind Burton's plan.
See The New Boss Different Than The Old Boss
The shuffle went smoothly. With Hanley as president, Atkins' appeal was blunted without having Burton as a target. Atkins was not smart enough to find out that Hanley was a major force behind the preparation for The Bombardment.
Bad Politics 2
With the myriad of problems with the health of people, animals and plants, the Federal and State welfare bills increased by 50%. The discontent from the poor led to the "Eat The Rich" movement, which everyone assumed was metaphorical. Sandy Bernard's plan was to expropriate any business making more than a million dollars annually and run it by the government. As the new movement gained millions of followers, Duke became frightened about the total collapse of the country if Bernard prevailed. In desperation, he convened the titans of industry and the idle rich. He gave them an alternative: "You stick with me and we double your taxes and you donate half your liquid assets to charity, and you get to keep the rest. Try to block me on this and you get Bernard. Which is it?" Enough of them stuck with Duke to mitigate Bernard's appeal.
After thirteen months with no new threats and with the recovery going well, Duke got a call from Gomez saying "Super humans have taken over Eastern New Mexico."
The Evolution Of Bill Bane
It started with the announcement that there would be a worldwide drill to prepare for a possible asteroid impact in the next year. At the time, I assumed that it was more government lies. I didn't trust anything that I heard coming out of politicians or the lamestream press.
My wife had divorced me years ago because of my continuous anger and fights both verbal and physical. All I could get were menial jobs because I was a dropout with a drinking problem. I lived in a cheap one bedroom apartment in the Parkrose area of Portland, Oregon. The name on the door was Bill Bane. Bane was the name of the game for our family of losers.
Naturally I bucked all of the government rules during the active part of the drill. I wandered the streets and broke into the houses and businesses of those I considered fools for seeking better shelter. To further show my defiance, I ran up and down Sandy, the main drag through town, nearly naked.
At the end of the drill, President Burton, the lying bastard, admitted it was all a ruse to cover up for something else – a cosmic ray bombardment. He must have thought we'd believe a second lie. He even found a bunch of science toadies, the same scamsters that tried to sell global warming, to back him up.
Oddly, things started happening which made me start to question my skepticism. I began to read books, which I had never done before. In fact, the reason that I quit school was that I hated reading, and didn't understand a lot of words. After The Bombardment, as it was known, I read with comprehension. A book on cosmic rays made perfect sense to me and before that gravity had been a mystery. Rather than my usual breakfast, lunch and dinner of burgers, fries and cokes, while watching TV, I started a vegan diet and exercising. In a few weeks, I had lost thirty pounds and was running ten miles a day.
The change in my relationships was less quantifiable, but just as real. As I became friendlier and more generous to those around me, they were kinder to me. With my new attitude, and svelte body, I noticed babes eyeing me. Previously I only got lucky with lushes at closing time.
At this point, my drinking was confined to a healthy glass of red wine with dinner. I had moved on from being a counter worker at Burger Biggy to become a beginning ad writer at the international firm Sheridan & Philomath. With my new charm and intelligence, I was hired on the spot despite my abysmal work record and education, and could afford the best food and drink. For nostalgia, I went to my old watering hole, "Inn Between". I saw most of the usual barflies, except for Jodi Mitchell, the drunk in residence. I asked Shep, the owner and bartender, what happened to her.
Jodi Too
"Weirdest thing, she started talking funny, like a high school graduate, drank less and less and then just disappeared. None of my rummies have seen her for days."
I had a glass of the best red that they had, "Bleeding Gums", and left for the last time.
Even before I saw her again, I concluded that she had the same kind of transformation that I had. When I did see her, it was at our library, the kind of place that neither one of us had ever been before. I literally bumped into her coming around a shelf in the astronomy section. As I picked her up, we simultaneously said "Cosmic Rays". I'm not sure how I recognized Jodi – she had lost thirty pounds since the last time I had seen her and her skin was no longer jaundiced, but had become a healthy pink.
Later over a smoothie, we compared notes. She said "I started exercising and stopped drinking. I've been working on anything from the library and Wikipedia that is of interest. I understand multivariate calculus now, but failed algebra before I dropped out of school. Now I eat lots of fruits and vegetables and no red meat. My mind and body have completely transformed since The Bombardment. The only thing that makes sense is that instead of being unaffected like the majority or sickened like millions, our DNA has been improved."
I told her "Pretty much the same story for me. How about we study together to absorb anything that will be useful or of interest to us?"
"Sounds good, let's start tonight. What sounds like fun, eastern thought, or organic chemistry?"
"Let's start with eastern thought and then alternate between science and culture."
"Let's make it a three cycle rotating with physical skills as a third option."
"I like it."
We continued like that for weeks. The most pleasant study was tantric yoga. Although we had several drunken hook-ups in our prior existence, they were nothing like our new physical / spiritual relationship. We learned that we had become yogistes and Buddhists by independent discovery.
We concluded, accurately, if the two of us had evolved, there must be others. We read stories in the news about the town drunk in Dodge, Kansas becoming mayor after turning her life around completely in a short period of time. A mediocre sprinter at the University of Oregon recently set the world record in the 100 meters with the phenomenal time of 9.5 seconds. So far the public was curious, but the number of articles was fairly small. We correctly assumed that many of the evolved didn't want to go public out of fear of the reaction to their status.
Evolved organized
Jodi got the idea of forming a 'club' of the evolved. In order to do that, we put blind items in major newspapers reading "Feeling Better, Doing Better? Tell your story to PO Box 5820 Portland, OR 97218." We got responses about broken marriages being healed, weightlifting records being set, solutions to previously insoluble math problems and other stories of improvement. Most of those that wrote to us had improved intelligence and were smart enough to know how it had happened. In order to stay in touch with what turned out to be thousands of the evolved, we set up a 'dark' website 'Better', but in this case not one to abuse children or sell drugs, but to find out more about the phenomenon.
While we were working on that, I decided to find out what was going on in my body. That was one of the few things that I couldn't determine on my own. A trusted doctor checked me out thoroughly and found several anomalies:
I had an increased frontal cortex compared to the norm, the 'human' part of the brain, which made me smarter;
My brain stem, the 'reptile' part of the brain, was reduced from the normal, which reduced my animal behavior such as territoriality;
My muscles were converting to more chimpanzee like, making me stronger;
Also chimpanzee like I had become hairier, something I had not previously noticed with all of the other miraculous changes; and
There were other changes to my organs which were unexplained improvements.
Jodi then checked in at the same doctor and found similar improvements.
From the various responses we got from our survey on the dark site 'Better', we found that some of our respondents had similar results from their doctors.
Most of the evolved had kept their heads down, but a few were doing incredible things in public, too many to recount. The five foot tall white boy that could dunk two handed and block LeBron James; the five year old that accurately corrected his first grade teacher on many occasions and the forty year old woman that high jumped more than two meters. It was too much to keep secret. Social media started it and newspapers began to catch up. A few people came up with the truth, but there were more with conspiracy theories – mad scientists or a government project to produce super soldiers.
New Mexico
After checking the twitter feeds and reading some newspapers, Jodi said "New Mexico". I immediately knew what she meant and agreed. We'd have to raise a lot of money, but we could start a colony in Eastern New Mexico. I thought of Mike Wilkie.
Mike was a good friend from working with him on an ad for Gold, his huge software company. He was a very happy guy who had the phenomenal fortune to marry a second terrific woman a few years after the death of his first wife. With his big local company that had, unlike most others started in Oregon, stayed local and his beneficent civic engagement, he was the most popular man in town. Because the 'new' Bill could match him in intelligence and sophistication, we had bonded immediately.
He was not at all surprised when I told him my plan to start a colony of the evolved in Eastern New Mexico. He had already divined what was going on with the new and improved humans. "Great idea Bill. Eastern New Mexico is known for being the safest place in the US and still has low land prices. I think that I can stake you to enough money to get started."
"What can I do for you, Mike?"
"I wouldn't worry about that right now. Maybe Gold can be the software of your evolved geniuses."
When I told Jodi, she said "You can't have all of the fun Bill. I'm going to get on 'Better' and see who wants to join us and work on the easements and purchases that we will need."
As we worked on that with as much stealth as possible, the word was starting to leak out - "Super Men And Women Among Us" read an Oregonian headline. As always, a lot of the reporting was wrong. There were reports of invisible people, people that could lift Cadillacs (in reality, nothing larger than a Mini) and walk through walls. The reports got exaggerated to the point of suggesting that some of us were X Men or part of the expanded Fantastic Four. Sorry, none of us can violate physical laws.
As expected, the New Mexico locals became suspicious within a few weeks, so I took the direct approach and called Ray Guiterrez, the New Mexico governor. After a quick explanation of the benefits that our little colony would bring to Debaca and Chaves counties and New Mexico as a whole, we had no more obstruction. The grants to education, the much increased tax base and the prospect of the biggest scientific and cultural centers in the US were all he needed to hear. As expected, he checked with Wilkie to confirm my story.
The cat was out of the bag. Jodi decided to call President Hanley to get ahead of the story. It was our good luck that Duke Hanley had replaced President Burton. Burton was something of a likeable buffoon, but Hanley was about as smart as any of the unevolved.
Jodi – "Mr. President, I'm so happy that you took my call."
Duke - "I should be honored to be talking to one of the evolved. Call me Duke."
Jodi – "OK. First, what do you know about the evolved?"
Duke – "I think that you are like the children of Einstein, Schwarzenegger, and the Dalai Lama, due to the effects of The Bombardment to your DNA.
Jodi – "A little fanciful, but a good short description. Does the government have a policy towards us?"
Duke – "I'm leaning towards benign negligence. Maybe your New Mexico colony can lead the way to worldwide peace and prosperity."
Jodi – "As long as there are the unevolved, that won't happen, but maybe we could help a little. So you would not disturb the colony or the evolved that choose to live outside of New Mexico?"
Duke – "That is correct."
Jodi – "Thank you so much, I'm so glad we got this straight. If you don't mind, I'll sign off for now, but I hope that we will stay in touch."
Duke – "I forgot to ask, are you the leader of the evolved?"
Jodi – "We don't have a leader. Any one of us could have called you."
Duke – "My assistant will get back to you on how to keep clear communication. Signing off on this end for now."
Public reaction
A few days later as the evolved went about their work, the phone rang and Sam Hawkins answered because he was closest.
"Hello, this is Jonas Atkins of Flocks News. To whom am I speaking?"
"This is Sam Hawkins."
"Are you the leader of the evolved?"
"We don't have leaders."
"Is this some sort of cult or new religion?"
"No, just a bunch of people trying to improve the human condition."
"If it is not too private, what kind of sex goes on there?"
"Consensual and age appropriate."
"Could you tell me anymore, our audience is intrigued?"
"I'll explain it if you tell us all about the sex practices of the unevolved."
"What are your politics and religion?"
"We don't have any."
"Who does the work and who runs things?"
"When something needs to be done, somebody does it."
"Well, thanks for your time."
We evolved didn't know it because we didn't follow news programs, but Jonas Atkins' next news program "What You Need To Know Now" spent all of its runtime exposing the evolved colony as "A godless conspiracy much like Jonestown or the Rajneeshpuram."
Attack
In response to the program, a militia of thousands organized and attacked the colony. Some hated anything that they didn't understand, some loved violence, and some wanted spoils. I'm not surprised that they confused the intelligent with the defenseless. We tried not to kill anybody.
The siege of The Colony didn't last long because we had dug a deep moat on our border. Most of the invaders gave up on encountering it and left muttering and swearing. A few jumped in and some drowned largely because of the shock of the cold water. Sometimes low tech works just fine. Our housing was far enough away from the moat that few tried to fire in our direction and those that did didn't hit anything. For the few that did get across, the electrical grid encouraged them to retreat to the other side of the moat.
We were accused of being barbarians by some in the media. It was suggested that we should jointly be charged with murder for the thirteen deaths. The local authorities wouldn't do anything to us, partly based on legal principle and partly due to the benefits we brought to New Mexico. President Hanley was one our biggest fans, so he had no interest in pursuing any legal action against us. He went further and apologized for not stopping the invaders before they got to our colony.
The program
After that interruption we proceeded with our plan to improve the state of humanity. We were in continuous contact with other evolved colonies around the world, but it wasn't necessary, because we all reached the same conclusions.
The ways in which we could help the world:
Move non-combatants from war zones. Nothing could be done for those that insist on fighting and we didn't want to "destroy the village in order to save it". There are very few areas which could easily absorb more people. Canada, Australia and Siberia are the major candidates. In each case we had to work on infrastructure and housing plus sources of food and water.
Produce reliable, renewable and adequate energy for the world. While looking for other solutions, we installed wind, solar, tidal and thermal plants where needed. Each solution depended on improvements that our best minds produced.
Raise the standard of living for those that need it most. Getting the noncombatants out of war zones was a part of the solution. Our energy projects helped the standard of living in two ways, the most obvious being the availability of heat, cooling, stove and lights and the less obvious is access to education and knowledge from the internet. Evolved volunteers became a 'super peace corps' going wherever they were needed and accepted to aid in local projects.
Stabilize the world population. This was our most difficult goal because of the cultural and demographic problems involved. Japan and much of Europe had declining populations, but we concentrated on those areas with unsupportable demographics. For any jurisdiction that would accept it, we offered birth control services.
Educate Women. This is closely related to stabilizing the world population. Women who know more are less like to be baby factories dominated by men and they can improve their local economy.
With the idea that we would introduce these programs where they were accepted, they were quickly introduced to parts of Africa, South America, and Asia. Europe, Canada, Japan and Australia did not need major changes. The difference between the adopters and the resisters was that adopters were largely interested in improving their lot, and the resisters did not want any changes to their culture. In the US, changes were delayed because of an anti-intellectual bent, resistance to birth control and dislike of change. Further, many thought The Colony was a dangerous cult.
Five Years Later
With the very important help of some benevolent billionaires around the world, we have made some progress. Many areas have reliable water and power for the first time. Small, portable houses that supply much of their own energy are being constructed in many parts of the world. Using local materials and labor has simultaneously increased gainful employment and improved housing. Women are running businesses and having fewer, healthier children in many parts of the world.
The parts of the world that resisted us are, if anything, worse off, mired in war, overpopulated and sinking economically. We can only hope that they will eventually see our successes, and learn from them. Even we evolved are stumped in our attempts to deal non-violently with the entrenched intransigence of the medieval cultures in much of the world, but he US is slowly adopting some of our ideas.
The Future
Our daughter Jeanie is now three years old and intellectually equivalent to a teenager but without the hormonal mood swings. She and the other children of the evolved are the hope of the future.
The coming years hold so much promise.
This story was originally serialized in Swings & Roundaboutsa

---
Before She Knew It
Brandy Combs
She slid her key into the door. His hand rested on her hip. She forced a smile, flinging her hair into his chubby face. "Hurry up, little lady, I need to use the shitter. That chili is burning a hole in my ass," Carl said, grinning sideways.
Today his name was Carl. He's short, round, and smelled of bologna.
She cringed at the thought of him shitting in her bathroom. The bathroom was located left to the entryway. "There you go, darling. It's all yours," she said, pointing in the direction of the bathroom.
She had been lucky enough to score a motel room with a privacy porch. For a kitchen, she had a small microwave and mini fridge. The hotplate she had to buy herself. Not that she ate much of anything.
She walked to the mini bar, grabbing a bottle of whiskey.
"Hey there, lil lady, are you ready for some of Big Carl?" he said, exiting the bathroom.
"Out here, honey, on the porch. I have a whiskey for you," she said, clenching her teeth.
Carl came into view. His large frame took up the doorframe. His shirt hung open giving way to a too large belly and a mountain of chest hair. April jiggled the glass. "All right, lil lady, all right, let's have us a few drinks first," he said.
He squeezed through the porch door and plopped himself down on the too small patio chair.
April gulped her whiskey. No need to waste time. The faster I get this done, the faster I can move on with my day. She poured herself another shot and topped off Carl's.
"Whoa, there, lil lady. "Are you trying to get me drunk and take advantage of me?" he said, laughing.
She smiled and winked. "I'd never do any such thing, darling. I just want us to have a little chit chat and get better acquainted."
"So what do you do for a living?" she asked.
"I run a oil rig outside of Tulsa," Carl said.
"I run the damn thing with a iron fist," He said, smirking.
"Do you run your women with an iron fist as well?" April asked.
"Yes I do" Carl said.
"Is that so?" April asked.
"Only if they get out out of line," he said.
"I hate when women think their better than me, so I have to show then whose the boss sometimes gotta smack them a bit. He said.
Standing up, she walked up behind Carl. "Want a little massage darling?" she asked. The syringe pierced his flesh and she pumped the drugs into him. Within seconds, he fell to the ground.
"Why did you do this me? You crazy bitch." Carl said.
She bent over him looking at his limp body. "It's times like this darling I bet you wished you didn't pay women for sex," she said. His eyes stared up at her.

---
The Way Light Opens Your Body, art by Bill Wolak
Bill Wolak brief bio
Bill Wolak is a poet, photographer, and collage artist. His collages have been published in The Annual, Peculiar Mormyrid, Danse Macabre, Dirty Chai, Hermeneutic Chaos Literary Journal, Lost Coast Review, Yellow Chair Review, Otis Nebula, and Horror Sleaze Trash. He has just published his twelfth book of poetry entitled Love Opens the Hands with Nirala Press. Recently, he was a featured poet at The Mihai Eminescu International Poetry Festival in Craiova, Romania. Mr. Wolak teaches Creative Writing at William Paterson University in New Jersey.

---


Confession
Raymond Manuel Aguirre
Today is the day Ronel decides to come clean about the incident at Derek's.
We arrive at the park at five in the afternoon, exactly the time Ronel asked Monina to see him. I position myself beneath a tree, just far enough so that Monina won't see me, but close enough to see what is about to go down.
I am watching Ronel from a distance as he begins to squirm in his seat. He is beside Monina, his entire body weight anchored by an arm on one side. His shoulder is tensed up, stiff as a board. Ronel, the sanggano, the one to not be fucked with, is squeamish as a teenage boy asking a girl to the prom. Meanwhile, Monina has her arms crossed. Her expression is bare, as if still undecided whether anger is supposed to be the right emotion to feel at this moment.
Then, Ronel's lips begin to move. I hang tight. So far so good. We had rehearsed everything about this moment—from the timing of his tears to the cadence of his speech. Life at the park continues to remain peaceful. I feel a light breeze blow past my face. Children are running. A mother is calling out to some kid named Felipe, tells him to be careful. I watch the people at the park for several minutes and almost forget about Ronel.
When I look back, Monina is standing. Ronel looks like he had shrunk several inches, while Monina towers like a shadow. I can see Monina steaming. And then, I see Monina slap Ronel. From where I sit, I only hear a tiny click as Monina's hand lands on Ronel's face, but I know Ronel is truly hurt because I see his head ricochet to the side from the impact. He rubs his cheek. He looks up to Monina. He shrinks several inches more. A harsher breeze blows by, causing the leaves from the trees to ruffle a little stronger.
I brace myself. This is where I may come into the scene and be useful.
Knowing Monina, we projected an epic scandal at the park that will rock the children from their swings, the pets from their bones. We were not exaggerating in thinking this way. Monina is the patron of tormented lovers, destined to one day be selosa emeritus of San Gabriel Valley. Ronel told me that once, he had to jimmy the front door to their apartment after he had failed to text her his whereabouts one night.
My purpose of accompanying Ronel today is to save him from the onslaught of Monina's wrath, to be the wheel man that would escort him off the vicinity once Monina goes batshit crazy. Ronel doesn't drive, since he wrecked his car and lost his license for DUI. Taking the bus is out of the question, too, because by the time the bus arrives, Monina would have already squashed him into a pole with her car.
But things don't unfold as expected because Monina doesn't do anything more after hitting Ronel. Instead, she sits down next to Ronel and buries her face in her hands. Ronel tries to place a hand on Monina's back, but Monina brushes it off. Fuck off, I read from her lips.
Ronel hangs around for a couple more minutes. Every few seconds, he acts as if he is about to say something, then says nothing. Then, finally, he glances at Monina again, says something, then walks off quietly.
Ronel had come out out of "The Talk" relatively unscathed.
Physically, at least, Ronel tells me as I listen to his lamentations in a bar three hour later. The real pain of a woman's anger, he says, hurts most not when she chucks your head with a shoe or when she throws you out of the house. A woman's wrath, Ronel adds, is worst when she chooses to use impenetrable silence as her weapon of choice.

---

---


Bay of Pigs
Jon Brunette
With his eyes wide, Peter stood inside his tenth-grade Biology class, looking like an Army soldier whose best friends had all died. His face looked like it did because his teacher had told him and his classmates that they would be dissecting fetal pigs during that hour.
When Mr. Pearson brought the baby animals into their classroom inside three large buckets, like so much bubbly tar, Peter could feel his throat bulge. They were helpless; they couldn't squirm, or squeal; they had all died, and their smell was worse than Lysol.
"What do I do?"
A classmate asked Peter, sitting beside his table; his face became as green as their junior high school hallways had been. Though it had seemed like forever, only two years had passed since they had dissected frogs in Grandview Middle School. Now, in their tenth grade class, it seemed childish to hurt these baby animals any more than they had already been hurt.
Before anyone could slice into their animal, Mr. Pearson came back into the room with three more buckets filled with pigs, all of them looking like soldiers that couldn't stop dying. As he came into the room, he couldn't help but yell, because he couldn't see anyone cutting into their pigs as if they had never been alive at all.


Instinctively, he shook the bell on his desk that he would always use to quiet his students. Usually, it worked; his students hated that bell as much as criminals despised the gavel of the judge. "What the heck happened to all the fetal pigs?" He said, rattling his small bell harder than he had ever rattled it before.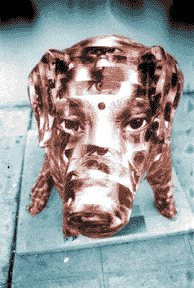 As if on cue, an echo of squeals came off the floor, and twenty-three pigs waddled around their teacher, in a very large, ugly pack, towards the other buckets. Peter and his classmates were heard inside their room, yelling as loudly as their teacher; only, their yells were the sounds of cheers unlike the wail of Mr. Pearson, who was about to be chewed apart as quickly as the hamburgers that they had all eaten for lunch.
Peter stood beside his table, holding a book called Black Magic for Beginners, which had brought these baby animals back to life. He could hear his classmates yell: "We never wanted to hurt those baby animals anyway." In fact, none of them had tried to slice into their pigs.
Mr. Pearson became the only one hurt, and the bell became the only part of him that was not destroyed by those small animals. They took his legs first, and, then, after he had collapsed onto the floor, they chewed off his head with their bloody teeth, which were extremely small, and, yet, as sharp as razors and twice as lethal.
After the bong brought their classroom time to an end, the principal continued to teach tenth-grade Biology for the remainder of the year. Although, for as long as students would go to Mound Westonka High School, no one would ever be allowed to slice into any more animal flesh. The dissection was cancelled shortly thereafter, because of a complete lack of cooperation on the part of everyone involved, and also because of the safety issues that it had raised.
This cancelation happened because of Peter and his book.

---
Aftermath
James Croal Jackson
after boyhood: curveball–
dad entered fate / gated hell.
i just killed ladybugs,
meaning no one pretended quietly.
relentless sleep. took ur valium
w/ xanax.
yes, zanax

About James Croal Jackson
James Croal Jackson is a writer, musician, and filmmaker whose work in film and TV in Los Angeles led to a rediscovery of his love of poetry. His poems have appeared in magazines including The Bitter Oleander, Lines+Stars, and Corium Magazine. He is the winner of the 2016 William Redding Memorial Poetry Prize. He lives in Columbus, Ohio. Visit him at jimjakk.com.

---
Katalina's
James Croal Jackson
I would walk to the ends of the Earth for you or,
more accurately, to the brunch spot a few
blocks down the street to spend ten dollars,
ten minutes with a runny yolk on a southern
chicken breast sandwiched in a biscuit, while
your silver-haired friend buys your meal and shares
his own, he who kindly asks if I want more water
because he could always use more, like all of California
during my time there; he who gushes about the beauty
of rain-soaked Seattle, how in a three-sixty swivel
hills lush green and you never feel more alive.
I cannot help but agree that, yes, the Pacific Northwest
has a fog which casts a pall over my slinking shadow, loses it;
yes, casts a spell on my marionette body, slackens my spine
to skeleton-cast my demotion of confidence to learn, no–
to move back east from the west is not that unique.
Ladies are not impressed with artifacts,
rust coating that less authentic time.

About James Croal Jackson
James Croal Jackson is a writer, musician, and filmmaker whose work in film and TV in Los Angeles led to a rediscovery of his love of poetry. His poems have appeared in magazines including The Bitter Oleander, Lines+Stars, and Corium Magazine. He is the winner of the 2016 William Redding Memorial Poetry Prize. He lives in Columbus, Ohio. Visit him at jimjakk.com.

---
Fortune Teller
Sarah Henry
Someone you know has stolen
a piece of your clothing
and put a curse on you
resolutely. You are not
protected by good spirits.
This means staying at home
for a month. Send me
forty pins and forty dollars
so I can burn candles
and pray for your release.
You have something
going for you but
you don't know it.
You sew a fine seam.
You are allergic to
something you eat or drink.
The three psychopaths
in my office today
don't deserve your gratitude
for small favors.
The glass globe on my desk
is not a paperweight.
Anxious customers at
the door live on hope.
I know which darts
hit their bull's-eyes
and the way a needle
goes in search of an addict.
A customer said many
of our worst fears are never
realized. She died of
blunt force trauma.
You have some things
going for you: reserve
and attentiveness.
You make a good listener.

Sarah Henry bio
Sarah Henry studied under Robert Hass and Louise Gluck at the University of Virginia. Today she lives near Pittsburgh, where her poems have appeared in the Pittsburgh Post-Gazette, The Pittsburgh Poetry Review and The Loyalhanna Review. Farther afield, Sarah's work was also published in The Hollins Critic, The Camel Saloon, and four recent anthologies. CheapPop and Donut Factory featured her humorous prose. She thoroughly enjoys life as a bachelor girl about town.

---
Road Hum
Sarah Henry
I drive past your house.
The plants in the windows
have grown so high,
I can hardly see you.
A man in the car
points at your house.
It is always this way
when I dream of you.
I recognize you
from another dream.
In that dream,
you are forever
turning a key
in a lock.
I am a woman
in a car and
I am driving.
I keep circling
around the block
in love's sad
NASCAR race.
It is so pitiful
to chase the man
who bought this house
for us in better days.

Sarah Henry bio
Sarah Henry studied under Robert Hass and Louise Gluck at the University of Virginia. Today she lives near Pittsburgh, where her poems have appeared in the Pittsburgh Post-Gazette, The Pittsburgh Poetry Review and The Loyalhanna Review. Farther afield, Sarah's work was also published in The Hollins Critic, The Camel Saloon, and four recent anthologies. CheapPop and Donut Factory featured her humorous prose. She thoroughly enjoys life as a bachelor girl about town.

---
Spitfire Red
Joan Brown
October 2009
Portland, Oregon, USA
Stuck in traffic, trapped on the nine bus, Heather Floyd grits her teeth. She hates the bus. But, as of about an hour ago, it is her only transportation. If she'd done as Marcus had asked she'd be with him now, in his car. Abruptly, heedless of ripping the beads and sequins off her champagne-colored, drawstring purse she plunges her hand in and yanks out the envelope with her check. Hoping beyond hope, she looks again at the amount. It's not nearly as much as she was promised it would be. It's not nearly enough to pay off Marcus. There were all sorts of undisclosed fees and subtractions, in addition to the lien, but at least she is out from underneath the car payment and insurance bill. Shoving the check back into the purse, she curses and sinks down into the bus seat.
Her right ankle feels tight, and bending over to admire her five-inch heels of red leather, she sees that it is a little swollen from having walked from the car dealership to the bus stop. Using a red acrylic fingernail she dramatically scoops blonde hair out of her face, and runs her eyes across her figure. Not too skinny is what Marcus used to say when they first met. Perfectly voluptuous is what she calls herself.
She's returning to Marcus's after selling her dream car. She'd loved that car, a 2007, spitfire red, Mustang GT. Driving up and down the boulevard had been a rush — the power of the engine, the power she felt over others as they looked to see who was driving. Women she mostly ignored, unless she was in a bad mood then she would sneer. Men she looked back at, and if they were good looking she smiled. Some would honk and give her a thumb-up or an appreciative nod, and if their car impressed her she would smile, rev her engine and play cat and dog. If they were ugly or driving a junker she would show them her middle finger and speed away.
She had bought her dream car two years ago when she'd been working at Berg's Fine Fashions as a sales associate in the Uniquely-You Women's Department, but two months ago she'd been fired for "flirting with a customer." Her manager was a bitch. The "customer" had come-on to her first. It had been a slow afternoon and she was bored on the women's floor so she went downstairs to the men's department, and there he was, a well-dressed, tall man with light brown, silky hair in a ponytail, looking at blazers. She couldn't help but stare at him, and notice he wasn't wearing a wedding ring.
When he turned and saw her his eyes had lit up, and he'd said, "Which do you like better, the camel or the navy?"
Smiling, moving closer, she'd said, "Why don't you try them both on, then we can see which one fits better?"
Standing in front of the mirror he'd put on the navy blazer. "How does it look?"
Coming up behind him she had smoothed the fabric, caressing her hands over his shoulders and down the small of his back.
"Keep doing that and I'll buy you anything in this store."
That's when her manager from Uniquely-You suddenly appeared. "You've been warned about leaving the department for no reason."
"I'm helping a customer".
"I see what you're doing with my husband."
Immediately Heather had gone back upstairs.
Two days later she had been called into the human resource manager's office, and when she arrived her department manager was also there. The human resource manager had said, "We've decided you're not a good fit with the Berg's Fine Fashions reputation," and handed her an envelope, "Here's your final paycheck. Security will escort you to collect your personal effects and walk you out."
During her two and a half years working at Berg's Fine Fashions she'd taken home lots of beautiful things; clothing, shoes, jewelry and other accessories, makeup, purses, perfumes, lingerie. Some months the amounts she charged for these beautiful things were more than her paychecks.
Berg's Fine Fashions had been Heather's first job. Before that she had been living with mommy, then mommy and her new husband Paul. When it was just she and mommy, especially after her younger sister had moved out, things were good. But dumb-fuck Paul had insisted she either went to work or school. Going to Portland Community College had been ok; she used to skip class to go smoke dope with a few of the other students. She can't remember what she'd learned from the professors, but she remembers learning how to sign up and show up for classes until student loan money had been disbursed then cancelling the classes and having the money transferred to a credit/debit card the school endorsed.
At the beginning of her second year in college she'd taken a miss-step, fallen off her high heels and twisted her right ankle. When she came limping into class her friend Shelley had asked what happened. After Heather told her, Shelley had given her the name of a doctor and told her what to say to get painkillers, and that she had a pair of crutches Heather could borrow.
"I don't need crutches," Heather had said. "They're so ugly."
"You don't have to use them anywhere else, just at the doctor's office." Shelley had smiled, "If you don't want the painkillers for yourself I'll buy them from you."
At the doctor appointment she'd complained about how bad her ankle hurt, and received a prescription for sixty Vicodin. A month later, when she'd gone back for a follow-up visit she'd complained again, and the doctor renewed her prescription and scheduled her for another follow-up visit, then another. Three months later, waiting in the doctor's reception for her fourth follow-up visit she'd met Marcus. Coming into the reception he'd looked around then taken a seat next to her. Well dressed, older men always attracted her, and she couldn't help but glance at him. He had sandy hair, pale skin and green eyes with a gleam she'd taken to be loneliness and infatuation.
"What are you here for?" he'd asked.
"I hurt my ankle," she'd said and stuck it out for him to see, although there wasn't anything to see except her cute, black, high heel boots.
Softly smiling, he'd asked, "Getting your Vicodin prescription filled?"
Heather hadn't known what to think about that.
Still smiling softly, he'd said, "My name's Marcus," and handed her a business card.
She'd read the card. "You're an attorney?"
"Yes, plaintiff's personal injury."
"What does that mean?"
"When people get hurt, like you, I help them sue insurance companies for a money award."
"Oh."
"How'd you hurt your ankle?"
"I fell."
"At home?"
"At school."
"Did you trip on something?"
"Yes." She said what Shelley had taught her. "I tripped on a big crack on the walkway."
"Let me take you to lunch and we'll see if we can't get you some insurance money."
There hadn't been any insurance money, but there had been some serious partying; Marcus had turned her on to a whole new euphoria. He was eleven years older than her, and had an unending supply of alcohol, and something that had quickly become her new favorite — cocaine — especially when topped off with a couple Vicodin.
Heather had lied to mommy and said she was going to school and studying late with a girl friend. When Heather would creep home in the early hours of the morning mommy and her new husband would be sleeping, and Heather didn't get up until mid-day — long after they'd gone to work. When mommy found out Heather had dropped out of college and was spending her time with an older man, she'd flown into a rage, "I raised you to be a smart, decent young lady, but you're nothing but a whore. There's only one thing he wants from a pretty girl like you, sex."
"No," Heather had said, "He loves me."
Mommy had snarl-laughed. "If he loved you he'd want to spend the entire night with you, but you always come crawling home." Mommy had begun to yell, "If he loved you he'd come here and introduce himself to me and state his intent. If he loved you, you'd be wearing a diamond ring. But none of those things have happened, have they?"
"The only reason you married Paul is because he's got money. You certainly can't be in love with anyone as gross as he is."
Mommy had slapped her hard, and screamed, "Don't forget who's paying the rent here."
"I know who it is," Heather had screamed back, "Paul."
The following Sunday, after a particularly fun night with Marcus, Heather had come home when mommy and Paul were usually at church. Mommy wasn't home, but Paul was. One look at her and he'd said, "You're so damn high you could hunt ducks with a rake."
"You're only here to pay the bills."
He'd gotten close into her face and hissed, "In three months I'm retiring and moving your mother to Florida, and you are not welcome."
The next week Berg's Fine Fashions had hired her, and soon after she'd bought her precious car. Saving money to rent an apartment wasn't important because she wanted to live with Marcus. He was not enthusiastic. She'd wheedled, "If you don't let me move in with you I'll have to live on the street."
"I doubt a sexy girl like you will have to live on the street. At least not for long. Not in this boom economy."
"I'll pay rent and food, and half the electric bill."
"Two months," he'd finally agreed, and made her pay him all the money she'd had, two hundred thirty eight dollars, in advance.
Now, nearly two years later, she is still living there and he frequently reminds her she owes him. Never once has she denied him sex, so she doesn't feel as if she should have to pay him anything. Besides, he's not nearly as much fun as he used to be. He still gets drunk and high almost every day, but he's gotten stingy and she has to beg him to share.
Two weeks ago he'd asked, "Have you thought about selling that fancy car of yours before it gets repossessed?"
"No, I love my car."
He'd laughed in her face. "Sell the car and you can pay me two thousand of the eleven thousand you owe me."
"I don't owe you eleven thousand dollars!"
"Twenty-two months you've been living here and haven't contributed more than your original token amount. I think five hundred dollars a month is more than generous."
"I don't owe you eleven thousand dollars."
"You'd better think of something before you're carless and homeless." Then he'd gone into the bedroom and slammed the door shut.
Since then Heather has been sleeping on the couch. All Marcus does anymore is glare and snap at her, and three days ago when he'd caught her licking cocaine off a mirror he'd grabbed it away from her and thrown it against the wall.
#
When she was working at Berg's Fine Fashions she couldn't afford all the beautiful things she liked to buy, and even though she knew she should stop she had been unable to force herself to do so. Just the Mustang payment and insurance had been over half of her monthly income. In the two months since being fired she has responded to a couple dozen help-wanted ads — even some that said to not bother applying without a college degree. She's gotten back two responses, both stating her application was one of over a hundred.
Last week she'd gone to Style Exchange and sold as many of her beautiful things as they would buy. Some things still had price tags on them, yet she only received a pittance of what she had charged for them. Marcus took all that money. What didn't sell she'd left in old Berg's Fine Fashions bags in the trunk of her car.
Yesterday she'd called four used car dealers before she found one who was interested – but not without a long diatribe about how the housing bust had ruined the economy and how bad the car industry was suffering. Last evening she'd said to Marcus, "I've decided you're right, I should sell my car."
He'd nodded and said, "I don't have any appointments tomorrow afternoon, so when you get up call me at the office, and I'll go with you to make sure you don't get cheated."
Today when she got up she didn't call Marcus. Whatever of her possessions that were in the Mustang she'd set against the side of the house before taking the last drive in her beloved car.
Now, here she is on the nine bus with a check for $1,767.39. Marcus will take the money and bitch at her but he will be temporarily satisfied. But then what will she have? Maybe she should use part of the check to buy an old station wagon or van she can live in until she finds a job.
When she gets off the bus and is walking the two blocks to Marcus's it starts to rain. Once there she sees the Berg's Fine Fashions bags ripped, and her belongings flung across the yard. If it weren't raining, if she had her car, if she didn't so badly want a fix of something — anything, she would turn around and find a hotel room for the night. Her key unlocks the door handle, but the inside security lock is in place. She bangs on the door. No answer. She bangs louder. Then louder.
Marcus, still in his work suit, martini in hand, finally opens the door. He does not look at her, but stomps back into the living room where he drops onto the couch in front of the coffee table and a pile of cocaine on a dinner plate. "Did you sell your car?"
"Obviously! I had to take the damn bus, and walk two blocks in the rain."
"I told you I wanted to go with you."
"I thought you were just saying that to be nice."
"How much did you get?"
"They told me to come back tomorrow."
"You lying, stupid bitch." Marcus jumps to his feet. "I should have never let you move in, and I certainly should have never let you stay." Shoving her against the wall he shakes her, then grabbing the cocaine plate he storms into the bedroom and slams the door.
Searching the kitchen and living room Heather can't find any drugs, not even a pill under the couch cushions, so she drinks vodka and complains to herself of how shitty her life has become, and how it is all the fault of Paul for not letting her live with mommy, and of Marcus for insisting that she pay him rent.
In the morning, lying on the couch, facing the kitchen, Heather watches Marcus running water into the coffeepot. When he turns, the light slanting through the window makes his skin look saggy and his nose sharp. He bangs the cupboard door then slams the coffee can on the counter. He doesn't turn to look at her.
After he has showered and dressed in a suit he appears before her. "I know you're awake."
Lying on her back, she squints up at him.
"Take whatever amount you got for your Mustang and don't be here when I get home, and don't come back. Today I'm getting a restraining order against you, and if I see you around here again you're going to jail."
"You're an idiot, that's not how the law works."
Quicker than she knew he could move, Marcus comes down on top of her stomach with his left knee and pins her to the couch. Stunned, she gasps. Bracing his left hand on the back of the couch he uses his right hand to grab her hair and yank her head up. Eyes enraged, nostrils bulging, he hisses, "Don't be here when I get home."
#
A little after one in the afternoon Heather gets up, showers, puts on a lot of makeup, a close fitting white dress and high heels that are almost the same champagne color as her bead and sequin purse. Outside she picks her way around mud puddles as she walks out to Powell Boulevard to catch the nine bus into town. First she's going to the bank to cash her check, and then she's going to take herself for supper at her favorite restaurant.
#
At the bank, standing in line, a voice behind her says, "Hi, remember me?"
Turning, she sees a man in his late 30s, wearing an expensive brown blazer, and with silky brown hair pulled back into a ponytail. She says, "I think so."
"My wife got a job in San Francisco and moved away last week." He shrugs. "She said I party too much."
Putting on her best smile she says, "You can never be too much of a partier."
Smiling, he says, "I wanted to go to the store and find you, but I didn't know if you'd be happy to see me."
"I wouldn't have been there."
"Did you find a better job?"
"Your wife fired me."
"Soon to be ex-wife." Still smiling he says, "I hope I didn't have anything to do with you getting fired." Gazing into her eyes, and holding out his hand he says, "My name is Neil."
"I'm Heather." Shaking his hand and gazing into his brown eyes she suddenly becomes overcome with loss and uncertainty.
Gently putting a hand on her arm he asks, "Are you alright?"
"I'll be fine."
After a couple of seconds he asks, "Do you live downtown?"
"No. I came downtown because my boyfriend kicked me out and I had to sell my car, and as soon as I get my check cashed, I'm treating myself to supper at Galeen's."
"Galeen's! I've always heard that's a wonderful place to eat, but I've never been there."
"It's my favorite restaurant."
"What kind of food do they serve?"
"It's sort of nouveau American cuisine."
Neil laughs, "Nouveau American, I've never heard that term, but I know what you mean."
"It's ordinary American ingredients but combined in new ways. Like butternut squash cream sauce with nutmeg over meat loaf made with ground turkey."
"Now I'm really intrigued."
"I think you'd like it."
"Are you meeting someone there?"
"Just me."
"Let me take you, " he says. "I'm starving, and eating alone is —" he gives her his most compassionate smile, "so lonely."
Heather wonders if he's carrying any drugs or if he knows where to get some cocaine. "We can have our own private party."
A teller calls, "Next."
Cashing the check for her car takes a long time but finally the teller gets clearance on the amount. Heather concentrates on the teller counting down the hundred dollar bills and putting them into an envelope, which Heather puts into her purse. When she turns to find Neil he is waiting for her with his charming, sweet smile. He reminds her of Marcus, same height and body shape, and about the same age, but much nicer and, she's sure, much more generous. He has that look about him. Plus, by the way he dresses he has money. Grinning like hopeful lovers they leave the bank.
At Galeen's they are seated in a dim and quiet corner booth. Behind Heather the cushion extends partway up the wall, and leaning back she feels the beginning thrill of a good time.
After they are served water, Neil reaches into his jacket pocket and pulls out a prescription bottle. "Vicodin," he explains and swallows one. "My doctor hands out prescriptions like a street junkie handing out bad checks."
Laughing, Heather says, "Drug companies must be paying big cut backs to doctors for writing prescriptions."
"Definitely." Neil smirks and shrugs, "It's working for me."
"It was for me too for a long time but my ex-boyfriend got greedy, and I got cut off."
Confused at this logic, Neil shakes his head and smiles.
Heather says, "My ex is such a loser. He'd take all my Vicodin, so I'd have to call in early to get my prescription refilled, and after the third time calling in early the doctor said he didn't think I needed any more prescription pain killers."
"Were you in pain?'
"Yes, and I still am."
Holding out his prescription bottle, Neil says, "Would you like one?"
"It would sure help make me feel better."
"Help yourself."
She takes two.
A little later, while they are drinking wine and waiting for supper, Heather feels the warm drowsiness and slight numbness of a narcotic high consuming her.
After a long look, Neil says, "You're too pretty of a girl not to be happy."
It's been a long time since anyone has said she's pretty, or that she should be happy, and Heather feels charmed. Drinking more wine she relaxes a little deeper, smiles a little looser.
The waiter brings their supper.
After a couple minutes Neils says, "Tell me why you're not happy."
Not knowing where to start, Heather hesitates.
"You know you can tell me anything." He replays his best compassionate smile. "Just start at the beginning."
"My life was really good two years ago. I was going to college and I met this woman, Shelley, and she turned me on to all sorts of good things." Because she wants Neil to know what she really likes, she leans forward, raises her eyebrows suggestively and whispers, "Shelley always knew where to get cocaine."
Raising his eyebrows back at her he whispers, "So do I."
Hopeful, Heather constructs her story, "One day I was on campus and tripped and fell, and sprained my ankle really, really bad. When I was at the doctor's office there was this man there, an attorney, and he said he could get me a money award from an insurance company because I had hurt myself while at the college. That was Marcus."
Signaling the waiter, Neil orders another bottle of wine.
Heather says, "He's another person I know who could always get cocaine."
"That's your ex?"
"Onhonh. When we first met, Marcus was more fun than anyone I had ever known." Thinking of some of the things they did she giggles.
"Then what happened?" Neil asks. Reaching for his prescription bottle he shakes out another Vicodin, hands it to her, and refills her wine glass.
Swallowing the pill she up-ends her wine glass. "While I was going to college I was living with my mother and her new husband, but they wanted to move to Florida, and I didn't."
"So you moved in with Marcus?"
Putting her hand on the table and leaning forward, Heather says, "I feel as if we've known each other for years."
Placing his hand warmly over the top of hers and smiling extra sweetly into her eyes, he says, "I feel the same way."
"That's when I went to work at Berg's Fine Fashions. The economy was good then, and I got lots of hours and made great commissions, and I bought myself my dream car."
"That's always my motto." He refills their glasses and makes a toast, "If you want it, you should have it."
"I wish you could have seen my Mustang. It was a beautiful car, spitfire red with black leather interior and a screaming loud stereo. People used to stare at me driving down the road." For a moment Heather gloats in her memories, then she frowns. "Mommy said Marcus only liked me for sex. She and I had a big fight, and now I feel guilty because she was right." Heather flops back in the booth. "If it wasn't for Marcus I wouldn't have had to sell my car."
"Why? Does he think you owe him something?"
"Yes, and it's so unfair. I was always bubbly and sweet, and I never once denied him. So do you think it's fair that he expects me to pay rent?"
"I think it's more than unfair, it's flat out wrong."
"You're so understanding." She drains her wine glass. "I really do feel as if I could tell you anything."
Strokes her hand gently, he leans toward her, almost as if he's going to kiss her, and whispers. "You know you can, don't you?"
"Yes," she stammers, then more confidently, "yes, I do."
After they finish the second bottle of wine Neil asks for the check.
Heather feels as if she is melting into the booth. Smiling and purring she pulls herself to the edge and gets her legs swung to the outside, but when she tries to stand she has to catch herself from pitching forward. Glancing at Neil she thinks she sees, for a split second, his jaw tense in impatience, but of course she's wrong. From the look in his eyes when he smiles at her she knows he has fallen in love.
Neil asks, "Shall I call a cab for you?"
Remembering she has no place to go, Heather's face drops, "I don't have anywhere to go."
"How about if I get a room for the night?"
Still sitting with her legs to the outside Heather starts to hiccup loudly.
Quickly coming and helping her to stand, making sure she doesn't leave her purse, and then supporting her with his arm around her waist Neil walks her outside and leans her against the brick wall of the building. "The Crescendo Hotel is only a block from here." Gently he caresses her face then slides his hand over her shoulder and halfway down her arm. "It's one of the new boutique hotels that are so popular. You would really make me happy if you would let me get you a room for the night."
By pushing herself against the brick wall Heather is able to remain standing but she is unable to walk on her own.
Scratching his scalp, shifting his weight and checking his cell phone, Neil says, "To the Crescendo then."
Heather reaches out her hand.
Half carrying her, Neil gets checked in at the hotel. By the time they get into the room Heather can't stop giggling. First thing she does in the room, same as she always does, is flip the inside security lock. After kicking her shoes across the room she wobbles and stumbles her way to the courtesy bar, and scoops all of the mini booze bottles into the ice bucket. Climbing onto the queen-sized bed she sits cross-legged and flops her purse onto the side table.
Shaking his prescription bottle, Neil asks, "One more?"
"Love to."
He gives her another Vicodin.
Picking up a mini-bottle of vodka she cracks the seal, drinks half with the pill, grimaces, burps, drinks the other half. Giggling, she tosses the empty bottle onto the floor.
Neil sits on the edge of the bed, feet on the floor, and chooses whiskey to sip on. Picking up another mini bottle he cracks the seal and holds it out for Heather, "Here's another vodka."
Three gulps later, she tosses the second empty vodka mini onto the floor.
"How about gin," Neil asks cracking the seal and holding the bottle out to her, "you look like someone sophisticated enough to drink gin."
Liking to think of herself as sophisticated, Heather reaches for the gin. This time it takes her four gulps before she tosses the empty onto the floor. Shapes in the room begin to blur together in a dizzying sensation of red and black. "I thought you were going to get us some cocaine."
"Before we left the restaurant I sent a text message to my contact. She's always really good about getting right back to me."
Heather lets herself fall onto the pillows.
#
Banging on the door wakes Heather. Jerking, she gasps in pain; her head feels like a red-hot boil and her asshole is on fire. She can't figure out where she is or why she's in bed with her dress bunched up around her waist. The banging bounces maniacally in her head and covering her ears she yells, "Stop."
"Security! Open the door," a woman's voice, strong and aggressive, yells.
Looking around she realizes she's alone in some hotel room.
"It's after one-o'clock. You need to vacate this room immediately."
Still confused, Heather manages to push herself up and stumble to the door. Looking curiously at the inside safety lock, she flips it closed before leaning against the wall and saying loudly, "I'll be out in half an hour."
"I'm sorry, miss, but if you're not out in fifteen minutes I am authorized to enter this room."
"I'll stay another day."
"I'm sorry, miss, but the hotel is full for the night."
Turning away from the door and looking around the room she sees the contents of her purse spilled, and she remembers her money. Heart leaping then plummeting into her gut, she frantically searches the room and in the sheets. On her hands and knees she looks under the bed. Her money is gone. In pain and shock she retches loudly and repeatedly, until she is sitting in a puddle of vomit. Finally she recovers and drags herself to the bathroom.
Security resumes banging on the door. "Two minutes then we're coming in."
Heather puts what she has left into her purse, and wearing her gross dress and holding her high heels she opens the door and tries so walk past three security guards — one woman and two men, but they stand in her way even as they gag.
"Come this way," the woman says, "we've got decent guests in the lobby." They take her down the service elevator and deposit her in the alley.
The woman security guard loudly remarks, "Didn't I tell you? Another stupid whore thinking she got herself a sugar daddy."
One of the men says, "She's not even good looking."
"A real dog," the other man says.
In a red, black fog of misery, Heather walks unsteadily. She knows she's not a dog; men are always coming on to her.
#
In the gray, drizzly afternoon Heather tries to remember last night. She was at the bank and there was a man that she maybe knew from somewhere else. She remembers putting the money for her car in her purse, and that they'd gone to Galeen's and he'd ordered a bottle of wine. When she tries to remember what she ate she cannot. He must have spiked her drink. That's all she can think of. If she squeezes her head hard enough she wonders if all the pain will pop out like puss. Slowly walking, sometimes resting against a wall, she makes her way downhill toward the Willamette River.
In her purse she finds her cell phone to call 911. What's she going to tell them? That some man she doesn't remember got her drunk and drugged, and took her to a hotel, whose name and location have already slipped her mind. That he raped and sodomized her. And, honestly, she did have close to two thousand dollars cash on her, and he stole it all. Still, she dials 911. Nothing happens. Two more times she dials before realizing it's dead. Throwing the phone onto the ground Heather watches it break.
She continues downhill knowing that people hover under the Burnside Bridge overpass to keep dry.
At Skidmore Fountain she washes her hands and face and legs then tries to wipe off her dress but it only re-invigorates the vomit smell while the stains remain. Hovering out of the rain are six or seven small groups of homeless people. Some are down and logy lying on cardboard and curled in charity blankets, others are hyped-up, strutting back and forth smoking and flicking lit butts at each other, yelling profanities and spitting. Heather, damp, chilled and hungry, finds an empty space against a cement bridge support, and leaning against it slides down on her left side to cause as little pain as possible. A few of the hypers leer at her, but she's too frightened to flip them the finger or yell. After giving her some verbal abuse they turn their backs.
"Heather?" A husky woman's voice says. "Heather Floyd?
"Huh?" She looks up to see a woman who looks like her school friend, but rougher and older.
"It is you. We were in class together at Portland Community College."
"Psychology?"
The woman laughs loudly then glances around expectantly. "Critical thinking."
"Shelley?"
Squatting next to Heather she says quietly, "Everyone around here knows me as Gloria." Her bright red hair has at least an inch of gray and drab brown roots, and her eye make-up is smeared. She is wearing a low-cut green sweater, tight blue leather skirt and high heels made of black plastic. "My feet are killing me."
"My whole body is killing me."
"How'd you end up here? Weren't you living with your mother? And as I remember, you had a new boy friend who was an attorney."
"My mother's husband kicked me out."
Again glancing around expectantly Gloria laughs loudly. "At least he didn't try and make you have sex with him."
Gloria's foul breath assaults Heather and she draws back.
"Or maybe he did —"
"No."
"That's why he kicked you out."
"Old men are disgusting."
Elbowing Heather, Gloria says, "Depends on how much money they have. Know what I mean?"
"He didn't have enough."
Gloria laughs, looks around. "So you wouldn't fuck mommy's new husband and he kicked you out. What happened then?"
"I had to quit school so I could get a job and pay rent."
"What about that attorney boy friend?"
"I never loved him. I lived with him for a while but all he ever thought about was money."
"As long as he's spending it on you, what do you care?"
"That was the problem, it wasn't me he was spending his money on?"
"What was he spending it on?"
"He was a gambler."
"I had a boyfriend like that. Gambled away every penny he ever made, and tried to get his hands on mine too." Gloria shakes her head in commiseration. "Where'd you get a job at?"
"I was working at Berg's Fine Fashions but because of the recession I got laid off and I can't find another job."
"How long ago was that?"
"Two months ago."
"Where you been living?"
"Until yesterday I was living with Marcus, the attorney, but we got in a big fight and I'm afraid to go back there."
"You don't have a car to sleep in?"
"I sold my car so I would have money to get an apartment, but last night I ran into a man I thought I knew. This morning when I woke up all my money was gone."
Gloria keeps looking beyond Heather; watching for something or someone. "What are you going to do?"
"I don't know." Heather's face contorts in sobs. "What can I do?"
"I know someone who can help you. He helped me."
"What do you mean?"
Gloria reaches a hand over her head and waves. "When I graduated from college I couldn't find a job — this fucking recession caused by greedy ass money bangers and politicians — couldn't pay my student loan, couldn't pay rent and ended up homeless. I tried living on my own on the street but I got robbed, raped and beat."
"Same as me," Heather says.
"You haven't really spent a night on the street yet, have you?"
With frightened eyes Heather stares at Gloria.
"You'll like Daryl. He's strict, but he's not mean like some of the other pimps." Putting one arm around Heather and giving her a quick hug, Gloria says, "Believe me, honey, your only other choice is to try to make it on your own. And you won't be able to." She smiles, "Don't worry, you're sexy and young; you'll do fine."
"But . . . I . . ."
"You don't really have any other choice. Do you?"
Heather knows she doesn't.
Leaning real close, Gloria whispers, "Daryl's got cocaine."
"Do you think he'll give me any?"
"He won't give it to you but you can buy it from him."
"But I just told you, I don't have any money." She starts crying.
"You can make as much as you want; it's just sex. Stupid to give it away for free."
Standing, Gloria reaches down and pulls Heather up. "Here's Daryl now."
"Hello, beautiful," says a middle aged, balding, round-bellied man in tan khaki's and a peach-colored polo shirt. Tilting his head down so that his bald, white pate shows, he stares at Heather over the top of black, thick-framed glasses. "You look as if you could use a new friend and a hot shower."
Afraid to say yes, but comforted by his looking as if he could be someone's dad, Heather vaguely nods.
Gloria takes her hand. "Come on, I'll wash your back."
Daryl asks, "Are these all the clothes and things you have?"
"Yes."
"I've got a red dress that will make you look like hot shit," Gloria says.
"Walk this way," Daryl says and starts to lead. From his pocket a cell phone rings. "Yeah?"
Gloria, letting go of Heather's hand gives her another one-arm hug as they follow Daryl, and whispers. "You're going to be really good at this, I can tell."
Heather overhears Daryl, "I got a newbie here, a young blonde. I think you're going to like her." He looks at the time, turns to examine Heather again over the top of his glasses and then pointedly staring at Gloria he says into the phone, "I'll have her there in an hour-and-a-half."
Gloria nods. A few steps later Gloria whispers to Heather, "If you ask him nice he'll front you a little cocaine to perk you up, and then he'll just subtract it from the money you make from your date."
Thinking about how good she'll feel after a fat snort, Heather lets Gloria guide her after Daryl.
"Daryl rents a couple rooms not far from here. A couple days ago we lost a girl, so there's a free bed."
"But . . . "
"As long as you stick with me, you'll be fine."
"what if . . . I mean . . ."
"What else are you going to do? You try and turn tricks on your own, you'll be lucky to make it through the week without getting beat half to death, or to death."
"I'm not a prostitute."
"Of course you're not." Putting her arm back around Heather but this time giving her a firm shake, Gloria says, "What you are is a survivor, and this is what it takes."
"I'm only going to do this until I find something better."
"Of course."
"Do you really think Daryl will front me some cocaine?"
"I'm positive. Probably not much, but enough to get you to your date, and then when you get back you can buy more. He's always got it."
"Always?"
"Always. What do you think about that? All the cocaine you want, and all the money you want!"

---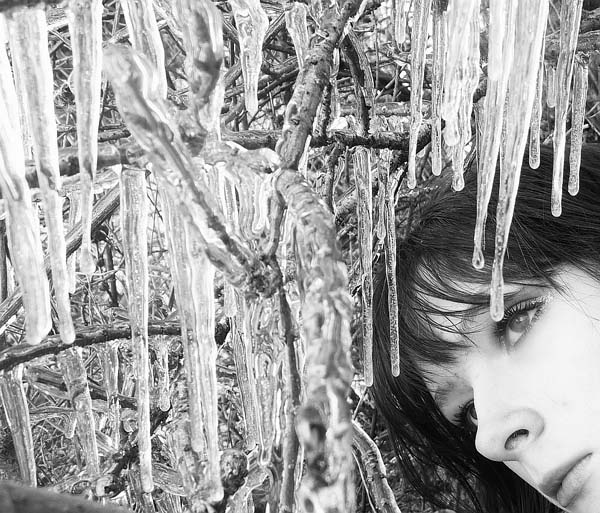 Eleanor Leonne Bennett Bio (20150720)
Eleanor Leonne Bennett is an internationally award winning artist of almost fifty awards. She was the CIWEM Young Environmental Photographer of the Year in 2013. Eleanor's photography has been published in British Vogue and Harper's Bazaar. Her work has been displayed around the world consistently for six years since the age of thirteen. This year (2015) she has done the anthology cover for the incredibly popular Austin International Poetry Festival. She is also featured in Schiffer's "Contemporary Wildlife Art" published this Spring. She is an art editor for multiple international publications.
www.eleanorleonnebennett.zenfolio.com

---


Shepherd Boy
Kiernan O'Connor
Hal held his breath as he zippered his windbreaker. He felt it constrict as he breathed out and bent down to put the leash on Tiki. "Come on, girl. Time for a walk. You want to go to the park?" She was poking her nose at the door, dancing on her tiny paws.
She darted back and forth as Hal plodded out of his cookie-cutter brick and vinyl neighborhood. A breeze flitted the thin wafts of hair atop his head. They turned right onto Mitchell Boulevard for two blocks and crossed the intersection past the imposing brick facade of Olmsted Library. It was almost six, ahead of schedule.
They would climb the oak-lined slope along Ives Park, loop around, and cut through on the way back. For the last decade with Bud, and the one before that with Belle, Hal had taken the same route, twice a day. In the evening, they returned home at precisely 6:18. Dinner was half-past.
Tiki continued her tireless darting up the hill. A lab approached, tugging a young couple and looking for a little friendly sniffy-sniff. Hal, as usual, removed his thick glasses and wiped them with a cloth to appear occupied. The trio passed on.
"I'd really like one that's not too much trouble," he'd tried to explain to the gum-chewing, hoody-wearing girl at the shelter.
"Oh, this one's an angel." She was eyeing a Terrier mix, a straggly female, with shocks of wheat over roots the color of dirty snow. Feisty.
"You see, I've had two dogs the last twenty years. They were both bigger dogs than this. Pretty lazy, if you know what I mean."
"You wanna look at some other ones?"
"I was just hoping you had one like I'm used to."
"Yeah. I know what you mean. Well, we do have some bigger dogs, but I wouldn't say they're lazy." She gazed back at the Terrier. "Her name is Tiki. I mean, you can call her what you want. I call her Tiki."
"As long as she's not too much trouble. You see, my wife - she doesn't really care too much for dogs. But, I've gotten really used to -"
"Tiki's no trouble at all."
Cresting the slope, where Mitchell curved to the right around the back of the park, Hal paused, winded. Across to the left was the entrance to The Preserve, a newer neighborhood of stucco and stone "Estates."
"No, Tiki. Not that way." Tiki did not listen. She wanted to see The Preserve. Insisted. "Tiki, please."
Tiki accelerated. They were well into the thick of The Preserve. As they rounded a curve in the street, Hal spotted a woman in front of a house on the opposite side, about three doors away. They were approaching too fast to turn around. The only hope was Tiki would keep moving past.
Purple, pink and red azalea bushes lined the sidewalk in front of the house across the street from the figure. Tiki found them to her liking, and chose the spot to pause and do some important business.
Hal darted glances up and down the street, but no one else was about. He peeked at the woman. She had wavy, ginger hair. She was on her knees, tidying lantana that sprawled like a thick comforter after a restless night in bed.
She sat back on her haunches and surveyed her work. Her work was jasmine, sage and salvia stretching and softening the harsh edges of sterile suburban landscaping. Cranberry geraniums and lemon daffodils danced and dazzled for attention. All awaited knockout roses not yet in bloom. Her work was an oasis.
She brushed her hair away from her face with the back of her gloved hand, then wiped the partially rolled sleeve of her unbuttoned denim blouse across her brow. She glanced up with a round, pleasant face, and spotting Hal staring at her, smiled.
He bent down to pick up after Tiki, and scurried up the street, eyes straight ahead, a valiant and vain attempt at being nonchalant. Rounding the next corner, he saw an awful site. The street was a cul-de-sac.
He wavered, hoping the redhead would be finished when he came back. But if she was still outside, she might notice how long it had taken him to return. Beads of sweat glistened on his forehead.
Tiki rounded the cul-de-sac and was clipping along on the same side of the street, Hal suddenly realized, as that woman. Apologizing, he pulled Tiki to the other side.
Approaching the house again, Hal breathed a sigh of relief. The woman stretched on a step stool, her back to the street, nurturing an elegant Japanese maple. A black cotton skirt draped hips rounded firmly. Muscular calves flexed under the hemline. Her skin was pale and smooth and freckled, her frame ample and strong, not flabby.
"Hal, do something with that dog, please," his wife said, when he returned. "I'm trying to clean the Shepherd Boy." Barbara was squat and taciturn, meticulously attired in cheap polyester, hunched over at the kitchen table, absorbed in the Hummel figurine before her.
On the wall behind her, shelves brimmed with shepherds, school children, fairies, cats and dogs, policemen. Above the cabinets they crammed into every spare inch. In the living room, milk maids, hobos and farmers hovered above the television cabinet, clung to windowsills and squatted on side tables. In the bedroom closet there were more, and the bathrooms.
"I found a new route for walking Tiki," he said.
"That's nice, dear. Move over a little. You're blocking my light."
***
Hal found his gardener outside every evening that week. He did his best to avoid eye contact. He imagined her joining him on his walks, "Just for a change of pace," she'd say. He'd help her garden while Tiki frolicked. "Aren't you a good girl, Tiki!" she laughed. He gave her a name, "Ginger," for her hair. Ginger always had a treat for Tiki.
Ginger was not out the first time Hal forgot to clean up after Tiki, who maintained an unwavering loyalty to the azalea bushes. He was halfway home, when he felt the bag still in his pocket, and wondered if he should go back. He shuddered at the image of Ginger witnessing such an egregious faux pas.
"Where have you been?" Barbara said. "Susan keeps calling. She's trying to heat up her dinner, and she can't make the microwave work. Put that dog away already, and get over there right now. You don't want her to have a panic attack, do you?"
"I'll take Tiki. Susan wants to meet her."
What he wanted was for his daughter to meet Ginger.
Tiki sniffed at Susan's ankles, bare as usual. He showed her the right way to heat up the frozen dinner in the microwave. She was squat like her mother, but there was nothing taciturn about her.
Her eyes glimmered. "Thank you, Dad! I'm sorry about the microwave."
"That's okay, Susan."
"I like Tiki. I think she likes me. Do you think she likes me, Dad?"
When he left, he paused at the door to his Corolla, and gazed up at Susan's apartment. He hated her living apart, but he knew she was proud of herself. It had been Barbara's idea. "She can't live with us forever, Hal."
Driving home in the dark, he passed The Preserve. Suddenly, he swung into the neighborhood. He drove past Ginger's house and turned around at the cul-de-sac. He parked where he could see into her house. There were lights on.
He imagined spotting an intruder breaking into the house, and just as he was about to attack Ginger, Hal would storm in, with Tiki, to rescue her.
But what about Barbara? She'd still be at home, fiddling with her Hummels, buying and selling online, changing the ones she displayed to match the season, attending collector shows. "I suppose you were parked there, because you needed a rest for that fifteen minute drive from Susan's?"
Better to have the intruder at his house, while Barbara was alone and defenseless. "My wife sent me out to help our daughter, who's mentally retarded. So, I wasn't home when the attack occurred. I called 911 as soon as I came in and saw what happened."
Headlights flashed in his rearview mirror, snapping him out of his reverie. He sped home, horrified at the image of police cars swarming his house, but there were none.
Ginger was outside the second time Hal forgot to pick up after Tiki, and all the way back from the cul-de-sac he fretted whether to pick it up or not. He resolved that he would. When he neared the spot of the crime, he spotted her in the garage, sorting through flowering pots.
There was a perspiration stain on the armpit of her blouse. Dark strands of hair dampened the back of her neck. He forgot about the business under the azalea bush.
"I think I'm ready to sell Shepherd Boy. I could get triple what I paid for him. Can you imagine that? With the condition he's in - he's flawless. Flawless. What's the matter with you?"
"Matter?"
"Haven't you heard a word I said? There's buyers online looking for Shepherd Boy for three times what I paid for him."
"Who?"
"Who? Honest to goodness, sometimes I wonder about you. I really do." But she went back to her online buyers and forgot he was there.
Normally Ginger was not out in the morning, but one day she was, and Tiki yelped hello, to which she looked up and laughed and waved. When he'd passed out of her earshot, he whispered, "Good dog."
The third time he forgot to pick up after Tiki, Ginger was not out, but the owner of the azalea bush was, and as Hal strolled past on the way back, happily observing the progress of Ginger's garden, Mrs. Azalea Bush jumped out of nowhere and accosted him.
"Excuse me! Do you have any consideration at all? Do you think it's okay to have your dog poop anywhere he wants and not clean up after it? I mean, the least you can do is get him to poop somewhere else, but he only seems to poop on my azaleas." She was rail thin and elderly, with a raspy edge to her voice that made Hal blink and stutter. "I see you here all the time, you know that? I don't even think you live here."
He tried to answer, but she disappeared before he got the chance.
Later, Hal wanted to go back and tell her that Tiki was a girl, and that azaleas should be planted around the front of your house, not along the sidewalk. He didn't know if that was true or not, but it sounded like something Ginger would say in his defense, as she calmed Tiki down with a treat.
***
That Saturday, Barbara announced that she'd found a buyer for Shepherd Boy. "She lives right down the street. Can you believe it? She's coming over here tonight to look at it. I know she'll love it."
"Uh huh." Hal looked at the clock. That morning Ginger had smiled at him again, and the sun behind her had caught her hair and set it ablaze over her round, strong shoulders and pale, glistening neck.
He went to the nursery where Ginger shopped. He walked up and down the aisles of soil, spotting the familiar bags that she used. "Can I help you?" someone asked, but Hal shook his head without looking.
A woman with a large hat and what appeared to be red hair came down one of the aisles of soil. Hal spun his back to her. Ginger might be just on the other side of two pallets worth of dirt, ten feet at the most.
He took a deep breath and looked back, but whoever it was had left. He imagined himself hearing a noise behind him. He would turn around, and there she'd be, about to walk right by him. His turn caught her attention, and recognizing him, she slowed to a near-stop, and half-turning, said, "Oh, hello there."
He'd never heard her voice before. It sounded soft and rich, like butter with bits of crispy bacon. "I almost didn't recognize you without that cute, little dog of yours." She glanced down at the space where Tiki should have been.
"My constant companion," he said, startling himself.
"Well, you could do a lot worse. Take care." She gave him a little wave, and strode off.
Then there really was a noise behind him, and Hal jumped, but it was only one of the nursery employees.
"Hal, I do not want that dog around when my buyer comes. Hal, did you hear what I said? If you see a car out front when you come back from your walk, do not come in."
That evening, the air was soft and clean. Smoke from a grill wafted over a fence. The sky was brilliant and open. It was an evening for romance - the sort of evening in which Ginger would invite Susan over, and let Tiki play out front while Hal fired up the grill.
Ginger would be outside, expecting him.
Tiki seemed to understand her task. She dutifully went about her business at the azalea bushes, and Ginger looked up to wave and smile. Tonight, on the way back from the cul-de-sac, Hal would stick to Ginger's side of the street, and say hello to her. They would introduce themselves.
He felt the tug of Tiki's leash, that let him know she was finished and ready to move on. "Hold on, let me clean up after you. We don't want anyone getting upset with us, now do we?"
He reached into his pocket and felt...nothing. He'd forgotten to bring a bag! He looked up at Mrs. Azalea Bush's house, to see if anyone was home, but he couldn't tell.
His legs froze, but Tiki knew what to do. She headed for Ginger. Hal followed, as if caught in an undertow.
"I'm sorry to bother you," he said. "You wouldn't happen to have a plastic bag I could use." His heart raced and his lips felt numb. "My dog...I forgot..." he looked at the azalea bushes, by way of explanation.
Ginger uncoiled and stood, following his gaze. "Ah!" she said. "Oh, certainly. That's very thoughtful of you. Sure, just give me a moment."
She smelled like soft dirt and cool sweat and faded cotton. "Good dog," Hal said, as Ginger ducked into her garden shed garage.
"Will this work?"
"That's perfect. Thank you."
"Sure, no problem. You don't want to leave a mess in that woman's yard," she added, nodding her head toward Mrs. Azalea Bush. She leaned in to Hal and scrunched her face. "She can be a bit neurotic, if you know what I mean."
"Yes, I think I know what you mean." Then for a brief moment Hal was looking right into Ginger's eyes, bright and blue like the sky. He felt dizzy.
"Well, lucky for me, I'm allergic to dogs, so I don't have to worry about that. But hey, anytime you forget your bag, there's plenty in my garage, just help yourself."
Hal staggered home. Allergic to dogs! How could this be? "What are we going to do?" he kept repeating to Tiki.
He strode past the car parked in the driveway. Allergic to dogs - it just can't be. He took his shoes off in the hallway and hung up the leash.
He picked up Tiki. "It's got to be a joke." He heard voices coming from the kitchen. "It's just her sense of humor, that's all."
"How pathetic," Barbara's voice said. "Just so he can ogle your neighbor?"
"A big whale if you ask me," a raspy edged voice replied. "Always out front gardening. He just stares at her, and leaves his little dog's mess on my azalea bushes."
"Hal! I didn't expect you back here so soon. This is my - "
Mrs. Azalea Bush shot out of her chair, confusion upsetting her taut face. "This is your husband? That's your dog?"
Barbara glared back and forth with clenched jaw at the woman and Hal. She put Shepherd Boy on the kitchen table between them and pointed at Tiki. "That's not my dog," she corrected. "Hal, is this true, what she says?"
"I really didn't mean to. It wasn't on purpose. What do you take me for?"
"Not the damn dog, you idiot! The woman!"
"Look, I'm very sorry for all this, but I think it's best if I just leave now." Mrs. Azalea Bush tilted her chin up as if her dignity were balanced on her head, and fled.
"Give me one good reason why I shouldn't believe what that woman said."
Hal set Tiki down. "Her name is Ginger, and she's allergic to dogs."
The pitch of Barbara's voice set Tiki on edge. "How in the world would you know that? I swear, you are every bit as retarded as your daughter. Get away from me, you damn dog!" She flung her limbs as Tiki snapped at her ankles.
When Shepherd Boy shattered on the floor, Tiki shot like a flash into Hal's arms. He turned and walked away. "She told me herself," he said, but his wife couldn't hear him.

---
Table for Two
Raphael Bastek
Should've anticipated a bad day the moment he nicked himself shaving but he had only been clotting the blood for a few seconds when he heard his younger brother crying down the hall; now it all collapses like a scornful child kicking over the dominos. Pointing to a wood-etched image of a gothic symbol of Death, complete with scythe and every other trope from the mythos, the younger brother sobs, "I don't want him to take me, I don't want—" and the older brother still padding his own neck hoists his sibling up under his other arm, carrying him to the window.
"Look here, out into the stars. No one is coming; Death is the tiny dot you can't see, it's the television network satellite that turns your brain to rubber from a thousand miles away. You will never see the blade fall," he whispers hurriedly, the sibling staring glossy-eyed. They wrestle playfully—I'm getting too old for this! amidst jubilant laughter—before the big brother leaves, the book of Death and other folklore shelved and soon forgotten.
Just as a hand needs to be burned before it'll learn to avoid the stove, the young sibling assuredly finds his way to the lounge, a throne of blankets and pillows soon erected before an electronic altar.
He never believed in the appetite of electricity until he tumbled headfirst into the maw of his television.
Serrated teeth of static hooked into the vulnerable flesh of his frontal lobe—sinking in, tearing, and releasing, the ceaseless gnawing of gray matter, chewed in tandem with the pulse of white noise—until he finally passed beyond the mandible, gliding over the cathode-blanketed tongue of daytime programming, plunging beyond the gullet and into a Technicolor gut that neighbors this century's heart of darkness.
Salvation sounds like a door bursting open when an older brother forgets their wallet on the kitchen counter, but sometimes the volume is too loud to hear what's important. Brief parting words of Fix The Damn TV Because It's Acting Up Again are lost amidst the buzz of monochromatic gnats, their Gaussian hum of static indicative of a broken signal.
There the sibling sat, counting pixels on the walls, his senses continuing to consume the senseless. Like the excerpts from siren songs, concertos caught between the passing of channels, theme songs to hum when distracted at school. Like the digital images reminding the child of a faint memory as the walls of the stomach around him buckle from the sting of indigestion—firing synapses were an unexpected spice in the entrée. The channels may change but the pattern stays the same.
When the older brother or parent or other caretaker eventually arrives, they may take a moment to grace the child's throne, seeking a similar refuge. Sadly, they all realize that they've seen this episode before.
At least dinner is served.

---
Excuses for Skipping Work
Janet Kuypers
3/6/16

With our insane work schedule
and how you could never miss a deadline,
I never took sick days off.
But one time
I decided I wanted
to go out with the guys,
there was a lull at work one week
and I decided to pick a day to go out
where I could take the next day off —
I had to make sure
it looked like I wasn't
taking a day off
for a long weekend,
so it couldn't be a Monday or a Friday.
I thought for a second —
hey,
let's go out on a Tuesday night
and I'll just take a sick day Wednesday.
No one will think
I was playing hooky
by calling in sick
in the middle of the week.

So Tuesday night came,
and we went out,
drank a ton,
and at one point
I was walking down the street
with my arms over the shoulders
of two men,
and we were walking in stride,
laughing.
But I think one of the guys
stepped in my path,
so my right foot landed on his,
and it twisted my ankle
and down I went.

My guy friend saw me,
turned around and sat down,
saying,
"Okay, this is a good place to sit down."
But no,
he didn't understand,
I was actually in pain,
it was like I had fallen
and I couldn't get up.

These guys were my neighbors,
so we went home
and they helped me to my apartment door.
Fifteen minutes later
I had to call my neighbors
(who had my key)
and asked someone to get ice for my ankle.
When my neighbor came over,
he swore my ankle
was swollen with a welt
the size of a baseball.

Good thing
I happened to have gauze
and crutches.

Because yeah,
I took that next day off,
I couldn't really walk,
and I hobbled into work Thursday.
My supervisor came into my office.
"I thought you were just
playing hooky yesterday,"
he said.
"Well,
obviously I wasn't,"
I said,
and although I had a sprained ankle,
it was like no one knew the wiser.

And like I was one of the boys,
it was cool to have so much fun,
on schedule for us,
on a Tuesday night.

---
Jumping from
the Mausoleum
Janet Kuypers
3/10/16

When I was young
I sang at our church,
and as a female teen
I was a little peeved
that I could never
become a priest.

But as a teenager
with nothing to do,
one night
me and a few friends
went to the local cemetery
once it got dark, brought along
a couple of white sheets.

Now, this was
a small cemetery
in a small town,
it didn't have
high fences or gates.

So, we just walked
into the graveyard at night,
and we waited
by the mausoleum
until we saw a car
coming down the long road
from a distance.

That's when
I'd get on the roof,
throw a sheet over my body,
and when the car
would get closer,
just as it was making
a turn near the cemetery,
that's when I'd jump
to the ground
in the darkness.

My arms were out;
I was covered
with a white sheet.

And we'd laugh,
wondering if they thought
they'd seen a ghost.

I mean,
this is what
we'd do for fun,
teenagers with nothing to do
in the middle of nowhere.

But my dad
heard what happened,
and he asked me
the next morning
if I knew anything
about what happened
at the cemetery the night before.
I don't even remember
what I answered,
but as far as I know,
we weren't doing
anything illegal,
no one was hurt...

And it's still kind of funny
to imagine
how those drivers reacted,
wondering what they saw
when they were driving
down a lonely road
by a cemetery;

did the think
they saw a spirit.

Ah well,
the church didn't want
a female priest.
I suppose
it's for the best
that the church
wasn't suited for me.
I had more fun
making people
look toward the dead
and question what they see.

Janet Kuypers has a Communications degree in News/Editorial Journalism (starting in computer science engineering studies) from the UIUC. She had the equivalent of a minor in photography and specialized in creative writing. A portrait photographer for years in the early 1990s, she was also an acquaintance rape workshop facilitator, and she started her publishing career as an editor of two literary magazines. Later she was an art director, webmaster and photographer for a few magazines for a publishing company in Chicago, and this Journalism major was even the final featured poetry performer of 15 poets with a 10 minute feature at the 2006 Society of Professional Journalism Expo's Chicago Poetry Showcase. This certified minister was even the officiant of a wedding in 2006.
She sang with acoustic bands "Mom's Favorite Vase", "Weeds and Flowers" and "the Second Axing", and does music sampling. Kuypers is published in books, magazines and on the internet around 9,300 times for writing, and over 17,800 times for art work in her professional career, and has been profiled in such magazines as Nation and Discover U, won the award for a Poetry Ambassador and was nominated as Poet of the Year for 2006 by the International Society of Poets. She has also been highlighted on radio stations, including WEFT (90.1FM), WLUW (88.7FM), WSUM (91.7FM), WZRD (88.3FM), WLS (8900AM), the internet radio stations ArtistFirst dot com, chicagopoetry.com's Poetry World Radio and Scars Internet Radio (SIR), and was even shortly on Q101 FM radio. She has also appeared on television for poetry in Nashville (in 1997), Chicago (in 1997), and northern Illinois (in a few appearances on the show for the Lake County Poets Society in 2006). Kuypers was also interviewed on her art work on Urbana's WCIA channel 3 10 o'clock news.
She turned her writing into performance art on her own and with musical groups like Pointless Orchestra, 5D/5D, The DMJ Art Connection, Order From Chaos, Peter Bartels, Jake and Haystack, the Bastard Trio, and the JoAnne Pow!ers Trio, and starting in 2005 Kuypers ran a monthly iPodCast of her work, as well mixed JK Radio — an Internet radio station — into Scars Internet Radio (both radio stations on the Internet air 2005-2009). She even managed the Chaotic Radio show (an hour long Internet radio show 1.5 years, 2006-2007) through BZoO.org and chaoticarts.org. She has performed spoken word and music across the country - in the spring of 1998 she embarked on her first national poetry tour, with featured performances, among other venues, at the Albuquerque Spoken Word Festival during the National Poetry Slam; her bands have had concerts in Chicago and in Alaska; in 2003 she hosted and performed at a weekly poetry and music open mike (called Sing Your Life), and from 2002 through 2005 was a featured performance artist, doing quarterly performance art shows with readings, music and images.
Since 2010 Kuypers also hosts the Chicago poetry open mic at the Café Gallery, while also broadcasting the Cafés weekly feature podcasts (and where she sometimes also performs impromptu mini-features of poetry or short stories or songs, in addition to other shows she performs live in the Chicago area).
In addition to being published with Bernadette Miller in the short story collection book Domestic Blisters, as well as in a book of poetry turned to prose with Eric Bonholtzer in the book Duality, Kuypers has had many books of her own published: Hope Chest in the Attic, The Window, Close Cover Before Striking, (woman.) (spiral bound), Autumn Reason (novel in letter form), the Average Guy's Guide (to Feminism), Contents Under Pressure, etc., and eventually The Key To Believing (2002 650 page novel), Changing Gears (travel journals around the United States), The Other Side (European travel book), the three collection books from 2004: Oeuvre (poetry), Exaro Versus (prose) and L'arte (art), The Boss Lady's Editorials, The Boss Lady's Editorials (2005 Expanded Edition), Seeing Things Differently, Change/Rearrange, Death Comes in Threes, Moving Performances, Six Eleven, Live at Cafe Aloha, Dreams, Rough Mixes, The Entropy Project, The Other Side (2006 edition), Stop., Sing Your Life, the hardcover art book (with an editorial) in cc&d v165.25, the Kuypers edition of Writings to Honour & Cherish, The Kuypers Edition: Blister and Burn, S&M, cc&d v170.5, cc&d v171.5: Living in Chaos, Tick Tock, cc&d v1273.22: Silent Screams, Taking It All In, It All Comes Down, Rising to the Surface, Galapagos, Chapter 38 (v1 and volume 1), Chapter 38 (v2 and Volume 2), Chapter 38 v3, Finally: Literature for the Snotty and Elite (Volume 1, Volume 2 and part 1 of a 3 part set), A Wake-Up Call From Tradition (part 2 of a 3 part set), (recovery), Dark Matter: the mind of Janet Kuypers , Evolution, Adolph Hitler, O .J. Simpson and U.S. Politics, the one thing the government still has no control over, (tweet), Get Your Buzz On, Janet & Jean Together, po•em, Taking Poetry to the Streets, the Cana-Dixie Chi-town Union, the Written Word, Dual, Prepare Her for This, uncorrect, Living in a Big World (color interior book with art and with "Seeing a Psychiatrist"), Pulled the Trigger (part 3 of a 3 part set), Venture to the Unknown (select writings with extensive color NASA/Huubble Space Telescope images), Janet Kuypers: Enriched, She's an Open Book, "40", Sexism and Other Stories, the Stories of Women, Prominent Pen (Kuypers edition), Elemental, the paperback book of the 2012 Datebook (which was also released as a spiral-bound cc&d ISSN# 2012 little spiral datebook, , Chaotic Elements, and Fusion, the (select) death poetry book Stabity Stabity Stab Stab Stab, the 2012 art book a Picture's Worth 1,000 words (available with both b&w interior pages and full color interior pages, the shutterfly ISSN# cc& hardcover art book life, in color, Post-Apocalyptic, Burn Through Me, Under the Sea (photo book), the Periodic Table of Poetry, a year long Journey, Bon Voyage!, and the mini books Part of my Pain, Let me See you Stripped, Say Nothing, Give me the News, when you Dream tonight, Rape, Sexism, Life & Death (with some Slovak poetry translations), Twitterati, and 100 Haikus, that coincided with the June 2014 release of the two poetry collection books Partial Nudity and Revealed.

---

this page was downloaded to your computer