---


Janet Kuypers via

(& twitter) 20180413





I heard from Jerry Pendergast in Chicago that I am missing some character-building weather right now. But I *had* my share of character-building weather at the Southern Ocean last Thanksgiving - and for those who would like to see what the travels were like, Scars Publications just posted late last night images from travels on Zodiaks (i.e. IBRBs, itty bitty rubber boats) to and from Danco Harbor in Antarctica 11/20/18. Now you can enjoy breath-taking views of glaciers and icebergs from the 7th continent - all from your smartphone, tablet or computer.

http://scars.tv/.../traveling20171120to-and-from-Da.../index.htm

#danco #dancoharbor #Antarctica #janetkuypers #scarspublications
---


Janet Kuypers
20180413, via twitter




Retweeted jaideep khanduja (@PebbleInWaters):

Janet Kuypers A Marathon Interview With @janetkuypers Chicago poet Janet Kuypers is a...

http://t.co/xaMgqwRJe1 #PebbleInTheStillWaters
---

Janet Kuypers For people who submit writing to cc&d magazine or Down in the Dirt magazine, this interview includes a complete explanation of what we do when we accept writing before even sending writers their acceptance letter. There is a lot of good info in there for people who submit writing to those literary magazines, and you can check it out any time for free online.

Here is also a link to an expanded version of this 2/14/18 interview (with many more links to book and CD releases), but both contain all the information for the process with the accepted submissions to our literary magazines (all those details start at the paragraph with "When I accept a piece of writing").

20180413
---

Janet Kuypers updated her cover photo. 20180412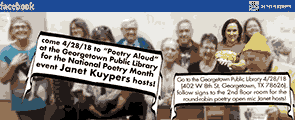 Come to the ONLY "Poetry Aloud" Georgetown open mic during National Poetry Month in 2018! I am honored to guest-host the "Poetry Aloud" Georgetown open mic on Saturday, April 28th, 2018 (4/28/18) from 12:30-2:30 PM in a room on the 2nd floor of the Georgetown Public Library - follow signs in the library to join us for round-robin poetry as the perfect cap to National Poetry Month this year!
---


Janet Kuypers
20180412, via twitter




@JanetKuypers' "July 2017 Book Released Reading" at Half Price Books 7/5/17 now has an artvilla video page w/ poem links! Read different poems, then see bookstore reading videos of Scars' "Salvaging America", "On the Rocks", "the Chosen Few" & "Revealed"!

https://www.artvilla.com/janet-kuypers-july-2017-book-rele.../
---
---
---
---
---
See the top of this listing for expanded facebook listings.