---
Red
Amber Shoemake-Doughty
Michael saw red.
A metallic taste rested on his tongue, a taste that was all too familiar. He sat on the edge of the freshly made bed, staring at his hands. His fingers danced on the tips of his knees, mirroring the movement of the weeping willow outside his motel window.
"Not again," he muttered, playing with the stickiness of the substance that covered his body. "No, not again."
Michael sobbed and laughed. His body was light and free.
And red.
All red.
As he stood up a chill filled the room. He walked to the bathroom and gazed into his reflection. "Ugly," he said, voice shaking.
Then he laughed.
He brought one hand, one red hand up to his face. Very deliberately, he rubbed the color all over, starting from the center of his forehead tracing all the way down to his chin. He was sure to leave no spot uncovered. This red face mask was what he was craving. A heat came over him, making his body move from side to side. He looked back up, his teeth bringing a white light to his face. "Better." The weeping willow swayed contently in the wind.
Michael's hands were warm and coated. A wave of heat came over him.
A knock at the door turned his smile into a scowl. He stood up and glanced toward the entryway. He walked to the door, leaving behind a perfect red stain on the ugly white sink.
"Michael Thomas? It's the police. We are here to help you." The man's voice was like static. "Open up. We won't hurt you."
Michael looked at the sliding door behind him. He backed up, each step taken with extra care. Not a single noise was made as his bare feet lifted on and off the ground. A red droplet slid down his arm to the edge of his finger. With one last step, the droplet met the carpet.
"Okay Michael, if you won't let us in I'm afraid we are going to have to come in by force. This is for your own safety."
Michael's heart race increased and a bead of sweat rolled down his head, leaving a pale streak where the red was painted. He turned to the sliding glass door and began to run, only to be stopped in his tracks by the gentleman from the front desk who helped him get his room. "Traitor," he whispered.
As the men in white suits approached, the weeping willow outside sat still. They grabbed Michael, covering their hideous white suits in the beautiful, wet red color.
Michael laughed.
They saw it too.
They saw red.

---

---


Haiku (away)
Denny E. Marshall
as moon slowly drifts
away from earths orbit grip
promise slips away

---
Rays
Denny E. Marshall
If I could take
The planet Jupiter
Change it into
A sphere of water
Then swim through it
From end to end
It would still not be
As deep as her
Riding the circumference
Of a heart beyond measure
I am not able
To get all around her
Waves keep splashing
Clear to the sun
Shining brilliantly
Never fading inside
Even that far out
Still with light so deep
1st Published Abandoned Tower 2010

---
A Finch at the Window
Liz Betz
The phone rings and Dora's irritation rises like heartburn. She just knows it will be Old Gal with today's issue, or as Dora privately calls it -the bane with the drain. The drain began the minute her and Freddie moved their prefab house into his parent's farmyard. Even now, her mother-in-law, an elderly widow, insists on living out here when a move into town would provide her with company and things to do. She'd rather be their constant problem.
Freddie is in the house so Dora answers the phone pleasantly. He can't see her clenched lips as she stands in front of the kitchen window. But the view reminds her of how little privacy they have. No window treatment or dangling decoration is able to obscure her view of the main farm house. Her only relief is to drive out of the yard, away from Old Gal's surveillance. She's always worked off farm for the paycheck, but also so she didn't go bonkers. Although right now Dora is between jobs.
"Someone has to deal with this bird." Old Gal said as her greeting. "It has been trying to get through the window, all day long."
Her mother-in-law frets over nothing, but Dora assures Old Gal that they will be over. Freddie has given himself the afternoon off from spraying the last field of grain, so he has no excuse, this time.
The walk between the houses is a couple of hundred yards, but it seems to Dora that the journey comes from a shameful back corner to the main attraction. Old Gal's tulip beds are splendid with Darwin hybrids and Triumphs; ready for the green thumbs and their tours. Each year when the horticulture group arrives, Dora suffers a little more. Her landscaping is one lilac bush. Her shabby house is likewise humbled by her mother-in-law's perfectly maintained porches, shutters, a gingerbread trim and 100 year-old gracefulness.
As Dora tells Freddie about his mother's bird, only his expression prevents her fury from spilling out. Freddie thinks there are no concerns with his mother's continuing presence, but there's a disaster waiting to happen. The longer Old Gal is out here, the more likely she's going to fall and break a hip. Or slip in the tub. Or eat something that's she's left out on the counter too long. Freddie thinks his mother is doing just fine, but a month ago, Old Gal wanted to hire a housekeeper. And Freddie said they certainly could afford it, and if that made her happy, then okay.
Dora wanted to scream; her ideas never get his okay, even when she contributed a paycheck. She bit back her feelings and instead made an offer that came out of her mouth like magic. She could place the want ads, interview candidates and negotiate salaries. The look of gratitude on Freddie's face was like a rain on her parched soul. He hadn't called her his clever little wife in a long time but it is still true. Isn't she as sweet as pie to help Old Gal? If Freddie knew how many times she's been the daughter-in-law on call, he'd put her on a pedestal and bow down in front of her. Even express some appreciation. She didn't need a pedestal. Just a word of thanks.
More often his are words of rebuke. He'd been absolutely no comfort for her when she lost her job. She didn't ask to be fired; in fact the firing is totally unjustified. But the way her idea of a union review is flatly vetoed proved Freddie didn't believe what she said happened.
Same thing, he doesn't believe it is hard to find a housekeeper, so when he asks about her progress; she tells him that she found someone. To get him off her back. It isn't a lie exactly; someone could be hired in the next few days. Then Dora got the flu. She was too sick to hire anyone, had there been anyone to interview. Of course, ever the watchdog, Freddie asks about the new housekeeper's salary. Who should he make the check out to, and how much is it? Frick. That is the place to come clean, but Dora isn't that stupid. She doesn't need his inevitable lectures. She told Freddie the housekeeper wants cash payment, which she will deliver. Slick.
It is the easiest $200 that she ever got out of Freddie. It is hers. Most of it went for odds and ends, but she did buy an upright steamer. And then hid it, because if she used it, Freddie would wonder where she got the money to buy it. But she has a plan for that. She will post it on Facebook from a second phony account and buy it from herself for dirt cheap.
She can't help but think of herself as clever little Dora, in the fresh spring air on a little stroll with Freddie, across to his mother's place. She shuffles her feet through the cotton fluff shed from the poplars, then bends down to grab a handful and throws it in the air as though she were a girl again.
"You'll track dirt into Mom's house." Freddie says, with the briefest of glances in Dora's direction.
Dora would stick out her tongue, but is stopped in her tracks. Oh shit. Dirt. No housekeeper equals dirt.
"Speaking of dirt, I'm not sure the housekeeper came to work last Thursday." It's not a perfect story, but she's flying by the seat of her pants.
"Mom will know." Freddie veers slightly to avoid a puddle.
His mother's forgetfulness is on her lips until she notices his hard face. "I wonder what this bird thing is all about," she said.
"We'll find out. Won't we?"
They enter Old Gal's house and she calls them over to the window and the bird that flutters against it.
"It's been doing this for hours now. Up and down, up and down. The noise. Scratching and pecking."
Old Gal looks distressed. The rattle of a speckled bellied bird's beak and feet along the window pane is harsh. The creature balances briefly on the window frame, flutters against the glass barrier only to rest again on the sill.
Dora taps on the interior side of the glass but the bird, intent on its mission, continues. There must be insects, but even with her best squint she cannot see any. The Old Gal waves her hand towards the window to frighten the bird away.
Freddie opens the large envelope that he brought, and pulls out a black hawk silhouette. One thing about Steady Freddie, no matter the situation, he has a plan. He applies tape and soon the cutout is in the window.
"I can't say I'm impressed with your housekeeper, Mom." Freddie pulls his finger along the windowsill. "This is not only dusty, it's gummy."
Dora nods to Freddie's judgement. "I'll make the housekeeper a list of duties. Like we had at the hospital, everything got cleaned by a schedule."
Freddie looks about to ridicule Dora's work at the hospital. Perhaps ask her again, how someone so competent got canned. So what if he did? She could take that. At least, he'd be diverted from quizzing Old Gal and discovering the fib. She shoots her mother-in-law a warning look. Freddie is looking around now. Pretty soon he'll be in full inspection mode. Good thing he doesn't have Dora's keen nose; that smell is either a dead mouse or a rotten potato.
"I think we should have tea. Then we can see whether the bird comes back. What a clever idea to put the hawk cut out in the window, Freddie." Dora's words come quickly.
Tea is a good idea. Freddie can visit, as he should more often, instead of expecting she do it all. Next thing will be to keep Old Gal quiet. But she might not say anything. Their talk about the housekeeper seems to have her confused. Which means that Dora can bamboozle Old Gal, and Freddie will be diverted if she implies that his mother is forgetful or crazy. Neither of them will know the truth. Unless. Freddie demands to meet the housekeeper. Well, Dora will say she's fired her. If he trusts her to hire, then surely it is reasonable that she can fire.
In the meantime, Old Gal begins her struggle to the kitchen. She's barefoot, something that Dora might not have noticed, but her toenails click as they hit the floor. She shudders at the sight of Old Gal's hammer toes and white, ugly bunions; she'd never go barefoot if her feet were so ugly. Freddie walks slowly with his mother, his hand on her elbow to steady her.
In the kitchen, Dora follows instructions about tea and treats. Soon the tea brews in Old Gal's everyday pot, the one with the chip in the lid, not something better from her collection. Dora captions the moment as 'the frumpy old queen serves tea to her subjects who must behave in her regal presence'. The musty smell of rose petals, Old Gal's signature perfume assaults everyone.
Dora lifts her cup. A tea visit is so much better than being asked over for a meal of Old Gal's famous heavy gravy and pork chop casserole. Some of Dora's worst stomachaches have started right at this table. She politely helps herself to two biscuits.
"Remember how your dad always talked about the bluebird of happiness." There is a wistful tone in Old Gal's words, a hope in her face.
"Yes, he did." Freddie says.
"You used to think that if bluebirds were about happiness, then maybe every bird had a thing. Like crows could be hunger, or Canada Geese were patriotic."
"I was a kid. What can you expect?"
"The bird reference was more about the flightiness and quickness of happiness."
Oh God. One of Old Gal's rambles but at least Freddie is talking and not treating his mother like another chore.
"What do you think the finch is about?" Dora asks. Both Freddie and his mother look at her. "The bird that's been coming to your window. It's a female purple finch."
"How do you know that?" Freddie never takes her word for anything.
"Didn't you see the male waiting for her? You can't mistake him for anything else." Dora might not know tulips, but she knows her birds. She continues. "So what do you think the Finch symbolizes? I only know the species; you have the special language about birds. Legends or old sayings or whatever you call it."
Dora focuses on Old Gal's face but can hear her husband's sigh that speaks of the tiresome burden of female conversation. She bites the biscuit and a cornstarch taste fills her mouth.
"The finch has made the wrong connections." Freddie says, another snide bait Dora wills herself to ignore.
"I think I know what Dora means," Old Gal says. "Let's just wait and see what the message of the finch is. The day will show us."
Dora rolls her eyes. Now Old Gal thinks she's a fortune-teller. So predict this – when will you leave the farm? Dora has often thought they would move into this house and then rent theirs out to a college student; or as a starter home for a nice young couple. It will be easy income and a bit of life in the farmyard, instead of this old woman, getting closer to death each day and needing more favors all the time.
Dora pulls herself back from her daydream resolutions to the irritations she endures. She has to monitor this conversation. But it seems the visit is almost over as Freddie refuses more tea and he rises.
"I hope that bird doesn't come back, Mom, but it won't break your window."
Perhaps that is what the Old Gal feared, or she's just pleased to have tea with someone, because she seems content to let her hard working son return to his day. Dora too, has a genuine smile, as she rises to leave with her husband. Freddie dips to brush his mother's cheek with his lips. In the entryway, as Freddie puts on his shoes, he speaks quietly to Dora.
"Do me a favor?"
"Of course."
"Could you do something with Mom's toenails? I'm sure she'd appreciate a little help with them. Plus, find out if she has lost her slippers or needs some new ones."
Dora swallows. "I guess. If she'll let me, that is."
"Give it a try, anyway. Thanks."
Fred leaves and Dora helps Old Gal return to her window seat. It isn't long before the bird flutters against the window. Dora points out the second bird, definitely the rosy colored male partner.
"He isn't really purple." Old Gal said, "More like he's been dipped in raspberry juice."
They watch through the window as if it were a new television program. The male seems to wait patiently for his mate to come away from her human encounter. The female finch has a bit of nesting material in her beak. She is prepared to build.
Dora too, makes preparations, while she engages in friendly chitchat. She fetches the basin close to the chair. Then she finds something for Old Gal to read and puts on soft music in the background. All the while she flatters her mother-in-law in ways that suggest a good heart.
"Pedicures are so relaxing. You will enjoy it."
People forget her generous side. She deserves some appreciation and respect. Her dismissal, still the raw hurt in her life, comes to mind and her mouth twists. Under a hospital management microscope she is judged disposable. The others had networked and developed alliances. Connections she could have had too, if she weren't looking after Old Gal. Simply put, she is singled out because they know they can get away with it.
Her thoughts churn as she helps Old Gal get her feet into the basin. The finch returns to rattle at the window. Even the bird is out to irk her. It perches not two inches from the hawk cut-out, where it flutters up and down the window, able to see inside but unable to penetrate the glass.
"Take that down. Would you? " Old Gal points to the predator silhouette. "It spoils my view."
"I thought you want the bird to go away."
"It's not working. And now there is tape glue to clean off the window." The old woman's voice hardens. "Something else that'll have to wait for the housekeeper."
Dora's throat closes out any air. Stumped for a cold moment, Dora finally turns the tables. Old Gal is the queen of manipulation. Today her little scheme involved the finch and within that lies her defense. If Freddie becomes aware of Dora's lie than she'll point out how Old Gal uses anything, even a bird to make them dance to her tune. 'Is that totally honest?' She imagines asking Freddie. This hastily prepared justification soothes her breath, while to bolster her position she will wow both Old Gal and Freddie with an outstanding, praise worthy pedicure.
She begins to wash Old Gal's feet, as water splashes onto the floor. Dora brings her extra towel into play, a shining example of efficiency. That's what she did on the job too, but they saw only her failures. Her efficiencies, they call shortcuts. Her delegation of duties, they call shirking. It isn't true. She's better than that. Like here on the farm with Old Gal, she is the one that arranged for a housekeeper. And her self-praise squelches the inconsequential lie that a moment ago seemed close to exposure. That is behind her. She'll tell Freddie that she fired the housekeeper and is taking the job over herself. Old Gal won't say a word; she needs to keep her mouth shut, if she expects to keep living here. She'll need them even more in the future. Dora is about to say just that but Old Gal clears her throat to speak.
"The finch believes its own lie about getting through the window. That's the message Dora. Lies will only complicate your life."
She's only talking about the bird, Dora thinks as her mouth opens to ask, but there is no softening of Old Gal's features. It has to be about the bird; no way does she know about the other things. Eventually Dora cannot hold up under the gaze. Her mouth closes and her head drops to her task. She brings out her files and the pumice stone. The clippers are ready. Soon the Old Gal's toe nails won't click on the floor; an uncanny echo of the finch at the window.
Outside, the male bird approaches as if to lead its misguided mate to a better passage. He dances lightly around the female, quickly beating his wings as he softly lifts into the air.
"The finch has to accept guidance." Old Gal clears her throat and Dora looks up. Their eyes meet. "If, of course, she wants her nature to be true."
Does she want that? Dora wonders. The truth is just fine when people are on your side, but when does that ever happen? When will that happen for her?
Dora massages more cream into Old Gal's dry heels. They feel smoother than when she started and the pedicure wasn't as disgusting a job as she'd feared. She's about to stop when she feels something. The lightest of touches that caresses her hair. An accident? But her mother-in-law's hand continues to stroke her, fluttering from the crown of her head and down to her neck. Again and again, so that Dora feels caught in a strange dream where all she feels is the rhythm and the warmth of another's hand. It's a trick, a trigger nerve activated in some way, but it continues until Dora knows she should pull away, because if she doesn't, she will weep.

Liz Betz Bio
Liz Betz is enjoying her retirement pastime of writing short fiction which has been published in a variety of markets. She writes from rural Alberta.

---
Moving Day
Jennifer Libertini
It was over. All the fighting and arguing over the wedding plans were for nothing; we were finished. After living together for over a year, after completely changing myself to fit his needs, he ended things with a simple text.
I hadn't told anybody how badly he treated me, beat my dog, and kept cheating on me until after it was over. I was afraid that they would force me to end it if I did. But in the end, it was all him. No one could believe the stories I told them afterwards. And I hadn't even told them everything.
After a few awkward weeks of living together post break up, I finally found a roommate to move in with. I told him I was moving Saturday and asked if he could get his father's truck to help me. But my family convinced me that it would be best for me if he didn't know where I was moving to. So I was going to move a day early while he was at work.
The little bit of stuff I had was packed. My mom and a friend with a truck came over to help me move. As they carried my dresser drawers and boxes to the truck, I stood in the kitchen thinking about that morning. I knew it would be the last time I ever saw him, so before he left I asked for a hug. He gave me a big one and said that he would bring home something special for our last dinner together and a bottle of wine.
So I stood there in the small kitchen just staring at the yellow tiled floor. How was it possible that he could have hurt me so much, yet somehow I felt like I was betraying him? He was horrible to me while we were together. So why was he being so sweet afterwards?
Then the panic kicked in! He sometimes came home for lunch on Fridays. What would happen if he showed up in the middle of me sneaking out? Would he finally hit me like I knew he had been wanting to for months? Would my mom throw a hammer through his fifty four inch TV? Would I even be able to look him in the eye?
I checked the house to make sure we got all of my things out. Then I sat my keys on the table. Next to them I sat the key shaped necklace with both of our birth stones on it that he gave me for my birthday. Then I grabbed my dog and got in my mom's car. I was drunk with emotion and don't think I will ever be able to completely figure out how I felt that day. All I knew was that it was over. It was moving day.

---
Bee Happy Honey
Lisa Gray
She could have killed him yesterday.
Now it was today and she still felt she could.
"I don't feel well," he said. "It was that birthday meal out in that crap restaurant you picked!"
It was a lovely restaurant. Her favourite restaurant. Not that she'd had any food there. Paul had seen to that. He'd emptied her plate bit by bit, piling his already overflowing plate with a food capped summit. She'd lost her appetite from the moment they'd sat down. But then what was different? Wasn't it always that way with Paul? She looked at her bony wrist that had toyed with the food on the plate. She'd lost a lot of weight since she'd met Paul. While Paul had gained.
She looked at him sitting up on the litter-strewn bed in his flannel pyjamas. It was midnight. Paul usually never surfaced before two in the afternoon. It had been that way since he'd lost his job two years ago. Was it really that long? Not that he'd tried to get a job in the last five years. Why would he when his mother kept handing him pocket money while she paid the rent on the apartment and all the utility bills?
"Make me a meal," he moaned.
"I don't think you should eat something if you're not feeling well," she said.
"Just damn well make me what I ask!"
She took the last contents of the freezer out. Burgers. It would have to be burgers. There was nothing else. She laid them on the work surface, opened the cupboard above and removed the only tin. Beans.
"It'll have to be burger and beans," she said.
"For God's sake, why can't I have something else? That's all we ever have."
If you would get a damn job then we might have something else, she thought. But she said nothing. The complaining would come on social media.
Why am I so weak? she thought. Why can't I tell him what I can tell thousands of people online? But she already knew the answer to that. Fear. Fear of him leaving. Fear of being alone.
But wouldn't being alone be better than this? she thought.
She opened the can of beans. She wondered if there was any bacteria present. Perhaps some clostridium bacteria that cause botulism to grow lurked in the can. She pictured Paul passing some over his lips, becoming weak and dying from respiratory paralysis.
I'm sick, she thought. But sick of what? Sick of not being happy?
If only Paul was like that young man who had served them in the restaurant.
Welcoming. Positive. Cheerful.
He had cheered her up as soon as they had sat down. And she'd needed cheering up. It was her birthday. She should have been enjoying their shopping trip to the mall.
But Paul hadn't even mentioned her birthday. He'd been too intent on shopping for himself. Every time she'd mentioned her birthday and asked what he was going to buy her, he'd changed the subject and dashed into the nearest men's clothing store.
And when she'd mentioned going for a birthday lunch he'd said, "For god's sake, stop going on about your birthday!"
The restaurant hadn't been Paul's pick in the first place. Paul couldn't take that. He was a control freak. It was his way or no other. So by the time they sat down in the booth, he was in a foul mood.
"Welcome, folk! You having a good day? What can I get you?"
Karen thought he must be about thirty with the sunny face of a six year old.
A happy man, she thought. I could do with a happy man.
She pictured him with five or six doting sisters and a loving mom.
They'd ordered. Karen quickly, Paul, indecisive, even when the young man had come back to take their order.
The food had looked delicious when it arrived and Karen picked up her fork.
Then Paul had started, like he usually did.
He looked at Karen's plate.
"I wish I hadn't ordered this," he said. "Yours looks better. And it's bigger."
Karen sighed.
He always did this. She'd never yet eaten a whole meal in Paul's company.
"Do you want to taste some of mine?" she said.
Paul lunged across the table, removed most of the food on Karen's plate and piled it on top of his. He started stuffing it into his mouth.
"How much is all this going to come to?" he said when he'd consumed the entire plateful.
Karen picked up the menu, scanned it quickly then told him.
"We can't afford to do this again!" he said.
We? thought Karen. I'm paying for it!
"It's just for my birthday," she said lamely.
"Your birthday, your birthday! I'm sick of hearing about your birthday!"
Karen felt a tear forcing itself up to her eye.
She should have recognised the warning sign. She should have stopped. But she had to know. She had to know what Paul had got her for her birthday. She knew he couldn't afford much but she reckoned he'd got her a small surprise from one of the stores he'd gone in by himself. He couldn't be all bad.
"What did you get me in the store?" she said.
"Get you?" he said.
"For a present," she said.
She hesitated to mention the word birthday again.
"You're always wanting something!" he said. "Do you think I've got money to waste on you?"
Karen couldn't control her feelings. Tears started to run down her face.
"Dessert, anyone?" said a cheerful voice.
The young man stared at Karen with a concerned look on his face..
"I recommend the honey cake. Honey from our very own bees richly fed on rhododendrons, azaleas and oleander. Not your ordinary common flowers."
Karen nodded negatively, trying to avert the young man seeing her tears.
"Not for me," she said.
"I'll have that," said Paul.
A large slice was deposited deftly in front of Paul.
The young man turned to Karen.
"Be happy, honey," he'd said.
She should have thanked him. Thanked him for cheering her up. Maybe there was still time. The restaurant stayed open until the early hours. She grabbed her coat.
"Where are you going?" Paul said.
"To be happy for five minutes," she said, somewhat surprising herself.
Tomorrow I'm going, she thought. I'm going to leave Paul. There were better people out there. People who cared. Like the young man.
He wasn't there when she got there. And neither was Paul when she got home.
He'd died before she'd got back.
"Six hours," the detective said. "For the poison to take effect. He plans them well. The honey from his bees that are fed on rhododendrons, azaleas and oleander is poisonous. Then he makes the cake. We've been tracking him for some time. But each time he sets his hives up in a new location and we're just too late. His mother was poisoned the same way when he was a child by her no-good boyfriend. Now he takes random jobs in restaurants and targets what he thinks are no-good men. In a way you've got to feel sorry for the guy. He thinks he's helping people."
Karen's always nice to people now. And cheerful. Though it's taken her some time. After all, you never really know what's gone on in people's background. She saw Paul's father at the funeral and realised why Paul had been the way he was. She guessed she could have helped Paul more, had she known. And, if she couldn't have helped, because he was beyond her help, then she could have been stronger and walked away so someone else could help him.
They never caught the young man. Karen just hopes someone will help him so he stops killing. Like he helped her. In a way. Every day she thinks of what he said and tries to follow it. With the same sunny smile of a six year old.
Like she knew he must have been once.
So every time things are getting you down, be understanding, be strong, but, most of all, remember that wounded young man's words.
"Be happy, honey."

---

---


upside-down
Janet Kuypers
3/9/17


look for salvation
when the world seems upside-down
in strange twists of fate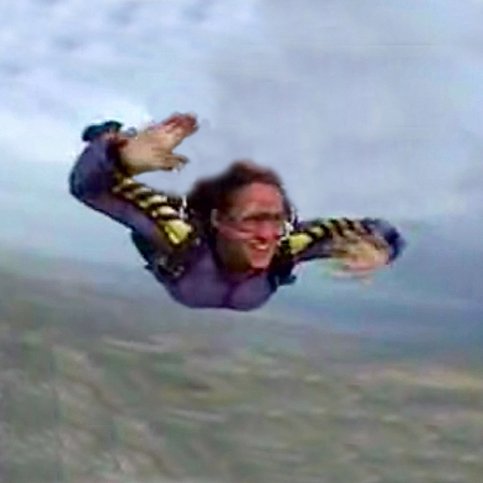 Visit the Kuypers Twitter page for short poems— join http://twitter.com/janetkuypers.




See YouTube video of Janet Kuypers joining Thom & others on stage and reading her 5 haiku poems "enjoy", "lost", "unbounded", "upside-down" and "enemies" in the intro performance 3/19/17 to "Kick Butt Poetry" in Austin (Canon Power Shot SX60 camera).




See YouTube video of Janet Kuypers joining Thom & others on stage and reading her 5 haiku poems "enjoy", "lost", "unbounded", "upside-down" and "enemies" in the intro performance 3/19/17 to "Kick Butt Poetry" in Austin (Canon Power Shot SX700 camera).




See YouTube video of Janet Kuypers joining Thom & others on stage and reading her 3 haiku poems "out", "uphill" and "upside-down" in the intro performance 4/2/17 to "Kick Butt Poetry" in Austin (video by "Magic Jack", who is on guitar).




See YouTube video from 4/2/17 of Janet Kuypers joining Thom & others on stage and reading her 3 haiku poems "out", "uphill" and "upside-down" in the intro performance to "Kick Butt Poetry" in Austin (from a Sony camera).




See YouTube video from 4/2/17 of Janet Kuypers joining Thom & others on stage and reading her 3 haiku poems "out", "uphill" and "upside-down" in the intro to "Kick Butt Poetry" in Austin (Canon Power Shot SX700).

---
A Temporary Life
Norm Hudson
The Prime Minister was dead. I was sorry for him. But then all life is temporary. Be you the smallest or the grandest in the land. Take me. My life has always been temporary. From birth. I blame my father for that. His job in the Royal Airforce meant there was never a chance of a permanent life. Every two years or so we would be required to leave our rented accommodation and move elsewhere. I never had the security of staying in one place for long. That's probably why I became a pilot. I was used to travelling about. The trouble is being a pilot gives you a taste of the high life. Something I'd never had with my father's job. The officer's mess had been a no go area for him. And me. Now I was spending my time in top notch hotels, travelling to exotic destinations and having pool parties. You know the kind of thing. Or maybe you don't.
"Now that you're making all this money, you'll be able to get a place of your own," my father said.
I knew what he had in mind. But there was no way I was settling for a crummy studio or one bedroom apartment in London, with a crippling mortgage, like he had on his de-mobilisation. I had other plans.
I knew he didn't approve. But then he didn't approve of anything I did.
I remember the time he flew standby with me. He was in the jump seat behind me in the days when family members could travel in the cockpit.
I'd told him to be quiet during take-off then I'd relaxed like I usually did, my legs propped up on the instrument panel.
I could see my pose irritated him. But then everything about me irritated the old man.
"I don't think you should be sitting in that arrogant way," he said. "Shouldn't you be flying the plane?"
"Automatic pilot," I sneered, wondering if he knew what it meant.
The old man's irritation was reciprocated by me.
"I'm only here for the take-off and landing!" I added.
He never said another word the rest of the flight.
I didn't see much of him after that. It didn't bother me. The old man and I moved in different circles. I was too busy anyway. Dating cabin crew. That's when I met Rona. She was hard to get. I'd built up a bit of a reputation and she was having none of it. But I've always liked a challenge. And, in the end, my persistence paid off. We started a steamy affair. I say affair because, of course, Rona was married. It wouldn't have been any fun if she wasn't.
But even fun is temporary. I knew that one evening when she was stretched out on the luxurious chaise longue in the penthouse apartment I was renting in the West End of London.
"How can you stand living in all this rented accommodation?" she said. "Continually moving from place to place."
She sounded just like my old man.
"This is the fifth place you've lived in in so many years," she said. "And they've all been beautiful. Each one better than the last. I don't why you ever moved from the first place."
I was feeling irritated even as she went on.
"That old converted barn with its swimming pool was fabulous. It's a pity the old girl who owned it died . Otherwise you could have stayed there for ever. And not had to do all this moving about. It must all be costing you a fortune. How much are you paying for this place?"
She waved her hand around the apartment.
I told her.
Her face was a picture.
"No way!" she exclaimed.
"It's worth every penny," I said.
"Wouldn't you be better buying somewhere and stop spending all this money on the high life?" she said.
It was then I knew that even love was temporary. But I couldn't do anything as I was flying with her the next day.
As it turned out, I didn't have to.
She did it for me.
We were all standing waiting for the crew bus. I wasn't in a good mood. There were "Cling Ons". It seemed like hundreds of them. Family members of crew. Travelling with us.
"There's no room in the bus for them!" I told the Cabin Services Manager.
I'd never had much time for family.
I boarded the bus after the crew, ignoring the chill in the air.
At least I've got rid of that lot, I thought, as the bus drove past them.
"What the hell did you mean by leaving my mum at the pick-up point?" Rona shouted, in the cockpit after take-off.
"Your mum?" I said.
"My mum was one of the Cling Ons! That was a lousy thing to do. There was plenty of room in the bus!"
"How was I to know your mum was one of the Cling Ons?" I said.
I didn't tell her it wouldn't have made any difference.
"That's not the point. The point is only an ass-hole would leave Cling Ons when there was plenty room in the bus. And I don't want anything to do with an ass-hole!"
And she didn't.
It didn't bother me.
There were plenty more fish in the sea. That was only one of the advantages of being a pilot.
Besides which I had my luxurious London apartment.
I received the letter the next day. I had to move out. The owner wanted the apartment back. I was angry. As angry as I had been at all those other landlords. The ones that had all died in different ways when I had been careful enough to be out of the country on a trip. No one had a right to take my home away from me. My father had done that to me too many times. I'd pay the landlord back. Like I'd paid those other landlords back. Like I'd paid my father back all those times.
And I did.
The Prime Minister was dead. Brake failure. Car accident the paper said. I felt sorry for him. But then he shouldn't have been so greedy. He had other houses he owned. Why did he want my penthouse apartment? Still, they couldn't pin it on me. I was in Washington. On a trip. Arranging the lease on my new apartment. You'll never guess who owns it. The President himself. You know me, I've always moved among the high-brow.
I put down the newspaper in the empty cabin. The passengers would be getting on. Ready for their trip to Heathrow. I opened the door to the cockpit.
I should have realised it was going to be a lousy trip when I saw Rona in the co-pilot's seat.
She didn't speak. I was glad. I'd moved on. I had nothing to say to her. Besides I was too excited about my Washington apartment and where that might lead.
It was only when take-off was complete, I'd engaged the auto-pilot and put my feet up in the customary position that Rona spoke.
"My mother's down the back, you know."
I looked away. It didn't bother me. I wouldn't be in Traveller anyway. I didn't mix with the plebs. I might have a meander through First Class and see if anyone interesting was travelling with us. I've always liked the high-born.
I was just about to make my announcement to the passengers that we were flying at 36,000 feet. (Once a high-flyer always a high-flyer.) when I was reminded that all life is temporary. Even for in-animate things. The auto-pilot knew that when he stopped functioning. I wasn't bothered. I could fly the plane. Or Rona could.
I guess I was out of practice though. And it seemed the engines knew it too. I wasn't bothered when one went on fire. It was when the other one did and the plane started plunging down in a circular motion that I knew all life is temporary. Even for jet engines.
They say your life flashes before your eyes at the moment of death. Mine didn't. There was only one thing that flashed before me.
I wondered if death was temporary.
I hoped so. It would be bad enough meeting all those highfalutin ex-landlords I'd disposed of.
But I didn't fancy spending eternity with Rona and her mum.

---

---


Strange Cargo
Lee Conrad
Zachariah Woodruff watched as the long procession of down trodden men walked along the sun baked street in the small Arizona town of Bisbee. 100 guards, some on horseback, others in slow moving cars, flanked the men with shotguns and rifles at the ready.
One of the men raised his head and look directly at Zachariah. It was Nathan Jones, one of the leaders of the strike. A cynical smile flashed on Nathan's careworn face and just as quickly faded. He continued his march with the other men but raised his head in defiance as he passed jeering townspeople.
Zachariah stepped into the shade of the overhang of the dry goods store, took his Stetson hat off and wiped his sleeve across his sweat beaded brow. His short black hair was just starting to turn grey. His mustache though was still jet black.
He thought back to his first meeting with Nathan just a few weeks earlier in the Longbranch Café.
****
When Zachariah had stepped into the café that night he knew the mood was different. The café was filled with angry miners and strike talk was in the air.
A tall, brown haired man of about 25 years old was talking to some miners. His black suit was dusty and threadbare, his boots well worn.
"Come on fellas, I need more of you to sign up with the union. The Industrial Workers of the World are going to fight to get us decent wages and better working conditions. We can't let these copper bosses and Phelps-Dodge grind us down."
Zachariah strode over to a table and greeted the owner.
"Evening Clarence. A cup of coffee if you please, although I wish this was still a saloon. This so called prohibition of selling alcohol could drive a man to drink," he said.
Clarence shook his head. "Maybe someday, but 13 states have already stopped selling booze. It seems to be sweeping the country. Damn temperance people."
Zachariah looked at the crowd and turned back to Clarence.
"What gives?"
Clarence leaned in closer. "New guy in town. Says he is an organizer for the union. You know that bunch the government is so upset about. They're called the IWW. Bunch of reds heard tell."
Nathan left the group of miners and walked over to Zachariah.
"Name is Nathan Jones," holding his hand out to Zachariah to shake.
Zachariah out of politeness shook it but was wary.
"Name is Zachariah."
"You're not a miner are you? Not with hands like those," Nathan said.
'No I'm not. Why do you ask?"
"It's my nature to find out what I can about a person. I like to size a person up to find out which side of the fence they are on."
"So did you size me up?"
"Not yet," Nathan said as he walked away towards a group of miners who had just walked in.
A few days later, on the edge of town, Zachariah saw Nathan talking to a group of Mexican miners.
"You see fellas; we ain't like the other unions. The IWW members come from all races, skilled and unskilled. The AFL might not want you but the IWW, the One Big Union does. Now the company is going to try and drive us apart." He moved around them, looking them in the eye, trying to win their confidence. "They tried that with us in New Jersey but we all stuck together. And we won that strike. Heck even here we got Italians, Polaks, Finns and Americans all sticking together. You all have been getting the worst end of the deal here in Bisbee. Stick with us and we can change that."
The Mexican workers huddled together and talked about what they just heard.
A miner named Hector Vera stepped forward.
"Mister Jones, our families have lived here longer than any of you, longer than the mine owners. All of you should be sticking with us instead of us sticking with you. But we like what you have said to us and you have treated us with respect. If the other miners will stay together we believe that would be a good thing and we will join your union."
All the miners shook hands with Nathan. A pact was sealed.
Nathan walked over to where Zachariah was standing.
Dangerous man, this Nathan Jones, thought Zachariah.
"Well, we meet again," said Nathan.
"Just out for a stroll," said Zachariah.
Nathan laughed. "In this sun?"
"I am heading to the Longbranch for a cup of java. Care to come along," Nathan said.
They entered the café, sat at a table and ordered their coffee.
"I know what you are Zachariah, but I will just call you my 'observer'," said Nathan.
Zachariah just smiled.
"Where are you from Nathan?"
"Originally from Pennsylvania. I followed my father into the coal mines. He didn't make it out one day and after we recovered his body and 12 others, well I just packed it in and moved on. Ever see a man crushed by a cave in? Ain't a pretty sight. I joined the union and worked in some of the mines out here." He took a sip of his coffee. "I believe in what I am doing. I ain't hiding anything Zachariah so you can give your bosses the straight skinny on me. I don't care."
"The government says you are a bunch of un-patriotic reds in cahoots with the Kaiser," said Zachariah.
"Of course they do. You see Zachariah, we don't believe in killing workers just like ourselves in other countries. Why would I want to kill a German miner who is fighting for better wages and mine safety just like me?" He pushed his empty cup aside. "President Wilson said he would keep us out of this war in Europe. Just another liar. And this strike isn't about the war over there. It is about the class war here and we aim to get what we deserve." Nathan stood up. "Well I have to go Zachariah. Got work to do."
"Me too," said Zachariah.
The IWW and 3000 workers went on strike after its demands to Phelps-Dodge and the other mining companies were ignored. It was a peaceful strike but already the affect was hurting the profits of Phelps-Dodge and other mine owners. A war was on and there was a high demand for copper needed in the making of brass for bullets and shells.
At the Loyalty League meeting later that week, Zachariah gave his report. He was just one of many who gave reports that night.
The room was filled with representatives of Phelps-Dodge, local business, the other mining companies, the railroad and the telegraph company. Names of miners who were leaders or members of the IWW were written down. Of real concern was the uniting of the Mexican workers with the American workers. The 20 men in attendance, not a miner or working man among them, all agreed that drastic measures needed to be taken and soon.
Cochise County Sheriff Wheeler, the leader of the league, walked over to Zachariah.
"Good report Zachariah. Always good to have a Pinkerton man on our side."
"Ex-Pinkerton, Sheriff. Remember that. Once I am through here and paid off I am moving on."
"Well, it will be over soon. Lots of townsfolk's are getting riled up because they think the miners are pro-German," said Walker.
"That's not true Sheriff and you know it," said Zachariah.
"You and I know that, and most of the others in this room know it, but that ain't the point son. We are going to use whatever means to destroy the IWW, get them out of Bisbee and get these mines running again. It's what Phelps-Dodge and the other mine companies want." The sheriff looked directly in Zachariah's eyes. "Be ready because it is coming."
Three days later at 2:00 am the word went out from the Loyalty League to its supporters to assemble at the post office, armed.
By 4:00 am 2000 men from around Bisbee and Cochise County had gathered, were sworn in as deputies and given white arm bands.
Sheriff Wheeler addressed the posse. "Men, you have been given a list of names. You loyal Americans will arrest them on charges of vagrancy, treason and being disturbers of the peace. Anyone not supporting us and unwilling to wear a white arm band gets arrested. Today the IWW and its supporters will be deported from Bisbee."
At 6:30 am the posse moved through town and headed to the headquarters of the IWW at Brewers Gulch.
Nathan, asleep on a cot, was shook awake by another union man Kevin Barrett.
"Hey Nathan, men are coming down the street. They don't look too friendly," he said with panic in his voice.
Nathan jumped up and went to the window.
"Nothing we can do Kevin. They're armed. None of us are."
They stood in the center of the room as the door crashed open.
"No need for that fellas. It was unlocked," said Nathan.
"Shut your mouth before I slam this rifle butt in it," said a burly deputy.
Eight more deputies stormed in. Cabinets were turned over and union pamphlets scattered across the floor.
"OK men, let's march these guys down to the post office with the others."
Nathan found himself corralled with other miners and townspeople who were sympathetic to the miners, guarded on all sides by armed deputies.
At 10:00 am the Bisbee newspaper boys shouted out the headline "All women and children stay off the street!"
The posse went up and down the streets. Nathan saw one group storm into a miner's house. A woman screamed, a child cried and a man yelled profanities. They dragged him out and pushed him in with others being force marched to the post office. Some of the deputies settled old scores and arrested people who had nothing to do with the strike and stole things from their homes for good measure. From Brewers Gulch to School Hill, scores of men, some barely dressed were being driven from their homes to the holding area.
Zachariah went over to the line of men and pulled Nathan aside.
"Well, if it ain't my observer," said Nathan.
"Ex-observer and ex-Pinkerton Nathan. I just took this job to get some money so I can go to 'Frisco. But I didn't sign up for this. This just reminds me why I left the Pinkerton's. It disturbs me what this country is doing to working men and folks who came here for a better life. And don't try to run. These folks are itching to shoot someone. They already killed one miner for resisting arrest."
"I am not going to do anything stupid. We are sorely outgunned and besides this has been a peaceful strike. Once people learn what's going on here today these vigilantes will be put in their place," Nathan said.
"No one is going to find out for a while Nathan. The telegraph lines have been seized by the Loyalty League. Hell, the telegraph and telephone companies all belong to the same employer association as Phelps-Dodge and the other mine owners. And the newspaper is owned by Phelps-Dodge. The sheriff has deputies keeping an eye on the newspaper men just in case there are any independent thinkers that might get high and mighty and try and be a crusader."
A look of dismay swept across Nathan's face.
"Best get back in line Nathan. They are going to move you out soon."
"Alright fellas, let's not give these guys a reason to shoot us," said Nathan to the men around him.
Sheriff Wheeler pulled in front of the line in a 1911 Ford model T touring car. Strapped to the back was a belt fed machine gun aimed at the strikers. The deputies called out to the arrested miners to move out through town.
Zachariah moved towards the dry goods store. The temperature had built up to 90 degrees and as the hundreds of miners moved along their feet stirred up the dust on the city street.
****
Nathan looked at the dry goods store and saw Zachariah staring back at him. Well you won this time, he thought. But there will be another time. He turned his head back and continued walking.
The morning progressed and the group of miners, supporters and some unlucky citizens swelled to 1000 as more men were shoved into their ranks. Along the way the so called loyal citizens of Bisbee taunted and yelled at the strikers. The mass of men moved out of Bisbee and the shelter of the Mule Mountains. The sun beat down on them as they walked past scrub brush and cactus. Throats were dry and lips cracked, but no water was offered by shotgun wielding deputies.
The posse marched them 4 miles out of town to the ball park and ringed it tight as a drum with armed men.
Nathan and Kevin collapsed on the ground next to a boy of about 18.
"What are you doing here boy? You don't look like no miner," said Nathan his voice croaking from the dusty march.
"I'm not. I work at the soft drink place." He was close to tears. "They grabbed me and tried to deputize me and wanted me to wear one of their white arm bands. I told them I had friends who were miners that came in for soft drinks. I can't arrest them. So they put me in line with you all."
Outside the ball park a grey haired woman in a dress and floppy hat, got out of her buggy and walked slowly, cane in hand, towards one of the guards.
"You there," she shouted. "Not only do you have some of my neighbors in there but you have my youngest son as well."
Another guard came over. "You in sympathy with that lot?"
"Sure I am," she said, a voice as angry as the look she gave the guard.
"Well in you go," said the guard.
They pushed her in.
"Ma," the boy cried out.
"Hush son, we'll get out of this pickle."
She went over to the bleachers, stood on the second row and yelled at the guards.
"I know many of you. Look at ya. Push women around. Picked up a gun against working men." She looked over to a well-dressed man, white arm band and rifle at his side and pointed. "Dr. Boland, you are nothing but a dirty coward. You are supposed to care for people, not do this. And you Jacob, if your mother could see you now." She looked to the other side of the ball park. "Shame, shame," she said, pointing at various deputies. "Just a bunch of low down vigilantes." She went on like that for 15 minutes.
"Get her out of there," yelled one of the leaders of the posse.
They went in and grabbed her.
"I ain't leaving without my son. Come on boy."
Both left. The miners cheered.
One called out to her, "Mother, you can join us any time."
"Maybe next time fellas," she called back as she pushed her way passed the guards.
Late in the morning the El Paso and Southwestern Railroad brought 23 cattle cars down the tracks near the ball park.
"What do you suppose this is all about Kevin," said Nathan.
They looked at each other, perplexed and worried.
Sheriff Wheeler fired the machine gun into the air and shouted out, "You are all guilty of treason. Deputies move them out."
"Alright you men get up and get moving towards those box cars," yelled a guard. Other guards joined in the chorus of shouts— "Go on get moving!" On top of the box cars stood 25 armed deputies.
"How about some water," a miner pleaded.
"Get going you," a guard said as he pushed the miner towards the train.
More guards moved in and pretty soon the miners were climbing into the box cars.
"Hell, what is that stink," a miner said as he held a bandana to his nose and mouth.
"There is about 3 inches of sheep dung in these cars. Have fun boys," a guard said.
He and another guard laughed as they closed the box car door.
"Where are you taking us," Nathan said through an open slat.
"Out of here. You are deported from the great state of Arizona," the guard said.
Dejected men stood in the dung trying to get air through some openings in the box car.
"What is going to happen to my wife and children," said a miner who put his head down and wept.
Men gathered around giving comfort to friends and shared stories of how they were rounded up. Angry voices questioned the legality of the deportation while others cursed the mine owners.
Hector Vera, the leader of the Mexican miners stood next to Nathan.
"How can they do this? My family has been in this territory forever. How can they force me out of my home?"
The whistle blew and the train moved down the tracks.
Nathan looked around at all the men. They were Americans, Irish, Finns, Mexicans and many others from around the world. Most had worked the Bisbee mines for years.
"Look at us fellas. You got forced out of your homes, separated from your families, our union crushed, all because you dared fight back for a bigger piece of the pie. But you stuck together and that is what scared them." Nathan looked at the men in the box car. "What a strange cargo we are."

---
Carrots
Kevin Sterne
Night number three without a drink for Jesse. On a bus cutting through the middle of the dark.
A few stops before Lazlan an old-time held a dog leash with no dog. He looked like one of those cigar Indians, a face carved by the Rockies. Jesse saw that the hand with the leash was shaking.
The driver, this hulking man with braids, asked the old man if he was on or off. The old man just stood there and shook. Jesse knew that kind of shaking.
Jesse ran his hand over the flask in his pocket, feeling jilted and sad. Earlier in the night a man he'd never met before gave Jesse orange capsules and kissed the top of his hand. That's the way it is: try to quit one thing and end up just finding a new hobby. The pills seemed to have the side effect of clairvoyance and peace of mind, and he now regretted taking them. The Earth felt like it was tilting at a weird angle and Jesse kept cocking his head to level everything out. All signs indicated he wouldn't make it home to Lazlan.
What's it going to be chief? the driver called to the man. Moths orbited the street lamp above everything. The night was a deep, burning purple. The old timer plucked a cigarette butt from the ground and fumbled with a lighter. He must have known too, the destiny of this missile.
Jesse watched the driver stand on the gas. Felt the bus lurch forward, hungry for fate.
And then he was thrust into another consciousness. His memory of Lakshar Gahr played before him like a filmstrip. He melts back in time to Private E-3 Jesse Thompson, again. Sees the Iraqi man laughing at him behind beetle eyes and soiled mustache, his head wrapped in a red keffiyeh, body cloaked in a dusty aba. The man cackles with a sickening vitality. Echoing in the silted little village surrounding them. Private Thompson is petrified wood. Desperate, exhausted, and willing his body to move but going nowhere. And this while time counts down to hell.
Back on the bus, Jesse opened his eyes to the world floating in the center of a milky cataract. Squares of color crystallized into images. The bus seats, the blue light on the ceiling, the night in the windows. His hands white-knuckled the lip of the seat. The pores in his forehead stretched, his lungs heaved. His brain chemicals sloshed against the walls of his skull. This was how it felt to return from another consciousness. The present was no better than the past, so what did it matter if he lived or died? You have to come right up close enough to kiss death before you can ever be ready for it again. This episode just reminded him that he was fine with anything.
Half the driver's face was visible in the mirror, his one eye locked on the road.
Alright back there? the driver asked.
Just tired, Jesse replied.
Lazlen is next, the driver said, then we'll sleep like the dead.
Sleep had come in waves since he returned from Iraq. Three days earlier he had visited his VA counselor, Lynn. She had olive skin, black hair. She'd crossed her hands over her legs and he'd seen little tattoos on her arms. One was a dream catcher. One was an eyeball. In another life he and her were lovers. He'd listened to the way her words came out of her mouth, let each letter collect in his head. Kick the liquor, she told him, It'll help more than you think. He had no plans to tell her about the pills. He wasn't ready to get into that yet.
The wanting of a drink was most intense after an episode. Invisible spiders scuttled all over his body. Just a sip. Just a taste. Just a sniff, they screamed.
He had taped her business card to the flask. Now he ran his thumb over it and the spiders dissolved.
They'd be back.
A mess of a man stumbled on at the next stop. The final piece. He seemed to be in the grips of a horrifying drug-induced vacation. His eyes looked like they'd been found on the side of the road. His aura pulsed with depravity. He took the seat right across from Jesse and immediately began speaking tongues.
Some night, am I right?
What do you mean, Jesse said.
You didn't hear about the lights over Tacoma? It's all over the news, man. People are saying it's the aliens.
The man moved his hands in the air as if signaling he didn't think the words coming from his mouth were all that serious.
No I must have missed all of that, Jesse said and looked out the window.
The pills had failed to alert him to these extraterrestrials. What could his eyes tell him? The outskirts of Lazlan passed like film fast forward. He glimpsed the lighted billboard for the 10-storey cross. WORLD'S LARGEST CROSS! HOLY JESUS! No signs of aliens yet, but they could be invisible.
He peeled the tape away from his flask and brought Lynn's card closer to his nose, searching for a good memory, but this new arrival across from him wouldn't allow it. The stranger was barely in his seat, leaned over the aisle staring at Jesse with those crazed eyes.
Do you think it's the end of the world? the man whispered.
Is that what people are saying?
That's what I'm saying. That's my theory. But you know what? I'm okay with it. I've come to peace with the God, man. Whatever is going to happen is going to happen and there's no fucking way you or I or anybody else could possibly change it. So just let it happen. Just let it do what ever it wants.
I think that's the right attitude to have, Jesse said.
This unique character was worth saving, he thought. The driver must have figured differently because he'd started to really gun it. The molecules of the bus joculated as the speed increased. The man was thrown back in his seat, victim to physics.
We're moving, moving now, the man said. Then he let out a loud sort of Hee Haw. You mind sharing a sip of that, my good sir?
Jesse rubbed the engraving of the bald eagle on the flask. The little ridges of his fingerprints over the words IRAQ and THIS WE'LL DEFEND. He reached the flask over to the man. The man took it and for a moment a conduit was created. Their energy connected.
Right on queue the driver jumped on the brake. Like with a train that can't stop, you anticipate the impact. The whole 10-ton missile went from 1,000mph to zero. Jesse and the man catapulted from their seats into the space between the floor and the ceiling. Jesse smiled hoping for the end.
The day after Abu Sayyed and his rebels dropped the three bombs in Lashkar Gahr, a Priest visited Private Jesse Thompson and the 24th division. There was no wind. The ground was a dry, open mouth. He lay with legs elevated and bandaged in his bunk, watching the guys play pickup football. The Priest introduced himself as Father Skinner, shook Jesse's hand, and gave him a prayer card. The angels have instructions, Father Skinner said, if something happens they will take you straight to heaven and report to God. You have nothing to worry about.
Then the guys asked Father Skinner to quarterback a play. Jesse wanted nothing more than to run a route for Father Skinner right then. There would be nothing more American.
Outside the tent, Father called hike. The receiver, Davis, took off like a jet, 30 maybe 40 yards. Beat his man by at least two steps. Father Skinner rifled it to Davis's chest. A frozen rope. God had a cannon. But Davis's hands were tomb stones right then. The ball fell to the ground and made this dead, deflated sound as it hit the dust.
On the bus Jesse woke to a taste like biting into a fork. It was the bottom of the bus seat. He rolled onto his back, the ceiling was dotted with liquid that was surely blood. He stared at his hands. Use us to save the man, they said.
Jesse grabbed the back of the nearest seat and pulled himself up. The man was up by the driver's seat, his torso wrapped around the pole for the pass card scanner. His hands were splayed out like Jesus on the cross. The back of his head was smashed and dark with blood. Jesse's gums hurt just to look at him.
Jesse took the man's hands in his, something he learned in a past life.
It's okay, Jesse said as he tried to transfer his spirit to the man.
The man blinked. His eyes were two celestial bodies, blue and lucid, attuned to how this all would end.
What happened?
We had a wreck.
The man started to get up, but Jesse stopped him. The man seemed to have forgotten the whole bit about accepting his fate.
You might have internal injuries, Jesse told him.
Sure.
The man felt the back of his head then looked at the red on his hand.
What's your name, Jesse asked.
Felix.
Felix you need a doctor.
I am a doctor.
You need a hospital.
Jesse stepped off the bus and into pouring rain. The sky was purple, raindrops fell like shooting stars. The driver was sitting on the asphalt leaning against the front of the bus. He seemed to be holding one of those orange road flares. But as Jesse got closer he realized it wasn't a flare at all. Because the driver was eating it.
Carrots, the driver said and Jesse sat next to him.
A big stack out in the road.
The driver motioned his beefy, carrot-less arm over to the pallet a hundred or so feet up the road, cardboard boxes scattered like fallen leaves. They were in fact carrots.
Didn't see the damn things until it was too late, the driver said.
No, Jesse thought, you found them at just the right time. He felt for Lynn's card in his pocket. He figured then that he'd call her later, maybe ask her if she saw the UFOs.
Listen, that other guy needs—Jesse started. But the driver was busy with one of the boxes.
Here, the driver held out a carrot. Jesse took it and marveled at it. The thing must have weighed a whole pound. A vibrant orange, almost glowing in the rain.
Is it the aliens? Felix had found his way out of the bus. He had removed his shirt and had it pressed to the back of his head.
What's he talking about, the driver asked.
I think the end of the world, Jesse replied.
Carrot? Jesse offered one to Felix as he sat down. Now they were a trinity out in front of the bus.
I could use a sleep, Felix said. Wake me when they come to take us to the mother ship.
He rested his head on Jesse's shoulder and that was perfectly alright.
Everything was quiet for a while, but for the patter of the rain on the road and munching of carrots. Jesse finished one after another. They were the most delicious things he'd ever tasted. Someone or something had put them there. He was certain. Maybe Felix was right, maybe it was aliens.
An ambulance arrived sometime later and Jesse was met by saintly women and men in white. They prodded him with gentle instruments, filled him with love and light. Then like gods, they lifted Jesse with their soft hands and he soared above them.

About Kevin Sterne
Kevin Sterne is a writer, journalist and weirdo based in Chicago. He writes about craft beer and music for Substream Magazine. He also edits/curates LeFAWN Magazine. His work has appeared or is forthcoming in Drunk Monkeys, Praxis Magazine, The Tangential, and The Rumpus, among others. Find him on the dark web at a href="http://www.kevinsterne.com" target="new">kevinsterne.com or down a pseudoscience rabbit hole.

---
enjoy
Janet Kuypers
3/9/17


insanity, this ride —
just let nature take it's course
and enjoy the ride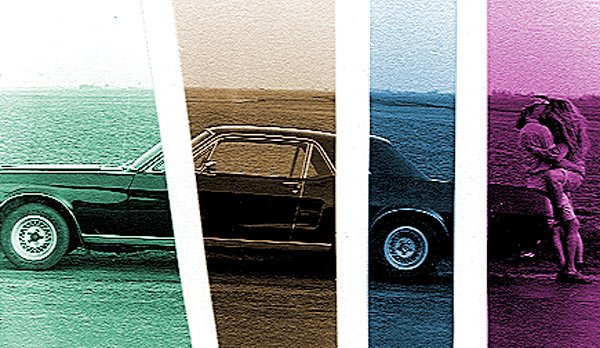 Visit the Kuypers Twitter page for short poems— join http://twitter.com/janetkuypers.




See YouTube video of Janet Kuypers joining Thom & others on stage and reading her 5 haiku poems "enjoy", "lost", "unbounded", "upside-down" and "enemies" in the intro performance 3/19/17 to "Kick Butt Poetry" in Austin (Canon Power Shot SX60 camera).




See YouTube video of Janet Kuypers joining Thom & others on stage and reading her 5 haiku poems "enjoy", "lost", "unbounded", "upside-down" and "enemies" in the intro performance 3/19/17 to "Kick Butt Poetry" in Austin (Canon Power Shot SX700 camera).



View or download the free PDF chapbook
"Drop the Bomb" 4/30/17
of all of the short Janet Kuypers poems she read from her live 4/30/17 reading in Austin's 2017 Poetry Bomb (plus one bonus poem).

See YouTube video from 4/30/17 of Janet Kuypers performing her "Drop the Bomb" poems for Austin's 2017 Poetry Bomb (Sony), with control, earth, enjoy, unbounded, Just Thinking About It, Kick Someone Out, Lades and Gentlemen, Boys and Girls, Exhaling Toxic Fumes, Jumping from the Mausoleum, Just to be On the Safe Side, Nobody Finds Me, Bored the Night Before 9/11, energy, errors, rescue, This is Only a Test, You, Only Searching, Ugly Babies need the Most Love, Bimbo, Good Escape, Goth Girl Photographer, Koala Porn, Occupy, On a Downtown Chicago Light Pole, On This Ride, Marne Rifle Poem, No Thank You, He makes me Think about These Things, (and you could hold me), & From Words to Wars.

---
Lines Not Crossed
Edward Daniel Hunt
Kittery, Maine
"Come on Georgie, you can do it." Georgie was one of the few people Marcy was gentle with. He had to be near eighty and he seemed pretty frail. He said he was widowed and Marcy believed him. He always paid full price even though he rarely finished inside of her. Sometimes he spent most of his time just talking about the road trips that he and his wife used to take. He was still humping her from behind but he didn't feel very hard. Marcy felt something wet on the inside of her leg, closer to her knee than the Promised Land. He had finished outside of her again.
"That's good Georgie, now lie down and relax while I clean you up. How are your roses doing?"
She was only half listening as he rambled on about his garden and something called "Deer Off."
While he was getting dressed in the locker room, she cleaned herself up and got the room ready for her next customer. She didn't like to think of them as "Johns". She pecked Georgie on the cheek on his way out and headed back to the lounge.
She had just sat down when another customer entered the room. Big guy, at least 6'4 or 6'5, not fat. Older guy but looked like he could be trouble if he wanted to be. She was wary at first because she didn't recognize him, but then Janice whispered to her "good tipper."
Gilfillan was uncomfortable in the terry cloth wrap he had been handed. It did have one deep pocket that he thought was meant to carry his billfold and keys. He had the smallest gun he owned, a Beretta Pico as well as his Maine Investigator's license shoved in the pocket. This was his second visit looking for Marcy Aldrich and this time she was working.
Several of the girls were fussing over him and he pretended to be nervous before going over and asking Marcy if she was available. He recognized her from her mug shot and the description he had been given.
She smiled at him and took him by the hand and led him down the corridor to her cubicle. Shutting the door she turned and slipped the top of her negligee down exposing her best attributes.
"What can I do for you today?"
"Well, what services do you offer?" Gilfillan smiled back at her. He had trouble keeping his eyes off her chest. He was human.
"Hands and holes. Price varies by which one you choose." She had reached out to pull his wrap off but he stepped back and pulled his license out.
"You're busted."
"For a shitty misdemeanor? Who didn't get paid this month?"
"Gives me a chance to lock you up and ask you a few questions about the Doyles."
He had hit a nerve. Her expression immediately changed from disdain to panic. It seemed an overreaction.
"I don't know anything!"
"Well, then. It won't take long and you'll be back on the street and you can explain to the Doyles what we were talking about." It was an empty threat, if it got back to the Doyles, she'd wind up as collateral damage and that was one of those lines he wouldn't cross.
"You're going to get me killed! You don't know them! They won't believe that I didn't tell you something, they'll just get rid of me! She talked in an angry harsh whisper and clearly she didn't want to be overheard. Tears were streaming down her face now. It was either for real or a real good act.
"Ok, here are your options. I can take you in now and you can tell me nothing and you can take your chances with the Doyles or we can meet somewhere and you can give me something and no one is the wiser. If you take off, I'll let the Doyles know and we'll both be looking for you."
She had quieted down. "Where would we meet?"
He thought for a minute. "Somewhere out of the way. How about the Ashton Hotel at Hampton Beach? I'll meet you in the bar. If we run into anybody, you can tell them I'm a John. You're picking up a few extra bucks. It is a hotel."
"Ok, when?"
"Two o'clock, tomorrow. If you don't show I'll be looking for Tommy to share the news."
"I'll be there, I'll be there. I got no place to go. You say something, I'm screwed! "
She could take off but Gilfillan didn't think she would. Some people would panic and run but they were usually the easiest to track down. He left her without much more discussion.
*****
Old Orchard Beach, Maine
Listening to live music and nursing his second beer Gilfillan was beginning to relax. Music always did that for him. Gilfillan had forced himself to take the night off. There was really nothing more he could do tonight and hopefully his meeting tomorrow with Marcy would generate some legitimate new leads or at least point him in the right direction. Recently the victim's daughter had shown up asking him to investigate an anonymous note the Boston Police had received and discarded. Retired for more than five years from being a Boston Homicide detective, he welcomed the chance to go back and take another look at this ten year old homicide. After uncovering a similar note that was possibly connected to a family of criminals named Doyle, Gilfillan was now a believer but believing it and proving it are two different things.
The musician had just finished his last set. It was only 10:30 but the Surf and Sea wasn't very crowded. Gilfillan was one of the last customers sitting at the bar. He went over and put a five dollar bill in his tip cup. It didn't have many other bills to keep it company. The last song had been one of Gilfillan's favorites; the Beatles "In My Life".
Kathy was working the bar and it was slow enough that she kept stopping to talk to him. Gilfillan expected to go home alone tonight since it was a weeknight and Kathy was working her other job in the morning. Kathy was a pretty brunette who didn't look her forty something age which was ten years younger than Gilfillan. They had been getting together a little more often over the past few months but they never discussed it. Gilfillan was hoping it would develop into something more. Gilfillan could tell something was bothering her, she seemed distracted.
"Hey, are you going to tell me what's up with you tonight? You seem nervous."
"I've been debating whether to ask you something for two weeks and it's now or never. I know how busy you have been."
"So ask me. What is it? Problems at home? Kathy was divorced and had her hands full with a difficult seventeen year old daughter and an elderly mother recently moved in.
"No, nothing I can't handle."
"So, what's going on?"
"I wanted to ask you to go to my bosses' daughter's wedding."
"That's it?"
"I hate to put you on the spot. When you are a forty something divorced woman alone they always put you at the table with the elderly deaf aunt or the single cousin Howard with the buck teeth, hair growing out of his ears and a comb over."
"I'll go." He was about to tell her he never liked feeling like Howard either but she kept talking. The single life wasn't all it was cracked up to be.
"I've been to so many work related functions alone, they've started thinking I joined the sisterhood. Not that there's anything wrong with that. It'd double my chances of getting a date."
"I said I'll go."
"You'll go. This isn't just out of pity, is it?"
"Absolutely, but they may also have chicken."
"God, weddings can be so depressing when you go alone, just a reminder that you failed..."
"Stop, stop, don't over sell it. I said I'd go. You had me when you first mentioned the chance to hang out with Howard."
Kathy laughed at that. "Thanks, Gilfillan."
"So when is it?"
"Saturday."
"Saturday? When were you going to ask me, on the way to the wedding?"
"Thought about it but then you'd be dressed in a tee shirt and shorts."
"And the first ten guys you asked all said no?"
"Except the one that said he'd get back to me after he ran it by his probation officer."
They both laughed at that and she moved down the bar to wait on someone else.
"So at this point you have no idea where the ex-wife took off too? Kathy picked up on their earlier conversation. Gilfillan had been bringing her up to date on the case and his efforts to locate the ex-wife of one of the Doyles.
"Not a clue. Either they don't know or they're not telling. They say nobody talks in Charlestown but Jamaica Plain is just as bad. I might as well wear a sign on my chest saying cop. Her aunt only opened her door three inches and her dad laughed out loud when he saw my badge, telling me to go back to Maine. The few that would say anything, all said the same thing that they weren't surprised she took off. Tommy Doyle is a scary guy and all the Doyles are bad news. Tommy is back on the street and no one wants any part of him."
"So, what's next?"
"Well, I finally got a lead on the late Ricky Doyle's girlfriend. Marcy Aldrich has been busted a few times. Nothing serious. Solicitation, resisting arrest. A vice cop told me she was working at a massage parlor here in Maine. Near the bridge in Kittery. Used to be a gentleman's gym and health club. Went broke."
"Don't tell me, you're feeling the need for a massage?"
"I was just there tonight and I'm meeting with her again tomorrow."
Kathy had raised her eyebrows and was smiling. "Tough work, Gilfillan."
"Someone has to do it" He tried not to return the smile.
"And did you have to sample some of their special services so you wouldn't stick out, or so maybe you would stick out?"
Gilfillan laughed out loud at that. "No, I didn't sample their wares."
"Really? You weren't even tempted?"
"Tempted? Absolutely but when you start crossing those lines, it's tough to cross back. My Uncle Jimmy told me that when I was just starting out and it's still good advice."
"Jimmy's played a big role in your life, hasn't he?"
His Uncle Jimmy, also a Boston cop had been his mentor and was his only close family.
"He's been the one constant."
*****
Hampton Beach, New Hampshire
Marcy had been up all night and had turned back twice. She was damned if she did and damned if she didn't. She hated the Doyles but if they ever suspected that she was cooperating or had sent the note, she was dead. If she was arrested and word got out it was anything related to the Doyle's, she was dead.
Her last long term relationship was with Ricky Doyle. He loved her. He always told her there could never be anyone else. She knew he wasn't stable and he could be extremely violent but he loved her. He never hurt her. Ricky could be sweet and innocent and wildly enthusiastic when he got a new idea. He'd wake her up in the middle of the night to tell her about his latest plan. He always said when they scored big they would take the money and go away. Somewhere warm. They'd never come back. Marcy never believed any of this was going to happen but she loved the fact that he always included her and wanted her input.
They all partied back then and no one more than Ricky but it quickly got out of hand after Tommy just seemed to take over. Ricky who was older liked being the informal leader. He couldn't get past the fact he was no longer the one that everyone in their crowd consulted. No one seemed to care about his opinion or his approval. Heroin was fairly cheap and easy to get and he started using. He started screwing up, showing up late or stoned. No one was really surprised when he was found dead in a crappy boarding house's bathroom with a piece of black tubing still wrapped around his arm and a dirty syringe lying nearby. Marcy fell completely apart. She didn't get out of bed for days and when she did, she stayed high and out of it. She wished she could have joined Ricky and almost did. Her hatred kept her going. She blamed the Doyles and Tommy, all who seemed to be taking Ricky's death in stride with comments like: "He's better off" and "He's in a better place." The Doyles somewhat shunned Marcy after Ricky's death like she could have done more to prevent it. No one could have stopped Ricky from being Ricky.
Gilfillan was a half hour early when he arrived at the Ashton. The lunch rush was just about over and there seemed to be quite a few empty tables. He asked for one near a window where he could watch the street as well as the entrance. They still had turkey with all the fixings on the menu and he couldn't pass it up. He was finished and drinking coffee when she finally showed. She was dressed casually in a tee shirt and shorts and he was dressed similarly in a Polo shirt and shorts. Just another day at the beach.
He asked her if she wanted anything and she said a "Sam Adams". That sounded good so he ordered one too.
"Look, I don't know what I can tell you..."
"You can start by telling me who killed Dr. Jameson!" It was a shot in the dark but he wanted to see how she reacted.
"Jesus, didn't I do enough? How did you find out? That fuckin' note, I never should have sent it! Wasn't that enough? "I'm dead if this gets out!" She was rattled and Gilfillan didn't respond. The fact that she had written the note had caught him completely off guard. He had gotten lucky and didn't want to blow it. She was crying and he didn't want a scene.
"Look, you give me what you got and I go away. I'll do everything I can to keep you out of it."
She was quiet for a moment before answering. "I don't really know for sure but I think it was Tommy."
"Why, Tommy?"
"Ricky when he was messed up would go on and on about how they were screwed and somebody was sure to find out. He slurred his words a lot and I couldn't always understand what he was saying but he mentioned Tommy. Usually he was complaining about getting rid of the body and why did he have to do it, it was his plan, not Tommy's. He mentioned a doctor and pills too."
"That doesn't tell me Tommy did it. It could have been Ricky."
"Ricky wouldn't do that. He did some crazy things and hurt some people in anger but nothing like that. Tommy was cold. He didn't care about anybody, except maybe Lori and she was smart enough to get away from him."
"Did you ever hear Ricky say it was Tommy? Did you ask him about it when he wasn't messed up?"
"I did. He was surprised I knew and went ballistic. He told me never to talk about it again and never to tell anyone about it. Not to Lori, not to anyone. He said we'd all be dead if it came out, one way or another. He was wild. I've seen Ricky in a bad way before but nothing like this. He was usually fearless and had a plan to deal with everything but not this."
"How did you know he was talking about Dr. Jameson?"
"It was all over the news. Everyone knew about the doctor being missing and then finding the body."
"Did Ricky mentioned anyone else? Where they took Dr. Jameson? Why he was killed?"
"No, never. He did say over and over again that they screwed up or they were screwed. He was always hard to understand. He once said better off dead but I don't think he was talking about the doctor, I think he was talking about himself."
"You said Dr. Jameson was all over the news. Did Ricky or Tommy ever comment on the killing or react to the news? Or anyone else in your crowd?" Gilfillan kept using Dr. Jameson's name, he wanted to hammer it home that this was someone who died, not just an event or a statistic. "How about the media coverage about his wife or his young daughter Kendra?"
Marcy looked like she was going to start crying again. "No, never, but I remember feeling really sorry for the little girl."
"Do you think there was anyone else involved? You say you think Tommy did it, is there anyone he was really close to, who he would confide in? His wife?"
"Tommy wasn't close to anyone. He was a cold bastard. He was fine with anyone in the group as long as they weren't giving him static or disagreeing with him. At one time he seemed to care about Lori but as we got older he treated her like shit too. Slapping her around or screaming at her over something stupid. I don't think he'd tell anyone but if he did it might have been Lori. He seemed to trust her. At least he did until she divorced him and took off. He's looking for her so maybe she does know something or maybe he just wants her back."
"So far you really haven't given me anything. A confession from your dead boyfriend and a feeling that Tommy may have killed Dr. Jameson."
"That's all I really know but I have always thought Lori must have known something. She wasn't one to talk about any of the crap the guys were into, she knew better. The only thing she would say and only to a few of us in the same situation was that Tommy would never let her leave."
"But she did leave?"
"Yeah, and no one saw it coming. Lori changed after the baby was born, even before. She stopped coming around. Tommy was locked up and I think she got used to thinking for herself."
"And you have no idea where she went?"
Marcy hesitated before answering. "The only thing I know and I heard it second hand. A girl I know, JoJo Spencer, told me that her cousin had run into Lori in Portland a few months after she took off. Lori was waitressing in the Old Port at some club. She said she was leaving with two other girls and going to Florida.
"Nothing since?"
"No, and I told Tommy the same thing when he came around."
"So Tommy's looking too? Did he say why?"
"No, and I didn't ask. Tommy's scary. I figured he was angry with her for divorcing him and taking off. I also figured she knew too much about his business for him to ever let her leave. I even felt in some strange way he still had feelings for her."
"Do you feel she's in danger?"
"Fuck yes. If she doesn't do what he wants or even if she does. There's no telling with Tommy."
"So what are you not telling me?" Gilfillan came across stern, almost angry, watching her closely for her reaction.
Marcy stared back at him. "I told you what I know, more than enough to get myself killed. I haven't got any reason to hold anything back, not at this point."
"If I find out you know anything or hear anything and don't tell me all deals are off." He got up from the table leaving her his business card and leaving her to wonder why a detective from Maine was investigating a Massachusetts's homicide.
She continued to sit there, trying to come up with a way to extradite herself from this mess. Before she could change her mind, she took out her cell phone and quickly called Tommy. "Tommy, it's me, Marcy, we need to talk. I have some information about Lori. No, not over the phone. Can we meet somewhere tomorrow night? I don't know, how about the first rest stop on 95 south, just across the New Hampshire line into Massachusetts. Ten o'clock. OK. See you there."
*****
Old Orchard Beach, Maine
Gilfillan was sitting outside on the balcony of his second floor living room. Two houses back from the beach he had an expansive view of the ocean and several small islands in the distance. He had just settled down to read the Sunday Boston Globe he had just purchased down the street. He was feeling pretty good, he had gone to the wedding with Kathy and they had a great time. She stayed over but left early because she had plans with her daughter today.
His cell phone started ringing and he recognized the number as belonging to Mike Patterson, a close friend and Boston Police Lieutenant who was often his go to guy for information. He had reached out trying to track JoJo Spencer down.
"Hey, that's quick, even for you." Gilfillan had only called him the day before.
You still read the Globe?"
"Have it right here. Why?"
"Turn to the Metro section."
Gilfillan did and immediately saw the article about a male body found in a car at a rest stop on Route 95.
"Ok, do I know him?"
"Tommy Doyle."
"Shit, really? Suspects?"
"Plenty, he wasn't very popular. JoJo Spencer's boyfriend has been mouthing off about doing something about Doyle. I guess Tommy was a little too friendly with JoJo. So far he has an alibi but we'll see if it holds up. Also there's talk that one of the street gangs wasn't too happy with him, it was rumored that Tommy and a friend of his ripped off one of their dealers. Those and a multiple of other dirt bags that don't like the Doyles in general, make this homicide investigation challenging to say the least."
"And of course this also eliminates my only live suspect in the Jameson homicide."
"Don't think the DA is going to be very interested in trying to build a case against two dead men."
"Probably not. I appreciate the heads up"
"Sorry to spoil your day."
Gilfillan waited a day before contacting Kendra Jameson. He explained what he had pieced together. It was very unlikely that the DA would want to commit the resources to investigate. What would be the point with both suspects dead?
She thanked him for some closure. It was something her late mother was never able to find. It was such a senseless act of violence. She didn't know if she could ever accept it, but she did feel better knowing what he thought happened.
Gilfillan ended the call expressing his sympathy and his hope that she would be able to find some peace and closure and the chance to move forward.

---
The Lift
Allan Onik
The burglar lifted the instrument in the dark museum. The other eyed it.
"What the hell is that thing?"
"It's called a Nanoknife. It uses an electrical impulse. Stole it from a hospital—quite dandy."
"Like this overcoat? Dandy. Stole it from an Army Navy surplus store. Russian. Special forces. Cross reinforced titanium mesh—can stop shotgun scatter."
The burglar lifted the instrument and began to cut into the glass case. The diamond was the size of a golf ball—cut like a pentagon. He grabbed it and slipped it into the satchel.
When they crawled out the air duct they headed for the black Hummer. It was running and the two dwarves slipped into the back seat in the dark.
"Kick it," one of the them said. The car idled. One of the little men sat forward. The ex-SEAL's throat was cut and his Omega watch missing. "Fuck me!"
The two walked down the iced street. On the outskirts, the signs were faded and buildings dilapidated. The fog was thick.
"But, of course, the cloak is mine!" came a voice in the mist. Seizing hold of his collar, the burglar was about to shout "watch," when a second man thrust a fist, about the size of a man's head, into the dwarf's mouth, muttering, "Now scream!"

---
The Glistening
Allan Onik
The two stepped into the house from the front door, wearing their black attire.
"I can't believe grandma's gone," James said, lighting a cig.
"What are we gonna do with all her stuff?" Ada took off her shoes. "I feel just like I did when grandpa died ten years ago. Like they haven't gone anywhere, really. Strange, isn't it?"
"You watch too many horror movies. You know, I visited Grandma Lily at the hospital. There's something I have to show you."
James walked into the living room and took an old, leather book off the shelf. It had blackened brass trimmings on the cover and spine. He opened it and the pages were blank. Flipping through it carefully, he ripped one of the pages out and lit it with his cigarette, then blew out the flame. A diagram shaped like an oval appeared on the page, with the face of a daemon in the lower left area.
"In her delirium at the hospital, Grandma kept talking about a school. I thought it might have been the one she attended in Massachusetts just before moving here to Providence. It was a school for the arts, and I couldn't recall the name or understand her in her last hours. But I do remember one thing I heard when I was just a tot. Rumor had it the school had been built near an old cemetery, and that one of the gravesites was occupied by an ancient Warlock named Belle. Belle collected diamonds his whole life because he believed they contained magical properties enhancing abundance, prosperity, courage, and overall well-being. With his collected diamonds he would meditate and tune with nearby spirits. Well, the children knew this and one night they joined, dug the grave, and lo and behold, they discovered the stones. And when I heard her say something about a book, I knew the only book on the shelf that wasn't either Lovecraft, Poe, or King had the map of the buried chest. She doesn't just want to leave her house to mom, she wants US to get the stones!"
The two rushed out to the shed in the backyard and grabbed a pick and shovel. From the map point they began to dig, and soon the moon was out—red and crescent. Lily's black cat sat at the edge of the crater. "It has to be here!" Ada cried. On the next strike the pick hit something hard.
They dragged the chest onto the grass and opened it. "There's at least 60 cut diamonds in there!" James said. He picked one up and let it glisten in the light. "We're looking at a least 2 million dollars." The cat's eyes began to glow, and it hissed. A nearby tree burst into flames, and a fog lifted.
The sheriff reentered his car and fought the urge to vomit.
"Have you ever seen anything like this?" Asked the deputy in shotgun.
"Never. Poor Lily dies and now both of Meredith's children look like splatter in the kitchen. I didn't realize that's what a gut looks like cut out raw. Thought they might be fighting over inheritance or somethin'. Guess I'll take the little pet over to their mom's house in the hills."
The cat curled up on front lawn.

---
The Most Interesting World in the Man
Allan Onik
James stepped off the yacht and adjusted his Rolex. The island was lush, with pristine, white sands and exotic birds. He removed the golden, jeweled machete from the stone and began to cut through the jungle brush at the end of the beach. He labored for what seemed like weeks, yet not a drop of sweat left his brow. Snakes of many colors and exotic monkeys left him unperturbed in the thick of the shrubbery.
Finally, he found the shrine. He entered, and the smell of incense and burning candles tantalized his senses. The golden god sat in a small, jeweled bowl. He was about the size of a hen and had white, glowing eyes.
"Is my journey over?" James asked, "I've been running for a long time, and I'm thirsty."
The deity smiled. "Step a little closer."
James stepped forward.
"Closer still."
Finally, he was face to face with god. "You are everywhere and nowhere, for The World is in you. You've never even crawled across your mommy's carpet." The shrine faded.

---
Euthanize
Emma Hines
Only 13 more days to go.
"This is your daily reminder that self-euthanizers, such as Suicide Cream, Heart Failure Injections, or Brain Death Pills, are prohibited! Anyone found possessing self-euthanizers will have their death day pushed back, so make good choices, and may your death day come quickly!"
There had been a time, I think, when people would do anything to stay alive. In human history, life expectancy grew from a mere twenty or thirty years to a hundred to two, as people became more and more fearful of the afterlife. Longevity Pills were consumed like candy, artificial organs used up like tissues. Population skyrocketed until there was no more room left, until houses were stacked on top of each other into the stratosphere and the amount of air you could consume in a day was fixed. The government began sterilizing people though the water they drank and the food they ate to prevent the continents from collapsing under the weight of so many people, until the last baby born on Earth was mutilated and dead. And still, people refused to die.
And then, one day, it all flipped around.
The idea that someone wanted- really, deeply desired with all their hearts- to die had been a foreign concept back in those days. It had been a sign of sickness, of something wrong within the mind of the afflicted, something to be cured. They had to be rescued from themselves before they could be allowed to complete the natural cycle of things: people are born, people live, and people die. To the people who stayed alive a hundred more years than they should have, the people filled with metal and synthetics that animated their meat sack for them, nothing was worse than death.
Some people knew better, and ended it before The Pain began.
Religious people said it was some form of a god punishing humans for going against the natural order of things, but scientists would tell you that The Pain was the universe's way of balancing itself out. The Law of Conservation of Matter stated that matter could not be created nor destroyed, which mean that, for something to be created, something else had to be destroyed. The four hundred trillion people on Earth who refused to die weren't letting their matter be recycled into new stars and universes, into animals and plants and water and earth and air. The Pain was the universe trying to rip us in half so it could make something new out of the old thing we refused to let go of.
At that point in time, everyone alive had lived much longer than they should have, so everyone felt The Pain. It was ridiculous, excruciating pain that came from everywhere at once, every molecule of your overused meat sack screaming for you to let it go back to where it came from. Everything in you was pulling in a different direction. Your heart was breaking and your skin was melting and all the synapses in your brain were firing. Your blood vessels burst and your skull collapsed and you died while the technology you'd implanted in yourself revived you, over and over again, like Prometheus chained to the rock, his liver eaten each day and regrown each night.
Death's ugly face looked like a cherished old friend compared to The Pain.
Suddenly, people dug out the dictionary and looked up the word suicide. The Pain wasn't strong enough to kill us, and neither was disease nor famine, but perhaps our own strength would do. Hope flared within all of us, and we each prepared our own way. Tall buildings became the most popular tourist attraction. Oceans and other deep bodies of water were visited with heavy stones and rope in tow. I myself had poured a shot glass of bleach, sat down in the chair I'd rested in for three hundred years, and prepared to meet what I'd been avoiding for so long.
Death is like a doorway, and four hundred trillion people couldn't fit through it all at once. 300,000 people could die per day, no more.
And so death days began. Money and power mattered no more; in the end, it was a lottery system, and whoever got chosen first would die first.
The math said that it would take 1.3333333333332 x 109 days for everyone to die, which, divided by 365 days per year, is 3,652,968 years.
I had been waiting 379 years for my death day, making my total age somewhere near 700. Compared to the wait others were faced with, 379 years was relatively short. But it hadn't felt like it.
After 379 years of The Pain, I was certain I was losing my mind. People handled life without death in different ways: some sat in their house, didn't move, didn't blink, and waited. Starvation couldn't kill us, nor dehydration nor obesity nor lethargy. Even brain damage wouldn't induce a coma, so they lived in a makeshift one of their own, staring at the wall or the TV or out a window, and waited. Some lived life as normal as they could and only showed signs of the crippling pain in the deadness of their eyes and the occasional blood they'd cough up and wipe from their chins discreetly.
I had done the latter until my wife's death day had come. She'd kept me sane through The Pain, through thinking about how long I had to go before I could finally just die. And now she was free of The Pain, and I missed her and hated her for leaving me alone to suffer. I stopped going out, stopped pretending that I was anything more than a corpse who couldn't decay, and sat and watched the little goldfish I'd had for my entire life swim around in her glass bowl.
The original death capacity for humans had been 150,000 per day, until it occurred to someone that the deaths of animals and plants were taking up deaths that could have been ours. So we forced upon them the same technology we'd put into ourselves, and made them live so we could leave. What would they do when The Pain came to them and humans were long gone?
That morning, I'd gotten up from my chair, the chair I'd sat down in to knock back my shot of bleach, and put on some presentable clothes. The walk to the light-train station hadn't been very long, and soon I was amongst hundreds of other people bustling around, going about whatever lives humans could have while they were waiting to die. The tiled floor, walls, and curved ceiling glowed a soothing blue, signaling the arrival of the light-train that was coming in from New Hong Kong.
The woman who given the anti-suicide reminder said, "Arrival in five seconds, four, three-"
I jumped onto the tracks.
People hated those who used unauthorized self-euthanizers more than they hated themselves. It was thievery, torture: if someone died, that meant that someone else couldn't, that someone else had to live with The Pain for another day.
But if I'm dead, it won't matter.
The tiles glowed an angry red, and an alarm began to blare. The light-train, going so fast I could hardly see it, stopped instantly. I hadn't even known they had the technology to do that, to stop a train going light speed five centimeters from my breast. Someone grabbed me and hauled me up and off of the tracks roughly, and I was slammed onto the ground.
"That's my death day you could have stolen!" I heard someone scream. Law enforcement was coming for me, their uniforms white like those of a nurse in the hospital.
What I had done finally began to sink in.
Before I could lurch to my feet they were on me, pinning my arms and legs. A beautiful woman holding a clipboard looked down at me, and for a second, she had the face of my dead wife.
"Come with us," she said. "Struggling will not benefit you." I was hauled into a standing position and had my hands bound behind my back, the force field cuffs burning little hairs off of my wrists. People in white began to drag me away from the beautiful woman, who I knew was the one in charge of my sentence.
"Wait!" I screamed. "Wait, wait, please! Please, just tell me, just tell me how many years my death day is going to be pushed back!"
The people in white stopped dragging me, and I met the eyes of the woman as she said,
"The penalty for possession of self-euthanizers is to be moved to the very, very bottom of the waiting list."

---
I Think I Love
Kimberly Thomas
I think I love
the memory of your face
the way you smiled
the way my lopsided grin returned yours
I think I love
the sun beating down on my face
burning, scorching, in the desert heat
in a way you never knew
in the overcast, hazy norm
back when we knew each by other
I think I love
the soft purr and mild mew
of a cat you never met
and I think she loves me too
I think I love
the idea of what could have been
a promise unkept
a future never realized
I think I love
most of all
a memory of a you that I never really knew

---
The Long Road
Shahyeim Oliveira
Cyril kicked the side of his car roughly as he let out an aggravated yell that echoed through the desert around him. The sun beamed down on him only fueling his aggravation, he brought his arm up and used the sleeve of his worn leather jacket to wipe away some of the sweat that had accumulated on his forehead.
Cyril stood by his now useless car for a good five minutes just looking between it and the long desert road that stretched out before him. He finally gave in and with a defeated sigh he made his way to the back seat of his car, after opening the door and retrieving his satchel from the back he slammed the door closed. Taking one last look at his car he threw his bag on and start his long journey down the sun parched road.
The desert around him offered little in the means of shade but he did take solace in the occasional cloud that would pass by the sun for a few fleeting seconds. What the desert lacked in shade however it more than made up for in safety. Far from all the chaos that was the city and the infected that now ran amok, the desert was possibly one of the safest places to be at the moment. Cyril was never partial to crowded spaces, now with the virus outbreak his disdain was justified. The media had taken to referring to the infected as crazies, a name Cyril thought fit perfectly in accordance with their behavior. One minute they would be behaving like normal, the next thing you know they're at someone's throat. The government had been doing their best to keep the virus contained but in the end it proved to be more than they could handle. It's in the eyes, they say you can notice if you look hard enough, of course if you're that close to someone when they turn it's probably the last thing you'll see.
The sun was beginning to lower in the sky providing a slight decrease in the overbearing desert heat. As he continued walking along the side of the road he scanned for any signs that might indicate whether he was any closer to reaching his destination. He reached into his pocket and withdrew his packet of cigarettes taking one out he placed it between his lips, after placing the small box back into his pocket he fished out his lighter. The small flame of the lighter ignited his cigarette and he took a deep inhale filling his lungs with smoke, as he exhaled he felt a small vibration from the ground below his feet. He turned to face the road behind him, a large eighteen-wheeler was barreling down the road towards him. Cyril felt his shoulders tense as he watched the lights of the truck grow closer, his hand moved instinctively to the large knife he kept in his right pocket as he thought. He raised his left arm cautiously and waved at the quickly approaching truck his other hand still close to his knife. The truck began to slow its approach when it was about ten yards away from him only coming to a complete stop once it was directly in front of him, the window of the truck slowly rolled down to reveal the driver. The man driving the trucked appeared to be overweight and unwashed, his scraggly beard contained remnants of many snacks passed and he was clearly much older than Cyril.
"Eh hello," cyril said as he looked up at the man in the truck, he used his arm to block the sun's glare from his eyes. The man in the truck lowered his sunglasses before speaking.
"You must be one crazy bastard to be walking around the desert, you aren't one of them crazies I've been hearing about on the radio, are you?" the man replied.
Cyril shook his head. "I'm infection free luckily so I guess my day isn't shot yet, but my car gave out on me few miles back and that's why I'm walking," Cyril said as he lowered his arm to his side.
The truck driver let out a low chuckle that mad Cyril feel even more uneasy. "So that was your car on the side of the road, I'm guessing you don't get any service out here huh?" he said before spitting out the window away from Cyril.
Cyril shook his head his black hair blowing in the slight breeze "nope not a single bar, my phones practically a paper weight" he responded keeping his cool.
The truck driver let out another chuckle before replying "Hop in kid." Cyril nodded before making his way around the front of the truck to the passenger side door. He pulled it open and climbed into the truck, the truck's cabin was filthy covered in old snack wrappers and fast food cartons. Cyril placed his bag on the floor between his legs and did his best to ignore the smell as he put his seat belt on. The trucker started back down the empty road the sun now almost completely hidden by the horizon.
The trucker was the first to break the silence that had filled the cabin "the names Cletus by the way and this here is ole' Bess"Cletus patted the dashboard with his free hand.
Cyril nodded and tried to muster a friendly demeanor "I'm Cyril, thanks for the ride Cletus... eh and ole' Bess too." he said.
"Where you headed exactly Cyril?" Cletus said as he picked his nose uncaring of Cyril's presence.
Cyril looked out his window at the quickly passing desert. "Las Vegas" he replied
Cletus laughed again this time a bit heartier "Looks like it's your lucky day cause me and Bess are headed that way too, but it makes me wonder what business you got there what with all the craziness going on?" he asked
Cyril definitely didn't feel like swapping stories with this guy he'd met only minutes before so he decided to keep his answers simple "It's a girl." He responded
Cletus nodded his eyes glued to the road "Shit isn't it always, well hope you find her before the crazies do." he said. Cyril found himself drifting off to sleep more exhausted from his day then he had thought. A slight bump in the road roused Cyril from his sleep, could hear a rustling sound coming from beside him. Cyril looked over to see Cletus using his free hand to rummage through his backpack "Hey what the hell are you doing!" he exclaimed before reaching for his bag, Cletus laughed as Cyril snatched the bag from his hand.
"Calm down now boy wouldn't want to do anything you were going to regret later," Cletus said as he reached for something on the side of his door.
Cyril clenched his bag close "Stop the truck now!" he exclaimed gripping for the door handle.
Cletus suddenly raised his free arm to reveal a small handgun, he took aim at Cyril resting his arm across his lap while using his free hand to drive "Now I seen what was in your bag and I know you got some money on you, so why don't you just go and hand it over huh?" he said
Cyril kept his eyes fixed on the gun the expression on his face was calm and collected, using his bag as cover he withdrew his pocket knife and opened it "You really shouldn't have done that Cletus," he said a moment after the words left his mouth the car hit a bump causing Cletus to lose aim. Cyril quickly stabbed him in the leg with the knife while reaching for the steering wheel and jerking it to the left. The large truck swerved and careened of the side of the road landing on its side and kicking up a large dust cloud, the gun fired a couple times from inside the cabin but was quickly followed by silence. The door to the truck flew open as Cyril pulled himself up and out, he reached back in pulling his satchel out before dropping to the ground below. He placed his hand against the underside of the truck "sorry ole' Bess." he said before turning and limping slightly towards the road leaving a bloody handprint on the truck. As he reached the road his satchel dragging behind him in the sand he looked up to see a small green road sign that read Las Vegas five miles away. Cyril let out a small chuckle in relief before slinging his bag over his shoulder and making his way down the darkened road towards the shining jewel of a city waiting for him in the distance.

---
Haiku (keyhole)
Emiliano Vasquez
We stand face-to-face
Like looking through a keyhole
Then I break his nose

---
The Ministry of Games
Anita G. Gorman
The Ministry of Games had become a bona fide official government bureau in the year 2028. Prior to that time, games had been left largely in the hands of children, their parents, their schools and churches. On a higher level, of course, games had been the province of adult players and the businesses that owned their franchises. It must be said that for the most part everyone had had fun playing games since the beginning of the republic. That all changed in 2028.
The signs had been there for quite some time. More and more government officials wanted to pass laws to improve the lives of the citizens whose lives they thought needed improvement. Ordinary Americans, as the politicians liked to call them, had so many bad habits: smoking, drinking wine and beer, sitting around watching television, eating eggs and chocolate, smearing butter on their white bread. That had to stop, and so media campaigns as well as laws and government bureaucracies began to sprout like bean sprouts throughout the nation. Then some so-called expert would complicate life by "proving" that eggs were not bad and might even be good for us, or that chocolate and wine kept us young, or that butter, that tasty indirect gift from the cow, was far more healthful than the chemically induced substitute the citizenry had been urged to consume for all those years. Therefore, from time to time the bureaucracies had to find another virtuous cause with which to afflict the rest of the citizens.
Public officials often mourned the fact that there were so few areas where they could really influence public behavior. Laws could only go so far, and some practices, like the eating of chocolate, were beyond the ability of lawmakers to forbid. Most officials remembered what had happened during Prohibition, when those ordinary Americans broke the law in order to have a glass of homemade wine or bootleg liquor. What would happen if we banned chocolate, the members of the Health Party mused. Would children become criminals?
And so it came about that a new and quite unusual cause was promoted. The Speaker of the House and member of the Health Party, one Roland Arthur Tambleton, or Rat, for short, was sitting in his office in Washington one day playing Solitaire when it came to him. "Games! We could regulate games! What a brilliant idea!" He quickly scurried across the hall to talk to his aide, Marvin Killjoy, known affectionately as just plain Killjoy.
"Killjoy, I have a great idea. We can regulate games. We can't ban them—no, that wouldn't fly—but we can regulate the hell out of them. And tax them."
"You think Congress would go for that?"
"Both houses are in our hands. Of course, they'll go for it. The president is a Health Party member. Why do I have to spell this out for you? Isn't it obvious?"
"Yeah, I understand that, but regulating games seems a bit extreme, even for us."
"No problem. We enact a law, the president signs it, the Supreme Court validates it (if needed), and we appoint a Minister of Games."
"Minister? Doesn't that sound kind of European?"
Roland Arthur Tambleton, aka Rat, paused. "Yes it does, and, frankly, I think that makes it a more convincing title. Secretary of Games doesn't sound right, and neither does Games Czar; it's even hard to say."
And so it all unfolded. Congress passed the bill, the president signed it, and the Minister of Games was appointed. The minister turned out to be Bella Antoinette Tambleton, known affectionately as Bat to her friends. She also turned out to be Rat's wife, but no one seemed to mind. She took to her new job like the proverbial duck to water, or like a goldfish to a bowl, or a dog to a bone. Before long, thanks to the efforts of Congress and the Minister, a large volume of regulations had been prepared. No one person knew exactly what was in the Book of Regulations, but everyone was awed by it and slightly afraid that he (or she, as the case might be) had violated one of its rules.
Bella Antoinette Tambleton, the Minister of Games, along with her staff, produced multiple ads to highlight the new rules. She appeared on the weekend news shows and developed her own television channel for games regulation orientation. Certain rules were clear:
All games shall be regulated by the Ministry of Games.
Games shall include amateur as well as professional games.
Amateur games shall include anything played with a ball, racket, board, dice, cards, pencil and paper, computer, tablet, or smart phone.
Each citizen above the age of three shall be allotted thirty minutes of games per day, with an extra thirty minutes granted on weekends, which brings the total to a maximum of four hours of game time per week.
Continuous surveillance of each citizen above the age of three shall commence immediately. Those not in compliance with the Ministry of Games shall be fined. Multiple fines shall lead to a day in court for those over twelve years of age, with the possibility of house arrest or imprisonment to follow.
No one is to win at any game. Winning does not conform to the Health Party's ideal of "Equal health and happiness for equal citizens." Participation points will be logged into each individual's private account. These points will not be used for anything at all, unless needed to demonstrate culpability in a court of law.
At first the citizens complied with the new regulations. They seemed, after all, fair. Besides, the surveillance apparatus made it difficult for anyone to disobey. But, of course, someone did decide to disobey. Someone always does.
Janice Olivia Yarborough, also known as Joy, was one such person. She loved games of all kinds, games played with a ball, racket, board, dice, cards, pencil and paper, computer, tablet, or smart phone. She also knew that thirty minutes a day was not enough for her. Why, one couldn't play a full game in only thirty minutes. Of course, according to the authorities, that didn't matter, since no one was allowed to win. As she pondered why the citizens were now being limited to thirty minutes each day, with an extra half hour added on weekends, she decided to call her congressman.
Dwight Urban Philips-Everton, also known as Dupe, had been Janice Olivia Yarborough's congressman for a long, long time. He was married to Sabrina Ursula Everton, a lawyer known as Sue. Dwight had hyphenated his name at their marriage, though Sabrina had kept her maiden name, since by the time she married Dwight she had already made her reputation as a lawyer specializing in class-action lawsuits.
It was a fine, sunny afternoon in May when Joy punched in her congressman's phone number. His secretary answered the phone and put Joy on hold. Before too long, Dupe was offering a too-hearty hello to his constituent.
"Hello. Dwight Urban Philips-Everton here. How may I help you, my dear?"
"Good afternoon, Congressman. Thank you for taking my call. I'm contacting you because of the new game regulations."
"Is there a problem?" Suddenly, his voice seemed less friendly.
"Well, I wonder if you could try to give us more game time. I mean, thirty minutes a day max isn't very much."
"My dear, the legislature, the president and the Ministry of Games have your interests at heart. Remember that part of each citizen's day is devoted to work or to school, to eating, to taking care of one's personal needs and, finally, to watching government-approved programs on television. That leaves only a limited amount of time for frivolous games."
"Yes, sir, I realize that, but there are so many games, games for the mind and games for the body, and games for the spirit. I just don't think four hours a week is enough when you consider all the possibilities."
"I'll file an official report about your phone call. Thank you, Ms. Yarborough." Click. He was gone.
Joy put down her phone. She felt uneasy about being the subject of a government report. She decided to call her friend Frances Ulla Nordstrom, usually called Fun by her friends.
"Fun? Joy here. Listen. I need to talk to you. Where can we speak in private?"
"I'll be at your house in ten minutes."
"But.." Joy wondered at Fun's speedy reply and then realized that her friend was probably worried about the constant and seemingly omnipresent surveillance. Maybe Fun knew someplace they could talk. The phone somehow didn't seem safe.
Joy sat down to a game of Solitaire while she waited for her friend. She knew it wasn't the best way to use up her game time, but she didn't have enough minutes to do much of anything else.
Soon there was a knock at the door. It was Fun. "Let's go for a walk," Fun said. And so they did. They walked through their pretty little town to the city limits, chatting about nothing in particular. They could see the surveillance cameras here and there, moving to the left and right as they walked by. The friends engaged in small talk and more small talk; they were playing it smart.
Finally, they came to the end of town and walked into an open field. Beyond the open field was The Forest. The forest had no name; it was just The Forest. Joy had decided when she was little that that was, in fact, its name, and it was an appropriate name. It reminded Joy of fairy tales and mystery. "I love The Forest," she said, as they entered beneath the towering pine trees.
"There are no cameras here."
"Are you sure?"
"Yes. I think that there were going to be cameras, but the federal funds to help the states and the subsequent funds to help local towns ran out, so our town of Peg Leg's Crossing had just enough funds for cameras within the city. No one cares about the township, anyway. "
"I hope you're right."
Fun turned to look at Joy. "Yeah, I'm right. So why are we here? What do you want to tell me?"
"I want to tell you that we need to start a rebellion against the Ministry of Games."
Fun looked scared. "Isn't that a bit risky?"
"Sure, but do you really want to have no more than four hours of games a week?"
"No, I don't. And I don't want to have all those other rules and regulations either. I want to run in the woods. I want to be free." She looked around and saw an owl high in a tree. "Hey! Let's play a game while we're here."
"We don't have any equipment."
"We don't need any. Let's run a race, through the woods and back again."
And so they did. Fun was the winner. Joy didn't mind; she liked the fact that someone had won the race. She hated the government's desire to eliminate all competition. Then they played Hide and Seek, but they couldn't really figure out how a winner could be declared. "No one wins or loses at Hide and Seek. Especially if there are only two players," Fun concluded. Then they were tired. They sat down under a tree.
Joy started to pout. "We don't have a plan. We don't know how to organize a rebellion."
Fun thought about their predicament for a few minutes. "Joy, do you know a lot of people you can trust?"
"Yeah, I guess so."
"So we'll start with people we can trust, and we'll tell them that there will be endless games in The Forest every night."
"Endless? How can they be endless? Won't people get tired?"
"OK, don't take me literally. We will play games until we want to stop."
"What about the surveillance cameras? Won't they notice that people are walking toward the city limits and not coming back?"
"Yes, they will. At least, I think they will. You know, I'm just tired of living in this crazy world of cameras and rules and no fun, and no joy—except for the two of us, course."
"So eventually we will get caught and punished."
"True, but I'm willing to risk it. Besides, what if we get just about everyone in Peg Leg's Crossing to play games in The Forest? They can't put everyone in jail. Our jail is tiny. Besides, prosecuting the whole town would make the members of the Health Party a laughing stock. At least, I hope so."
And so they began by recruiting their trusted relatives and friends. And the trusted relatives and friends recruited others. And the wise old owl in The Forest seemed to marvel at the hundreds of children and adults who came to frolic every night. They organized competitive races and had winners, though they were afraid to order trophies. Still, the winners had the satisfaction of knowing that they had won, and they knew that everyone else knew as well. They didn't need a trophy to hide under the floorboards in the living room.
One night, a few weeks after Joy and Fun's plot had been hatched, the entire police department of Peg Leg's Crossing entered The Forest. Since it was a small town, the entire department meant a police chief and four officers. The dispatchers and secretaries were already playing games among the trees and bushes. Police Chief Ronald Ignatius Gustav Hollis-Tarkington, also known as Right (but never as Mr. Right) addressed those who were frozen by the lights of the officers' flashlights. In the distance they could hear the laughter and yelling of those frolickers who were unaware that the police had arrived. Right began.
"You may be wondering how we found out about your antics here in The Forest. Not via a secret code or Interpol or a secret informer. No, we started noticing that the night dispatcher started calling in sick, and the day dispatcher was always falling asleep between phone calls. We decided to finally check those surveillance cameras. Frankly, I hadn't been too interested in spying on the good citizens of Peg Leg's Crossing, but I figured it was time to do so. We saw an astonishing number of our citizens heading toward The Forest each evening. So we came to check."
Fun decided that if anyone was to take the blame, she was the one. "Sorry about this, Chief. It's all my fault. I'm the one who came up with the idea of having games in The Forest."
Then Joy spoke up. "But I was in on it from the beginning. Fun and I were the original instigators. These other good citizens of Peg Leg's Crossing are not to blame."
Then, one by one, the good citizens of Peg Leg's Crossing spoke up.
"I was in on this from the beginning."
"I'm guilty as charged."
"My whole family is involved. We are not innocent."
And so it continued until Police Chief Ronald Ignatius Gustav Hollis-Tarkington, also known as Right (but never as Mr. Right) put up his hands in protest. "OK, guys, you're all guilty as charged, but you haven't been charged, and you're not going to be, if it's up to me. Men," he said, turning to his officers, "I order you to find a game you enjoy and participate for the next two hours. Be out of here by midnight, so you can put in a decent day's work tomorrow. As for me, I'm going to see if these middle-aged legs can still run a race." And he took off, hoping others would follow him. And they did.
Joy looked at Fun, and Fun looked at Joy. Joy spoke first. "Well, we're not out of the woods yet, so to speak."
"Why not, if the police are on our side?"
"There's still the Minister of Games and the Ministry of Games."
Fun pondered that depressing idea for a moment. Then she snapped her fingers. "Listen. There was a time when the Health Party was not in power. And if we work hard, there will be a time again when the Health Party won't be in power. We still have elections, you know."
And so it came to pass that the citizens of Peg Leg's Crossing enthusiastically began a movement that swept across their county and then their state and into other states. And by the next election, the Health Party was the minority party, having lost a number of seats to the new Fun and Games Party. It was definitely going to fun and games for the foreseeable future.

---
Parable
Reggie Mills
Part 1
Here is a good one for you.
I tell my pal Walter that I have fucked his mother. It is not relevant if I have or have not fucked his mother. I have not actually fucked his mother but this is not relevant. What is relevant is that my good pal Walter does not know the false truth of what I have said, in terms of me having fucked his mother. So.
Then: Walter is upset towards me about what I have told him. Fair enough. I would expect no less. This is genuine anger towards the genuine person me. Plus, on top of this, at the time when I said what I said, I made to depart from the premises of my good pal Walter immediately, without giving him time to come up with substantial response, leaving him in a word insatiated, if that makes sense. Plus this was also in front of a group of mutual friends, say upwards of half a dozen friends, so Walter's blight and shame were made quite public, I should feel.
Then, I did not see or come into contact with my good pal Walter for a number of days after the event, so I left him to stew in it, basically.
I heard through the grapevine that in these days Walter's anger while traversing the general community was palpable.
In any case, on the next instance when I encountered my good pal Walter I could taste his anger through the furrow of his brow. And this is when Walter says to me that he will slit my wrists and stick them in bleach.
At this point I would like to pause, since this is a vexing thing for me myself to hear. It is a surprise that my good pal Walter will want to do this to his good pal me. And yet there are parts of what I have heard that to me feel real. For instance, I believe it is obvious that Walter's anger is genuine. But that it is genuine enough to motivate Walter towards slitting my wrists and sticking them in bleach? Putting me in such a world of pain? Potentially even poisoning my blood with hypochlorite and inducing my death? This, it seems, is not so clear.
And so I believe there is some unpacking for us to do if we are to solve this. First, let me vacuum ourselves into the assumption that Walter is upset towards me just for the fact of an innocent person intercoursing with his mother. Is this such a bad thing? For his mother to enjoy pleasure, and to be happy? Is Walter the type of person to not want others to be happy? His very own loving mother, no less? Walter is my good pal, and this personality trait is unfaithful and something I would not condemn to him. His anger cannot just be this.
The next thing I think we should turn to is the betrayal of me towards Walter that my action implies. Since Walter and I had been good friends, intercoursing with his mother without discussing this with him first could be thought of as going behind his trust, which he may be displeased with. Additionally, there is the fact that I kind of threw Walter under the bus of our mutual friends' attention, making this statement public to them, exposing him not only to my action but to the ridicule and shame on his part.
I think we must as well consider the question about if Walter believes what I have said. I am not inside of the mind of my pal Walter so I cannot say from which direction his anger is motivated. The anger is real. It is possible he does not believe what I have said, in which case however his anger still stands.
Plus there are so many other factors which could go on and on, so I find myself unable to reach conclusion—unable, worrisomely, to determine if my very own blood and life are at risk. Which is not a place I would like to be. And so at this juncture I appeal to you for help in asking:
Is or is not my good pal Walter going to genuinely slit my wrists and stick them in bleach.

Part 2
The part I forgot to mention in out last problem was that though I referred to our person of interest as my good pal Walter throughout, Walter is not genuinely a good pal of mine. Walter actually is not even a person. Walter is a character made-up.
Maybe go back now then and adjust your response.
In any case, I have a real good one for you now though. I will have to warn you however that this is a good one both for its moral conundra, but also for its gut-wrenching emotional gravity; so if you are a faint-of-heart type please turn away.
But I will continue: This one now is about a girl that I know from my real life who for the sake of her genuine privacy I will call her J(jjj Our story begins with J(jjj So.
J(j J(j The day passes okay and she goes to sleep at night. But when she wakes up the next day she has a headache that renders her unable to function. It reaches midday and without any noticeable change in symptoms J(j They run some quick tests and the doctor comes in with the results.
And what J(jjjj But: The doctor does not stop here. Not only is J(jj Withdrawal from such is indeed the source of J(j Plus, and the doctor doesn't know if J(jj Which J(j So it then occurs to J(jjjj Then J(jjjj Aborting the child, killing it for her own well-being, is such a deep evil to J(j In any case, J(j Was this the correct choice?

Part 3
Would your answer now change if I said that our character's legal name was genuinely J(j Anyways, I have one more tale for you before we are done. This last one is a little bit shorter and also less unhappy, I believe, than the one in Part 2, which I think will be good for righting the mood a bit before we go our separate ways. So let us get into it.
Riddle me this:
I am the person of interest in this case. I am in this case a middle-aged housewife. I am not genuinely a middle-aged housewife in real life but that is not important; I am for this fiction a middle-aged housewife. At this moment in my middle-aged housewife life it is a weekday afternoon and my loving husband is at work and my lovely children are at school. I am folding a load of freshly hot laundry in our living room which I decorated myself according to a picture I liked in my favourite décor magazine, which I have a monthly subscription to. At this time I am also enjoying a cold glass of my favourite twist-cap pinot, bottles of which I, in these past weeks, have been able to drain dry at a rate of roughly one per two and a half weekdays, and while I am drinking this glass I am also watching today's episode of The Dr. Oz Show on the living room's 50" 4K HDTV. All, you may recall, while I fold my laundry. It is 1 p.m.
What ends up happening is that, on this episode of The Dr. Oz Show, Dr. Oz reveals a new, revolutionary weight-loss treatment. He has a guest on the show presenting this thing to us. It is a treatment in the form of a pill which if you take it you will shed such a volume of weight that you will be amazed. You take this pill twice a day with water and with a one-hour buffer before and after meals and you will see results within a week.
It is no secret that my figure is not as it was when my loving husband and I first married. It is no secret to my husband. Three kids does this to your figure. And I would not mind having my figure back as it once was.
So this weight-loss treatment is appealing to me.
Plus, says the guest on the show who is a friendly-looking woman with brown hair in a tight ponytail, this treatment is both herbal, which I like, and all-natural, which I like.
I buy two months'-worth of the thing, a total of 120 pills for only $49.99 USD +S/H, and they arrive at my suburban two-storey house in only three days, which impresses me. I begin the regimen that day.
I do not at all discuss with my husband that I am enduring this treatment, for I know that he does not enjoy discussing topics of trivial domestic nature.
However, after exactly one week of taking this pill what ends up happening, to my chagrin, is not only that I don't lose any weight, but that I actually gain five pounds, which for a person of my stature is a significant volume. These are not the advertised results.
And so I am displeased: I feel displeased with Dr. Oz. I feel betrayed by Dr. Oz. This "Dr." Oz who let this friendly ponytailed woman onto his show to claim that this treatment will work.
In my displeasure I use a full weekday afternoon while my lovely children are still at school to write up a letter to this "Dr." Oz using my family's Macintosh home computer. I use some of my strongest words. I say how it is now apparent to me some of the parallels between this Dr. Oz and the famous Wizard of Oz, and the scathing wit of this association fills me up.
But when I go to mail the letter a weird thing happens: When I go to mail my letter I see myself from outside myself. I see myself holding the letter printed out in black ink with the appropriately distributed italics, boldfaces, and underlines, for emphasis. I see myself holding the envelope with the written-out address of The Dr. Oz Show's Viewer Interaction department. I see myself preparing my mouth and its ample reserves of saliva for when I need to lick said envelope shut.
And so it occurs to me, as it may have occurred to you, that either I can mail this letter or I can not.
I leave the rest to you.

---

---


The Girl Who Chased After Love
Marc McMahon
For my friend, Aria, I hope you are well
When I was growing up as a little girl I was just like the rest of the little girls I knew. I liked pigtails, and pony tails, tall tales, and snail's shells. I liked Barbie dolls and doll houses and barbecues and bologna samiches, and I really, really, really, liked my mommy. Hmmm my mommy, now there's a topic for discussion but I think I will just let that one go until a little bit later in this. Let's see where was I, oh ya, little girls and their likes. I think I have already had enough of the cute little girl stuff for one day honestly. I mean I wasn't even able to be that cute little girl for very long anyways. That's when I first started to notice it.
Let me try and explain when all the rest of the little girls were still busy being little girls, I was starting to hear "come on now I need you to be mommy's big girl today." The time to play with my friends and have sleepovers at my house was quickly becoming a distant memory. As I watched my childhood slowly begin to drift away, my little friends I had so much fun being with slowly began to drift away as well. Let's just say I had to grow up fast, too fast, and I did not even realize it at the time. At the time, I just thought it must be because I am so much more mature than the rest of them. I even found myself starting to look down on my little friends a bit for being so silly and girly all the time!
Let me ask you a question, do you know what it feels like to wonder if your mom really loves you? Or if she ever loved you? Or how about, do you know what it feels like to hurt so bad inside that it almost feels like your soul has a stomach ache? I didn't think so, well I do, and it's not a good feeling, at all. It's the kind of feeling that you would give anything not to have. The kind of feeling you start sneaking sips out of mom's whiskey bottle to try and numb. The kind of feeling that you find yourself sleeping with many different partners to try and mask, to try and feel, something, other than that dull empty ache! To try and see if you can recreate the love that you felt that one time when you very young before the nightmare began. I hate nightmares, especially this one.
I can see you want to ask me a question but aren't quite sure how I might react to it so you're not going to, but I am going to answer it for you anyway as if you did. The answer, no, I do not hate my mother for raising me the way she did, for treating me the way that she did. Or even for letting her scumbag boyfriends touch me the way that they did when I was younger. I tell you what though, I hate those men. If given the chance I will castrate every one of them, very slowly. It was not my mom's fault her boyfriends did those things to me, not at all, so how can I blame her.
You know how men are, especially drunk scumbag boyfriends who beat their women and love touching 12 & 13-year-old little girls. They are pushy, and demanding, downright scary to be honest with you. My mom would have stopped them had she been able to, but had she tried, she would have ended up like she usually does when she talks back to one them. Face down on the living room floor both eyes black and blue and blood gushing from a broken nose. So as much as I didn't want to and as bad as it hurt, I let them, it was time for me to be mommy's big girl again.
My life this past 21 years has not been easy, but no one ever said it was supposed to be either. I think maybe this is just the way it is supposed to be for me, hard. Not at all what I had envisioned it to be when I was young, not at all. When I was younger and people asked me what I wanted to be when I grew up, my answer was not a drug addict or a prostitute, it wasn't even a stripper. You wanna know what I used to tell them when I was young? I said when I grow up, I wanna be a mommy just like mine!
When I was a little girl, I was just like the other little girls, at least for a moment anyways.

Marc McMahon bio
Marc is a 48-year-old Author, Speaker, and Soldier in a war to loosen the grasp that Substance Abuse has on our society. He is a Father, Son, and friend to all those seeking refuge from this incorrigible disease. Marc resides in the beautiful Pacific Northwest where he enjoys, writing, hiking, and kicking the disease of addiction in the teeth, every chance he gets. As Marc always likes to say, "be blessed, my friends!"

---

---


What Would You Do?
Kayla Scutti
The family gathered around as the doctor spoke. "He only has a few more hours left."
Karen felt the room close in around her. Fog of unreality clouded her vision and voices became muffled. Her baby, the little boy that she rocked to sleep for six months, was leaving her. Cancer had taken over his body and made him into someone she didn't recognize. As the respirator pumped behind her, Karen placed her face in her hands. She wasn't ready. How can you ever prep yourself for something like this?
"I'm so sorry," the doctor said, packing up his bag. "I'll leave you guys alone."
Karen's husband drew her into his arms, and she began to sob. After losing her first child to a miscarriage, she knew that her son was a miracle. But now, God was taking him away from her too. Silently she cursed God for doing this to her a second time. Leaving her husband's embrace, Karen walked over to the side of her son's bed and sat next to him. Holding his hand in hers, she thought about how much it has grown in the last six years from that premature palm it used to be. His skin was still so soft as she rubbed the back of his hand with her thumb.
"Karen," her husband's sad voice interrupted. "I'm going to take your parents to get some more flowers. Maybe some balloons, too."
Karen couldn't hide the disgust in her voice. "Now?"
"It's right down the road, and honestly honey, I need a moment. It's been days of this. I need some time to just wrap my head around what's coming."
"You need some time alone with him, sweetheart," came Karen's mom from the doorway. "To...say goodbye....without any of us around." Walking over to her, she embraced Karen tightly.
"Thanks, mom."
Her dad came over and squeezed her shoulder without a word. He has never been good with death or comforting others in time of need.
"Love you, honey; we'll be back soon," Karen's husband kissed her cheek, and the three of them departed.
After a few minutes of tears, Karen felt like she had to say something to him. Comfort him in some way. "Hey, buddy. I'm not sure if you can hear me, but if you can, I just wanted to...to say...I love you so much," she started to sob again. "You have no idea, baby. I have never been happier in my life than these last six years. You have brought joy, unspeakable joy, to this family. Do you remember, when we went camping last year, and we put a toy snake in daddy's sleeping bag?" Karen laughed, tears still streaming down her face. "Oh, he was so scared, you said he sounded like a girl when he yelled. Your laugh, that amazingly sweet laugh..." she couldn't hold it together any longer. Big tears rolled down her cheeks into her mouth.
The doorbell rang, and Karen thanked God for the distraction. Before leaving, she kissed her son's hand. Once at the door, she looked through the peephole and didn't see anyone. That's odd, she thought, opening the door to make sure. Sitting in the center of the mat was a tiny square box. Karen bent down to grab it. It was black and smooth to the touch. About the size of a Rubix cube. Karen looked at it with puzzlement at the kitchen table and turned it around to get more information about this mysterious box.
There was a small button on the top, so Karen pushed it in. Just as she had hoped, it popped open, and inside was a folded piece of paper and a larger red button. Karen placed the box gently on the table so she could unfold the paper. Gasping, she read it again, almost not believing the words written.
"If you want to save your son's life, press the red button. But beware, it will cost more than one life to repay."
Karen grabbed a cigarette, light it, and took a long drag. Is this real? Who could have known that he son was dying? But, even if it were true, who had that kind of power? To bring one life back in exchange for another, that sounded like some voodoo nonsense that gave her chills. So many questions raced through her mind. Would she know the person that was taken, or would it be some random nobody? Someone that wouldn't be missed.
The Catholic inside of her was whispering not to do it. How could she live knowing that her son was saved in exchange for a different soul? Although, if it was someone meaningless, that might be ok. Oh, but who was she to judge if a life has meaning or not?
For what seemed like hours Karen fought with herself silently. The angel on her left was saying that it was her sons time. Everything happens for a reason. But the devil on her right kept reminding her that her son never got a chance to live. Six years is barely enough time to learn how to tie your shoes.
Just after Karen read the note again for the hundredth time, loud beeping came from her son's room. She knew this meant that he was leaving her forever. Panic struck, and without thinking, she slammed her palm on the red button. The beeping stopped, and Karen heard a sound that made her fall to her knees.
"Mom? Where are you?"
Getting up to see her beautiful son, she sobbed. He was alive! Did it work? But what did this mean? Again, so many questions flood through her head. She didn't have enough answers, yet she reacted so quickly.
What could be more important than saving her son? A voice asked inside. There was no need to tell anybody. When her family came home, they could all chalk it up to a miracle. No one had to know.
The doorbell rang again before Karen got to the room. She ran to it and threw it open without looking first. The smile left her face, and her stomach dropped to her knees. Two cops stood before her, hats under their arms.
"Ma'am, I'm afraid there has been an accident. We are going to need you to come with us."
Karen's head filled with fog again. "I...I can't. My son, he's sick, and I can't leave him. What happened?"
"You're husband and parents were hit by a drunk driver, ma'am. I'm afraid..." the officers looked at one another, then back to her. "I'm sorry ma'am. They didn't make it."

---

---


The Tolerance of Her
Christiana Swain
She was not just another woman. She was his only woman, the love of his life, the one that had seduced him at the early age of 16 after he suffered a football injury.
She had been there for him every day and every gloomy night, through all his ups and downs. Everything he went through she was there with him. Years later as his 5'9" 180 lb. frame sprawled out over a worn dingy navy blue love seat he came to the realization that the cravings he desired for his first love were slowly inducing him into a coma.
The small room he rented from an Albanian woman was where he was at his darkest moment. His current situation left him aimlessly flipping through the mini tube television with no real desire to watch anything, but the craving to feel her powerful seductiveness that would move through his body recapturing his youthful years.
Toys scattered across the plush royal blue carpet as everything in the small cramped room started to close in on him. As he lie there on the couch smelling of bodily odor, the cushions hugging his body he reminisced of how he would sit for hours on end with her reading through the comic books that were now slowly disintegrating.
His feet were so firmly pressed against the cold Embossed vintage Baroque green walls that his body started to feel emotionally numb and as gravity pulled him to the couch a rhythm of tremors surfaced his from his feet all the way to his dark shaggy hair.
Still in his general repair maintenance uniform he dozed in and out of a hypnotic state, rays of the television reflecting off the wall. He knew he needed her. The longing to feel the warmth through his body and the potent love so strong and powerful with emotion.
It was like this every time, his hopeless addiction to her made him neglect everything around him including himself. He tried many times to rid her of his life but the amnesia he would suffer the next day sent him running right back coping with the misconception of her.
The fixation and the obsession had him hooked on her, his drug, his love, his woman - Percocet.

---
The Hardest Decision
Andrew Yusi
It had been 42 days since society had collapsed, but all Marcus could think about were the last few hours he had been walking. Feet numb, exhaustion kicking in, and he was only a fourth of the way to his destination. He walked down a long road that was surrounded by woods. The desolate street had been littered with empty cars, none of which worked. Each item on the street told a story; suitcases broken open, blood on the pavement, empty shell casings on the ground. Marcus had to focus though. He had to get to the nearest hospital to save his son. The worst part is that he doesn't even know if the hospital will have any medicine left to keep his son alive, but time was running out. He just made the hardest decision of his life, leaving his sick son behind to save his life. Marcus prayed that no one would break into the home, and he would return with exactly everything the way he left it: locks on, windows intact, and most importantly, son alive. Marcus looked down at his map every minute, making sure he was headed in the right direction. He knew that if he made a wrong turn that took him two minutes out of the way, that would be two extra minutes he couldn't be with his son.
At this point of the journey his senses were numb. His eyes were shutting, his mouth was dry, and his ears were humming. Wait, why were his ears humming? Marcus immediately became alert and heard a noise in the distance. It sounded like an engine. As the sun beat down on the pavement, a truck started to appear in the horizon. Marcus knew he could either run into the woods so the truck wouldn't see him, or he could wave it down to try and get a ride. Marcus knew the dangers of waving the truck down. In this new world, there were no laws. In this new world, everyone's true colors showed, and they weren't pretty. Marcus knew about this all too well. He also knew that if he didn't get to the hospital quick enough, his son will surely die. On the other hand, if Marcus were to die by this driver, his son would have thought he had been abandoned by his father. Marcus then had to make the hardest decision of his life. Marcus jumped the divider and stood in the center of the road. The truck drove closer as Marcus waved it down. The truck came to a screeching halt as Marcus reached for his pistol hidden in his belt. The window rolled down.
"Howdy there. Looking for a ride?" the truck driver asked.
Marcus nodded. "Yes," he muttered.
"Alrighty then, hop in."
Marcus opened the door to the rusty old truck. He sat down in the tattered seat, still skeptical of whether this man was a psychopath.
"It's nice to meet a normal person every once in a while," the truck driver said. "This world brings out the worst in us."
"Yeah, we've been through some pretty crazy stuff," Marcus said.
"We?"
"Yeah me and my boy. That's why I'm out here. I need to get him medicine, fast. Do you know where Grady hospital is?"
"Yeah, I reckon I do. That's in the city, right?"
"Yes," Marcus said reluctantly.
"Well, the city is too crazy for me. That's why I'm driving away from it. You should steer clear of it too."
"I need to get to that hospital."
"Well, I'm sorry. I can't take you there."
"I understand."
Marcus hopped out of the truck and looked back at the driver. His mouth was moving but Marcus didn't hear any of the words. Marcus's eyes clouded up as a single tear fell from them. The talking stopped. Marcus had to make the hardest decision of his life. He paused for a bit longer than a standard second and reached for his pistol. He fired his last bullet at the truck driver. The driver laid dead against the steering wheel. Marcus drug the body out of the truck and onto the pavement. "I'm sorry," he said. He hopped into the truck and stared at the dead body and the shell casing on the ground. He had just added another story to that road. He started to turn the truck around as he realized he will be faced with the hardest decision, time and time again.

---
Proper Hygiene
Shelby Leet
There is no event that can make you question your life choices quite like having your ass stuck to the roof of your apartment. Harlan's horoscope this morning made it seem like it was going to be a pretty decent day: Gemini—Stay the fuck off my lawn. Well he had done exactly that, yet here he was by late afternoon, blood pooling slowly to his face and a suspiciously lightbulb-shaped burn on his hip punctuating his thoughts with intermittent stings of pain.
It started the way most catastrophes start—with an off-brand household cleaner. Usually Harlan had a natural disinclination toward any nondescript fluid in a spray bottle, but the door-to-door salesman had been more than just insistent. This bloke had banged his fist on the door until he had warped and dented the particleboard that served as Harlan's only barrier between the hamster-cage smells of communal filth and the apartment hallway.
Harlan had wrenched the door open and been greeted with a face full of spray that sparkled on his skin, itched his eyes and smelled like a lemon's taint. The salesman said a lot of things in a language he couldn't distinguish (if it was, in fact, a language) but the one word Harlan understood was clean. He rubbed at his tortured eyes like a horsefly and tried to fan his rage for the salesman, but he couldn't deny that the cleaner must be working—he felt an urge to delete his search history coming over him.
Harlan tried, as the salesman let himself in, to tell him that he was not interested. The salesman rambled on in tongues, spritzing the television, the framed pictures of other peoples' cats, the cushions of every chair, and almost every single toaster in the bathroom—all the while muttering over Harlan's protests in a language that was not unlike Cthulhu in a chatroom, littered with clean... clean... clean... And the salesman could not be reasoned with. Harlan tried being calm, he tried being assertive, he tried pantomiming; nothing. It wasn't until he was desperately chewing on tinfoil while wearing a dishcloth that was streaked with the grease of fried chicken that he thought to try the obvious. He used a translator app on his phone to detect the language, but after it captured the first few syllables, his phone began to melt. A common glitch with the old rotary models.
He couldn't get the salesman out until the damned spray bottle was completely emptied, at which point he stood in the middle of the living room and nodded satisfactorily. He clapped a hand on Harlan's shoulder and winked at him, then handed him the empty bottle and left.
So this is what it is to be hygienic, he thought to himself as he drifted aimlessly above his lemony kitchen table. There was a layer of skin that was left behind on his ceiling lightbulb—the thickening smell of cooked bacon now served as a warning that he was getting too close again. He closed his eyes and stretched his arms out a bit, resigning himself to the helplessness of his new position. It wasn't so bad, and it wasn't even entirely unfamiliar. In fact, he very much doubted he was the only person floating helplessly through a nonsensical world with a constant pain in his ass. His was just lightbulb-shaped.

---
I Painted an Ocean
Sandeep Kumar Mishra
I painted an ocean
But as always forgot the shore
There were no ships
When I took a close look,
It was my isolation
Sailing like the sea waves;
I stand alone for centuries
To add the people
In my voyage,
Still, singular I stand
Among strangers;
When I try to talk,
It becomes silent monologue outward,
The reply comes from the resounding inside;
So I like surreal, something sick
So is all my work
If someone makes my portrait
It shall be something sad, sub-standard
But surely scintillating

---
Bludgeoning the Halvah in a Candy Store on Atlantic Avenue
Shashi Ishai
The halvah in the Al Aksa candy store, on Atlantic Avenue, Brooklyn, reminded me of my recent life on the European compound, in Saudi Arabia. I opened the door, and the cloyingly sweet, heady aroma of honey and cinnamon; almond paste and sesame, grabbed me. Like the doomed fly heading toward the light, I immediately gravitated to the home-made wedges of halvah, and the knife that invited me to partake. I scarcely noticed the different pictures of the Holy Land and Righteous Imams which decorated the tiny space, as well as the water pipes, finjans and the smell of freshly-brewed Turkish coffee—the kind you drank, ate and peered into your destiny with.
I distractedly held the cleaver in my right hand and hacked off a sliver, as sheer as peeled sunburn.
I closed my eyes, as the sesame and sugar did their wonders. A joyous image appeared- my husband, Tom. He had been an ex-Green Beret Navy Seal, so loyal, so loving....except when it rained. The war had left him, well, "sensitive" to loud noises. When he had returned, he seemed jumpy, restless, always looking around, always grabbing at his pockets. When there was thunder and lightning, and if he was sleeping, he awoke in the jungle, and whoever was near him, was enemy prey. Fourth of July, I was barely alive, with multiple fractures, broken collarbones...and profuse apologies and promises we both knew would hold, until the next storm...
He couldn't hold a job in a social setting. If someone smashed a paper bag, before throwing it in a waste bin, Tom would have had him pinned to the floor. If there was nearby construction work, it was as if Tom was re-living some LSD-inspired flashback. No, he had to work in isolation. It was just the way it was.
Then, the letter from the Saudi Consulate in New York came to Tom. He had posted his resume on an international website. He was multi-lingual, had a Mensa IQ...an honorable discharge with medals of distinction...he just needed to work alone. There was a position as an actuary, working for the Saudi King. They were to live on an enclosed, English-speaking compound, where other families of foreign workers lived. All their needs would be taken care of, and it was a high security site. They would have to commit for a year. Luckily, Tom knew a bit of Arabic, but everyone else was proficient in English. There were a list of rules to adhere to, but that was for our safety, so they said.
My name is Kathy. I smiled, even my blue eyes sparkled. All the women smiled back. I really stood out in a crowd. I was almost 6 feet tall and broad shouldered. I had high, taut cheekbones, inherited from my Mom's Cherokee Indian bloodline; and, sandy colored hair from my Dad's Scottish side. I had full-bodied lips that were frequently scolded, for letting out a lot of bad ass words. And I was very fond of putting a few whiskeys back. And then, this mouth really got me into a whole bunch of trouble.
There were many Arab Moslem women among us—wives of diplomats—wearing a copious amount of gold on their arms. Wherever there was a vacant space of flesh showing, they found something priceless and shiny to cover it up with. We all laughed. We were allowed to go to the Shuk* in a group; or, be driven by the compound overseer, a devout, elderly Moslem driver named Ismail, our "dorm Uncle."
The day came quickly that we all piled into the compound Mercedes. Uncle held the door open, with respect. After settling in, we nestled in the traffic and enjoyed the panorama of bobbing veils, vendors, and calls from the mosques. We got there soon-not a great distance. As we perused the stalls, I gawked at the amount of gold hanging so openly?—?everywhere! And women are buying the gold as nonchalantly, as if they were bananas. I turned to Uncle and asked him: "Why are all the women buying gold?" He smiled a toothless grin at me and leaned his head toward me, almost conspiratorially. "If a husband wants to divorce his wife, all he has to do is repeat an Arabic declaration three times, and the woman no longer has a husband, property, money, anything except the gold she is wearing. So, at all times, a woman must be prepared..."
When we returned to the compound, I was still reeling from the shaky reality of modern Moslem marriage, and I fingered the wedding band Tom had given me, in our small, Christian church ceremony.
Something terrible had happened! Women and men were upset, crying, asking for help, looking for Uncle. Apparently, a small 8 year old European girl was kidnapped from the compound in the morning. No one saw anybody or anything, but one young, Pakistani maid thought she saw a limo drive up to the house, on the top of the hill.
I quickly thought, "That would be the French engineer's house. They have three children: Chloe, 8; Bernard, 12; Audrey, around 13...Good Lord, let me see if I can do something to help."
For four days, the entire compound sat outside in a giant circle and comforted each other, fearing the worst, hugging and consoling, occasionally going into their homes and bringing out pots of food for everyone. I hated to say it, but I never felt so close to this group, united in hope, or hopelessness - not even my family in Connecticut. If something like this happened, a missing child, they could only express their grief by efficiently running back and forth to refresh the ice cubes in their visitors' drinks. Here, the grief was tangible, physical, and it didn't matter how long you had known each other; a hug around ones shoulders was yearned for by anyone, anybody.
Suddenly, as if perfectly normal, a black, Mercedes Benz limbo stopped at the compound gates and asked to be let in. Uncle looked into the back seat. His jaw dropped, and he quickly let the car pass. It quickly rode up to the house of the missing child. A man in a Sheik's headdress and robe came around to the passenger's side and opened the back door. The frail-looking, missing girl looked dazed, but stepped out, on her own. From head to toe, she was adorned with gold and every jewel, imaginable. She held a note in her hand. The driver just pursed his hands together and bowed his head; then, drove away, without explanation. The girl was too numb to react; but, her parents and the whole compound quickly gathered around her. They peeled the pirate chest of gems off of her and viewed her naked, little form. She seemed alright, except for the little incision on the left side of her back, which she insisted did not hurt her.
Her mother opened the note. It was written in Arabic: Uncle read it aloud.
We are truly sorry to have caused you any pain or suffering, for the disappearance of your lovely daughter. You see, our own daughter is exactly her size and age, but neither of her kidneys work. It was only a matter of days. Everyone can live with one kidney, but not without any. We ask you to take these valuable gifts, and may Allah bless our children....
I was jostled back to the interior of the store, as someone entered the shop. That little sliver of halvah had turned into a bludgeoned, indistinguishable pile, worthy of any terrorist group, including Lizzie Borden's outburst of teenage angst. Shit. The owner of the store did not look like he was in the mood for a joke.
(I thought to myself) "I have a hovel that I can't afford to live in, and now I probably will have to pay for..."
"Lady, why you do this, why?" Waliya* (What's going to happen next*?)"
I rattled off a little Arabic, in the hopes we could find some common ground. Instead, I just burst into tears, as if I had just taken a test drive of a convertible and crashed it, before I parked it back in the driver's lot.
"Please don't cry, please, have a piece of halvah that you kill. Pistachio is my favorite, too. You are a big woman. Arab men, they like women, with meat on their bones. I heard you speak Arabic. You have blue eyes and blonde hair. You Cherkiz?"*
I looked at him and shook my head, choking. "I just can't pay you now. I have no job, no money, I live alone because my husband is violent and crazy and still back in Saudi Arabia. He doesn't mean to beat me; he can't help it. I can't stop the rain, either. I..............
"I don't understand? Are you married? Do you have a husband? Children?" "
"I have a husband, but we had to divorce because he is insane...it's a long story. We were living in Saudi Arabia because he gets violent when he hears loud noises, like thunder and lightning. We agreed that it would be safer if we divorce because we love each other...."
"Cousins? Do you have any cousins?"
"You're so kind, really. I don't have any cousins, and it's not my culture to marry my first cousin." I started to laugh to myself, thinking of the image of cross-eyed children, hammering halvah, instead of play dough, through plastic holes.
"That's a shame...look it's not much, but I can offer you a little job...Just come and watch the store. There is storage room in back and separate, private toilette and even small shower. You big girl, maybe problem...We will see. Just open it up at 7, speak a little Arabic, make Turkish coffee, and stay away from the halvah knife. Maybe you'll meet someone, Allah is great."
"I suppose he is..."
I felt a little more encouraged, a little less hopeless. My friend, Diane, had once spoken about her Russian immigrant Grandfather, who had liked to have a chunk of halvah, between a roll, and eat it with coffee. He had to cut that out because he died of too much sugar in his blood. I smiled, drew in a breath, and went to the back of the store to see my new digs. This might even warrant a call to Riyadh!

---
imprisoned / ignorance
Janet Kuypers
1/21/15 (from the India haiku series), on twitter


I am imprisoned
on earth's dirty side, due to
their ignorance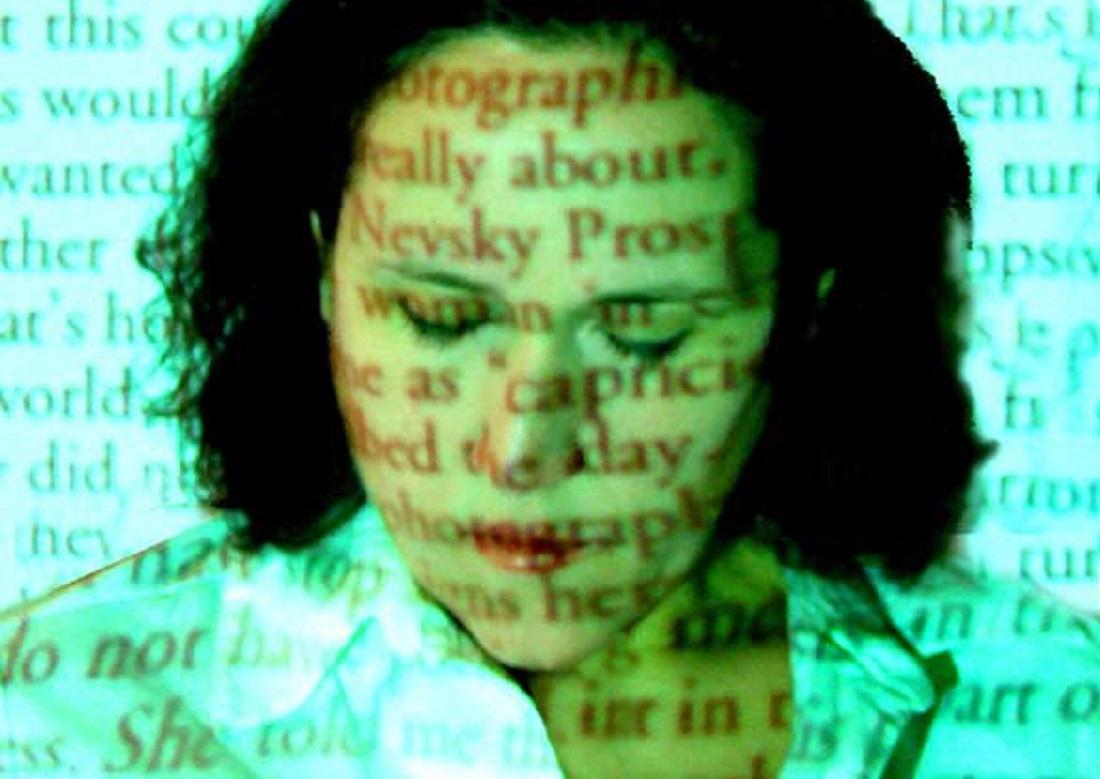 ---
The Married Man
Cynthia Haggard

The word 'diary' is etched in faded gold, the black leather cover is cracked at the edges, his name is written in flourishing copperplate:

Robert Prisley Caveley.

Friday, 20th June 1930

"Tomorrow, I become a married man."
The tissue thin paper rustles as she reads
"Not having been married before, I can't say how I'm going to find my new station in life, although Miss Florence Emily Richards, and I, have been walking out for some time."
The chair creaks as she leans back.
"Over the years, I've become good at keeping a low profile. I'm the bloke that goes to the pub regular-like, but keeps to himself in a corner over yesterday's newspapers, and a cigarette or two. I'm the bloke that comes straight home from work every evening, to help my future in-laws with the mending, and the fixing. I can be seen during quiet summer evenings, tending to their roses in the small plot out back. I'm quiet, I'm polite, and if I have few friends, and a certain reticence about talking to strangers, nevertheless, I hope Emmy's parents are happy their lovely daughter has found such an obliging bloke to be her husband.
"I work as a clerk in the local bank, and make a decent income, enough to keep a wife and family. At least, I'm a cut above the laborers, carpenters, butchers, longshoremen, and chalk-diggers that are typically available to a girl like Emmy, in a place like Thurrock, Essex, where the Thames widens its mouth before drifting towards the sea.
I'm going into this marriage with my eyes open, and I've insisted on a couple of things. For example, I told Emmy not to go around giving out our address to people she doesn't know, especially anyone trying to register voters, and the like. Then I had to put my foot down about having a phone.
"What do you need a phone for, Emmy, dear?" I said one day, in response to her tentative request. "You've got your mother and father not a stone's throw away, not to mention all your brothers and sisters."
Her large brown eyes looked up into mine. "I thought it would be a convenience."
Usually those eyes would have the effect of making me give in, but not today.
"It would be an intrusion," I countered. "It would be more money than we can afford. You know that."
Emmy, like the good girl she is, dropped the matter, and that was that.


***


She picks up a curled yellowed clipping, a listing for Probate. Running her finger down the crinkling page, she sees:
CAVELEY, Robert Prisley of 38 Derby Road Grays Essex died 17 January 1962. Administration London 6 March to Florence Emily Caveley widow.
Effects £1443 19s. 11d.

"I should give an account of how I met my girl. During the war, I was assigned to the Labour Corps. Most men I worked with did hard labour, building roads, and bridges. Several of them were POWs. But my handwriting got me a job as a clerk managing the general stores, taking me everywhere, even near the battlefields in France, to check up on provisions for the war effort. And that is how I met Emmy.
"I was on my way to check out the cement works in Thurrock, when I stopped by a canteen for a cup of tea, and a sandwich. With my home life non-existent I'd thrown myself into my work, and become good at it, good enough to get promotions, and pay raises. I scarcely saw Beat, as I'd started sleeping downstairs in front of the fire, so as not to disturb her when I rose at dawn, or came in at midnight. Of course, I was hungering for female company, so when the young woman who brought me my tea raised her soft brown eyes to my face, I was hooked. Emmy was then about twenty, and was good-looking in a gentle, guileless way. Somehow, I found myself sitting beside her, pouring out all my troubles. Well, not quite everything. A bloke has to have some secrets, doesn't he?
"When I think back to the days when my parents were alive, everything seems bathed in a golden glow. I don't know why that should be because we were very poor, just a notch away from downright poverty. Sidney and I were the two youngest, with me being older by about fifteen months. Growing up, we were tight, sharing the inevitable brotherly spats, but being loyal against outsiders."
She flicks a photo towards her that shows two boys standing in front of a painted backdrop. The taller one lifts his chin and smiles. The smaller one, her grandfather, exudes a quiet determination from his sickly face. In the corner, capital letters inform her that the photographer had a studio near Tower Bridge. Grandpa Sidney spent the last thirty years of his life looking for his older brother.
"Father was a tanner, and his money didn't go far. But I suppose the world looks better when you're young. Father taught himself to read and write when he was an adult, so naturally, he had high hopes for his eldest boy. He made sure I was taught reading early on, how to write an elegant copperplate, how to sign my name with a flourish. Many praised me for my beautiful handwriting, and being bright, I soon won a scholarship to the local Grammar School.
"Dreams and aspirations are all very well, but our family was poor, so when I turned fourteen in 1903, I had to leave school to find a job. My parents hid their disappointment well. Perhaps they were hoping I would be so brilliant that the schoolmasters would be begging to let me stay. However, when I came home from school the day I turned fourteen, with a letter of reference from the headmaster, they didn't protest. I soon found myself employed in the City as a clerk in a dry goods store.
"Everything was going swimmingly until I met Beat, whose full name was Beatrice Victoria Hough, a fancy name for a chit of a girl who lived in Bermondsey, on the wrong side of the river. But people had aspirations in those days and often gave their kids these ridiculous names."
She searches the pile of faded clippings.
CAVELEY
Mrs. Beatrice Victoria, née Hough...married Robert Prisley Caveley, on 20 June 1914, at St. Anne's Bermondsey...

"Emmy listens quietly, her hands in her lap. She is the complete opposite of Beat, having a knack for seeing the good in others. I raise my eyes to Emmy's soft brown ones, and the words dry on my lips. Somehow, I don't think Beatrice, or 'Beat' as she is commonly known, is a suitable topic of conversation for a girl like Emmy.
"After that first meeting, I rearranged my days so that I could pass through Thurrock on my way elsewhere, to have a cup of tea, and a chat with Emmy. She used to bring me sandwiches and home-made cakes, and it wasn't long before I realized I was falling in love. But it was 1916, or 1917, the war was still on, there was no end in sight, and I didn't think it fair to a girl like Emmy, to saddle her with someone who might be wounded, and not able to provide for her.
I didn't say anything to Beat, which wasn't hard as we scarcely saw one another, but somehow she found out. One day, when I returned at midnight, I found her waiting up by the fire.
"Where've you been?" she carped as soon as I entered the room.
"You know where I've been, Beat." Perhaps now was a good time to get some things off my chest, as I might not have the opportunity for a while. I looked her straight in the eye.
"Look, Beat, you and I, we've not been getting along so well, have we? Would you like me to leave?"
"Leave? Why should I want you to do that?"
"We're not getting on."
"Oh? And what makes you an expert all of a sudden?"
"You don't want me to touch you."
"Of course I don't. That whole thing is disgusting, and look where it left me, at death's door."
"Beat, I'm sorry you lost the child, but we have to let bygones be bygones."
She folded her arms, and glared. "Robert Prisley Caveley, I declare you are one of the selfishest individuals to ever inhabit this earth. You don't care about me. You want to move on because you've found someone else."
"Beat—"
"Don't you dare deny it." She picked up a rolling pin. "Or I'll brain you."
I hadn't noticed the rolling pin until now. Was she joking? I looked at her sharp visage, harsh lines outlining her nose and mouth.
"Beat, there's no need to get so het up."
"I'm telling you, if you say one more word—"
"What are you going to do, Beat?"
She brandished the rolling pin. It would have been as funny as a Punch and Judy show except for the expression on her face. Her blue eyes glittered with a hard, almost demonic quality. There was a flush of pink on each narrow cheek, but it didn't make her look more attractive, it made her look mad. Without a word, I fled upstairs, fumbling for my haversack, throwing in my belongings.
When I came downstairs, Beat was standing in front of the door, rolling pin in hand, barring the way.
"Beat, let me out."
"If you think I'm going to let you visit your fancy-piece, you've got another think coming."
"Come on, Beat. Let it go. It's over."
"I'll never let you go. Do you hear me? Never." Usually when someone tells me 'never,' I know they don't really mean it. But when Beat said it—it's hard to explain. It's almost as if her whole body gave meaning to her words. I had the eerie feeling that I was in front of some creature I couldn't comprehend, like an adder whipping its head forward to bite. My hands shook as I stood there facing her. I didn't want my voice to shake too, so I waited a moment, telling myself it was ridiculous to be so scared of a woman. After all, I was stronger than her.
"Don't be ridiculous, Beat," I said eventually. "Let me out."
She stood there, glaring, her thin body coiled as tightly as a piece of barbed wire. I relaxed for a minute, then when she released some of that tension, lowering the rolling pin a fraction of an inch, I shoved her hard, knocking her to the floor. Not waiting to see how she was, I left the house, ran down the path, and out into the quiet road as if I had the demons of hell behind me. I slowed, once I realized no one was following me. Shuddering, I sat down on a bench in a bus-stop, and dropped my pack to the ground. My hands were shaking so badly, I could hardly light up a cigarette. I must have sat there for a good half hour until I calmed down. Then I walked south, into the Surrey countryside, and spent the rest of the night sleeping under a hedgerow.

***

The pages that follow are blank. A new entry begins haphazardly, scrawled halfway down the page:
"I'm forty-one years old and getting married for the first time tomorrow, on Saturday June 21, 1930. At least, that's what I tell my wife-to-be. I wasn't thinking of marrying Emmy, until Mother Nature took her course, and now my girl's in the family way. Though Emmy's a girl no longer, being over thirty, another reason for being a bit surprised at her condition.
At first, things weren't so bad between Beat and myself. I enjoyed the status that comes with being a married man, the pay raise, the respect from my mates. I was never madly in love with my wife, I didn't want that in a marriage. When Dora jilted me, I thought my life had come to an end. That's actually how I came to marry Beat, she was there when I was feeling sore.
Beat and I got a small house right next to Southwark Park in Bermondsey, just a few doors down from my parents, and in those first few months of marriage, Beat enjoyed setting up house. Then she got in the family way. By that time, Britain had declared war on Germany, and everyone was excited by the thought of a good old fight with the Hun, sure that we, the greatest nation on earth, would prevail by Christmas.
But Christmas 1914 wasn't happy. Beat lost her baby, and was laid up for several weeks. It never occurred to me to reach out to my wife. She was seemingly content, surrounded by her female relations, and I thought I shouldn't intrude. But if I have to pinpoint when a certain coldness seeped into our relationship, I would say that it dated from that time. Why Beat blamed me for stoically going to work every day, I'll never know.
When she rose from her sick bed, my pretty wife was replaced by a termagant, who sniped at me from dawn to dusk. She chided me for dressing too noisily in the morning, for splashing water on the floor, for forgetting to clean the sink, for opening the door too loudly, or for messing up one of her precious napkins when eating. She would scold loudly, shrilly even, right there in front of company. People would drink tea, their faces averted, as she dressed me down. Occasionally, Ma Hough would attempt to intercede.
"Beat, dear," she would say tentatively. "I'm sure Bob didn't mean to upset you."
But Beat always ignored her. "Just look at the mess he's made," she would screech. "You'd never think I'd spent all day scrubbing that floor. Look at the trail of mud he's brought in. He never thinks about me, oh no, that's definitely too much to ask."
So I'd clump out of the house, and go to the Stanley Arms for supper.
"How's Beat?" the Publican's wife would ask as she brought me my food. "Still poorly is she?"
"Yes," I would answer. "She's not well. I don't want to bother her."
"What a good husband you are," she would say, before returning to the other customers, while I sat there, wondering why I'd bothered to marry Beat at all.
As 1915 turned into 1916, things didn't improve. Father passed away, and Mother moved to Deptford, to stay with one of my sisters. When Beat suggested that her parents come and live with us, I agreed. I'd always been fond of Ma Hough, who was a good cook, and Pa Hough was quiet, and unobtrusive. By then, everyone was tightening their belts as the U-boat raids continued on Merchant shipping. My younger brother Sid got caught up in one of those torpedo attacks, when the boat he was on caught fire, and he was trapped there, breathing in the burning creosote. It damaged his lungs, but at least he survived. I hoped that having her parents around would be good for us economically, and restore Beat's good cheer.
It didn't work out that way. As time wore on, her parents gradually took Beat's part against me, and so I began disappearing, often for weeks at a time. In 1916, conscription began, and I was assigned to the Labour Corps.
After the war, I found a job in Thurrock, to be near Emmy. My best course of action for avoiding Beat was to disappear, but Emmy was close to her family in Thurrock, and I couldn't persuade her to leave without lots of explanation. On the other hand, it would be very convenient if my family thought I'd gone abroad, so that when Beat contacted them, if she did, they would have something to tell her of that nature. Fortunately, 1921 was also the year that my younger brother married. Sid found Doll, a sweet young woman down on her luck, and the following year they had a baby girl, Anita.
The last time I visited Sid in his modest home in Hook, Surrey, was in the summer of 1922. His lungs still bothered him, but now he had Doll to fuss over him, and Anita to give him a future. I placed a silver sixpence in my niece's chubby hands, and said my goodbyes, hoping that this time when I disappeared, Sid would follow up on the hints I was dropping, about going off to Australia to start a new life away from Beat.
I never intended to commit bigamy, it is an offense punishable by several years in prison. Some will wonder why I didn't change my name, but that wasn't possible given the circumstances. I didn't want to alarm Emmy, or her family. I knew Beat meant it when she said she would never give me up.
I'm not proud of myself. I was a disappointment to my parents, a fool for marrying Beat when I should've known better, and a liar to Emmy and her family.

***

Another rummage, and two death notices appear:
CAVELEY
Mrs. Florence Emily, née Richards.
On 31 December 1988 in Thurrock, Essex...

CAVELEY
Mrs. Beatrice Victoria, née Hough.
On 30 June 1980 in Epsom, Surrey...

Grandpa Sidney named his only son after the brother who vanished. He died at Hook, Surrey, in June, 1950, aged 59 years. When Robert Prisley Caveley died in January, 1962, aged 73 years, he was still living in Thurrock, still married to Emmy.
He escaped notice for over forty years.

---
origin, from the macro to the micro
Janet Kuypers
12/7/16

The thought of it has always gone through our heads.
Where did we come from.
How did this all begin.
When we think of when our mom held us we were little
we wonder, there has to be
something more.

Something bigger, something more, this was ingrained
into our American heads.
We look up to the stars —
and yes, some did that, to understand the greatness
of not only our world,
but of the entire cosmos.
Scientists figured out the laws of physics on the macro.
This is their heaven. And
that is where everything works.

I look at the gold wedding band and engagement ring
on my hand, and think
of the gold, the titanium —
elements we value so much here on planet earth
because they are so rare.
But thanks to astronomy
we know that when the Universe was formed, the only
elements around were small,
hydrogen, maybe helium.
It was only when these energetic atoms gained mass
that they clumped together
and formed the first stars.
Elements from carbon to iron are produced in the cores
of stars, in high temp
fusion reactions there.
But what about those heavy rare elements we ascribe
so much value to?
Well, the scientists
researched (that's what they do), until they discovered
that collisions of neutron
stars in our cosmos
have the energy to produce elements heavier than iron.
An astronomer named
Berger even said that
"they do it efficiently enough that they can account
for all the gold that's been
produced in the universe."
You might think that the death of a star is a nasty thing —
and it is — but that science
makes what we love.
Wow, I love quoting astronomers when it works out
so beautifully like that.
But this is micro —

I'm only thinking locally here, with the metal on my hands,
the hematite I wear, like
what Mars rovers found.
I can look at mountains and canyons from ice age melts
hear a babbling brook
or see a flower in bloom...
And when I look around, I think that these work too —
but now put it all
on a celestial scale,
to observe a close encounter between a small galaxy
and the outer edge
of a larger galaxy,
sending it spinning, to form arms of a new spiral galazy,
not much unlike
our own Milky Way.
The elements in our bodies are formed by the stars.
So make the macro micro,
since we're made of stardust.

Remember the static on your television is not unlike
the cosmic radiation
scientists found
when studying the universe, when they accidentally
discovered the noise
from the Big Bang.

Wow, it almost makes me starry-eyed to think
of what astronomical
theoreticians may
come up with next, since a scientist's job is to
postulate theories,
then work to prove
or disprove. And really, how beautiful is that?
Because once you get
the right equations,
micro or macro, that is when everything truly works.

---
violence and peace both work
Janet Kuypers
12/9/16

"We look up to the stars,
and we reach out and pray..."
- Matt Johnson

In ancient times
people looked up to the stars
and saw heaven.
Then they looked up to the stars
and created gods
etched to battle through the ages
in constellations.

Through time,
the one thing I've discovered

is that
wherever we see peace and
tranquility,
where everything works, and
falls into place,
you can see the bad there too,
almost like
you can't have one without
the other.

I imagine, if I ever got into
heaven,
it would be missing all of the vices
we love.
Even though I don't gamble,
I'm sure
it wouldn't be allowed there,
and I couldn't
get a good German Riesling
wine, or even
a good Weise beer. What a jip.
the afterlife
is so boring. I like to sing, but
If I have to
sing Kumbaya one more time...*
And if
there's a poetry open mic in Heaven,
I'm sure all
you'd hear are the Psalms of David,
over and over,
since that's the only poetry in the Bible.

In other words,
what works for some, might not
work for others.

Because when we look to the stars,
find peace,
admire the tranquility of stars
in the night sky,
we don't realize that those stars
are actually
evil, always exploding giants.
What we see
are often post-explosion nebula
catastrophes
with temperatures hotter than
you could imagine.

We look up to what we can't reach
and see peace
and tranquility, where everything
works together.
But if we look closer, we can see
the violence
there too, and we can see how
perfectly
that bad stuff fits in as well.

* "Heathers"

---
elusive imaginary creature
Janet Kuypers
2/25/17

"So I've got a friend
who's had this problem
and they don't know
if they should see a doctor."

"So my friend thinks
her husband is
cheating on her.
what should she do?"

"So I've got a friend
who wants to kill their boss,
but they don't want to get fired
and they don't know what to do."

We've all heard these stories before,
and we've probably all used that line
before too, saying, "I've got this friend"
when you're really talking about yourself.

This elusive, imaginary creature
is from a line we've all used,
because we're too afraid to say
we've got a problem.

We're too afraid to share.

And think about it, what if
this elusive, imaginary creature
was real, and had all these problems
we ascribe just to get advice.

Horrific job. Cheating spouse.
Mounting debt. Back-stabbing friend.
A lump under the skin.
They'd be a basket case.

So why do we do it?
Why do we share problems
in the third person
to get some assistance

instead of asking for a hand?
I know we all think
we're tough as nails,
we've got it all under control,

so maybe it's because
we create this persona
and don't want to shatter
this image we've created

to the rest of the world.
We've created this card house,
this delicate card house,
and we don't want to see it fall down.

So we say, "I've got this friend" —
we create this elusive
imaginary creature
because, look at our lives.

Look at what we've made.
We surely don't want to shatter
this image we've created
for us, and the rest of the world.

---


Masquerade
Janet Kuypers
1988

You asked me to the masquerade
and I willingly complied
but I'm tired of wearing this dress
for the feathers in my costume
won't stop licking my face
and you cannot see the tears
falling behind my mask -

When you see the price they pay
I'm sure you'll come and join
the masquerade, you say
but the price is too high
for I don't want to wear a mask
with you, and I would only hope
that I don't have to.

---
Curium
Janet Kuypers
from the "Periodic Table of Poetry" series (-35;96, Cm)
written 10/23/13, edited 9/23/16 for 10/1/16 show

Searching through storage
for my wedding clothes,
I ignored my white wedding dress
and reached for the wedding veil.
It might not be true
to my Halloween costume,
but I had to wear something
to show that my black dress
was actually a wedding dress.
I'll carry a small bunch
of white flowers
to make my otherwise "goth wedding"
look complete, but still,
I'll have to explain
that my Halloween costume
is my interpretation
of Marie Curie
on her wedding day.

And okay, maybe it's wasn't goth,
but a diligent work ethic
that caused Marie Curie
on her own wedding day
to wear a black dress —
she wore it so she could wear
the same black dress later for her work.
And yeah, when she worked
she really got messy with her
radioactive elements
(ergo the black dress, I suppose)...
She studied differet levels
of radioactivity
in different elements,
she learned what was
causing the radiation.
She even coined the
term "radioactivity,'
while she discovered
the two radioactive elements
radium and polonium.

But looking back on her life,
maybe wearing the black
dress was appropriate,
because she soared in all the schooling
she could legally take (at the time,
she couldn't enroll in a higher education
because she was female) —
so she eventually hadt
o go underground learning
for higher education
in makeshift classrooms
that lasted only a few days
before a government raid
would cause the "schooling"
to have to move again.
She then left Poland for Paris,
was able to go to school,
but was still penniless and hungry.

But after her second degree,
she met her Pierre,
who worked with her
even after their marriage
(where they gave each other
bicycles as wedding gifts).

I know, I know, I'm going
on and on about Marie Curie
for my Halloween costume,
and there's even an element
named after her, that she
didn't even discover.
But Curium is actually one of the
most radioactive elements,
and Curium is now used to help
scientists learn and discover,
much the way Marie Curie did.

Curium helps people, to help
power artificial pacemakers.
But it's even used in alpha-particle
X-ray spectrometers that are
installed on lunar and Mars rovers
like the Sojourner or the
Spirit and Opportunity rovers.
It's even used on a spacecraft
to probe the surface of a comet.

So, Curium is dangerous,
but it helps us learn,
which makes Curium have
a certain glow to it...
Besides, both being a goth girl
and loving to dive into my work
is really making me take a shine
to this black wedding dress idea...
And when I got this idea
from a woman who struggled to succeed
in her work and in science,
it shows me how science
fits perfectly with the entire world as well.

---
This Halloween
Janet Kuypers
1997

this halloween i got a costume together
i wore a black page-boy wig,
a vinyl dress and matching vinyl boots

it was strange for me
i'm not such an outgoing person

and every time i was left alone at a bar
someone would hit on me
usually someone ugly
but i didn't tell them to leave me alone:

i gave them a fake name, a fake number

and looking back, what made the difference
was not wearing the revealing clothes
but wearing a wig, changing my identity

and it's not that i'd do it again
but i must admit
i really like being someone else
just for a little while

---
This Halloween Again
Janet Kuypers
Fall 1998

I have no plans for the
holiday this year. No parties.
Well, none that I'm going to.
I'm dressing up for Halloween,
though, in something that
almost doesn't look like a costume.

I want to be a Scotsman for
Halloween. Not because I'm
Scottish, I'm not. Not because I'm
male, I'm not, In my costume,
people may not even think I'm
dressed up for Halloween. But
I'll know.

I never did anything with you for
Halloween. Well, when it was
Halloween a year or two ago
I put on a wig and dressed up
when I picked you up from the
airport.

It's funny how easy it is to
remember little stories like that.

You were dressed as a cartoon
character for Halloween last year.
I never got to see you in that outfit
I always thought I
could see it another time.

I didn't think you'd be gone
before the next Halloween rolled around
I thought you'd always
be around, you always were, you know.
When I needed to talk
to you, I called. Or else you called
me instead.
It was almost like
I had a little brother there, who
was always willing to listen to
me, who was always wanting to
put up with me.

My question to you is this:
were you always willing to
put up with me? Did you think
things would end this way?

Just so you know, wherever you
are, that someone i am thinking about
you. Because I know the holidays
aren't the same without you here.

I never thought about dressing up
for Halloween, or about Scotland,
or even other countries, but you,
well, you were Scottish, through
and through, and you wanted
a kilt, and you wanted the world
to know you were Scottish.

I always thought you'd be around
I thought, even when
you aggravated me, that you would
always be there for me.

Now I just have to be there for myself.

I wonder how lonely people get,
if they lose someone they were close to,
do they feel like a piece of them is
missing too? Well, I do.

And I figure someone has to be a
Scotsman for Halloween, even if
this year it has to be me

---
Salesman
Janet Kuypers
1991 prose, edited 9/16/16 and 9/22/16 for 10/01/16 show

The doorbell rang.
"Who could be stopping by at this hour?",
I thought, but I put my work down
and walked to the door.
A man in a plaid suit stood in the entryway
with a worn book in his hand.
His business suit seemed like a costume
that looked comical
for this sad clown...
I almost exptected to see
a twirling bow tie
or water to squirt out
of the fake flower in his pocket,
but he flashed me a tired, business-like smile.
It almost seemed genuine.

As he rambled on and on about...
Well, I don't really know what he said.
I don't even know what he wanted.
"What is he selling?", I thought,
and my head became dizzy
with his confusing words.

Try to be nice to the strange man;
he knocked on your door,
and you felt obliged to greet him.

It all seemed like nonsense...
You listened to his words;
you tried to make sense
of his nouns and his verbs,
and when you heard fractions
he mentioned a call to action —

I didn't like what I heard.
But I tried to listen.
I wanted to listen.
But after a while
I had to hold on to the door frame:
I had to keep myself steady
while this man's thoughts
tried to knock me down.

I finally stopped him.
"What are you trying to sell me?
What are you trying to do?", I asked.
The man looked at me and said,
"I'm trying to sell you an ideology.
I am trying to poison your mind."

I slammed the door in his face.
Alone, I let go of the door frame.
I fell down.





See YouTube video 10/1/16 of Janet Kuypers reading her poem "Salesman" in her show "Masquerading in Costumes & Personas" at the Expressions 2016: the Metaphor of Costumes show at Austin's the Bahá'í Center (Sony camera).





See YouTube video 10/1/16 of Janet Kuypers reading her poem "Salesman" in her show "Masquerading in Costumes & Personas" at the Expressions 2016: the Metaphor of Costumes show at Austin's the Bahá'í Center (Canon PS).




See YouTube video of Janet Kuypers in her 10/1/16 show "Masquerading in Costumes & Personas" at Expressions 2016: the Metaphor of Costumes in Austin reading her poems "Curium" "This Halloween", "This Halloween Again" and "Salesman" (from a Canon Power Shot camera).




See YouTube video of Janet Kuypers in her 10/1/16 show "Masquerading in Costumes & Personas" at Expressions 2016: the Metaphor of Costumes in Austin reading her poems "Curium" "This Halloween", "This Halloween Again" and "Salesman" (video recorded from a Sony camera).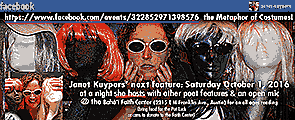 Masquerading in Costumes & Personas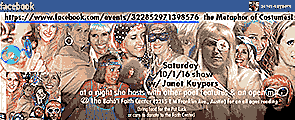 Get the free PDF chapbook containing the poems "Curium" "This Halloween",
"This Halloween Again" and "Salesman".


See YouTube video of Janet Kuypers saying her twitter-length poem "Juxtaposition, or Irony?" in conversation, then reading her poems "Pluto, Plutonium & Death", "Your Minions are Dying" and "Salesman" 10/23/16 at the Austin open mic Kick Butt Poetry (Canon Power Shot camera).


See YouTube video of Janet Kuypers saying her twitter-length poem "Juxtaposition, or Irony?" in conversation, then reading her poems "Pluto, Plutonium & Death", "Your Minions are Dying" and "Salesman" 10/23/16 at the Austin open mic Kick Butt Poetry (from a Sony camera).





See YouTube video of Janet Kuypers reading her poems "Orders", "Salesman" and "Ultimate Connectivity: disconnect to reconnect" from her book "(pheromemes) 2015-2017 show poems" at Georgetown's "Poetry Aloud" open mic 9/9/17 (from a Sony camera).




See YouTube video of Janet Kuypers reading her poems "Orders", "Salesman" and "Ultimate Connectivity: disconnect to reconnect" from her book "(pheromemes) 2015-2017 show poems" at Georgetown's "Poetry Aloud" open mic 9/9/17 (from a Lumix camera).

---
Janet Kuypers has a Communications degree in News/Editorial Journalism (starting in computer science engineering studies) from the UIUC. She had the equivalent of a minor in photography and specialized in creative writing. A portrait photographer for years in the early 1990s, she was also an acquaintance rape workshop facilitator, and she started her publishing career as an editor of two literary magazines. Later she was an art director, webmaster and photographer for a few magazines for a publishing company in Chicago, and this Journalism major was even the final featured poetry performer of 15 poets with a 10 minute feature at the 2006 Society of Professional Journalism Expo's Chicago Poetry Showcase. This certified minister was even the officiant of a wedding in 2006.
She sang with acoustic bands "Mom's Favorite Vase", "Weeds and Flowers" and "the Second Axing", and does music sampling. Kuypers is published in books, magazines and on the internet around 9,300 times for writing, and over 17,800 times for art work in her professional career, and has been profiled in such magazines as Nation and Discover U, won the award for a Poetry Ambassador and was nominated as Poet of the Year for 2006 by the International Society of Poets. She has also been highlighted on radio stations, including WEFT (90.1FM), WLUW (88.7FM), WSUM (91.7FM), WZRD (88.3FM), WLS (8900AM), the internet radio stations ArtistFirst dot com, chicagopoetry.com's Poetry World Radio and Scars Internet Radio (SIR), and was even shortly on Q101 FM radio. She has also appeared on television for poetry in Nashville (in 1997), Chicago (in 1997), and northern Illinois (in a few appearances on the show for the Lake County Poets Society in 2006). Kuypers was also interviewed on her art work on Urbana's WCIA channel 3 10 o'clock news.
She turned her writing into performance art on her own and with musical groups like Pointless Orchestra, 5D/5D, The DMJ Art Connection, Order From Chaos, Peter Bartels, Jake and Haystack, the Bastard Trio, and the JoAnne Pow!ers Trio, and starting in 2005 Kuypers ran a monthly iPodCast of her work, as well mixed JK Radio — an Internet radio station — into Scars Internet Radio (both radio stations on the Internet air 2005-2009). She even managed the Chaotic Radio show (an hour long Internet radio show 1.5 years, 2006-2007) through BZoO.org. She has performed spoken word and music across the country - in the spring of 1998 she embarked on her first national poetry tour, with featured performances, among other venues, at the Albuquerque Spoken Word Festival during the National Poetry Slam; her bands have had concerts in Chicago and in Alaska; in 2003 she hosted and performed at a weekly poetry and music open mike (called Sing Your Life), and from 2002 through 2005 was a featured performance artist, doing quarterly performance art shows with readings, music and images. Starting at this time Kuypers released a large number of CD releases currently available for sale at iTunes or amazon, including "Across the Pond"(a 3 CD set of poems by Oz Hardwick and Janet Kuypers with assorted vocals read to acoustic guitar of both Blues music and stylized Contemporary English Folk music), "Made Any Difference" (CD single of poem reading with multiple musicians), "Letting It All Out", "What we Need in Life" (CD single by Janet Kuypers in Mom's Favorite Vase of "What we Need in Life", plus in guitarist Warren Peterson's honor live recordings literally around the globe with guitarist John Yotko), "hmmm" (4 CD set), "Dobro Veče" (4 CD set), "the Stories of Women", "Sexism and Other Stories", "40", "Live" (14 CD set), "an American Portrait" (Janet Kuypers/Kiki poetry to music from Jake & Haystack in Nashville), "Screeching to a Halt" (2008 CD EP of music from 5D/5D with Janet Kuypers poetry), "2 for the Price of 1" (Janet Kuypers poetry to music from Peter Bartels), "the Evolution of Performance Art" (13 CD set), "Burn Through Me" (Janet Kuypers poetry to music from The HA!Man of South Africa), "Seeing a Psychiatrist" (3 CD set), "The Things They Did To You" (Janet Kuypers poetry to music from the DMJ Art Connection), "Hope Chest in the Attic" (audio CD set), "St. Paul's" (3 CD set), "the 2009 Poetry Game Show" (3 CD set), "Fusion" (Janet Kuypers poetry in multi CD set with Madison, WI jazz music from the Bastard Trio, the JoAnne Pow!ers Trio, and Paul Baker), "Chaos In Motion" (tracks from Internet radio shows on Chaotic Radio), "Chaotic Elements" (audio CD set for the poetry collection book and supplemental chapbooks for The Elements), "etc." audio CD set, "Manic Depressive or Something" (Janet Kuypers poetry to music from the DMJ Art Connection), "Singular", "Indian Flux" (Janet Kuypers poetry to music from the DMJ Art Connection), "The Chaotic Collection #01-05", "The DMJ Art Connection Disc 1" (Janet Kuypers poetry to music from the DMJ Art Connection), "Oh." audio CD, "Live At the Café" (3 CD set), "String Theory" (Janet Kuypers reading other people's poetry, with music from "the DMJ Art Connection), "Scars Presents WZRD radio" (2 CD set), "SIN - Scars Internet News", "Questions in a World Without Answers", "Conflict • Contact • Control", "How Do I Get There?", "Sing Your Life", "Dreams", "Changing Gears", "The Other Side", "Death Comes in Threes", "the final", "Moving Performances", "Seeing Things Differently", "Live At Cafe Aloha", "the Demo Tapes" (Mom's Favorite Vase), "Something Is Sweating" (the Second Axing), "Live In Alaska" EP (the Second Axing), "the Entropy Project", "Tick Tock" (with 5D/5D), "Six Eleven" "Stop. Look. Listen.", "Stop. Look. Listen to the Music" (a compilation CD from the three bands "Mom's Favorite Vase", "Weeds & Flowers" and "The Second Axing"), and "Change Rearrange" (the performance art poetry CD with sampled music).
From 2010 through 2015 Kuypers also hosted the Chicago poetry open mic the Café Gallery, while also broadcasting weekly feature and open mic podcasts that were also released as YouTube videos.
In addition to being published with Bernadette Miller in the short story collection book Domestic Blisters, as well as in a book of poetry turned to prose with Eric Bonholtzer in the book Duality, Kuypers has had many books of her own published: Hope Chest in the Attic, The Window, Close Cover Before Striking, (woman.) (spiral bound), Autumn Reason (novel in letter form), the Average Guy's Guide (to Feminism), Contents Under Pressure, etc., and eventually The Key To Believing (2002 650 page novel), Changing Gears (travel journals around the United States), The Other Side (European travel book), the three collection books from 2004: Oeuvre (poetry), Exaro Versus (prose) and L'arte (art), The Boss Lady's Editorials, The Boss Lady's Editorials (2005 Expanded Edition), Seeing Things Differently, Change/Rearrange, Death Comes in Threes, Moving Performances, Six Eleven, Live at Cafe Aloha, Dreams, Rough Mixes, The Entropy Project, The Other Side (2006 edition), Stop., Sing Your Life, the hardcover art book (with an editorial) in cc&d v165.25, the Kuypers edition of Writings to Honour & Cherish, The Kuypers Edition: Blister and Burn, S&M, cc&d v170.5, cc&d v171.5: Living in Chaos, Tick Tock, cc&d v1273.22: Silent Screams, Taking It All In, It All Comes Down, Rising to the Surface, Galapagos, Chapter 38 (v1 and volume 1), Chapter 38 (v2 and Volume 2), Chapter 38 v3, Finally: Literature for the Snotty and Elite (Volume 1, Volume 2 and part 1 of a 3 part set), A Wake-Up Call From Tradition (part 2 of a 3 part set), (recovery), Dark Matter: the mind of Janet Kuypers , Evolution, Adolph Hitler, O .J. Simpson and U.S. Politics, the one thing the government still has no control over, (tweet), Get Your Buzz On, Janet & Jean Together, po•em, Taking Poetry to the Streets, the Cana-Dixie Chi-town Union, the Written Word, Dual, Prepare Her for This, uncorrect, Living in a Big World (color interior book with art and with "Seeing a Psychiatrist"), Pulled the Trigger (part 3 of a 3 part set), Venture to the Unknown (select writings with extensive color NASA/Huubble Space Telescope images), Janet Kuypers: Enriched, She's an Open Book, "40", Sexism and Other Stories, the Stories of Women, Prominent Pen (Kuypers edition), Elemental, the paperback book of the 2012 Datebook (which was also released as a spiral-bound ISBN# ISSN# 2012 little spiral datebook, , Chaotic Elements, and Fusion, the (select) death poetry book Stabity Stabity Stab Stab Stab, the 2012 art book a Picture's Worth 1,000 words (available with both b&w interior pages and full color interior pages, the shutterfly ISSN# ISBN# hardcover art book life, in color, Post-Apocalyptic, Burn Through Me, Under the Sea (photo book), the Periodic Table of Poetry, a year long Journey, Bon Voyage!, and the mini books Part of my Pain, Let me See you Stripped, Say Nothing, Give me the News, when you Dream tonight, Rape, Sexism, Life & Death (with some Slovak poetry translations), Twitterati, and 100 Haikus, that coincided with the June 2014 release of the two poetry collection books Partial Nudity and Revealed. 2017, after hr October 2015 move to Austin Texas, also witnessed the release of 2 Janet Kuypers book of poetry written in Austin, "(pheromemes) 2015-2017 poems" and a book of poetry written for her poetry features and show, "(pheromemes) 2015-2017 show poems" (and both pheromemes books are available from two printers).

---

this page was downloaded to your computer